Lauren, Latin America Specialist
My fascination with seeing the world began when I lived in Spain as part of my university degree. I fell in love with the Spanish language and the different cultures I encountered. With a thirst for travel, I explored various continents after university, which led me to a job in the luxury travel industry.
After a few years, I decided it was time for my next adventure, and I set my sights on Latin America. I hiked, ate, photographed and danced my way through this wonderful continent and was soon smitten.
Equipped with an insatiable passion (and a serious case of the travel bug), I became a Latin America specialist at Audley, and since joining I've had the opportunity to explore Peru, Ecuador and the Galapagos. The exotic wildlife of the Amazon, together with the history of Peru, makes these countries a dream to discover.
Speak to Lauren

Start planning your trip to South America with Lauren by calling 01993 838 602

Galapagos Islands
One of the most unusual places on Earth, the Galapagos Islands are full of those special 'once in a lifetime' moments. What I love the most is the close interaction with the local wildlife; they don't fear humans but are, instead, incredibly curious about their visitors. It really is one of the most endearing qualities of these islands. I sunbathed with sea lions, watched iguanas battle for food and came face-to-face with the infamous blue-footed booby — all against the backdrop of this volcanic archipelago. For me, there really is nowhere else like it.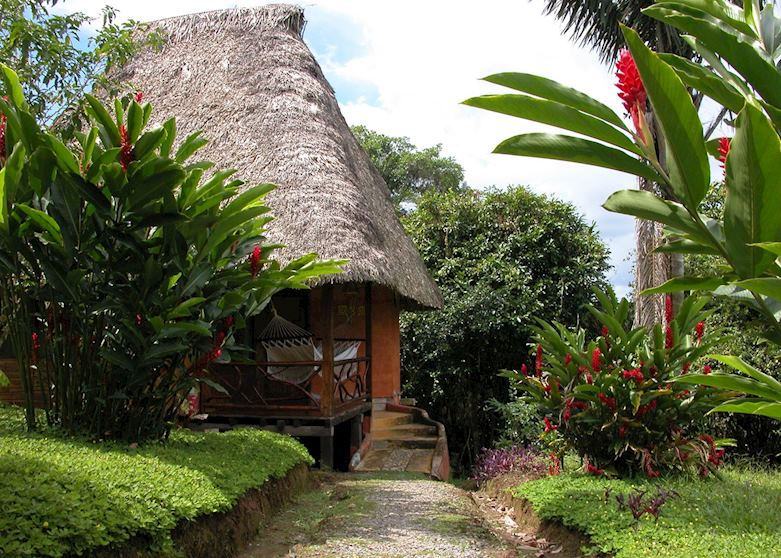 Ecuador
If you want an authentic jungle experience with a touch of luxury, then I highly recommend the Napo Wildlife Centre in Ecuador. Not only is the lodge impressive but the location is exactly what you'd expect. It's set right in the heart of the Amazon Rainforest with spacious cabins with balconies overlooking the lodge's own lake, where you'll find caimans and piranhas lurking beneath the surface. Wildlife surrounds you here and one of my highlights was watching the incredible sunrise from the top of the seven-storey observation tower and just listening to the rainforest come alive.
I'll never forget when…
On a recent trip to Peru, I joined a cooking class in Cuzco. I'm a massive foodie, so I jumped at the opportunity to learn how to make some of the local dishes. Firstly, we visited the renowned San Pedro market with the chef to buy ingredients. The market gives a great insight into local culture, its stalls packed high with vibrant local produce. Back in the kitchen, we made a variety of dishes including Peru's signature dish, ceviche, as well as Pisco Sours and a dessert made with lúcuma, an exotic Andean fruit that tastes like butterscotch.