One of my first memories is summiting Snowdon in my father's backpack, instilling in me an appetite for exploration. From this moment on I've travelled at every opportunity, and with whoever may wish to join me, each trip adding yet more fuel to my insatiable desire for adventure.
Canyoneering through aqua blue ravines, eating breakfast at the highest geyser field in the world, and swimming alongside migrating humpback whales led me to navigate my way along the countries of the Andes in 2022. I was aghast at the clarity of the stars, the warmth of the people, and the array of varied biomes and cultures. I watched as condors circled above my head, the clouds' part to reveal Machu Picchu, and had a sloth join me at dinner.
Now, as a country specialist at Audley, I am eager to propagate these experiences and tailor them to you.
Speak to Scott

Start planning your trip to South America with Scott
01993 838 650
Q&A with Scott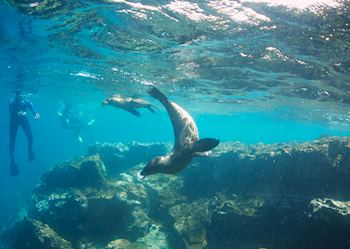 What's your most vivid travel moment?
I jumped from a Zodiac into the fresh waters of the Galapagos. Clearing the salty water from my snorkel I set off in search of marine life. I immediately passed over a shoal of salema fish glistening in the sunshine. With the waves pushing me closer toward the coastline I passed some parrotfish, dazzling me with their changing colours, and some king angel fish swimming in close formation. This truly was an alien world. Then something I hadn't expected. Birds. Diving from the rocks five penguins had decided to join me, curious at this blonde-haired gringo. Swimming within inches of my eyes one appeared to give me a wink as if to say, 'this is what makes the Galapagos so special,' disappearing off into the distance with a swagger.
Where would you love to travel next?
Zipping open my tent in the early hours to watch the sun rise above Acatenango, Guatemala, is next on my list. Clouds hanging low in the valley as the tip of this stratovolcano bursts forth. Morning hues of red and orange dancing in the smoke, rising into clear blue skies, is surely a superlative way to drink a morning brew.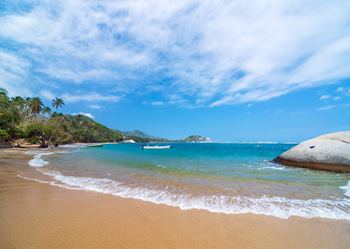 Which book, film or artwork captures Colombia the most?
I enjoy light-hearted, easy-to-watch, entertainment programmes. When the Grand Tour travelled to Colombia for a special, I was instantly enraptured by this incredible country. Every day revealed a new scene. Caribbean beaches, snow-capped mountains, gleaming metropolises, thick rainforests, barren deserts, rolling hills, and colourful colonial cities are all within less than an hour's flight away. The trio bumbled around this enchanting country, with every turn producing a surprise.