Tailor-make your culinary trip to Southeast Asia
Take your taste buds on a culinary Asian journey where you'll find delicious dishes in every country. From the spicy soups and creamy green curries of Thailand, to the more unusual deep fried spiders of Cambodia and snake in Vietnam.
We can arrange for you to accompany a food blogger on a tour of Hanoi's best culinary hotspots, take a gastronomic tour of Kuala Lumpur with a local food guide, or participate in a cookery class in Chiang Mai, Thailand.
Whatever your interests or tastes, we can tailor-make a trip to suit you.
Itineraries
---
Start thinking about your experience. These itineraries are simply suggestions for how you could enjoy some of the same experiences as our specialists. They're just for inspiration, because your trip will be created around your particular tastes.
Laos
Dishes in Laos, and also the north of Thailand, are nearly always served with khâo niaw (sticky rice).
The traditional way to eat it is to pick up a small handful in your right hand and roll it into a ball, which you then dip into various sauces.
Also worth a try is the delicious spicy green papaya salad, one of the most common street market foods in Laos.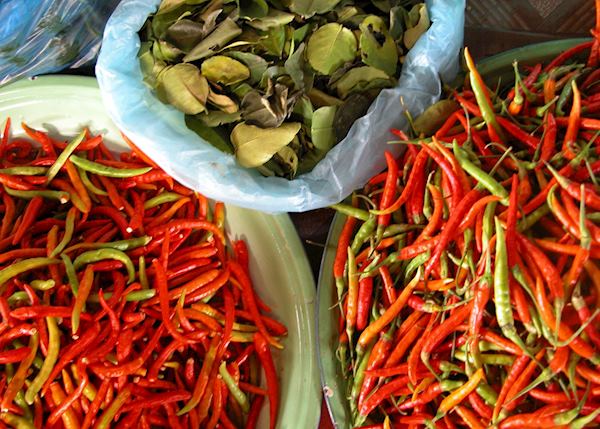 Visit Lam Pai-Bay Tong, a rustic restaurant/cookery school close to the Mekong River where you will learn how to create three local dishes using traditional ingredients and techniques.
Indonesia
Indonesia is a huge country with great diversity, and food here has been greatly influenced by travellers from all over the world. Nowhere more so than in Sumatra, where spicy Padang curries are based on those from India, Persia and Arabia.
Wherever you travel in Southeast Asia, do be adventurous and try 'pot luck' with a few dishes, the waiter is sure to use the ubiquitous phrase 'same, same but different' when describing your choices.
Ubud is an ideally located town from which to base yourself if you are planning on exploring all that Bali has to offer. It has history, culture, architecture as well as flora and fauna to experience.
Malaysia
Nasi and mie (rice and noodles), the staple ingredients in Malaysia, can be fried, steamed, and boiled into sweet and savoury dishes usually accompanied by ikan (fresh fish).
The complex flavours of Malay food set it apart from similar dishes in Indonesia, which are simple but equally tasty.
Many dishes, such as sate (skewered meat) and gado-gado (steamed vegetables), are served with peanut sauce.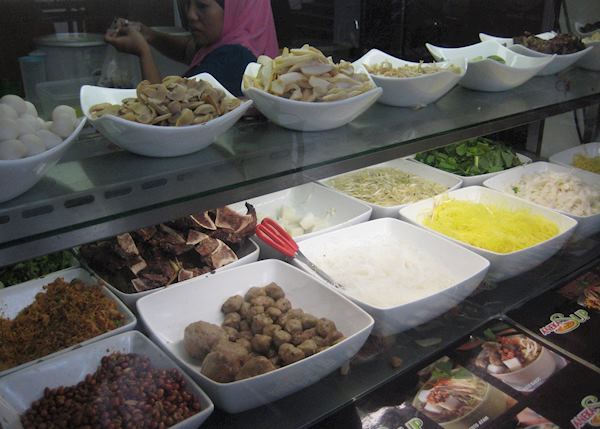 Enjoy a gastronomic journey of discovery via a walking tour of Kuala Lumpur. Accompanied by your local food guide, the evening tour allows you to sample some of Malaysia's most famous dishes.
Thailand
Thailand is an absolute paradise for food lovers. If you want to broaden your palate, Bangkok is one of the cuisine capitals of the world, serving food from virtually every corner of the planet.
The further south you head in Thailand the spicier the food becomes. If you really want to try (or avoid) something distinctive and spicy, look for a kaeng tai plaa, which contains, as one of its more interesting ingredients, fish innards.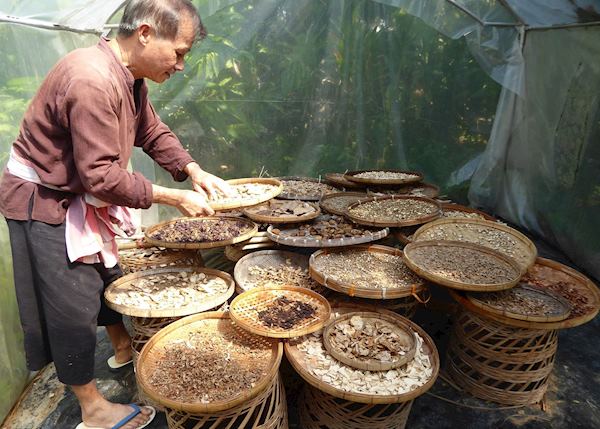 Experience a typical day in the life of a Thai family and experience home cooking in a real Thai neighbourhood. Among other things your Thai family will also demonstrate their basket weaving skills, a tradition that has been in Thailand for centuries.
Vietnam
Vietnamese cuisine has strong influences from the country's former Chinese and French colonists, and the balance or 'harmony' of tastes in food is crucial. Pho, a delicious local noodle soup dish usually served with beef or chicken, is ubiquitous in Hanoi and Saigon.
By the way, if you're in Vietnam, it won't be long before you try a spring roll, either the crispy variety or try rolling your own with translucent rice crepes.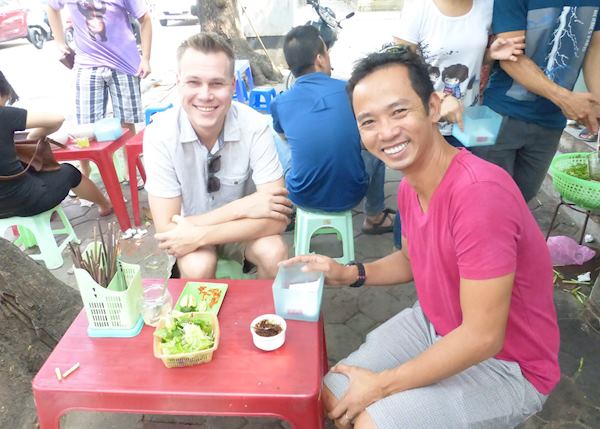 Set off on a street food tour of Hanoi's best culinary spots with a food blogger.
Cookery courses in Southeast Asia
There are countless opportunities to find out how all the food is made; we offer cookery courses in Thailand, Vietnam, Cambodia, Laos, Indonesia and Peninsular Malaysia.
In more remote regions, Western dishes don't always match expectations, but local food is always prepared with skill and flair and is generally a better option.
We can incorporate cookery courses such as these into most trips to Southeast Asia.
I did a cookery course at Y Thao Gardens in Hue and learnt how to make some amazing spring rolls, which I still recreate to this day.

Mark, Southeast Asia country specialist