I grew up next door to a fascinating Malaysian lady who would spend whole afternoons showing me photo albums from her travels. These pictures of Asian landscapes and the stories she told are what first inspired me to travel.
Upon completing a degree in art and art history, I took a trip around the world. A job fundraising in Australia sparked an interest in charity work, and I soon found myself in Thailand working for a post-tsunami NGO in Khao Lak. I fell in love with the country, its people, and especially, its food, and a two-year stint turned into 12 years living in the 'Land of Smiles'.
I now visit Southeast Asia regularly and love finding new countries and cultures to learn from. A recent trip to Cambodia has ignited an interest in the wonderfully warm Khmer people and their history.
Speak to Anna

Start planning your trip to Southeast Asia with Anna
01993 838 100
Q&A with Anna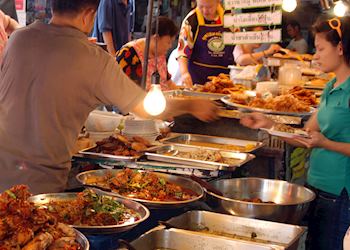 What's the best local dish you've tasted?
Phad graprao gai, stir-fried chicken with basil, was the local staple when I lived in Thailand and it's the one thing I really miss. It's minced chicken stir-fried with soy sauce, lots of garlic, chilli and Thai basil, served on top of rice and usually with a fried egg. I try to recreate as much Thai food as possible at home, but it's difficult to find Thai basil here. Whenever I do find it, I am immediately transported back to my go-to local restaurant in Khao Lak with its plastic chairs, vinyl tablecloth and smiley old lady commanding a wok.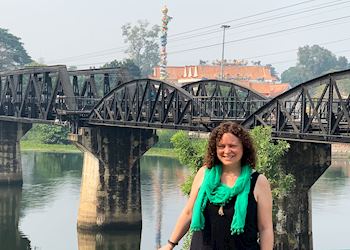 What's the one thing you always pack?
I always pack a sarong as it can be handy for so many situations: a blanket on a cool air-conditioned plane or train, a beach towel, a cover-up for temple visits, or a scarf in cooler mountain climates, and it can even be tied into a bag when you've bought too much at a market.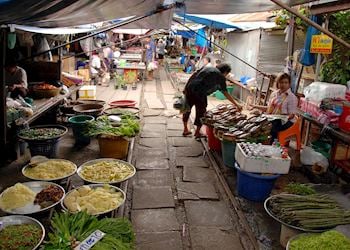 What's your most vivid travel moment?
One of my most memorable experiences was thanks to the skill of our guide. We were headed south of Bangkok by train to see a market set on a train track. Noi ushered us to the last carriage and as we approached the market and the buzz of anticipation increased, Noi shuffled us into the empty driver's cabin at the back of the train. From there we had an unobstructed view of market stalls unfolding onto the tracks, fruit and veg being re-laid into the rails and the hustle and bustle of the market engulfing the railway line. Having a front-row seat for such an unusual experience was unforgettable.