My family always loved to travel so I caught the bug young. I love to see new places and genuinely enjoy the experience of a culture shock. Being in a faraway country, eating the local food, and watching the world go by, is my happy place. This is what's lead me to having been to over 50 countries and how I came to know about Audley, as I was lucky enough to travel with them when I was younger, which is why I wanted to work here.
As much as I've travelled and as much as I yearn to see new places, I am always drawn back to Southeast Asia. The culture and history of the countries in this region are rich and vibrant, and the food is just the right mix of challenging and comforting. Most of all though I love the people here, they are incredibly kind and generous. My advice for people who want to travel to Southeast Asia is — don't wait.
Speak to Dom

Start planning your trip to Southeast Asia with Dom
01993 838 100
Q&A with Dom
What's the best local dish you've tasted?
Khao soi is a street food dish from northern Thailand and Laos. It combines a curried broth with noodles and meat or tofu (I prefer with beef), and is often served with pickled vegetables on the side. The sharp taste of the pickles give a tasty contrast to the fragrant and umami flavours of the main dish. I think khao soi is best eaten for lunch, after a tour of Chiang Mai and its temples, or a trip to one of its local elephant sanctuaries. This way you can digest and discuss your thoughts as you eat something truly delicious.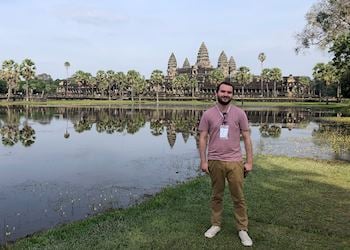 What's your most vivid travel moment?
Travelling to Angkor Watt post COVID was an amazing experience. I had been before when it was so packed with tourists that you felt that you were being climbed on at times — now, is so different and the last time I was there, there was only about 40 people in the entire complex. Experiencing the ancient temples and gates of the complex in such solitude was extremely profound and really made the history of the place hit home. Listening to the stories of Cambodia and its people, surrounded by one of the country's greatest treasures, is something I would recommend to anyone, especially if you can see it as quiet as I did.
Which book, film or artwork captures Cambodia the most?
"Inverted Sewer" is a series of paintings by Sokhorn Meas. This series examines the chaos and corruption on the streets of Phnom Penh and depicts scenes of everyday life in the city. I feel this work encapsulates the ability of the Cambodian people to talk about difficult realities of their country in a frank manner and often with a sense of humour. The vivid colours and swirling images deeply evoke memories of travelling in the country and remind me of the vibrancy and liveliness of Cambodia's Markets, streets and towns.