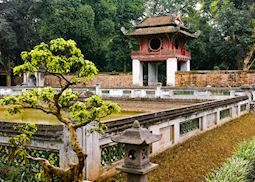 I have visited Hanoi several times and never fail to be blown away by this outstanding capital city. Smaller than its Southerly neighbour Ho Chi Minh City, Hanoi is blessed with less traffic and the pace of life is far more suited to a first time visitor.
The Old French Quarter is a maze of lanes and roads with shopfronts spilling out on the pavements to stock their wares high and wide to sell, great for good natured bargaining. With its location on the Red River and beautiful Hoan Kiem Lake at its heart, Hanoi is the ideal place for an evening stroll among the locals playing badminton and practicing t'ai chi.
As if that wasn't enough, Hanoi is also home to some of the best restaurants and finest hotels across Southeast Asia.