The Sea Star Journey is essentially a larger version of her sister yacht, the Odyssey. An oversized vessel, she has capacity for 16 passengers in eight spacious suites.
Speak to someone who's been there
Start planning your tailor-made trip by calling one of our Galapagos Islands specialists on 01993 838 635
Sea Star Journey
The Sea Star Journey is essentially a larger version of her sister yacht, the Odyssey. An oversized vessel, she has capacity for 16 passengers in eight spacious suites. There is also a larger Odyssey suite equipped with panoramic windows, private bathroom, independently controlled air conditioning, minibar and TV. There are also connected suites for families.
The boat offers a large solarium; featuring both shaded and uncovered areas, two jacuzzis (only available at certain times throughout the cruise due to conservation rules), comfortable sun loungers and a mini spa offering treatments and massages. Social areas include a saloon, mini library and video library; plus a play zone for children (during family departures). Snorkelling equipment and kayaks are available without extra charge.
Ship Details
Passengers
16
The Anahi is an attractive motor catamaran and is also one of the fastest in the islands.
The Athala II is a motor catamaran specifically designed and built to cruise the Galapagos Islands. The huge sundeck is great for whale and dolphin watching.
The Beluga is a small vessel accommodating 16 passengers in eight double cabins (four have twin beds, two with double beds and two with interchangeable beds).
The Cormorant is a beautiful 33 metre long catamaran designed to carry 16 passengers in six comfortable Stateroom cabins and two Suites.
Eric, Flamingo and Letty are 83 foot long sister yachts and carry just 20 passengers each. Accommodation comprises ten outside facing cabins spread across three decks.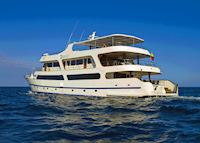 The Galapagos Odyssey is a modern motor yacht which offers a high level of comfort and stability for a boat of its size.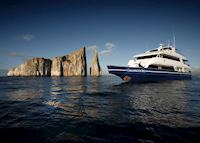 Custom-designed in 2000, the M/Y Galapagos Sky is comprised of eight cabins, carrying just 16 people.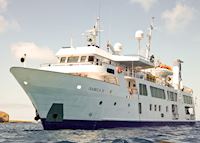 The Isabela II is a spacious and elegant motor yacht with facilities that include three naturalist guides, a Jacuzzi, reading room and a glass-bottomed observation boat.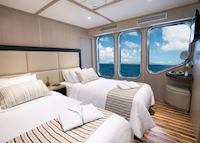 The M/V Origin is a new, purpose-built 20 passenger yacht promising to be a welcome addition to our portfolio in the Galapagos.
The Monserrat is a comfortable, air-conditioned motor yacht built to accommodate 20 passengers in 10 twin bed cabins.
The Eclipse is a superb option for those seeking comfort and excellent service while enjoying a genuine experience of the Galapagos Islands.
The M/V Galaven is a 27 metre expedition vessel accommodating just 20 passengers in 11 double cabins (approximately ten square metres), all with private bathrooms, air conditioning and ocean views.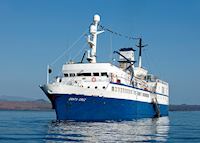 Built exclusively for Galapagos cruising, the Santa Cruz is an excellent option for those looking for optimum service on board a larger vessel with additional stability.
The Cachalote, a classic motor sailor, accommodates 16 passengers in her eight characterful bunk bed cabins. She is an excellent value option with a good reputation for her naturalist guides and their extensive knowledge of the Galapagos Islands.
La Pinta is a 70 metre motor yacht which has been extensively renovated especially for Galapagos expedition cruises.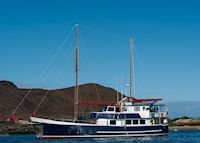 The Samba is a 24 metre classic steel hulled motor-vessel and is one of the best maintained in the islands.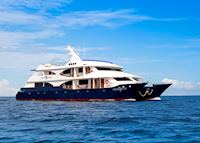 This self-billed Mega catamaran can carry 16 passengers in nine comfortable Stateroom cabins.
Built specifically for the Galapagos market, this comfortable catarmaran is designed for 16 passengers along with its bilingual naturalist guide and crew of ten.
The Seaman Journey is a very stable, comfortable catamaran for up to 16 passengers.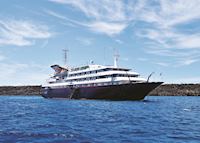 With a capacity of 100 passengers, Silver Galapagos is one of the biggest vessels to operate in the Galapagos and is perfect for those seeking a more relaxed, conventional cruising style trip to the islands.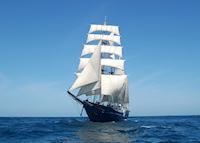 The Mary Anne is the largest of the sail boats that we work with. With almost 1,000 square metres of sail and a slim stern, she is an elegant sight in the water.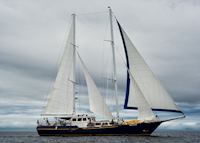 Named after the famous HMS Beagle that Charles Darwin sailed on to the Galapagos, the atmosphere on the Beagle is one of casual comfort and relaxation.