A childhood in Egypt ignited a fascination with Middle Eastern and North African culture, architecture and calligraphy.
Not wanting to lose touch when I moved back to the UK, I studied Arabic and Islamic Studies at university and completed a year abroad in Jordan. During this time I was lucky enough to explore the region more with day trips to Jerusalem, weekends in the UAE and Palestine and holidays to Morocco and Turkey.
Along with rich and dynamic cultures all of these countries boast awe-inspiring histories and it's incredible to experience these yourself. For me, it was particularly overwhelming to make my way down the iconic 'Siq' at Petra to be faced with The Treasury, especially after years of loving Indiana Jones!
The Royal Mummies in Cairo and Tutankhamen's tomb in the West Bank of Luxor were also particularly memorable and bucket-list sights that I would recommend to everyone.
Speak to Anastasia

Start planning your tailor-made trip with Anastasia
01993 838 400
Q&A with Anastasia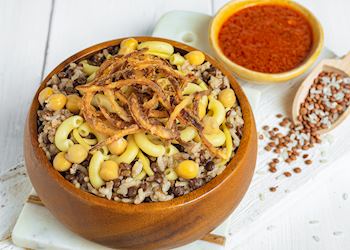 What's the best local dish you've tasted?
I always knew it was a Friday at school in England because, without fail, we'd have fish for lunch. Similarly, at school in Cairo, every Thursday was marked by 'Koshary.' Egypt's national dish; a comforting overload of lentils, chickpeas, rice and macaroni topped with delicious fried onions, zingy garlic vinegar and spiced tomato, with an heirloom lemon sauce which gives the dish its unique and famous flavour. Historically a street food staple, restaurants across Egypt are championing the dish adding their own signatures and styles. Koshary might be 'the dish of the poor', but the flavours are intensely rich.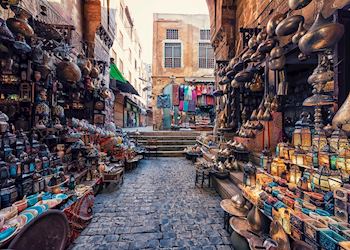 What's your most vivid travel moment?
My first visit to Egypt's Khan el-Khalili was surreal, like stepping back in time to medieval Cairo and also stepping onto a movie set. You're instantly surrounded by the vibrancy of colours, the glow of lanterns, the smell of spices, cooking meat and apple shisha, and the thrum of haggling voices. Haggling is to be expected and enjoyed, though it's a dance you'll need to be well-versed in to negotiate with the smooth-talking salesmen. The 14th century architecture of the Khan is incredibly striking, so make sure you're looking up and around if you can bear to peel your eyes away from the overflowing stalls.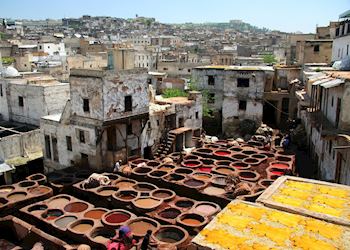 Your best piece of travel advice?
When travelling in the Middle East and North Africa I would recommend making sure you always have small change, or 'baksheesh' on you. The tipping culture is strong and you'll be constantly handing out small notes for any gesture or job someone does for you, even if some of these jobs seem unnecessary, or even non-existent. My other piece of advice would be trying to learn some common phrases before you travel. Even just knowing hello and thank you will endear you to the people you meet and get you surprisingly far.