Travel has always been an integral part of my life. My love for travel took root in Southeast Asia, where my family's heritage provided ample opportunities to explore. As I grew older, my thirst for world exploration continued to expand, fueling my passion even more.
It was in 2020 that I experienced a pivotal solo adventure. My plans to live and work in Vietnam were unexpectedly redirected, leading me to board a one-way flight to Turkey — one of the few countries still open during those uncertain times. It was in Turkey that my fascination for the Middle Eastern region and its vibrant culture truly blossomed, laying the foundation for a lasting love. As travel restrictions gradually eased, I embarked on a journey through Central and South America, Europe, and the Middle East. I eventually settled down in Madrid, Spain. There, I contributed to the luxury tailor-made travel sector, solidifying Spain, and Portugal as treasures in my personal and professional journey.
The immersion in diverse and unparalleled cultures at each stop along my path has influenced my life, making those years the most transformative. Now back in the USA, I am grateful to share my knowledge with both new and seasoned travellers alike on a daily basis.
Speak to Juliana

Start planning your trip to the Middle East with Juliana
01993 838 400
Q&A with Juliana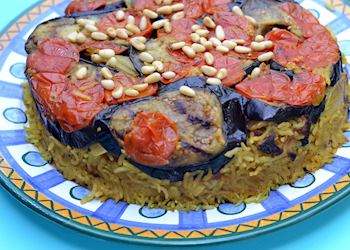 What's the best local dish you've tasted?
The best local dish I've tasted goes to the traditional Jordanian dish of Maqluba. The dish literally translates to "upside down". Maqluba is a pot of stewed meat, flavourful spiced rice, and fried vegetables, cooked and served by being flipped onto a serving dish. It might seem like a long process but is described as an easy one pot dish for locals to make and enjoy in short time. I tasted Maqluba at a family restaurant called "Food Basket" in Madaba, Jordan. With family photos surrounding me, the owner shared with me her family tree as I enjoyed the bold flavours of her culture.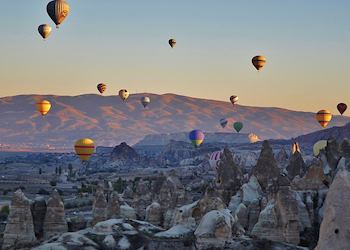 What's your most vivid travel moment?
As the sun rose over the landscapes of Cappadocia, Turkey, I was floating in the morning air aboard a hot air balloon. The pink and orange horizon was glowing upon the rock formations below, known as fairy chimneys. The silence was broken only by the occasional burst of flame, bringing us higher into the sky. This experience of a hot air balloon flight in Cappadocia at sunrise has etched itself vividly into my travel memories and taught me to embrace the present moment, cherishing the natural beauty that surrounds us.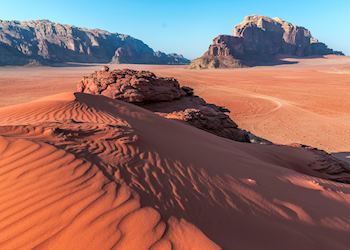 Which book, film or artwork captures Jordan the most?
Jordan's Wadi Rum desert has been a favorite film site for Hollywood for some time. The desert has been portrayed as Mars in several movies, specifically "The Martian". With its impressive sandstone cliffs, rock formations, and vastness Wadi Rum gives travellers the feeling of being on Mars themselves. Wadi Rum is one of Jordan's most popular tourist sites, attracting many who would like to make connections to their favorite films.