Jumana, Egypt & Jordan Specialist
Being born in Bahrain and having family across the Middle East means I've always had a passion for the region. I recently spent 18 months regularly visiting the Middle East and North Africa and the experience cemented an even deeper love of the people, food and culture here. I wanted to share my experiences with others, so I joined Audley as a country specialist for Egypt and Jordan, two of the most impressive countries in the region. I've always loved exploring the downtown markets of Cairo and Amman, speaking to the locals, trying the fresh falafel and indulging in a glass of mint tea. Since joining Audley I've revisited both countries, and have explored their historical and religious sites as well as a series of dramatic landscapes. Wadi Rum in Jordan and Abu Simbel in Egypt were trip highlights and places I'd definitely recommend seeing with your own eyes.
Speak to Jumana

Start planning your trip to the Middle East with Jumana
Q&A with Jumana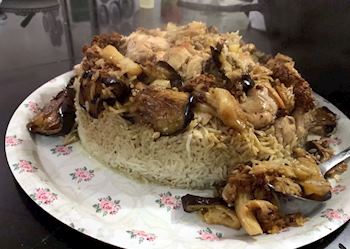 What's the best local dish you've tasted?
Maqlooba is a traditional Jordanian dish and something I look forward to eating before I even arrive. Its name translates as 'upside down' because the dish is turned upside down before serving to reveal the layers of meat, vegetables and rice inside. It's traditionally made with aubergine, potato and cauliflower which are combined with chicken and aromatic rice seasoned with lots of sumac, cardamom, cinnamon and traditional Middle Eastern spice mixes. I was lucky enough to learn how to make maqlooba in a cookery class in Amman, so I can now recreate the dish at home and eat it as often as I want.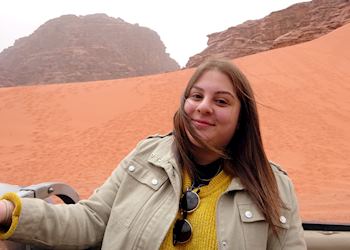 What's your most vivid travel moment?
On a tour of Wadi Rum in southern Jordan, I quickly came to understand why the region is known as 'The Valley of the Moon'. It felt as though I was on Mars, vast areas of red sand stretching in every direction, weird rock formations silhouetted against the sun and giant red dunes undulating across the horizon. I could easily see why it has been such a popular film location. We visited hidden springs, canyons and natural rock arches, but the highlight was lunch in the heart of the desert, a traditional Bedouin experience that I'll never forget.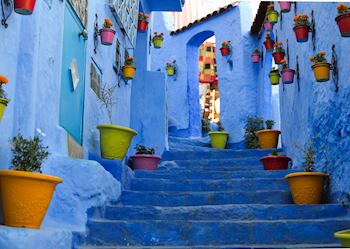 Where would you love to travel next?
Chefchaouen in Morocco's Rif Mountains is a place that I've always wanted to visit. It's known as the 'blue city' because all the buildings, steps and doorways in the old medina are painted an electric blue which creates a striking backdrop for photographs.