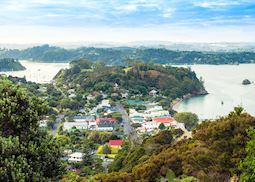 About two hours from Auckland in New Zealand and best accessed by passenger ferry, is the quaint town of Russell.
In the mid 1800s it was the first permanent European settlement and sea port in New Zealand. It's a wonderful place to learn about the history of the country's first colonizers and their relationships with the local Maori iwis — or tribes. Today, it's dotted with small bed and breakfast properties, hosted by some of the most welcoming of Kiwis. It also has a number of luxury villa options for a one-of-a kind, off the grid experience.
A nice way to spend a day in Russell would be dining by the shore with a view of the turquoise water, sprinkled with green islands, before spending the rest of the day either snorkeling or relaxing on one of its quiet beaches.