Australia's great rail journeys may not have the Old-World opulence of, say, the Orient Express: their exclusivity lies in the remote (and otherwise inaccessible) landscapes you'll witness. We're talking Outback towns with less than ten inhabitants, geological curiosities, and the yawning, treeless Nullarbor Plain or the scorched Red Centre.
Even if the trains aren't palatial, they're certainly a very classy, comfortable way to travel, with several upgrade options available. And, you won't have to don a tuxedo for dinner: this is relaxed luxury, Australian-style — shorts and short sleeves are de rigueur. But, which journey speaks most to you? Our specialists set out their stalls.
Practicalities of journeying aboard The Ghan and the Indian Pacific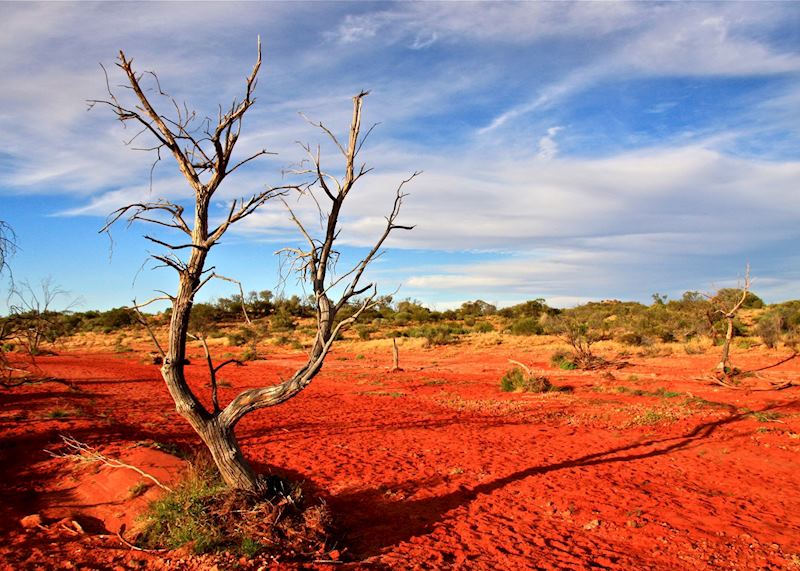 Both routes work a bit like a cruise on wheels. You often travel while you sleep, giving you time during the day, when the train is in station refueling or taking on provisions, to take off-train expeditions to explore your surroundings. Some are optional and can be arranged for an additional cost on board.
Dining-wise, you're in for a treat. Platinum Service guests can have a continental breakfast served in their cabin, but we recommend heading to the plush dining cars for à la carte meals. Food is inspired by Australia's flourishing farm-to-plate culture, and sourced from local suppliers and providores. The menu changes seasonally and according to availability, but you can expect modern Australian classics such as barramundi or kangaroo fillet.
Gold Service guests can have two-course lunches and three-course dinners served in the Queen Adelaide Restaurant Car, while Platinum Service guests can have two-course lunches and five-course dinners served in the Platinum Club car, which offers an even higher standard of cuisine plus premium drinks.
Gold Service guests can also relax in the Outback Explorer Lounge, where you can enjoy a drink, read, play games or simply soak up the scenery while mingling with fellow guests.

You can travel each route in whole, terminus to terminus, or just tackle sections. You can also hop on and off the train, allowing you to explore cities and areas in greater depth. Please speak to your specialist, who'll perform the necessary logistical wizardry to help you fit these train journeys into your wider Australia travel plans.
You can, for example, slot a spell on The Ghan into a wider trip exploring the Red Centre and Outback life. Or, you could use the Indian Pacific to link a trip of two halves, skipping from South Australia to the east coast ― a more eco-friendly approach than flying.
A quick note on carriages and upgrade options
There's a choice of carriages on board both trains that we particularly recommend (again, please speak to your specialist for a more detailed breakdown).
We particularly like Gold Service, which offers comfortable cabins with compact en suite facilities and seats that convert into a sleeper berth in the evening. Or, you could upgrade to Platinum Service with larger cabins and full en suite bathrooms.
Whether you opt for Gold Service or Platinum Service, fares are inclusive of all meals, drinks and off-train expeditions.
Why The Ghan?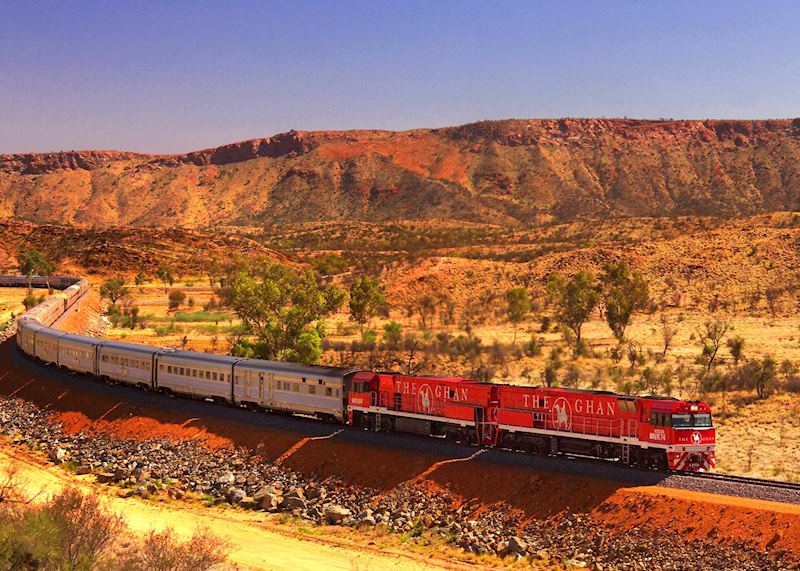 By Australia specialist Pippa
The Ghan traces the footsteps of Afghan cameleers who traversed the Red Centre in the 19th century. For me, there's no better way to get a feel for this historic pioneer route, and the Red Centre itself, than by rail.
Yes, you could easily fly from Darwin to Uluru or Adelaide, but there's an old-fashioned romance to rail travel: there's something about laying your head on the pillow in one place, and waking up in another. More concretely, I love how The Ghan lets you gaze out, for hours, over what I've always thought of as the quintessential Australian Outback: the burnished scarlet-rust earth, desert scrub, mountain ranges blurring the heat-hazed horizon, and the occasional long-abandoned homestead.
It's one of the world's longest passenger trains in terms of carriages, and it bisects Australia lengthways like a sleek red caterpillar (its livery is red, too ― to match the landscape, perchance?). You can travel all the way from Darwin to Adelaide (2,979 km or 1,851 miles) in only four days and three nights, or three days and two nights, if you're heading north.
You don't even have to take on the whole beast if you don't want to. You could board, for example, at Alice Springs, an impossibly remote yet sizeable town that also acts as an access point for the Red Centre's geological spectacles: the hulking knuckle of Uluru, the stubby domes of Kata Tjuta, and the vast gash of King's Canyon.

But The Ghan isn't just about the Outback. As you approach Adelaide, the unforgiving escarpments of Flinders Ranges National Park mellow into gentle hills and the flat, verdant winelands of the Barossa and Clare valleys.
In the opposite direction, you'll go from arid Red Centre desert to the wetlands and lush, tropical vegetation of Nitmiluk (Katherine) Gorge. You can even hop off the train for a boat cruise along the zig-zagging course of the Katherine River.
Why the Indian Pacific?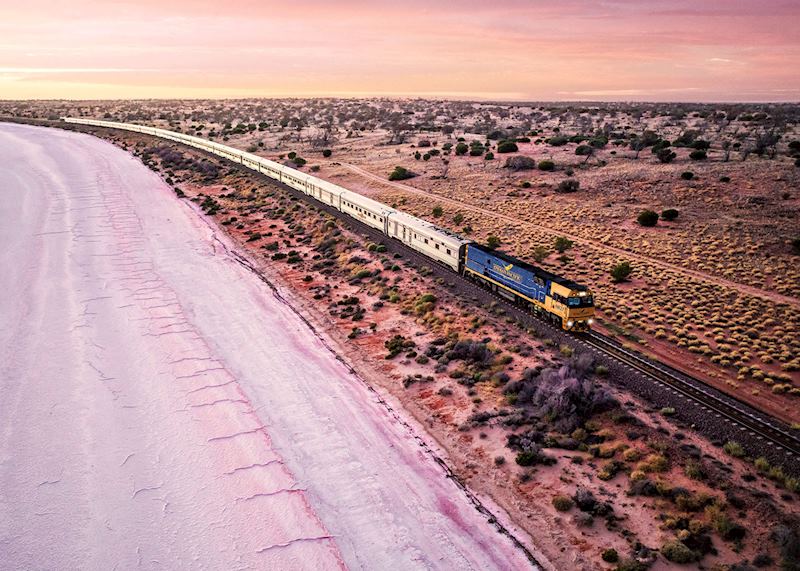 By Australia specialist Grace
The Indian Pacific is the second-longest train journey in the world, but that's not why you should do it. Do it to cross the Nullarbor Plain, a piece of limestone (the world's largest) that stretches across the girth of Australia, connecting the south and west. It's difficult to experience this place otherwise, unless you're an experienced off-road driver.
The plain is completely flat, covered in saltbush and blue-brush scrub, and little else. It plunges into the ocean on the Great Australian Bight, a stretch of coastline with fiercely serrated cliffs. There's nothing much in the Nullarbor, but I find that's part of the appeal. Nothingness is part of Australia, the definition of the Outback. For me, crossing the plain gives you a thumping visceral sense of Australia's immensity and scale.
Oh, and if you like to collect superlatives, in the Nullarbor you'll be streaking along on the world's longest stretch of track ― all 478 km (297 miles) of it.

But, there's more to the journey than that. Starting in Sydney, you'll sweep through the Blue Mountains before entering the New South Wales Outback and stopping at the heritage station of Broken Hill (it opened in 1919). From here, you can take a tour to the Living Desert Reserve, where 12 sandstone sculptures have been erected, the work of international contemporary artists.
Nearing Adelaide, things start to turn green again. You stop here for either a wine tour of the Barossa Valley or a walking tour of the capital of South Australia. You could even break your journey here and take a short flight to wildlife-rich Kangaroo Island ― our guide to South Australia's wildlife and landscapes explains its allure.
The verdurousness returns once you've crossed the Nullarbor Plain and enter the fertile Avon Valley on the outskirts of Perth.
But, back to the Nullarbor Plain (yes, I'm obsessed). There are two other idiosyncratic experiences in store here that you might find intriguing. One is the chance to stretch your legs in the minute Outback town of Cook (population four). The other? Dining trackside on roast lamb at Rawlinna, a middle-of-nowhere sheep station, under a canopy of stars.
Start planning your rail journey in Australia

Start thinking about your experience. These itineraries are simply suggestions for how you could enjoy some of the same experiences as our specialists. They're just for inspiration, because your trip will be created around your particular tastes.
View All Tours in Australia
Further reading