By Australia specialist Holly
I love Australia's cities: they're pacesetters when it comes to contemporary art, architecture and food trends, and in most cases they're never far from a beach. But I also think it would be a shame to honeymoon in Australia and spend all your time in an urban setting — there's so much more this humongous country can offer beyond its cities.
Getting to the remote, wilder corners, staying there for a few days and absorbing them, and focusing on experiencing the landscape, the wildlife, the wilderness itself — for me, this is the essence of a honeymoon in Australia.
My recommendations for what to do on your Australia honeymoon
You probably couldn't fit all my suggestions below into one single honeymoon, so it's best to try and combine three or four of them during the course of a two-week trip. Luckily, Australia's efficient internal flight network makes this feasible. For example, one route that works well is the loop from Adelaide to Ikara-Flinders Ranges National Park, then moving onto Kangaroo Island for some wildlife-spotting.
Experiencing the Outback
Uluru-Kata Tjuta National Park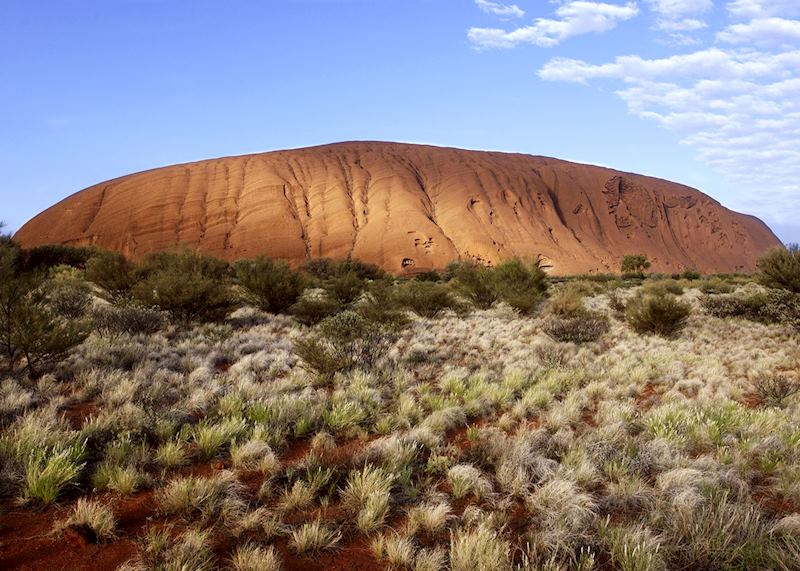 Australia's Red Centre is a scorched-looking, seemingly inhospitable landscape, its name more impactful as soon as you catch sight of the sandy earth: sometimes vermilion red, sometimes a shade of rusty-brown or even tangerine.
The same goes for the Red Centre's geological icon, the monolith known in the local Anangu language as Uluru (named by British explorer William Gosse as Ayers Rock). Uluru has long been a sacred site for the Anangu, who consider themselves its custodians.
A great chunk of arkose sandstone that was folded and shaped by mountain building and pressure more than 400 million years ago, it's accompanied by Kata Tjuta (the Olgas), a huddle of domed rocks and boulders. Around these formations, the lone and level sands stretch far away.
For the most serene experience of 'the Rock', I recommend staying in Longitude 131°, a hotel whose rooms come in the form of safari-style tented pavilions, with outdoor seating areas looking right onto Uluru (you can even choose to sleep out there).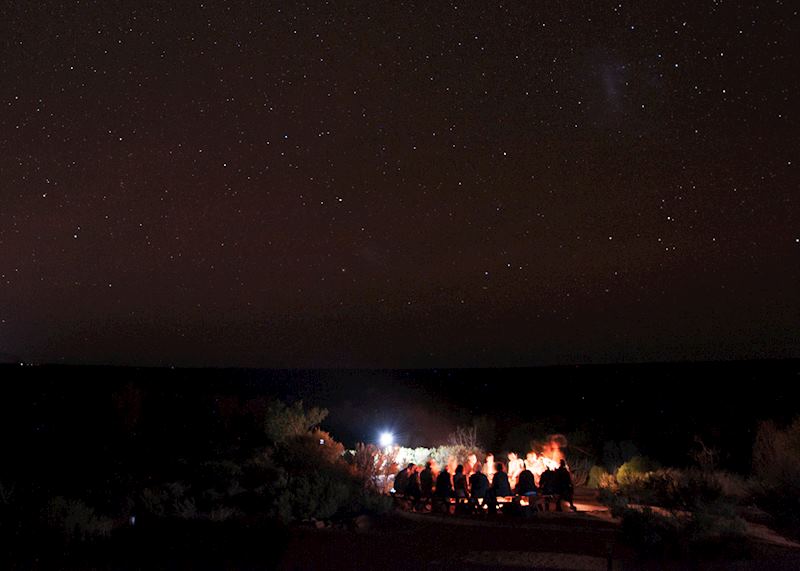 Then, I highly rate taking part in Tali Wiru ('Beautiful Dune' in Anangu) which you can do from any hotel in the Ayers Rock Resort. For this intimate, open-air fine-dining experience, you're picked up from your hotel and taken to a quiet dune, where a wooden platform rises over the surrounding scrub and mulga trees. It only seats 15 to 20 people, mostly at private two-person tables.
Accompanied by a didgeridoo's haunting, primal drone, you watch the sun set over a glass of champagne and canapés made from local bush tucker fare (mine involved kangaroo tartare). Then you settle down to a four-course meal of dishes such as Wagyu beef fillet and pan-roasted toothfish, with wine pairings.
When I tried this, the sunset, I'm happy to report, wasn't underwhelming in the slightest. Whereas I find that sunrise at Uluru can be a very quick transition from inky night to day, sunset was a much slower, meditative experience. It was clouded over at first, so I thought it might be a bit anticlimactic. But then the sky above Uluru became gradually rippled with marmalade orange, then russet red, before draining completely of all pigment.
Even better was the stargazing that came after the main course. The desert is completely devoid of man-made light, so the stars seem to shine with a fiercer precision. An astronomer helped me pick out the Southern Cross, before a campfire was lit and an indigenous storyteller shared local fables with us.
Ikara-Flinders Ranges National Park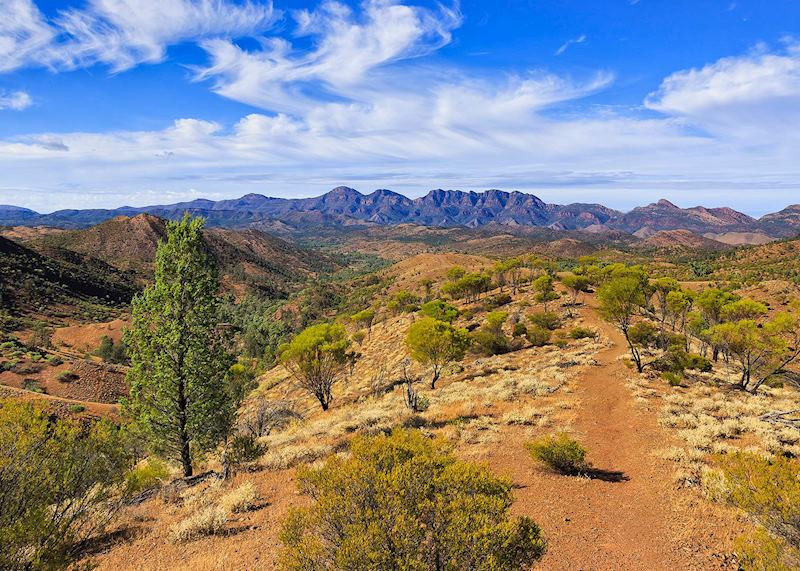 If you're looking for a bonafide Outback experience but your heart isn't set on seeing Uluru specifically, I'd make the six-hour drive north from Adelaide to reach this under-visited national park.
Dusty, scrubby, riven with ridges and smattered with forsaken homesteads, it's also an area teeming with life, from the sugar gums that can thrive in this semi-arid environment to many species of kangaroo and the once-rare yellow-footed rock wallaby.
The park's calling card is the Wilpena Pound. At first, this vast, rocky bowl seems to have been gouged out of the earth by a meteorite, but was in fact caused by synclines (folds) of sedimentary rock. The local Adnyamathanha people have a more imaginative interpretation that it was formed from the petrified bodies of two coiled snakes.
I'd stay at Arkaba, a former sheep station and 19th-century homestead-turned-hotel that offers a refined stay with many activities included. You can take tours with its guides, including a trip to the Pound itself, as well as mountain bike and visit Adnyamathanha rock art sites. Several guided and self-led bush walks also head out from the property, and staff can arrange scenic flights over the Pound and nearby salt pans.
Then, for a change of rhythm, you could spend a few hours relaxing at the outdoor pool overlooking a creek, keeping a watchful eye for emus stomping through the bush.
Wildlife viewing on Kangaroo Island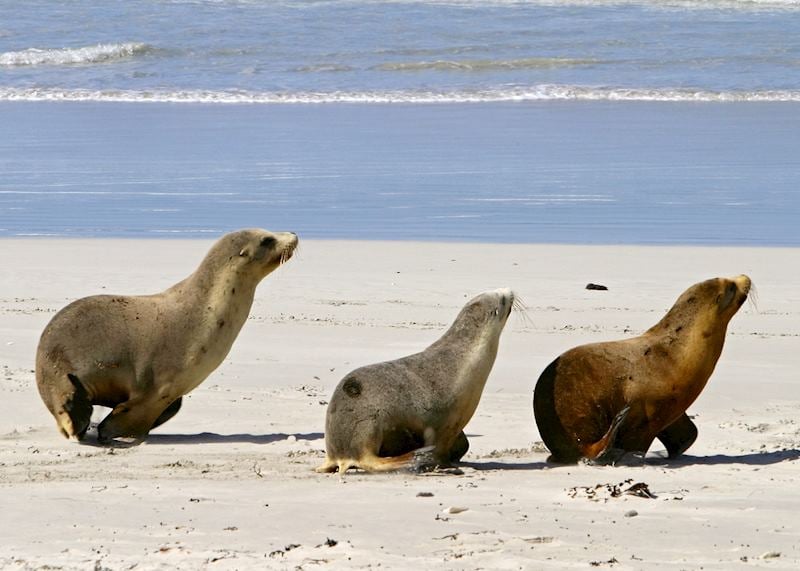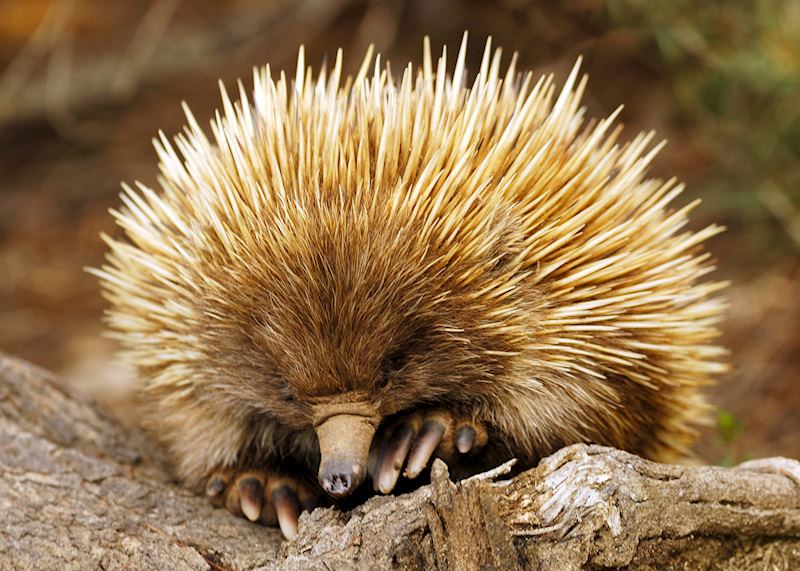 A 20-minute light aircraft flight from Adelaide transports you to the scarcely inhabited wilderness of Kangaroo Island. It's a land apart from mainland Southern Australia in every sense: mostly desolate-seeming, windblown mallee scrub, a few inland lagoons, the odd crop of tall sugar gums and island pines feeling like the only trees.
Succulent plants cluster the clifftops and border beaches (mostly deserted, save for a few hardy surfers — personally, I find the seas too rough to swim here).
The few towns are small; most of the island is free from development, and unpaved roads mean fewer cars. All of this has allowed wildlife to thrive: the island is really one huge open-air zoo, its only fences the high cliffs and rocky promontories holding the vast swells of the Southern Ocean at bay.
If you're hankering to see some of Australia's zoological curiosities, this is a good place to come. I recommend taking part in at least two small-group guided wildlife tours (don't even think about driving yourself: those unpaved roads can be tough-going, plus guides know the right places to look).
Kangaroos are fairly bold, and you might see them bouncing along the roadsides. Wallabies are more skittish and scatter at any sudden movement: 'tiptoe past,' urged my guide, when we came across a group in the middle of a small wood.
Sea lions and fur seals throng a couple of designated seal-only beaches, but you can walk among them on boardwalks, watching as they return from hunting, play and snooze.
Echidnas (spiny, cat-sized anteaters) are rarer finds. Ask your guide if you're particularly avid to spot one, and they'll help you. I saw one snuffling among grasses, searching for bugs with its long beaky snout.
Seeing koalas on Kangaroo Island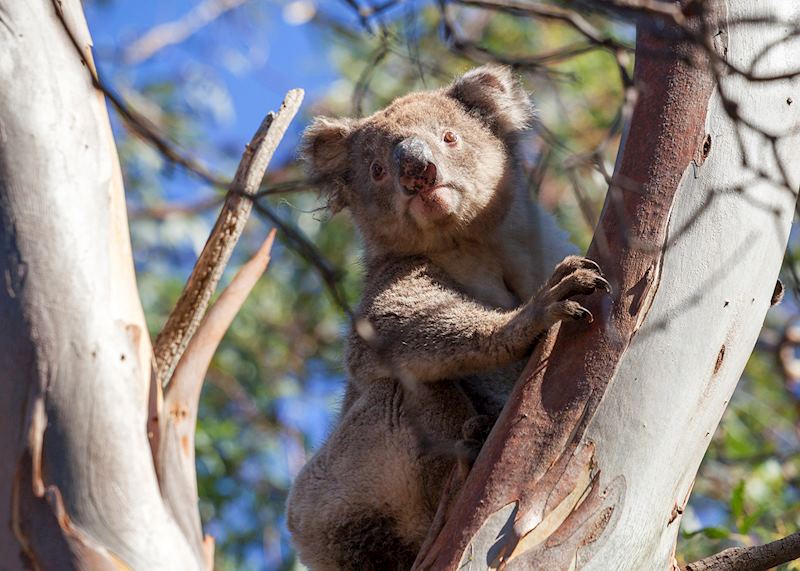 These were all great sightings, but my guide really came into his own when we went in search of koalas. 'No point looking there,' he said breezily, when we all identified a group of eucalyptus gums and peered into their branches in search of fuzzy somnolent gray balls. 'They're the wrong type of tree. The koalas can't digest their leaves.'
He then found us a row of the correct eucalypt species, bordering the roadside. And, sure enough, there in the third tree, bottom wedged between two branches, sat a chomping koala. They're solitary by nature, but aren't always confined to trees: I've seen one trot across the road before disappearing up the trunk of another gum.
Wildlife aside, being here is all about absorbing the landscape and the sleepy pace of life that envelops the island's small communities. I suggest making time to visit the rock formation known as the Remarkables, walking among its granite boulders, which have been weather-beaten into the most surreal shapes. One reminded me of Salvador Dalí's melting clocks, or the great head in his painting Sleep.
For more earthly pleasures, the island has its own gin distillery, which offers tastings, and a small vineyard making a very good sauvignon blanc. If in doubt, ask the owners of your accommodation where to go: they'll point you in the direction of quiet bush walks and photogenic lookout points. Nor do you need to worry about the weather: an overcast day only adds to the mood of the island.
I really enjoyed staying at Molly's Run, an upscale B&B in the style of a Tuscan villa with jaunty blue-painted doors and shutters. It serves great food, including breakfasts made with eggs from the hotel's hens… if the local possums haven't got there first.
Hiking in the Blue Mountains near Sydney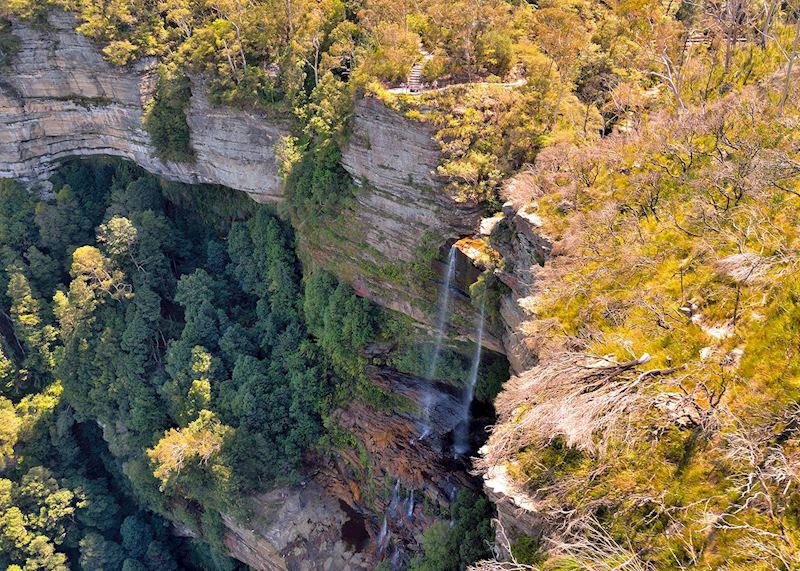 Australia has many celebrated walking tracks, including the 223 km (139 mile) Larapinta Trail in the Red Centre, a journey over desert mountain ranges and dry creek beds from Alice Springs to Mount Sonder.
There are also hundreds of ways to incorporate a good shorter hike or two into the space of a two-week honeymoon. I think one of the best places for walking in Australia is within an hour's drive of Sydney, making it easy to include in a trip if Kingsford Smith is your arrival or departure airport.
Journeying to the Blue Mountains, you begin in modest foothills and end up among great sandstone ridges and escarpments that are the remains of a dissected plateau. Their valleys and sides are densely carpeted in eucalyptus, though the remains of a more ancient forest exists there too, with areas of prehistoric Wollemi pines and hanging swamps. Look out over the ridges from almost anywhere in the park and you'll see a teal-gray haze that blends into the horizon — an effect created by a fine oily mist given off by the eucalypts.
I took part in a 12 km (7.5 mile) small-group guided walk here, which can be tailored to your fitness level. We hiked along the bare rock of a sandstone ledge above a thickly forested valley, part of a larger walk called the National Pass Trail.
It was a more circuitous (and a blissfully uncrowded) route to the Wentworth Falls. One of the park's star lookouts, it faces onto a filmy three-tiered cascade that spills down a rock face and into an iron-ore red plunge pool. Along the way, our guide chatted to us about everything from Aboriginal rock engravings to European settlement and local deforestation policies.
Most people visit the Blue Mountains for a day, but I prefer to stay overnight. My first choice would be the Old Leura Dairy, a once-ramshackle farm outbuilding turned into a boutique eco hotel in the village of Leura. Rooms take the form of nattily converted cottages or milking sheds, and there's even a milk-vat-turned-hot-tub.
Retreat from everything in the Atherton Tablelands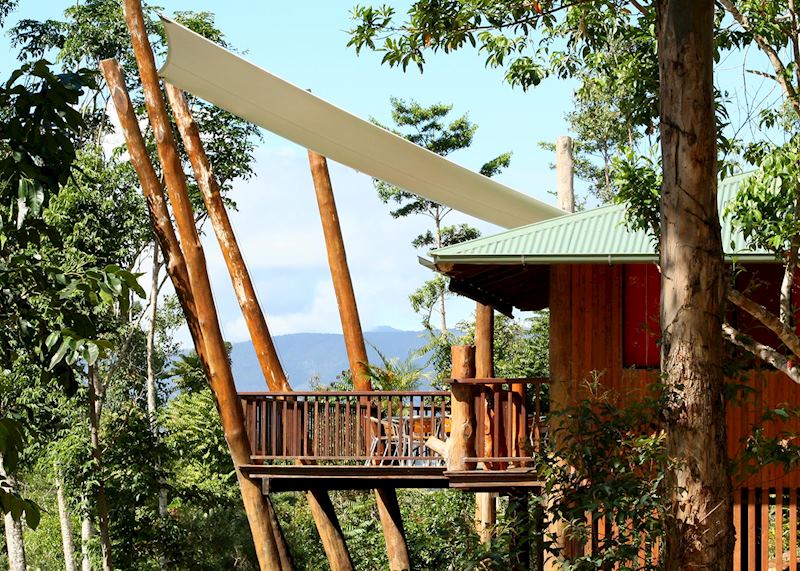 The drive there is hard work, as you wind up and up from Port Douglas in Queensland, to reach the high, green agricultural plateaus that form this under-visited, restful area of Australia. A place of open farmland as well as wetlands, savannah and rainforest with waterfalls, lakes and forests of mahogany and teak, it's a place that seems made for hiding out in.
I'd honeymoon here for two or three days in the Rose Gums Wilderness Retreat, whose eco cabins are built to look out over native forest. There's no Wi-Fi or TV, and you needn't even emerge for breakfast: a basket of provisions is handed over on arrival.
After a couple of days there, I felt supremely relaxed. Maybe it was the trees — all that oxygen. Though I suspect the glass-fronted spa bath in my room also had something to do with it. It's positioned to be entirely private and screened-off, and yet it allows you to look over the surrounding canopy as you soak.
You can do as little or as much as you like here. When you're not in the bath, you can try tracking down the lodge's resident cassowary, borrow bicycles, follow birdwatching walking tracks or take short drives to viewpoints.
I heard a tip-off about a local salmon farm that platypuses had cunningly taken to visiting around feeding time. Sure enough, one appeared right on cue, bill bobbing above the water like a small piece of driftwood. I also wandered around a tea plantation, which had a healthy population of tree kangaroos.
Best time to honeymoon in Australia
All the places I've mentioned can be visited almost all year round, with the exception of the Red Centre, which is uncomfortably hot during the Southern Hemisphere summer (December to February). My preferred time is April, when the sun still shines brightly almost everywhere, but the crowds have dispersed.
Start planning your trip to Australia

Start thinking about your experience. These itineraries are simply suggestions for how you could enjoy some of the same experiences as our specialists. They're just for inspiration, because your trip will be created around your particular tastes.
View All Tours in Australia