By Paul and Tom from our Australia team
For us, luxury travel in Australia is about visiting extraordinary places that are extremely hard to get to, and having exceptional experiences that would be hard to come across or arrange on your own. It's not so much butler service and private yachts. It's about seeing 40,000-year-old Aboriginal rock art that most people will never set eyes on, exploring a city with a local who feels more like a long-lost friend than your tour guide, and staying in ultra-elegant lodges (or expedition cruise vessels) dropped right in the middle of raw wilderness.
Our recommended luxury tours and one-off experiences
By Tom
It can be hard to escape the busy, popular areas in Sydney and Melbourne, and especially if you're pressed for time. One way to get a richer, more satisfying and insightful experience of a city is to take a private tour. The guides we work with are all locals and have a holistic, exhaustive understanding of their stomping grounds, and they tell a story of their cities from a resident's perspective. They'll also tailor their tours to any specific interests you have.
The hidden corners of Melbourne, from laneways to vineyards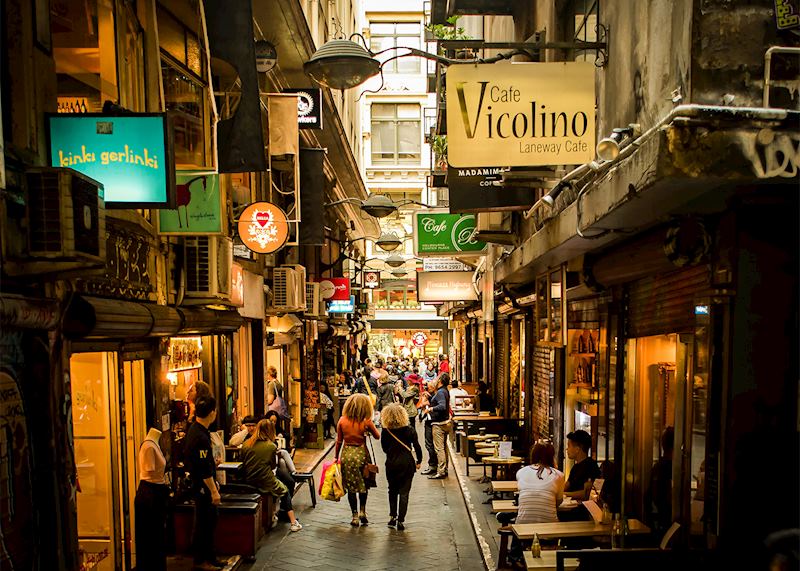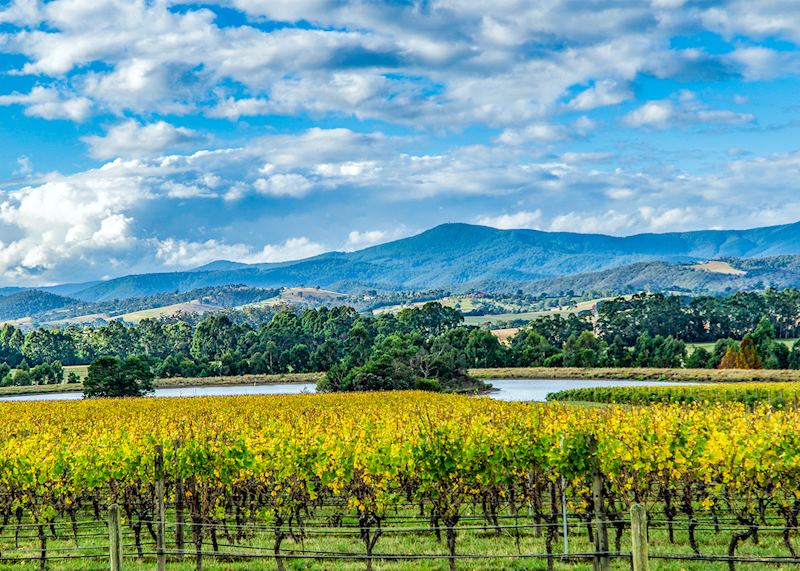 For example, I took a private tour in Melbourne with a local called Dean (affectionately known as Dingo). It began with us delving into Melbourne's celebrated laneways, pedestrian-only passageways that were once service routes for buildings.
Since the 1990s they've been a city in their own right, papered with street art and crammed cheek-by-jowl with independent cafes, shops, and bars of every stripe. Dingo took me, among other stops, to a vintage record shop (through an entrance I'd never have found by myself) and a 100-year-old Jewish bakery.
On finding out I was into wine, in the afternoon Dingo took me out to the Yarra Valley. We dodged the mainstream wineries packed with day-trippers and found this little tucked-away vineyard. Here, Mark (a cardiologist in his spare time) makes boutique wines, including heavy-bodied 'grouch' shiraz and several pinot noirs. They were some of the best I've tasted, and aren't sold anywhere else.
Out-of-the-ordinary ways to see Sydney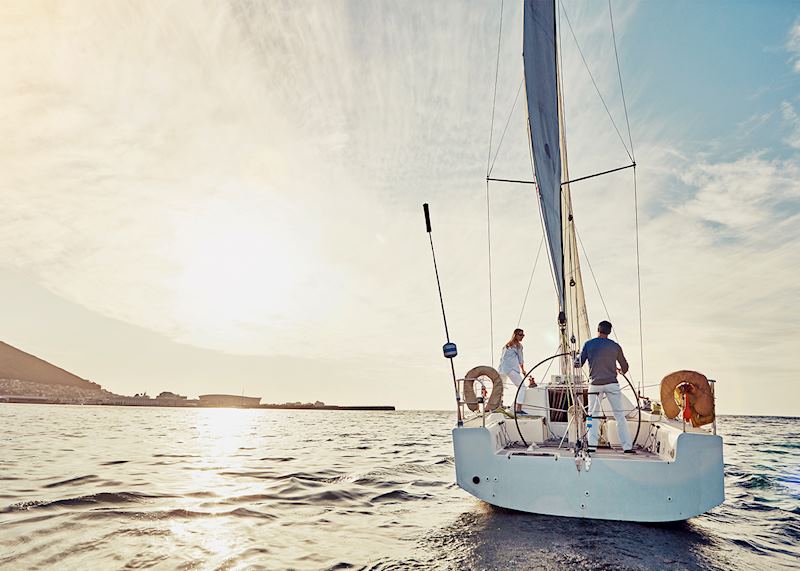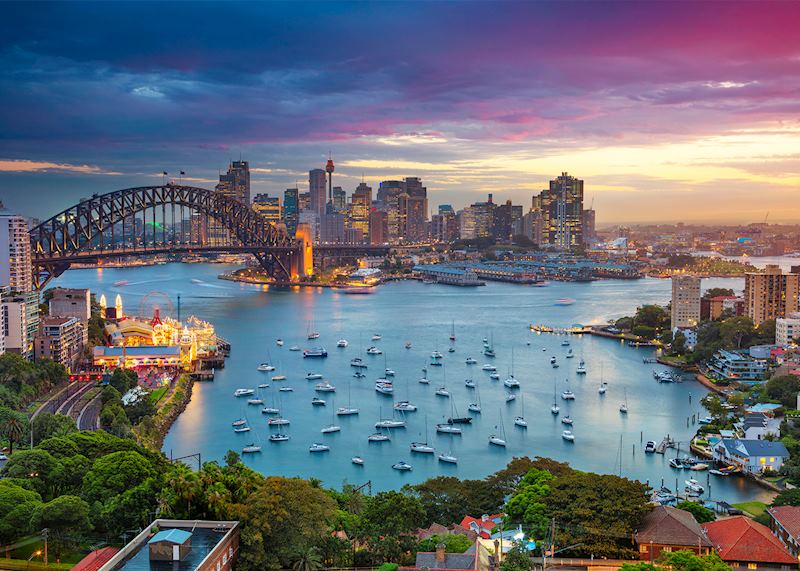 You can take a similar tour in Sydney, where (among other adventures) you might stumble across an urban winery. These local-led, insider-style tours are particularly good if you're into food — there's even a privately guided, evening walking tour that takes you to a different place for each dinner course, as mentioned in our guide to food and wine experiences in New South Wales.
Okay — maybe we lied about the private yachts. For a more classic luxury activity, you can combine one of these local-led walking tours with a slice of sheer sumptuousness: an afternoon aboard an 18 m (60 ft) yacht, gliding your way around Sydney Harbour, accompanied by champagne and a plate of artisan cheese. You'll watch the sun set, and enjoy some of the finest views of the Sydney Harbour Bridge and the Opera House.
If Sydney Opera House has caught your eye, it's possible to experience this world-renowned venue in a one-of-a-kind way: a walk-on part in an opera. We can arrange for you to go backstage, where you'll meet professional performers and be fitted for your costume.
Apart from the sheer fun and thrill of being part of a live production, it also gives you the chance to look out into the cavernous auditoriums in a way members of the public don't normally get to do.
Close encounters with wildlife in Tasmania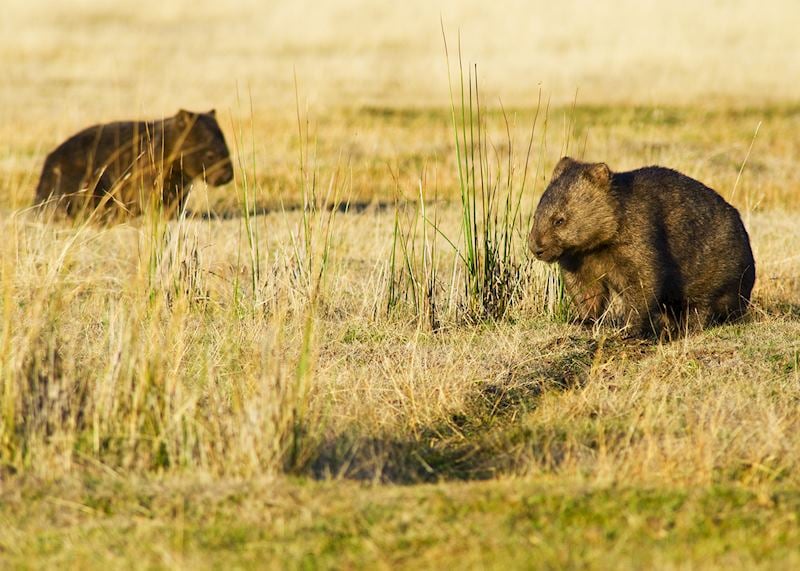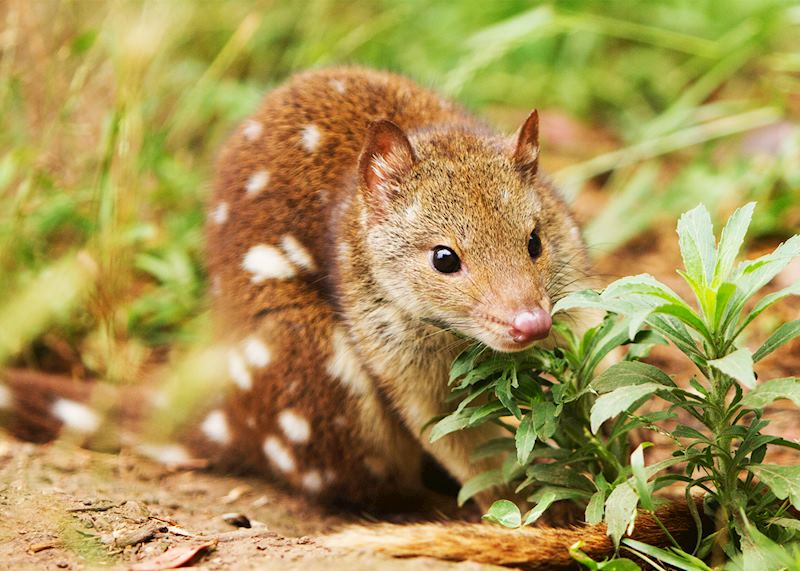 Tasmania, or Tassie as it's often known, has some of the best food in the country, as well as some of the finest guiding. I can't think of a better wildlife experience in all of Australia than a day spent with Craig 'Bushie' Williams, culminating in a campfire dinner and nocturnal wildlife watching.
Bushie, a sixth-generation Tasmanian, knows Tasmania's backwoods like no one else: a day spent in his company might see you foraging together in the bush or spotting rare and reclusive wildlife, such as platypus or echidnas.
The highlight, however, comes after nightfall, when Bushie serves you a multi-course campfire dinner in the middle of a seemingly quiet paddock. Gradually, as the light fades, marsupials begin to appear: wombats, wallabies, pademelons, possums, even spotted tiger quolls (all but extinct on the mainland). They're wild animals but indifferent to you, so all you need to do is sip your drink, sit back, and watch them go about their business. The numbers are astonishing.
You can read more about this experience in our guide to Tasmania's highlights.
Luxury lodges of Australia: the best luxury stays in the country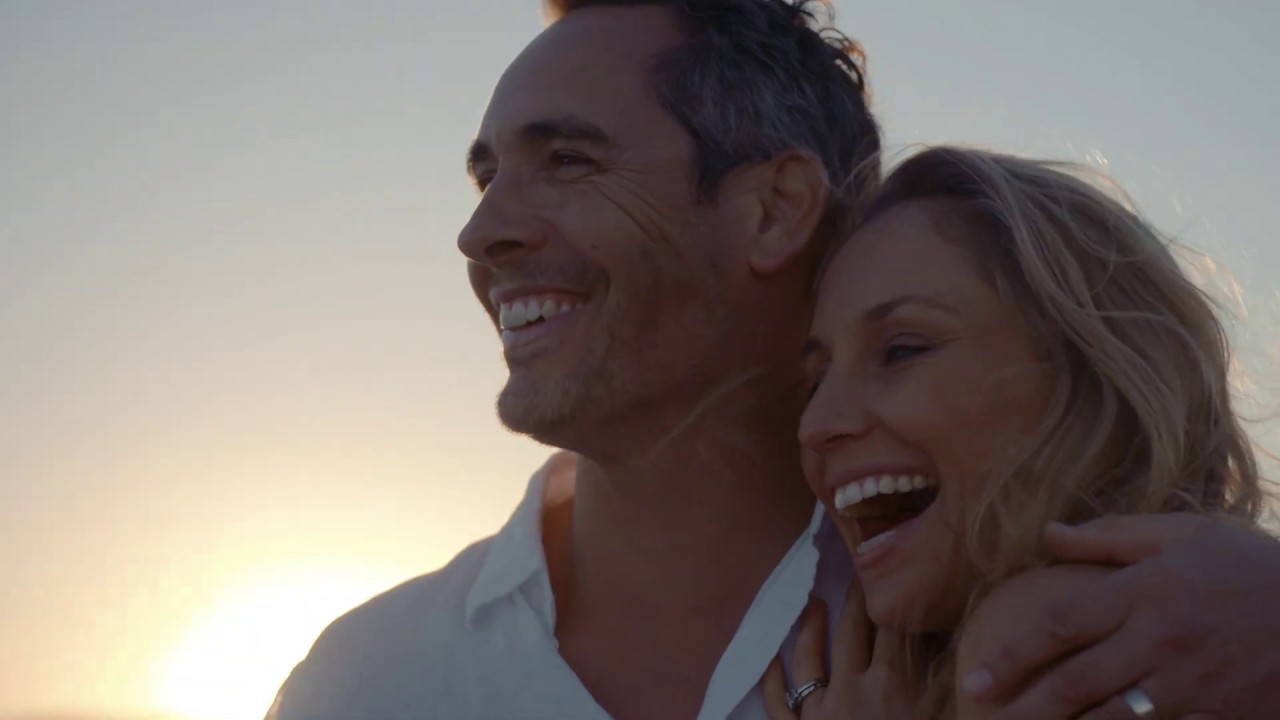 Luxury lodges of Australia
Luxury lodges of Australia: the best luxury stays in the country.
By Paul
When it comes to luxurious places to stay, I suggest the official Luxury Lodges of Australia. This group of 19 independently owned lodges forgo chandeliers and palatial suites for a strong sense of place. Architecturally singular, they tend toward natural materials and floor-to-ceiling windows to make the most of the surrounding landscapes. This is the understated luxury that Australia does so well.
They work hard to be in-keeping with their environment — for example, Western Australia's Sal Salis is a safari-style camp tucked unobtrusively into the sand dunes of Cape Range National Park. On the other side of the country, Mt Mulligan Lodge is set on a working Outback cattle station, and its chestnut-toned timber and palette of stone hues help it blend into the terrain.
They're not just a place to rest your head: all these lodges offer activities and bespoke, private guiding to help you immerse yourself in their landscapes and ecology.
For example, at Arkaba Conservancy, which is set on a private nature conservancy in South Australia, you can track local wildlife with one of the lodge's conservationists. Meanwhile, Spicers Peak Lodge in Queensland offers a range of guided hikes in the mountains of the Scenic Rim region, where our specialists spotted red-tailed wallabies and a yellow-faced whipsnake.
Although located in some of Australia's most secluded places, several lodges are surprisingly easy to access: for example the exclusive four-room Pretty Beach House is only a 90-minute drive from Sydney (or a short hop by seaplane or helicopter).
Three of the best luxury stays in Australia
Emirates One&Only Wolgan Valley, the Blue Mountains, New South Wales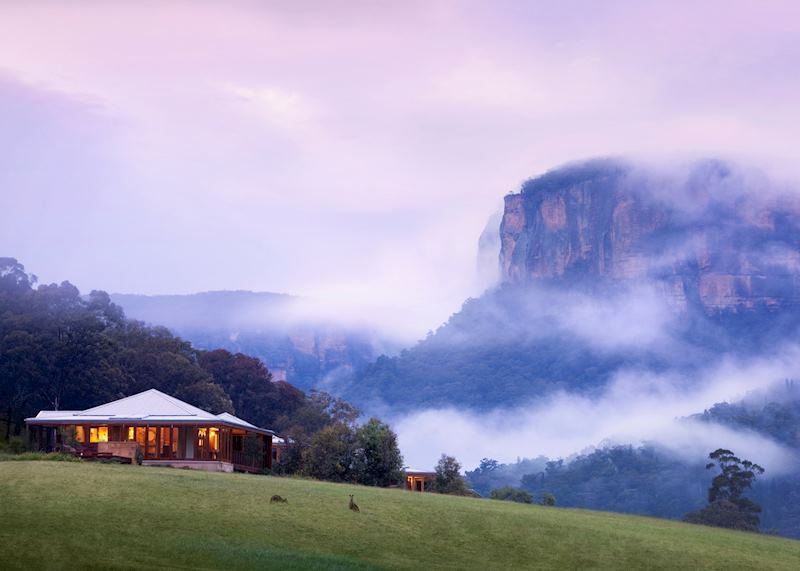 The first carbon-neutral lodge in the world, Wolgan Valley sits in a remote valley in the Blue Mountains, three hours' drive from Sydney. Once you're here, though, the city feels a world away. You lose your phone signal long before you've even reached the main lodge buildings.
Rooms are built to mimic 19th-century homesteads, positioned so you're looking out over the hazy mountains and when you throw open your window in the mornings, the air is sharp with eucalyptus. You can partake in a long list of activities, from lounging at the spa to more conservation-based efforts such as planting trees or participating in a wombat survey.
Qualia, the Whitsunday Islands, Queensland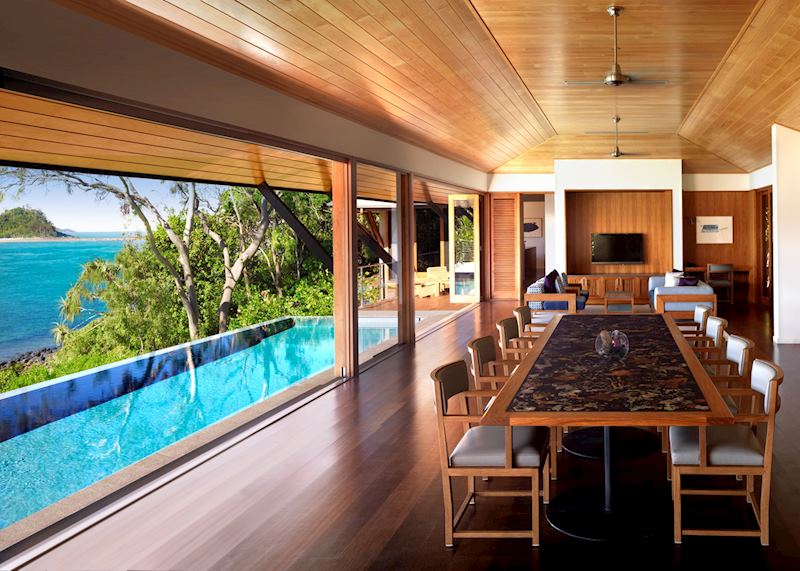 This lodge is situated on the northernmost tip of popular Hamilton Island, and its position means that it feels extremely private and exclusive. Each room has expansive views over the bright cyan waters of the Coral Sea.
You can do very little here — lingering over the excellent tasting menu with wine pairings, or visiting the spa — but it's also an ideal location if you want to snorkel or dive on the Great Barrier Reef, or go bushwalking. I like the lodge's 'beach drop-off' service, where you'll be willingly marooned on a deserted strip of sand for a few hours with a picnic hamper, before being picked up again and returned to the lodge.
Longitude 131°, Uluru, the Red Centre (Northern Territory)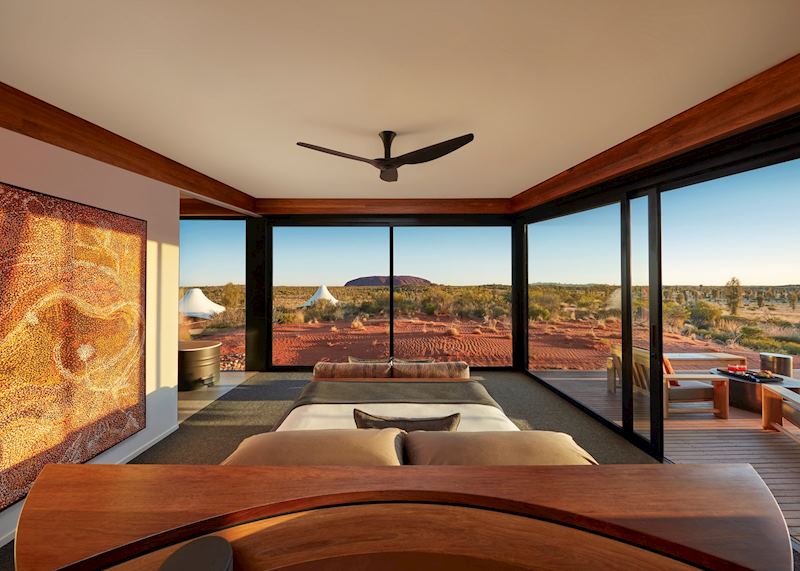 As far as views go, those of Longitude 131° take some beating: here, you stay in a tented pavilion, and the rusty-red knuckle of Uluru (Ayers Rock) is visible from the end of your bed. Aboriginal artwork adorns all the rooms and communal areas, and the lodge even has a local artist-in-residence project for Aboriginal artists.
When you're not out on guided walks around Uluru's base or on a desert wildlife safari, you can enjoy fine dining under the stars on a secluded sand dune. Read more about this experience in our guide to honeymoons in Australia.
Authentic Aboriginal experiences: respectful access to a complex culture
By Tom
It can be really hard to know where to begin when it comes to trying to access Aboriginal Australia. Authentic and responsible experiences that give you a true sense of the culture, and which involve spending time with indigenous people, are difficult to find, but there are two in particular that we highly recommend and can coordinate for you.
One is visiting Arnhem Land. You'll need a permit to visit this private reserve in the Northern Territory, or Top End. It's a vast tranche of sandstone escarpments, eucalypt forests and water lily-dotted wetlands that's owned by and for Aboriginals, mostly Yolngu people. A tour with Davidson's can help you unlock this enigmatic region.
Run by the Davidson family, who have the trust of local custodians, you'll be taken out by local guides to experience up-close one of the remotest places on the planet.
You'll visit an Aboriginal township and arts hub, and talk to those who live and work there. You'll take a boat trip on a billabong to spot water buffalo, estuarine crocodiles, and birdlife such as kingfishers, jabiru storks and jacanas. You might visit sacred sites, such as traditional Aboriginal burial spots and catacombs.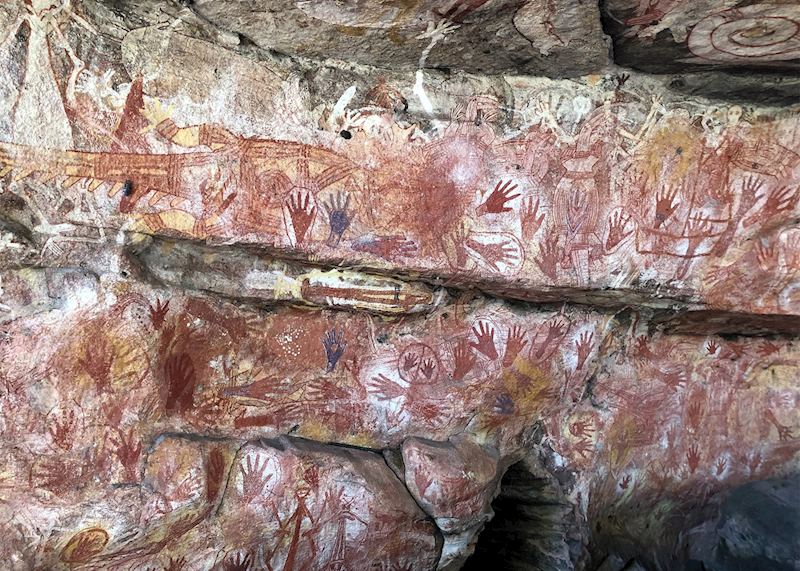 For me the highlight is the rock art, some of it 50,000 years old. I still remember being awed at the precision and vividness of a huge rainbow serpent, several thousand years old and looking as if it had only been created yesterday. That, to me, is luxury — the privilege of being able to stand there and witness this cultural masterpiece in such an unspoiled, protected region.
If you're exploring Queensland from Cairns or Port Douglas, you could take a Jarramali rock art tour. Owner and guide Johnny, a Kuku Yalanji man, will take you on a helicopter flight into deep Outback (a place that would otherwise take hours to reach by 4x4 and require an overnight stay).
After only a one-hour flight, you'll be able to observe this gallery of detailed, well-preserved rock art that Johnny discovered himself. It's part of the celebrated Quinkan rock art group, and you'll see, in Johnny's words, 'the whole structure of society' depicted there, from kangaroos and fish to figures of medicine men.
Expedition cruising: the ultimate way to experience Australia's greatest wilderness
By Paul
The Kimberley takes up Australia's northwest corner, a land of mostly uninhabitable Outback with a fractal coastline. It's Australia's final frontier, with some parts known only to local indigenous Australians. The Kimberley's coast is impossible to reach by road, so the only way to explore it is through a small-ship expedition cruise, of which True North is undoubtedly the best.
For me, it's the most luxurious experience Australia has to offer — it combines the privilege of being in such an untouched (even partially unexplored) place with expert guiding, a range of bespoke activities, five-star service and fine dining. I still think about my own voyage all the time.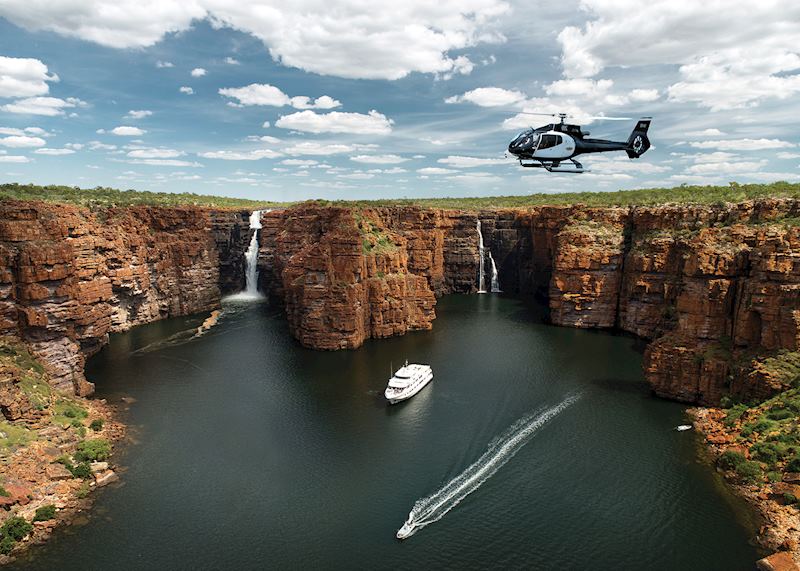 The True North's shallow hull means it can access narrow gorges and even put its bow under waterfalls. When you're not on board, you're out exploring the landscape in small tenders — viewing rock art, fishing for barramundi, birdwatching, hiking, and swimming in waterholes.
You can reach even more of the coast in the ship's helicopter. My most vivid and treasured memory of the trip was when I took a helicopter ride to Eagle Falls and we landed on one of its three-tiered cascades. If this landmark were anywhere else in the country, it would be crawling with visitors — here, in the far-flung Kimberley, we picnicked and swam by ourselves.
I also recommend watching the spectacle of Montgomery Reef emerging from the ocean at low tide like the Kraken. Its size engulfs you, water streams down its sides, turtles keep popping up, and egrets fly overhead.
You can read more about exploring the region in our guide to the Kimberley, by land and by sea.
Read more about luxury trips to Australia

Start thinking about your experience. These itineraries are simply suggestions for how you could enjoy some of the same experiences as our specialists. They're just for inspiration, because your trip will be created around your particular tastes.
View All Tours in Australia
Further reading