By Australia specialist Vina
Maybe you fancy an impromptu barbecue on the terrace rather than heading out for dinner. Or a swim in your own pool. Or the chance to immerse yourself in highly polished, new Australiana interiors displaying more verve and more of a 'home-from-home' feel than even the chicest boutique hotel can muster. These are all reasons to stay in a luxury private home in Australia, rather than a traditional hotel.
You could stay for a portion of your Australia trip in just one property. Or, if you follow this driving route from Sydney to Brisbane via Byron Bay and Noosa, you could slot in stays at different properties along the east coast.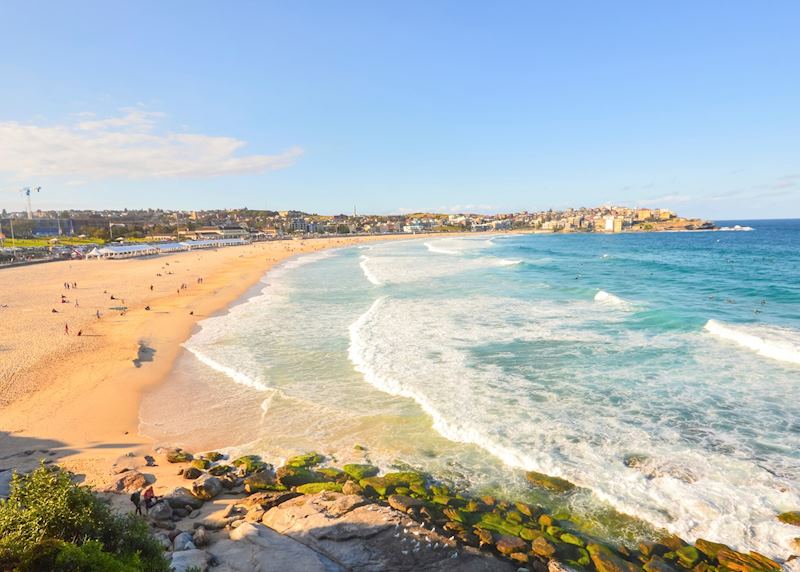 Quick disclaimer: these aren't homestays; they're more like short-term, self-catering rentals. In homestays, you rub shoulders with owners while staying as a guest in their home. In Australia, however, you have the run of the place: the family or owner moves out for the duration of your stay.
Staying in a private home may suit you if you're looking for a more leisurely, longer stay in Australia. One where you can really embed yourself in one place and get a sense for how it might feel to live there.
But, what makes these places luxurious? For a start, they all have a sense of seclusion. All offer privacy (think long, winding driveways, sheltered gardens, or balconies where you're not overlooked).
They couple this with head-turning locations and views: one of my preferred addresses in Sydney, for example, is a two-minute walk from a quiet strip of beach overlooking Sydney Harbour. My go-to place in Noosa gazes straight onto the ocean and a sliver of rainforested national park, while several Byron Bay properties are couched high in the region's emerald-green hinterlands, overlooking the sea.
Then, there's the design factor. I wax lyrical about the design aspects of certain homes below, but they're all kitted out with elegant, glossy interiors with large nods to Bohemian whimsy or (this being Australia) a relaxed beach-house feel. It's all clean minimalist lines and uber-modern décor.
Almost all homes have yawning, open-plan rooms and indoor-outdoor living spaces — ideal for alfresco entertaining. Swimming or plunge pools and standalone bathtubs come as standard. The artwork is inevitably a talking point: you'll see everything from splashy wannabe Pop Art to indigenous-inspired dot paintings to bold, abstract works.

There's the service. All the homes I mention come with a 24-hour concierge. In practice, this means that you're met on arrival by a local professional who'll welcome and help orientate you. Arrive on an early morning flight, for example, and your concierge will have coffee percolating away as you step in the door, and a basket of freshly baked breakfast supplies at the ready.
Concierges are local know-how on tap: they can show you around the area, sharing titbits on everything from grocery stores to kayak rentals and the best picnic or swimming spots. Living nearby themselves, they have their finger on the pulse of a district. They'll arrange babysitting, restaurant reservations, and home deliveries.
All high-energy, resourceful individuals, concierges are also, in my experience, incredibly fun. I've spent a couple of days with Sophie, a Sydney concierge, and her knowledge of the city is encyclopedic.
On learning I was a food fanatic, Sophie whisked me to a fêted restaurant that had only had its grand opening mere weeks ago (she had no problem securing a table).
Then, while exploring Bondi and Coogee beaches, I started hankering after a quick dip. 'These places are good, but I know somewhere better,' she said — and took me to a little cove a short drive away. A few fishing boats bobbed nonchalantly about, a couple threw sticks for their dog — and that was it. I practically had the place to myself.
Finally, despite the luxury tag, there are homes available for a wide range of price points. They all accommodate several guests, so you can also split the cost of a stay between a group.
Six inviting Australian homes you can stay in
Harbourside Retreat, Sydney
Sleeps eight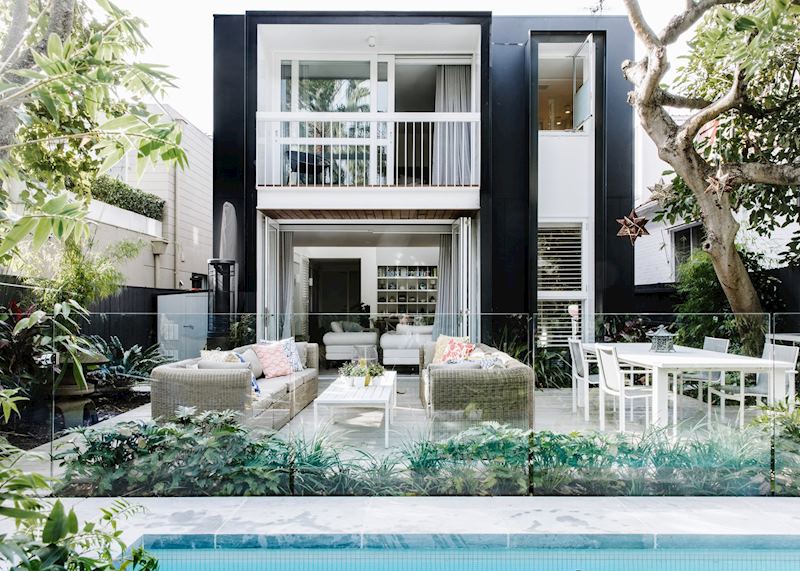 This two-story home doesn't give its secrets away up front: from the street, it looks like a black box. Then, you step into a high-ceilinged, open-plan lounge, dining space and kitchen flooded with light. A few pieces of vintage timber furniture and a scattering of objets d'art (think contemporary sculpture, church candles and storm lanterns) stand out against a palette of whites, creams and grays.
Large bifold doors lead onto an outside deck and a heated pool shielded on three sides by bamboo, palms and native bush. This is the best bit about the house, for me: it feels like you're in Bali, but in reality you're only a two-minute walk from Sydney Harbour's Redleaf Beach and a direct, 20-minute ferry into central Sydney.
Woollahra Haven, Sydney
Sleeps 11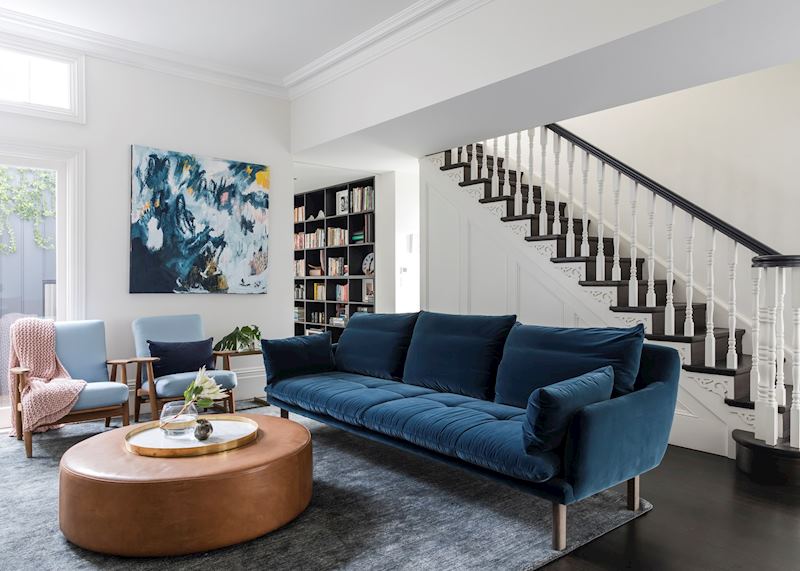 This house is deceptively cavernous: beyond its cottage-like façade you enter a multi-level structure. Your gaze is immediately drawn to a large floor-to-ceiling window in the hallway, which reveals the pool (and a basketball hoop) set into a sunken rectangle of lawn.
The interiors are sleek, urban and uncluttered. Yet this isn't, by any means, a show home: shelves heave with the family's book collection, photographs, and children's games, and there's a large lounge-come-home cinema.
Spread over several floors, including a basement, this place feels spacious, but has plenty of nooks and crannies to hide away in. Plus, it's set in a well-heeled corner of the city, with rows of restored heritage buildings, cafés, delis and good transport links.
Bondi Beach Penthouse, Sydney
Sleeps eight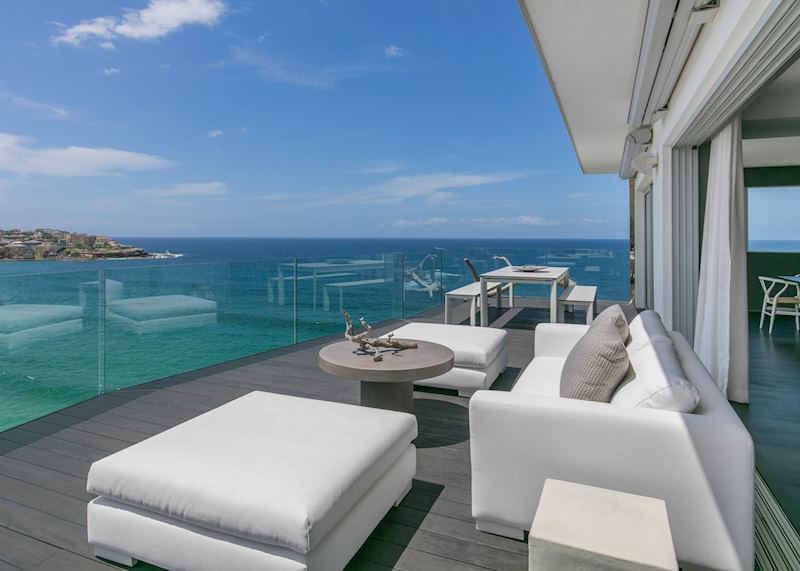 Step out onto the wide balcony here, and it seems like you're suspended over the ocean. The penthouse sits on a hill behind Bondi Icebergs Club, facing the southern end of the beach. It means you're able to sit back and survey the whole sweep of the sand and the waves from your eyrie. I especially like standing here (or reclining on one of the giant daybeds) first thing in the morning, or at sunset.
It's a very short walk to reach the juice bars, coffee shops, restaurants and boutiques of Bondi proper. Head in the opposite direction and you can stroll in a small sculpture park, or join the clifftop path that runs up and down the coast to Watson's Bay to the north, and to Bronte to the south.
Bondi Boheme, Sydney
Sleeps six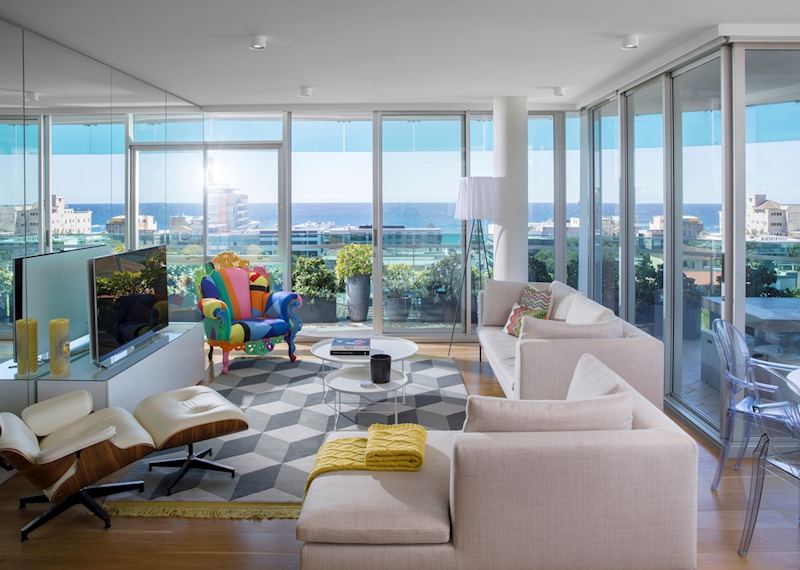 Although the water views from this second Bondi penthouse aren't quite as exclusive as the latter, it's by no means a poor relation. Set back 300 m (984 ft) from the beach, you can sit (or dine) on its wraparound terrace and look out over rooftops to see the waves frothing at the end of the street, and a sliver of pale yellow sand. At night, you can try out the owner's telescope.
With only three (double) bedrooms, it's cozier than many other properties but there's still plenty of communal space and a lounge with a breakfast bar. Use of the pool and gym at the adjoining Adina Apartment Hotel is included, and on the ground floor of the building you'll find a small precinct with cafés and a deli/grocery offering a delivery service.
Aja, Byron Bay
Sleeps ten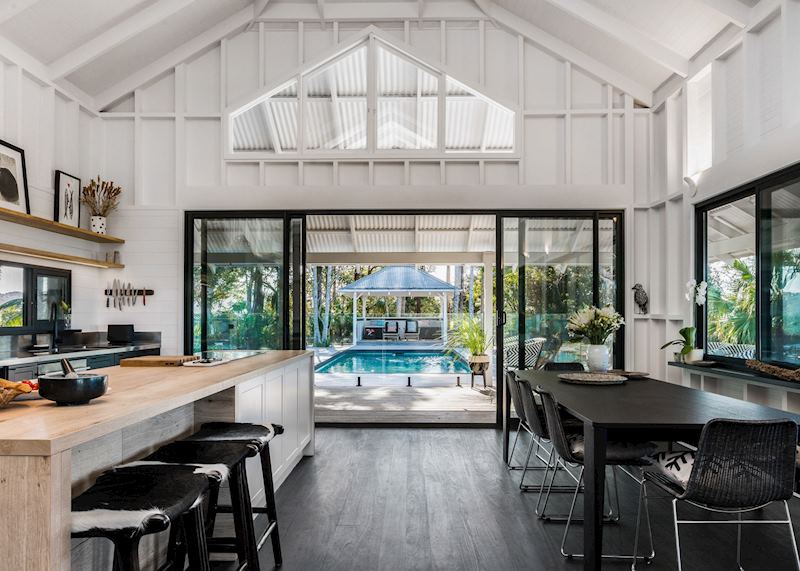 If you're willing to prise yourself away from the beach, the hilly hinterland backroads of Byron have some standout homes. Aja is built on stilts in a traditional Queenslander style, with a courtyard and covered outdoor entertaining space at its heart. Its interiors are mostly monochrome with a few pops of brightly printed textiles, and are decorated in places with baskets handmade by the owner herself (an interior designer) out of palm fronds.
There's a saltwater pool and an outdoor bathtub, and the grounds, although tidy, aren't rigorously manicured: you feel very much in the middle of countryside. To the west, you look out over the Pacific, while the town of Byron Bay itself is a 12 km (7.5 mile) drive away.
Azure, Noosa (the Sunshine Coast), Queensland
Sleeps eight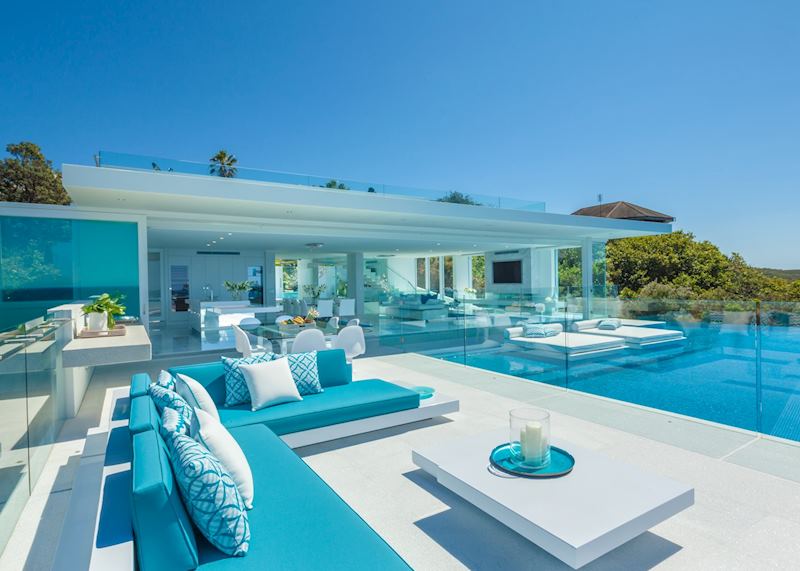 Imagine the lovechild of a Greek island and Bondi Beach, and you have this large, glass-fronted, whitewashed property overlooking Sunshine Beach. Splashes of Hellenic blues accent the house, and it has plenty of head-turning design aspects, such as Italian Carrera marble bathtubs, statement chandeliers, and water features. The master bedroom is particularly enormous, and I love how the comfy daybeds are dropped right in the middle of the infinity pool.
You can walk right out of the front door to get to the beach, and, at certain times of year, you might be able to see humpbacks blowholing as they migrate north. Look to the left, and you'll see the beginnings of Noosa National Park (you can even pick out people walking its bushtracks). The relaxed, resort-like town of Noosa (with its own excellent swimming beach) is a ten-minute drive away.
Itinerary ideas

Start thinking about your experience. These itineraries are simply suggestions for how you could enjoy some of the same experiences as our specialists. They're just for inspiration, because your trip will be created around your particular tastes.
View All Tours in Australia