There is so much to see in this beautiful country, from glittering temples and colonial buildings to colorful tribal people and lush mountain scenery; anyone who travels here will be sure to want to return.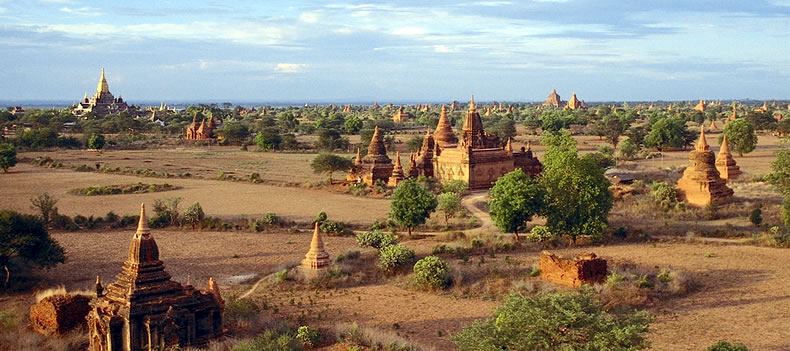 We have been offering tours to Myanmar for 15 years and we are delighted that the country is at last showing some faint glimmers of reform. Since May 2011 Aung San Suu Kyi and the National League for Democracy have actively welcomed visitors 'who are keen to promote the welfare of the common people and the conservation of the environment and to acquire an insight into the cultural, political and social life of the country while enjoying a happy and fulfilling vacation in Myanmar'. Specifically, well-informed visitors who are traveling individually or as part of a small group, exactly the style of trip Audley offer.
Cities, temples and gorges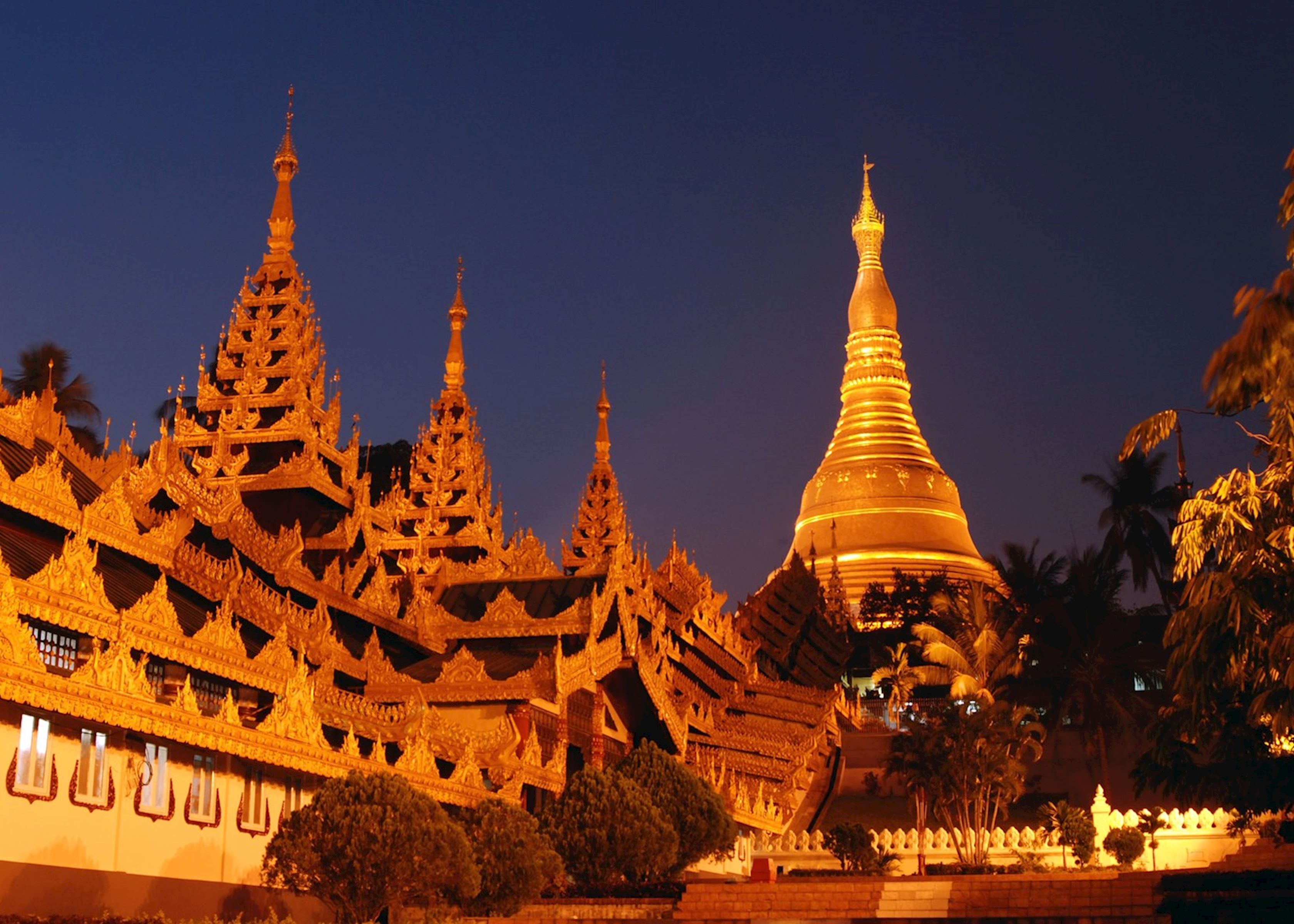 The majority of visits to Myanmar will begin and end in Rangoon (1, see map), now known as Yangon. This is where you will see the crumbling remains of British rule, as well as the spectacular Shwedagon Pagoda, which is worth a visit for people-watching as much as for the temple itself.
From here internal flights are the easiest way of getting around Myanmar, but journeys by car, train and boat offer fantastic views of the country's diverse landscape, and the best opportunities to meet the Burmese people. A brief stop in a remote village usually leads to a chat with the locals, albeit often using universal sign language.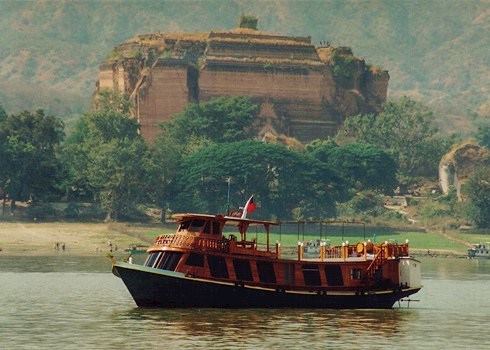 One of the most enjoyable ways to combine the temples of Pagan (2) with the royal city of Mandalay (3) and also explore the heart of the country is on a river cruise. A variety of vessels ply the waters of the Irrawaddy River between these two cities and provide a fascinating view of life in the region. There are also longer 11 night cruises available to Bhamo's (4) breathtaking gorges. Close to the Chinese border, Bhamo was an important trading post up until the 19th century and is reached via three spectacular gorges flanked by sheer cliffs.
If boats are not for you, then it is also possible to make the journey between Pagan and Mandalay by road, traveling via Monywa and the unusual Thanboddhay Temple, a sprawling, multi-colored complex of stupas, prayer halls and temples decorated with over half a million images of Buddha. Also along this route are the sandstone caves of Hpo Win Daung, a little-visited treasure of carved Buddhas and wall paintings dating from the 14th and 15th centuries.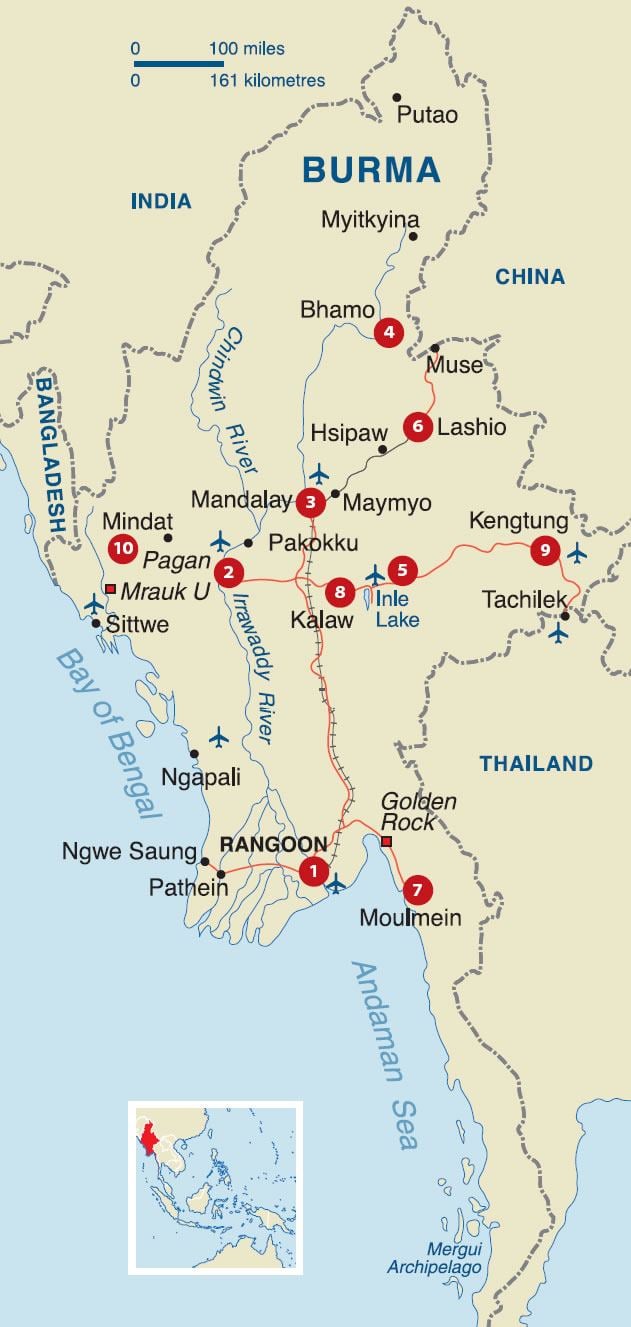 Fundraising for Myanmar
After the devastating effects of Cyclone Nargis in May 2008, Audley wanted to raise funds to help a community affected by one of the worst natural disasters of recent times.
Our local partner in Myanmar helped us to identify a small primary school in Paya Ngoto village which had been virtually destroyed and was in desperate need of a donor to help rebuild the school and move the 55 students out of temporary bamboo classrooms back into the main schoolhouse.
After months of fundraising, with many generous donations from Audley clients, and the hard work of a local contractor and workforce, the school was completed and the children moved back into their brighter, larger and better equipped schoolhouse.
This is a project that we are immensely proud of, and we would encourage you to visit and donate classroom essentials for the pupils. A total of 62 children now attend the school on a regular basis, helping literacy rates in the area to increase significantly.
Markets & festivals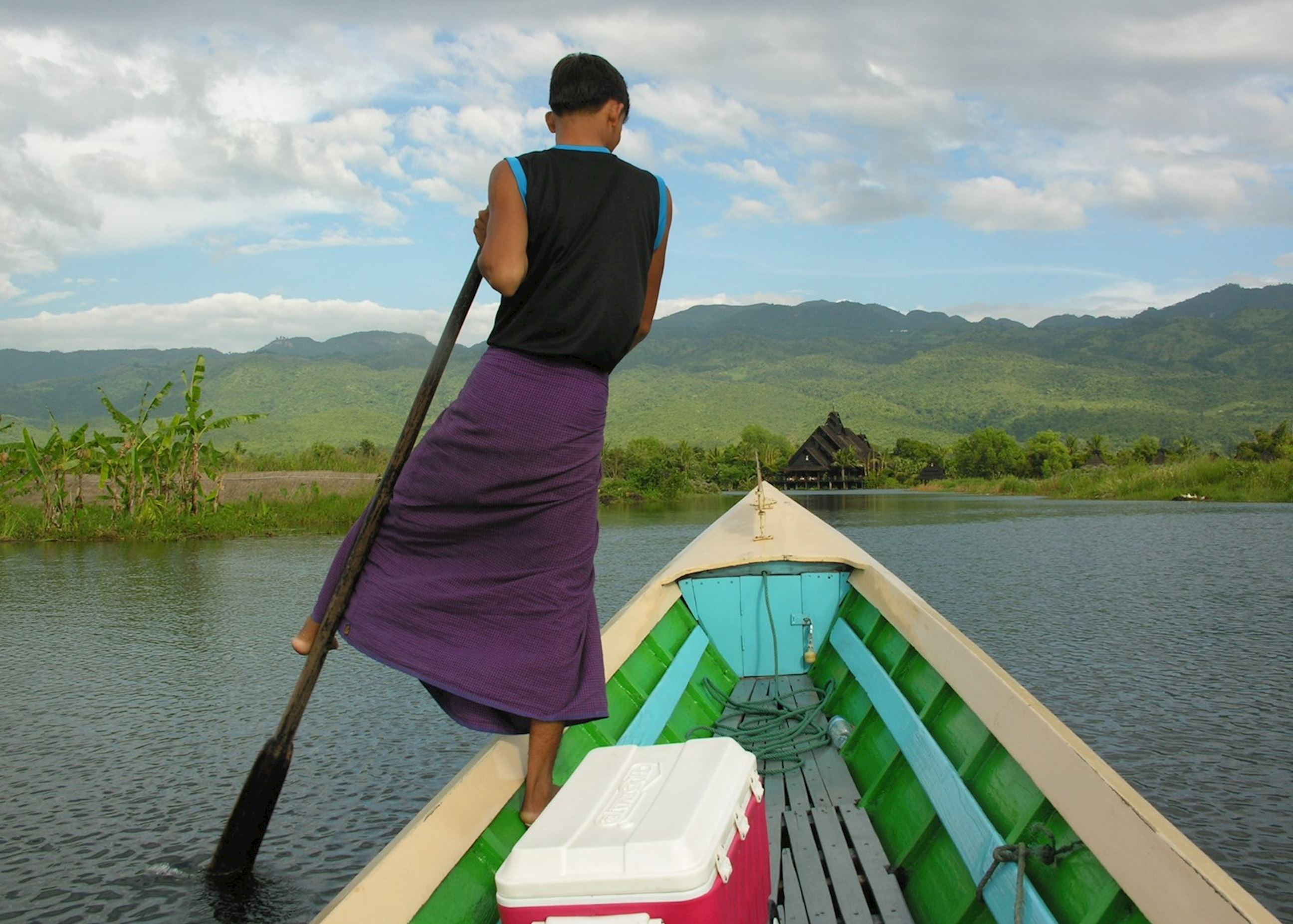 Inle Lake (5) is a highlight for many people, the lake sits among the Shan hills and is a beautiful place to relax and explore. There is a five day market that rotates around different villages in the region, attracting hill tribe people from the surrounding area who normally arrive by boat, and load up precariously with produce and goods for the journey home. The best time of the year to visit Inle Lake is during October. It's then that the ceremonial Hpaung Daw U Festival takes place. This festival lasts for almost three weeks and people turn out in their best clothes in great numbers to celebrate the Buddhist Lent. The most spectacular event of this festival is the traditional boat racing, with dozens of legrowers in Shan dress in a team on each boat. This festival is closely followed by the Thadingyut festival of lights.
In an attempt to preserve the beauty of the lake, one of the villages around the lake, Nga Phe Chaungarea, became a plastic bag-free zone in August 2011 as part of a project being implemented by the Save the Nature Tour Guide Community Group. Now with some 60 members and a little financial backing from the government, their hope is that the scheme gains popularity in many of the other 294 villages in the vicinity of Inle Lake.
There is also a great daily market in Lashio (6), close to the Chinese border, but relatively easy to reach by road or rail from Mandalay. Few visitors make it here and the local tribal people are likely to be as intrigued with you as you are with them.
People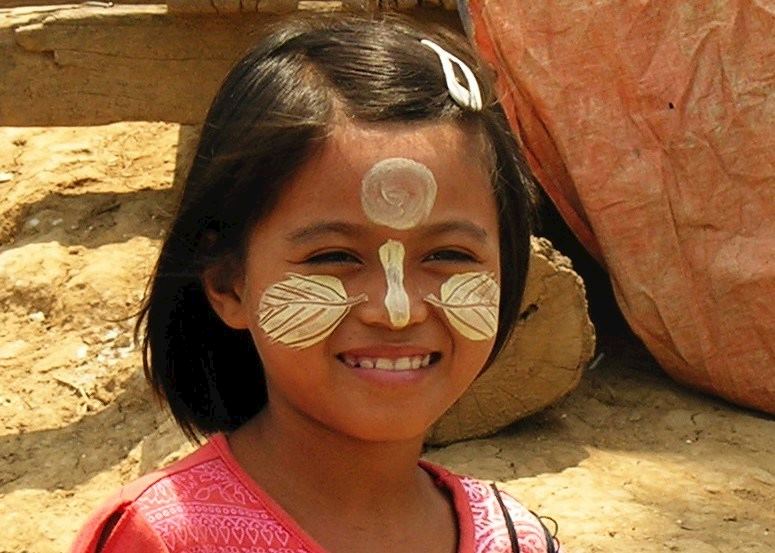 Myanmar's greatest asset is its people. Renowned for their friendly nature and gentle disposition, they go out of their way to greet visitors and make them feel at home. You will be welcomed with beaming smiles, cheery hellos and genuine curiosity everywhere you go. Myanmar is home to over three dozen ethnic minorities and their indigenous culture and lifestyle remains vibrant.
The day's drive to the picturesque port town of Moulmein (7), south of Rangoon, takes you through Mon and Karen villages where you can stop and talk with the locals, using your guide as interpreter. Alternatively, trekking between Kalaw (8) and beautiful Inle Lake offers visitors the opportunity to discover little-visited hill tribe villages of the Palaung, Pa-O, Taungthu and Danu communities. You can also spend the night in a local monastery for a rare glimpse of remote monastic life.
The laid-back town of Kengtung (9), in the isolated mountain valleys of the Shan state, is an ideal base for visiting the colorful Wa, Ann, Akha, Palaung and Lahu tribes. Myanmar's most visually striking tribe however, is the Chin, whose female elders are renowned for their facial tattoos. The Chin Festival, which takes place in February, is one of the most popular times to visit the region west of Pagan (10). The colorful spectacle of traditional music, dance, food and dress is well worth the long journey and basic facilities on arrival.
Further reading