Friendly homestays, verdant plantations and a little serenity, India specialist Sian recalls Kerala's warm welcome.
India is like the wild child you knew in school, the one with the lively personality, eccentric spirit and a startling ability to attract others with their charm. As one of the most diverse and chaotic countries in the world, India has long been the destination for those seeking enlightenment, diversity and adventure.
Despite the excitement that India can induce, it can sometimes be hard to know where to begin. Having been fortunate to have traveled there on several occasions, I believe that it is the 'off the beaten track' encounters that let you see the real India.
Some of the most memorable and insightful experiences can be best appreciated in the form of a homestay. Here, you're welcomed into a family's home and have the privilege of joining them and other guests in getting to know about local life. Kerala, one of India's most beautiful states, is well known for its homestays, as well as some wonderful character hotels.
Days 1-5 Blend of cultures
Following my overnight flight, I waste no time heading to the beautiful colonial area of Fort Cochin (1) and check in at the Old Harbour Hotel, superbly located within walking distance of the main sights. Enjoying a meal in the fairy-lit garden with a sitar playing in the background is the perfect way to unwind and start my trip.
For the first-time visitor to Cochin, I strongly recommend taking a walking tour to see the blend of cultures that give this former Portuguese outpost its distinctive character. Not to be missed are the 400-year-old synagogue, traditional houses and the highly photogenic Chinese fishing nets.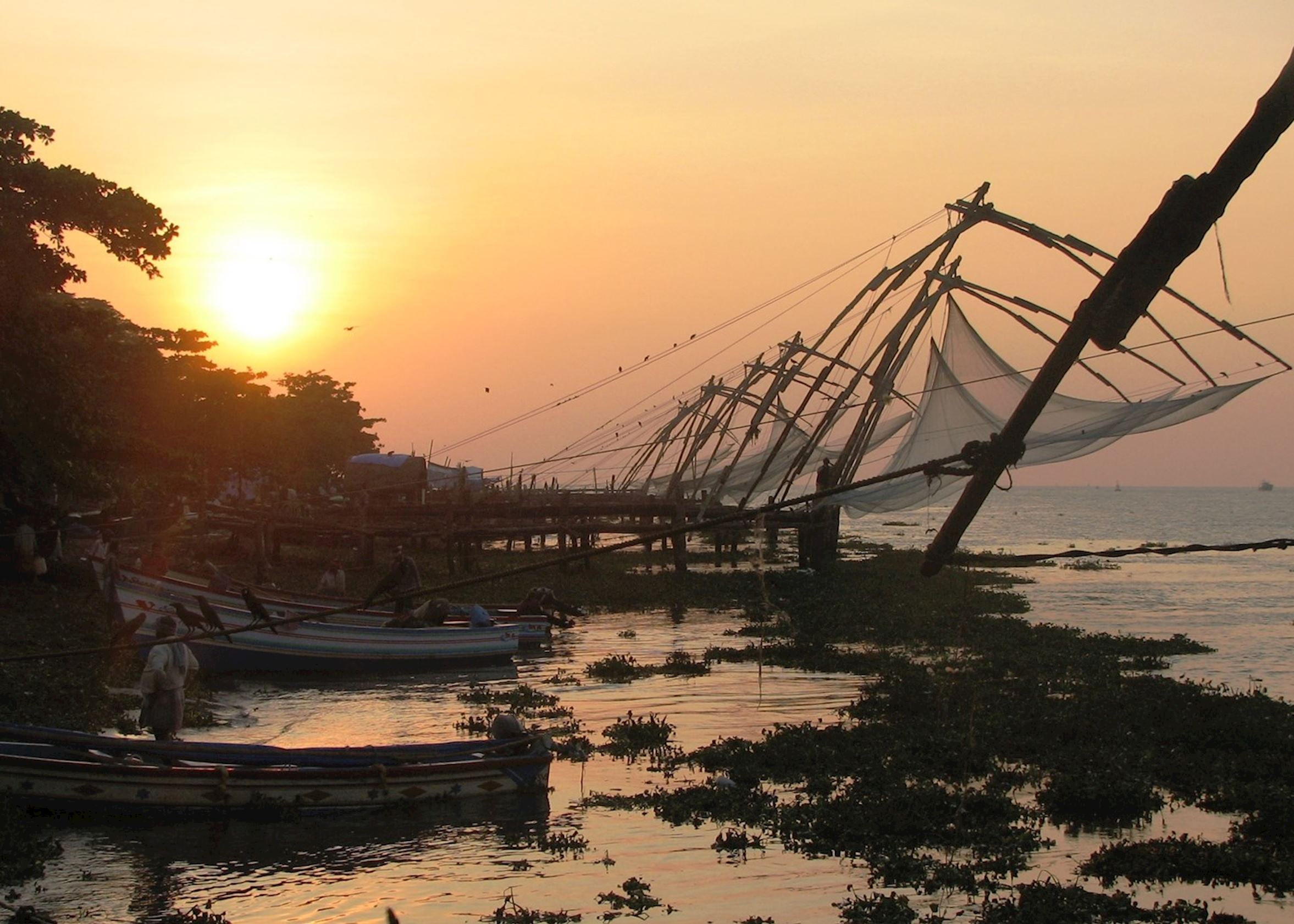 After my acquaintance with city life in Kerala, I hit the road inland to Palakkad (2) to enjoy the gentler pace of life in the verdant countryside, spending two nights in the homestay Kandath Tharavad. Set in lush rice paddies that are typical of Kerala, this wonderful property dates from the late 18th century and is the ancestral home of the Kandath family. This means our host has no shortage of stories about his family to enthrall us with over a delicious dinner of sambar (a sort of vegetable stew with lentils).
---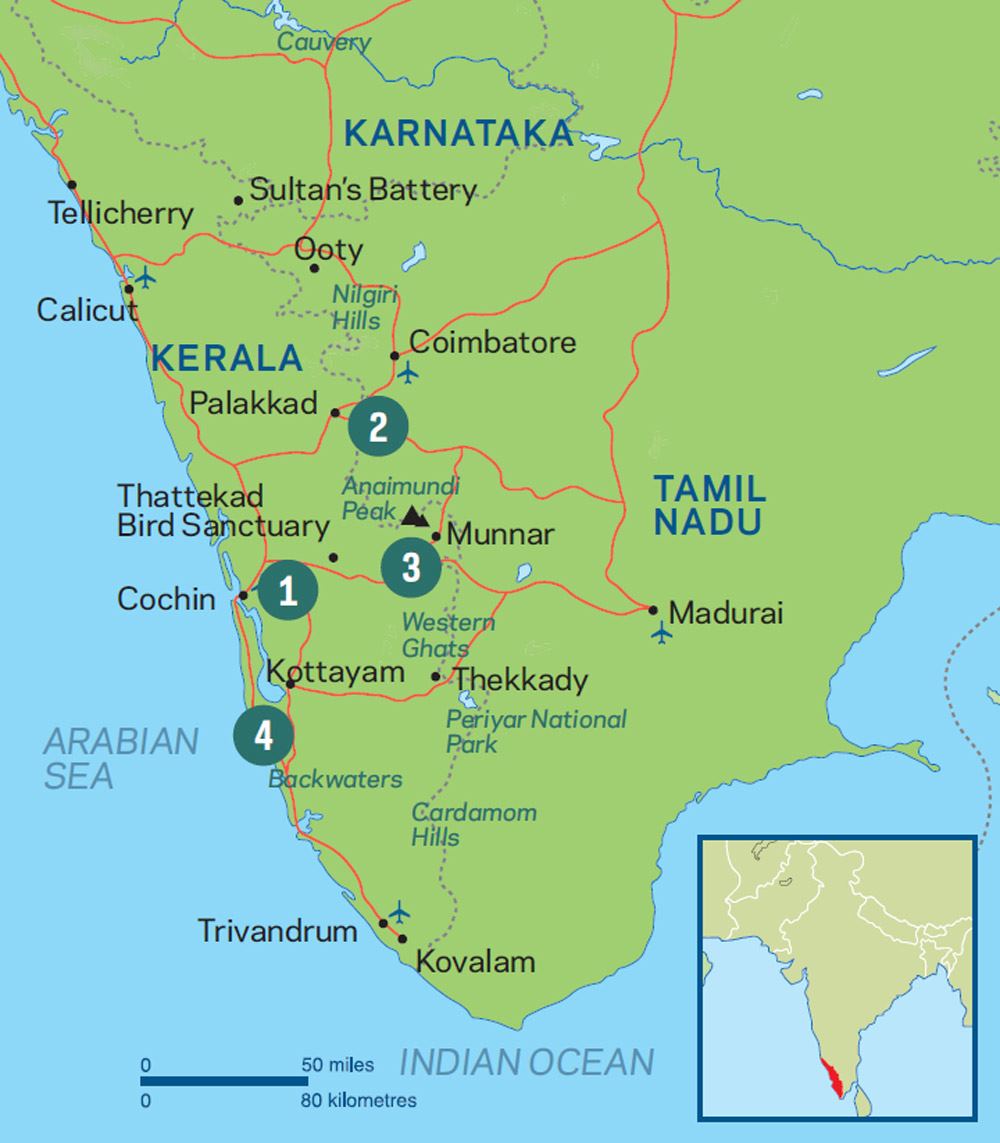 ---
Days 6-9 Time for tea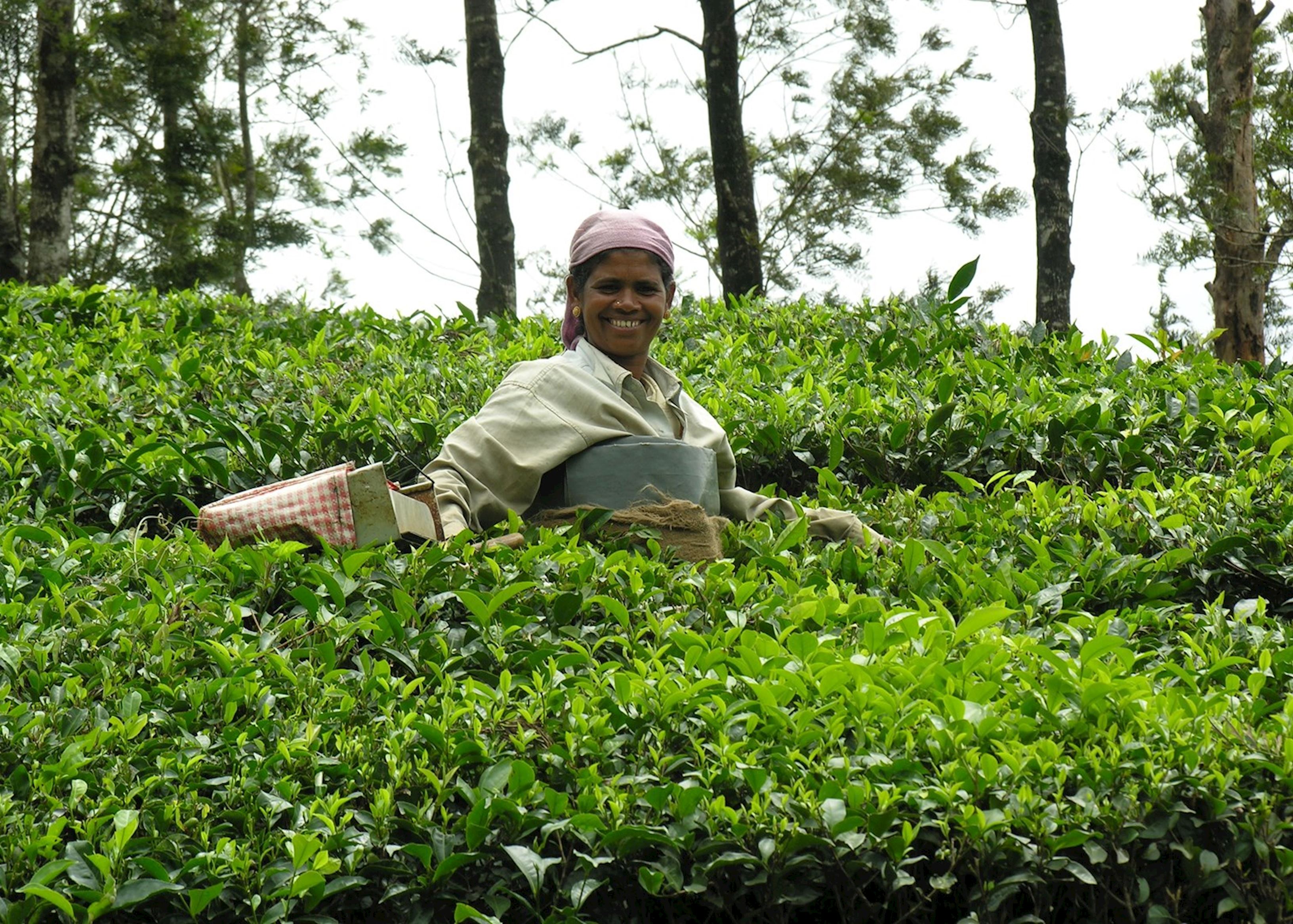 After a day learning more about local life in rural Kerala with my host, I continue my journey up to the Western Ghats to the region of Munnar (3). This is a dream setting for photographers as the abundance of tea plantations make for a pretty scene. The next morning I trek through the lush plantations to the world's highest working tea factory. A magnificent walk, it is a great chance to witness the tea pickers at work.
Subsequent days are spent traveling down from the Western Ghats to enjoy some peaceful time at Serenity, an aptly named boutique property surrounded by rubber and cocoa plantations. Serenity has a resident elephant, Laxmi, and spending time washing and tending her proves to be a highlight of my trip.
Days 10-11 Houseboat heaven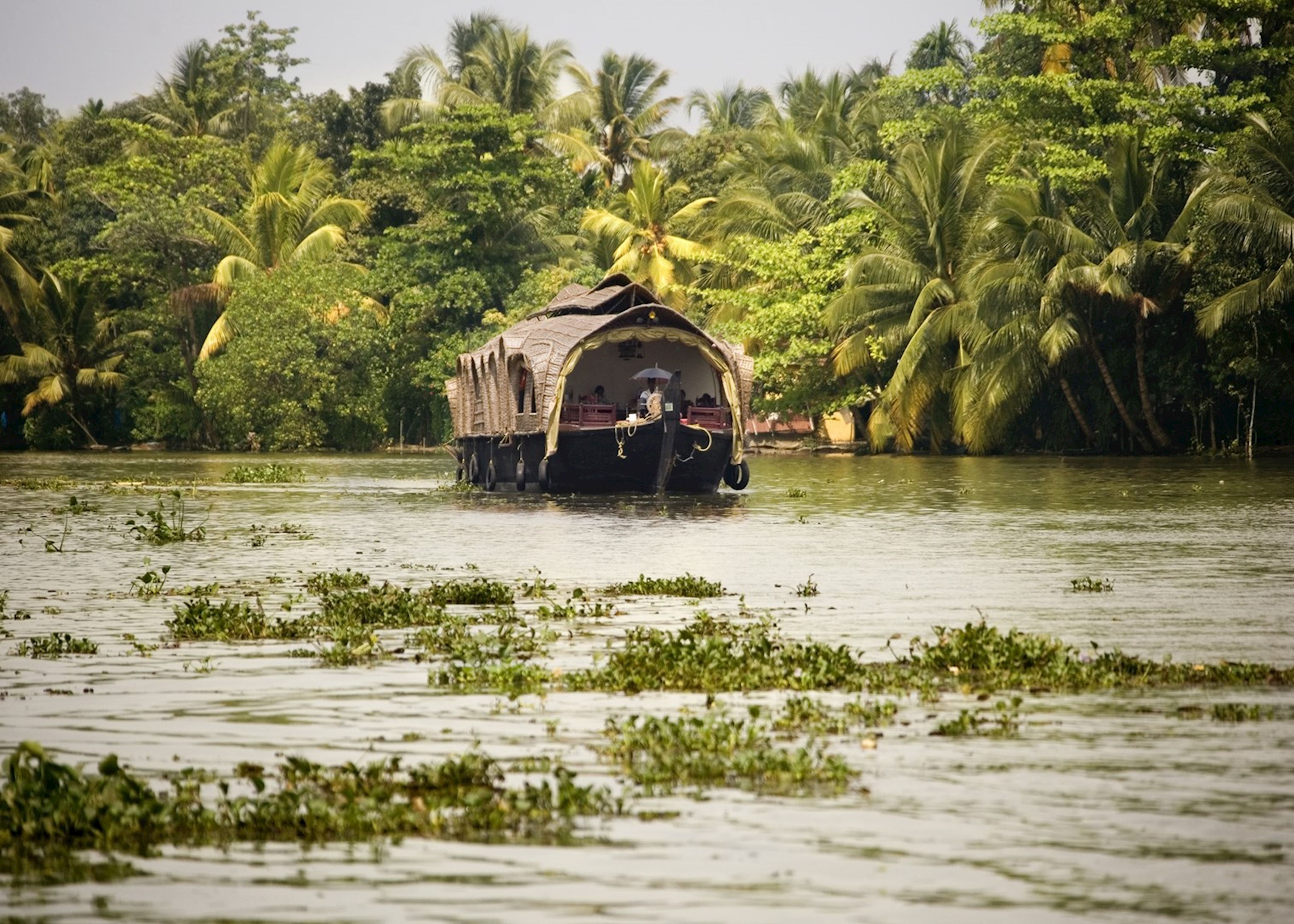 From Serenity I head south, back toward the coast, to the Backwaters (4). No trip to Kerala would be complete without experiencing life on these waterways and the best way to do it is to stay on a traditional houseboat. I spend the afternoon cruising on the water before settling in for the night in my simple yet comfortable bed.
Houseboat stays are popular with travelers, but don't let that put you off because they provide a relaxing interlude in one of India's most scenic locations.
Kerala's houseboats are also one of my favorite places to eat in India; I always look forward to sitting down to the home-cooked food prepared by the crew — a real highlight for any foodie.
Days 12-14 Family comforts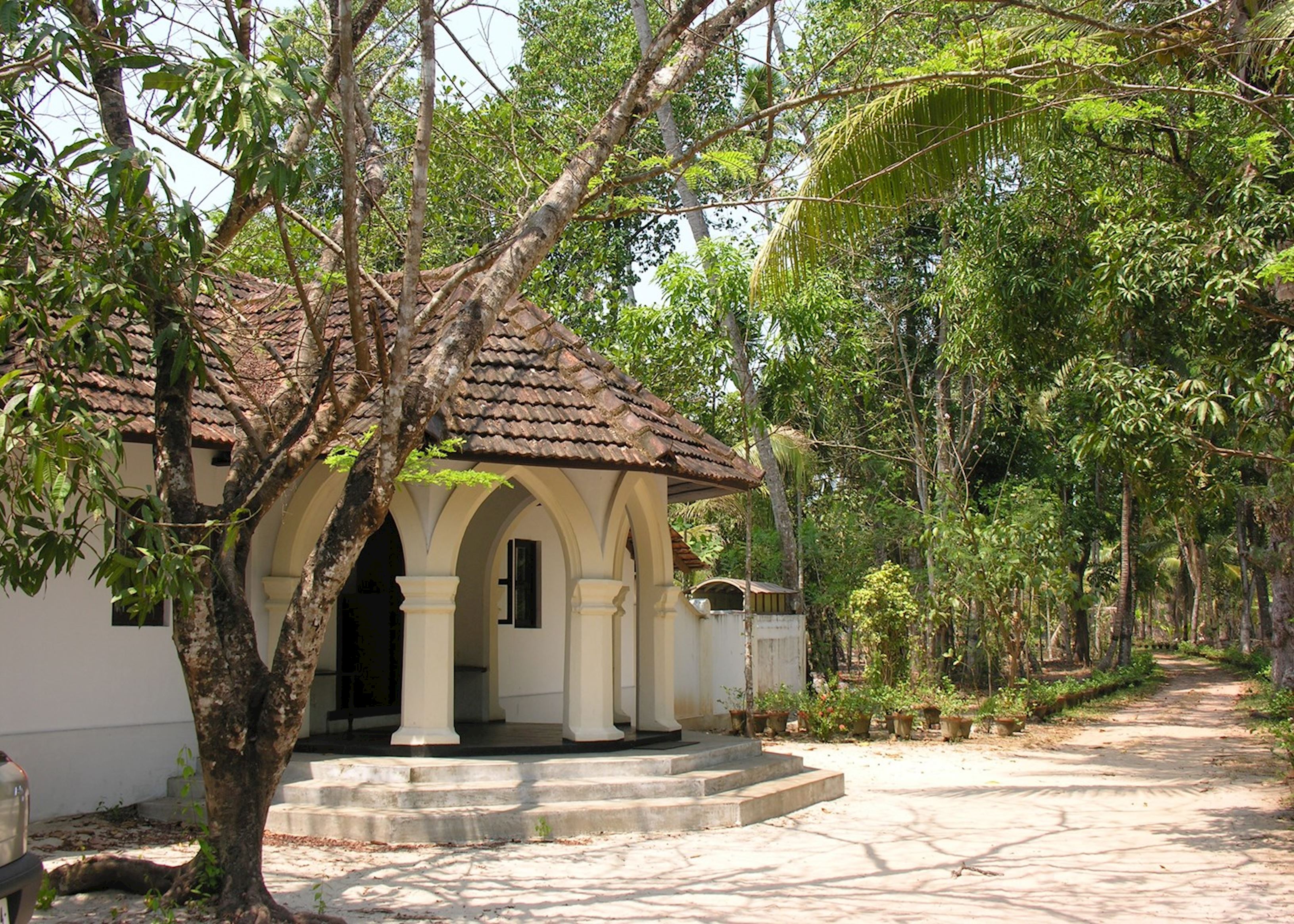 Alighting from the houseboat, my next stop is the Olavipe homestay. Being warmly welcomed into someone's home when traveling in an unfamiliar land is always a comforting experience. The hosts are generous with many insightful stories and I find myself deep in conversation with them for hours. The property itself is equally as charming, steeped in history with the antiques, furnishings and architecture to prove it.
Relaxing with a cold Kingfisher beer while swapping travel tales with other guests and learning about the lives of my hosts is something I will always treasure. It's experiences like this that cannot be found in any guidebook.
Day 15 Reluctant departure
I make the most of savoring Cochin. Leaving this country is never easy, but the shuddering jolt of plane wheels landing on tarmac is softened by counting down the days until my return.