Audley client Bryn embarked on a 14-day trip to Japan arranged by Japan Specialist John H.
I've always had a fascination with Japan, from the esthetic styles, to the language, to the food — especially the food.
Last June my language tutor Yukari and I finally took my first exciting trip to Japan. As a food lover, I barely have the words to describe the experience of tasting Japan, dish by dish. Any opportunity I could take to eat, I would. Even if I wasn't hungry, one glance at the wealth of restaurants and bread shops (love, love, LOVE the bread shops!) and I became hungry. Among everything, the food was the highlight of my entire trip.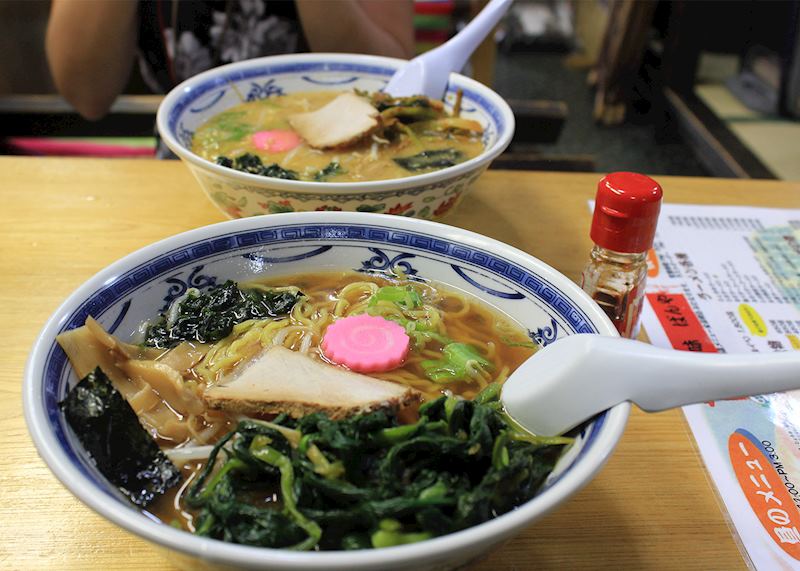 Local meals and markets in Tokyo
The first few days we spent in Tokyo, at a hotel close to all the action of the city. Of course, my first stop had to be Tsukiji market. We took a tour of the market and I spent hours drooling over the wealth of exotic and edible treasures that I'd never be able to find at home, and we had some of the best unagi I've ever tasted.
In Yokohama — a city just about a half hour outside of Tokyo by train — we met with Yukari's family for a fancy kaiseki style feast at one of the city's premier restaurants. A kaiseki is a traditional multi-course Japanese meal, and every course was better than the last.
We also enjoyed the famous Kobe beef the next night at Yukari's nephew's restaurant. The stories about Kobe beef are true — once you try it, you can never eat regular beef again!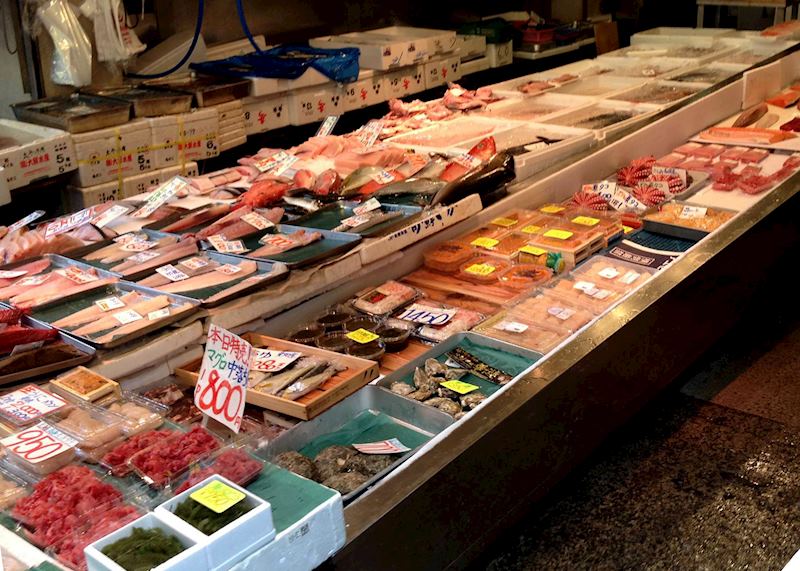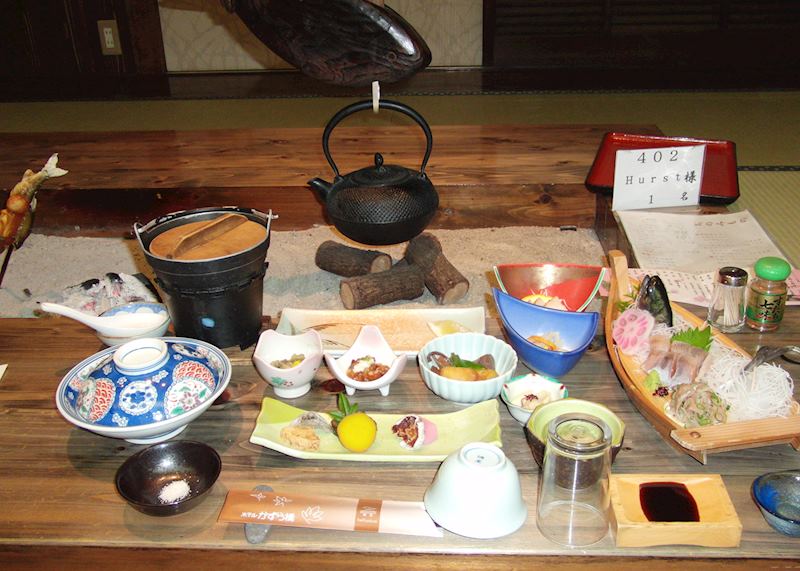 Bread shops and unagi in Kyoto
At our next stop in Kyoto, we stayed in the heart of all the action of the city. Immediately outside of our hotel were countless restaurants, my favorite of which was the Katsu restaurant which served the famous dish of breaded and deep-fried pork.
I also loved the bread shop nearby where I would buy sweets like melon pan and chocolate croissants. We were fortunate enough to have one of Audley Travel's top guides take us around Old Kyoto, and with his knowledge about seemingly everything in the city, we were able to find the best unagi restaurant in town. Needless to say I loved it.
Later the same day, we had a private tour guide show us around the famous Nishiki market. She also took us to a cooking class where we learned to make some of my favorite dishes I had sampled on the trip, and it was absolutely delicious. I even got to try some sake!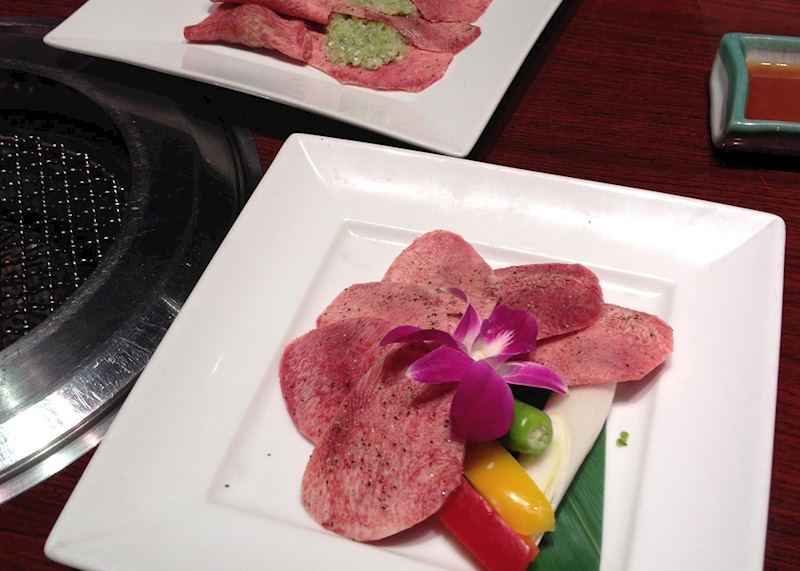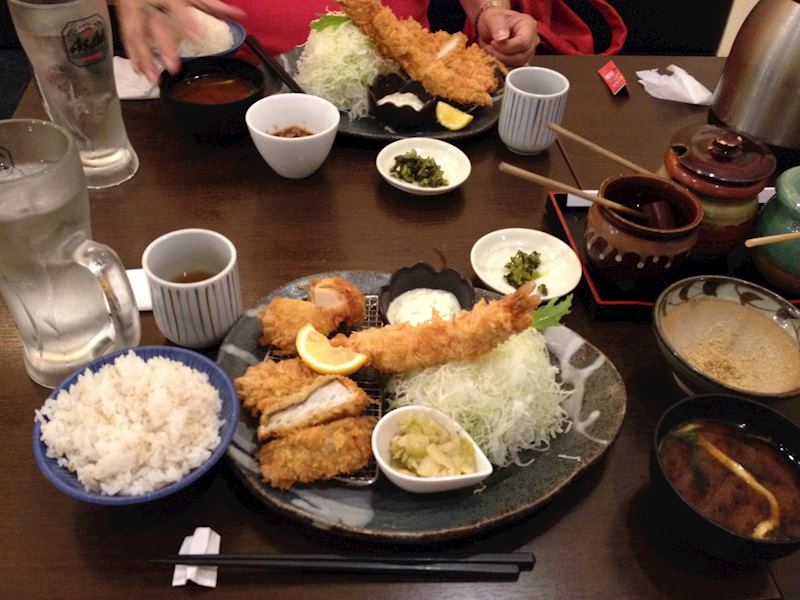 Remote dining in Kagoshima and Yakushima
Our next stop was Kagoshima, one of the southernmost islands of Kyushu. This was one of my more memorable stops during the trip. There was a little Chinese restaurant there that was a hidden gem. They served the most divine pork ramen noodle soup and their gyoza dumplings were made with Kurobuta (black pig) pork, a Southern-Japan specialty that Kyushu people understandably hide from the rest of the world.
At the remote island of Yakushima, we stayed at a traditional ryokan sitting right on a seaside bluff beside a strip of beach. You could see and hear the crashing ocean as you ate in the dining room, where you would be served something new and unique to the island every night.
In Yakushima, I took some time to hunt some wild oysters on the beach that were delicious. I cut my hand and found an easy remedy in the wild aloe plants that grew around the resort. It just went to show me that Yakushima is a forager's paradise.
People around there are incredibly self-sufficient people, so much so that in the little restaurant we went to, the menu included the names of the children that tended the animals and the names of the gardens where they get their ingredients. Food is important to me, so I found this very fascinating.

Tastes of a lifetime
There's no question that the food — all of it! — was my favorite part of the trip. No gourmet lover's life is complete until they have eaten in Japan. I particularly recommend going to Takashimaya, a huge department store with many restaurants, bakeries, and even markets on its lower floors.
The sushi at Takashimaya is incredible, as pleasing to the eyes as it is to the taste buds, and the bakery is even better. I guarantee you will want to buy the entire store!
I miss the food and Japan already and can't wait to go back. The hardest part about the whole trip was gathering enough nerve at the end to actually go home, because I never wanted to leave.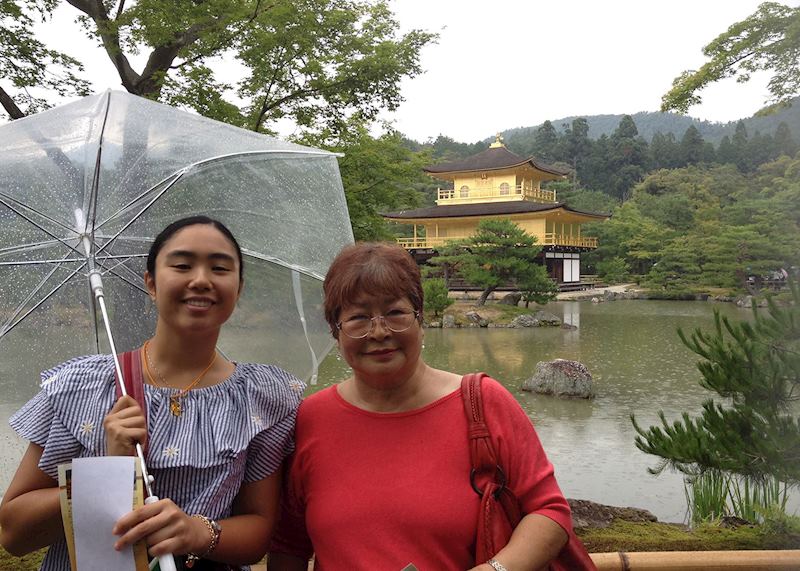 Traveling with Audley
We looked high and low for a good tour operator, and eventually we stumbled upon Audley Travel. And thank goodness! The people at Audley are incredibly efficient workers. With nothing more than a few phone calls, our friendly specialist John designed us a specialized itinerary, with everything we asked for and beyond.
All in all, his and Audley Travel's amazing service and attention to detail were beyond impressive. My expectations for the trip were high, and I was not disappointed with my experience. Everything surpassed my wildest expectations. We did everything on our itinerary and more, with not a moment wasted. I am extremely thankful to everyone who helped to make this trip happen, especially John. I would definitely recommend Audley for anyone looking to visit Japan — they won't let you down!
Start planning your trip to Japan

Start thinking about your experience. These itineraries are simply suggestions for how you could enjoy some of the same experiences as our specialists. They're just for inspiration, because your trip will be created around your particular tastes.
View All Tours in Japan
Further Reading