We were recently lucky enough to catch up with one of our Namibian guides to ask him about his life and what it is like to be a wildlife guide.
Orlando Haraseb recently won the silver award at the 2015 Wanderlust Guide Awards, selected from a shortlist of 1,500 individuals who had been put forward for the accolade.
He has certainly had an interesting life, and his birding skills were obvious when he suddenly spotted a kingfisher out of the office window. Find out more in the interview below.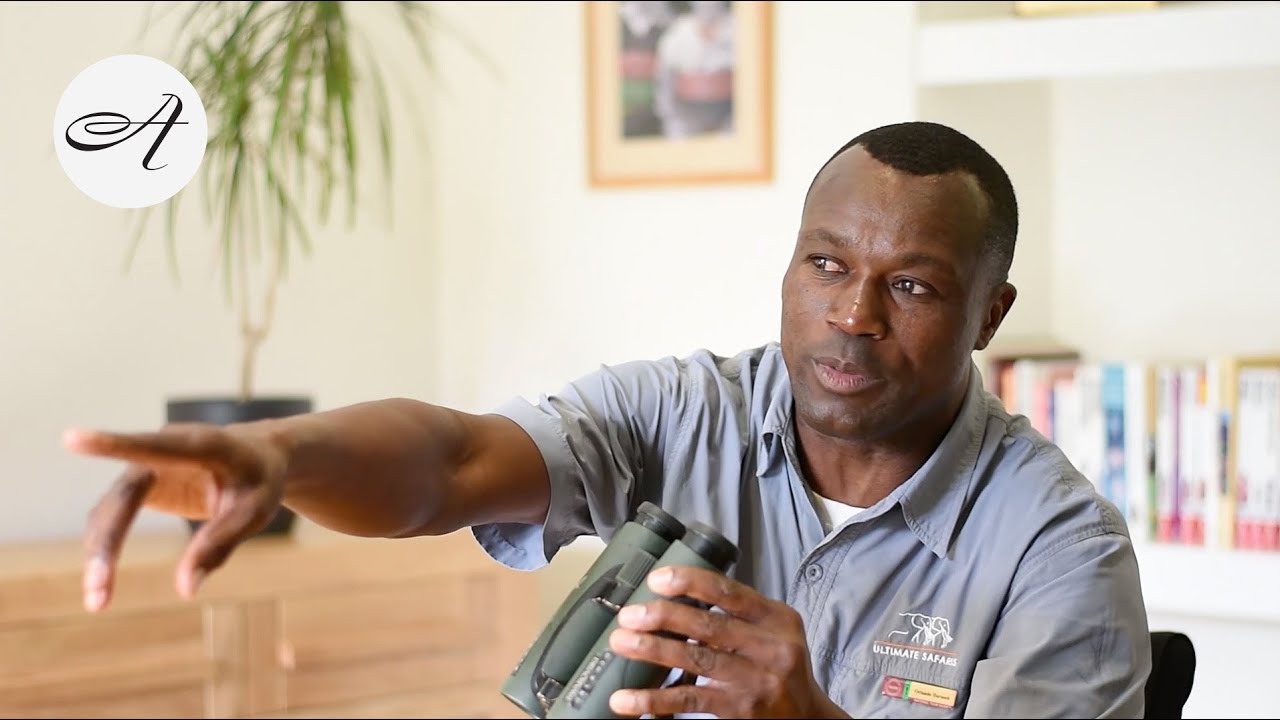 How did you get into guiding?
I was born and raised in an area called the Damaraland in Namibia where my parents had a farm. My father was a hunter and herbalist and I learnt a lot from him. At school I was also nominated for a program that educated school children in nature conservation, which fuelled my interest further.
When I left school it was essential for boys my age to join the police force if your grades were good enough, or the national defense force. Luckily I got into the police force and was there for ten years. I also worked as a courier manager for the Post Office and made false teeth for a dental company among other jobs.
In my heart I wanted to become a naturalist guide, but it was difficult to get into. In the end I returned to my village and a well-known naturalist in the area, Mr Steve Braine, was looking for a driver for a local lodge so I took the post.
One day my manager got sick from malaria. He had observed me and offered me the job of senior guide as he could no longer do the role. I was surprised, but I realized it was what I wanted, so I accepted and studied hard. Eventually I was elected to join the Board of Directors for the Namibian Academy for Tourism and Hospitality (NATH) and in October 2015 I was re-elected as Vice Chairman, as well as fulfilling roles of trainer, mentor and moderator.
Orlando is far more than just a brilliant field guide; he's proactive in all aspects of tourism and conservation.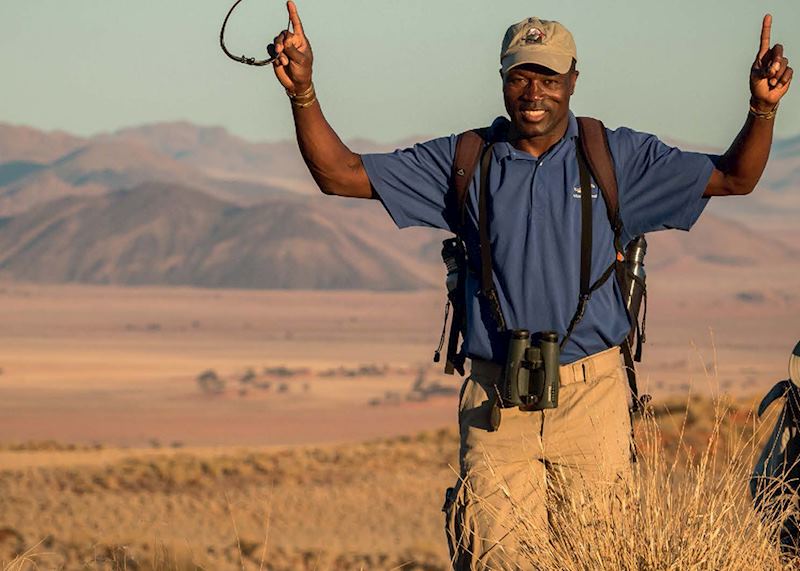 Tell us about your love of football
While I was in the police force I was captain of the Namibian National Team. I was the longest serving captain of the Orlando Pirates and played for some other teams as well. We got knocked out of World Cup preliminary games, but we did qualify for the Africa Cup of Nations, and were one of the top sixteen teams in Africa at that time.
What do you enjoy most about being a guide?
The freedom and being able to work in the fresh air. I like showing people my country and educating people about nature. I enjoy meeting people from different countries and sharing my knowledge. Immersing ourselves in nature is good for the spirit.
Where do you guide?
All over Namibia, South Africa and Zambia. I'm the most traveled guide in our country. Namibia is a peaceful and friendly country with excellent guides and we have plenty of different waterholes and open spaces and not so many cars, so it never gets crowded.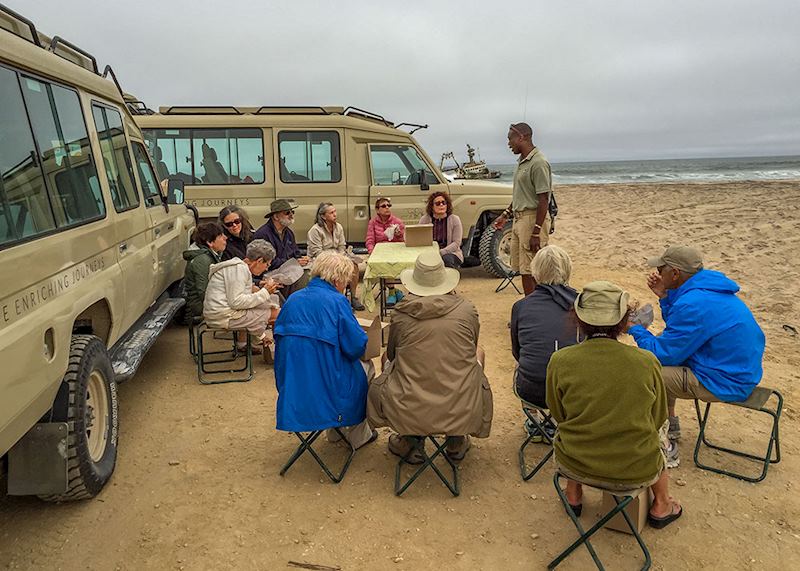 What is a typical day on safari?
Clients have many interests and many questions — you need to know what you're talking about. At the beginning of the tour I ask what everyone is interested in seeing and what their expectations are. We tend to start the day with a tea/coffee and a morning drive, followed by a picnic lunch outside.
If we're lucky we will see lion, cheetah, leopard, zebra, elephant, impala, antelope and springbok. Most safaris are in air-conditioned 4x4 vehicles now and everyone rotates seats for different viewpoints each day. We'd potentially go on another game drive in the evening before dinner.
Wildlife encounters that stand out
I've seen a pride of lion chasing an injured oryx in Etosha National Park. It was weak bleeding from its injuries so the lion jumped on its back. It's the way of nature unfortunately. Jackals are also opportunistic like coyotes, I've seen an antelope mother struggling to give birth, and because she's weak the jackals will help with the birth and then take the baby. It's painful, it's emotional, but it's the way of nature.
When I was with my first Audley group we saw around 60 springbok drinking from a waterhole. A jackal appeared, gripping the neck and throat of a springbok in the water, pulling it down to suffocate it. Suddenly 40 to 50 jackals appeared, finishing off other springboks in the same fashion. It did upset some people on our trip but others were fascinated and took photos.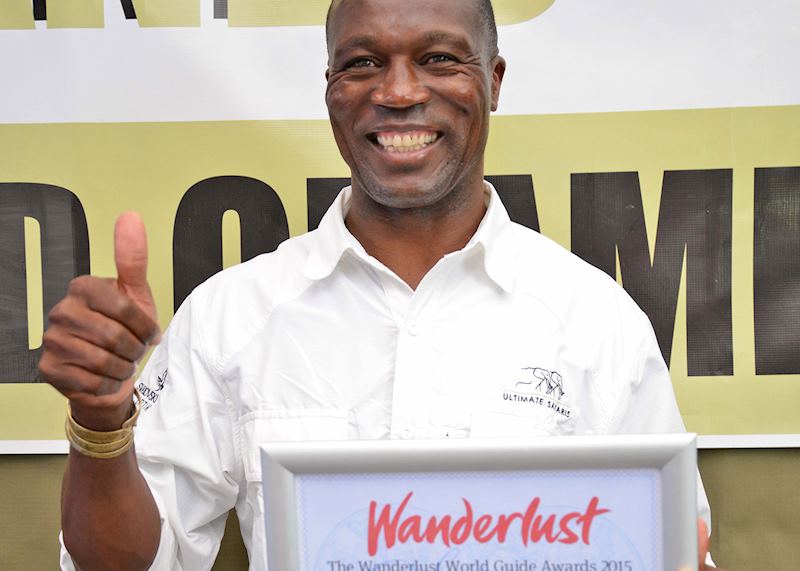 How do you react in a dangerous situation?
If you respect nature you will get the same treatment back. Animals only attack to protect themselves, nothing will happen if you stay out of their comfort zone. Listen to your guide to survive, if the animal's ears, tail and mane are down it means the animal is calm.
What if a client asks to see a specific animal?
I never say we will see it, there is no guarantee. Anything can happen so I prepare them so they're not disappointed. It's all about the time of day and the habitat the animal likes. I ask them to help me search and 99.9% of the time we find the animals the clients ask to see.
Was the award unexpected?
I was nominated as one of the top 50 guides in the world, then they told me I was shortlisted to the top eight. I was shocked and pleasantly surprised. On my birthday I was told I had been chosen as one of the top three to go to London for the awards. It was only when I was on the stage that I realized what I had achieved!
Orlando's bursary plans
Orlando plans to donate some of his bursary to Ultimate Safaris' Conservation Travel Foundation, to be used by the youth sports academy in Erwee, his home village. He would also like to do a specialized bird-ringing course, to add to his birding repertoire.
Start planning your trip to Namibia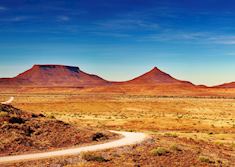 Enjoy a classic tour of Namibia on this private escorted itinerary with your own driver-guide and private vehicle throughout.
Further Reading