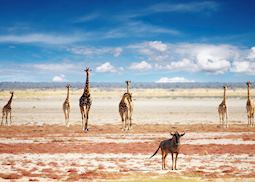 Namibia
Enjoy a self-drive safari or guided game drives in Etosha National Park.

Watch lion, giraffe and elephant drinking from waterholes vital to their survival.

Admire the ancient rock art at Twyfelfontein, created up to 10,000 years ago.

Spend time on the coast and exploring the dune wildlife close to Swakopmund.

Track desert-adapted elephant in the red-rock landscape of Damaraland.