By Namibia specialist Iain
It's the mix of experiences — that you don't get elsewhere in Africa — which sets Namibia apart as a great destination for a family vacation. You can kayak with seals, track desert-adapted elephant, go dune sandboarding and spot constellations in the uninterrupted night sky. Younger children can look for sand-dwelling creatures in the desert, while teenagers can ride quad bikes through the dunes.
Self-driving or using a private vehicle and guide is the best way to take in Namibia's huge mountain ranges and desert landscapes. You'll pass the journey spotting zebra and antelope grazing on the plains. Namibia also makes a great family safari destination, so there'll be plenty of opportunity for further wildlife viewing if you wish.
Planning a trip to Namibia

Flights to Namibia usually land in Windhoek, the country's capital. While you may spend one night here, you're likely to head straight off the next day, whether you choose to self-drive or travel in a private vehicle with a guide.
To tick off Namibia's main highlights, I recommend following a circular route around the country, taking in Sossusvlei and Swakopmund in the west before heading north to Damaraland (from where you could catch a light aircraft flight to the Skeleton Coast) and Etosha National Park. You can then venture south to the Central Highlands before arriving back in Windhoek for your onward flight.
Recommended experiences for families in Namibia
Kayaking with seals off Swakopmund's coast

Namibia has around 600,000 Cape fur seals living along its coast. Kayaking among them in Walvis Bay is one of the best things I've done in the country.
The bay is a half-hour drive from the coastal town of Swakopmund. From here, you'll travel by 4x4 in the morning to the kayaking site at Pelican Point, returning in the early afternoon. En route, you'll pass salt farms and wetlands where flamingos and pelicans feed.
Two-man kayaks are available so adults can share with younger children. The experience is fully guided and life jackets are provided.
Another option is to head out on a catamaran from Swakopmund or Walvis Bay. Along with the seals, you might spot leatherback turtles or bottlenose dolphins.
Sand dune activities

Just outside Swakopmund, the Namib Desert's sand dunes are a playground for outdoor activities. I definitely recommend this area if your family is staying in Swakopmund; there's so much to do for children of all ages.
Quad biking
If you've older children, you can head out on quad bikes for an exhilarating ride up and down the dunes. Led by a guide, you'll weave through smaller dunes before revving up the bigger ones. Once I'd made it to the top, I gazed over the stark desert and out to sea.
There are also slower quad bike rides focused on spotting the desert's plant and animal life.
Helmets are provided and the rides can last from 45 minutes to three hours.
Living desert tours
This is a brilliant activity for younger children in particular. You're taken out to the dunes, where children can start digging in the sand in search of desert creatures such as shovel-nosed and dancing lizards, and cartwheeling spiders.
The wildlife is difficult for untrained eyes to spot, so your guide will identify and talk about the wildlife you find, all of which is harmless. The whole thing feels like a treasure hunt.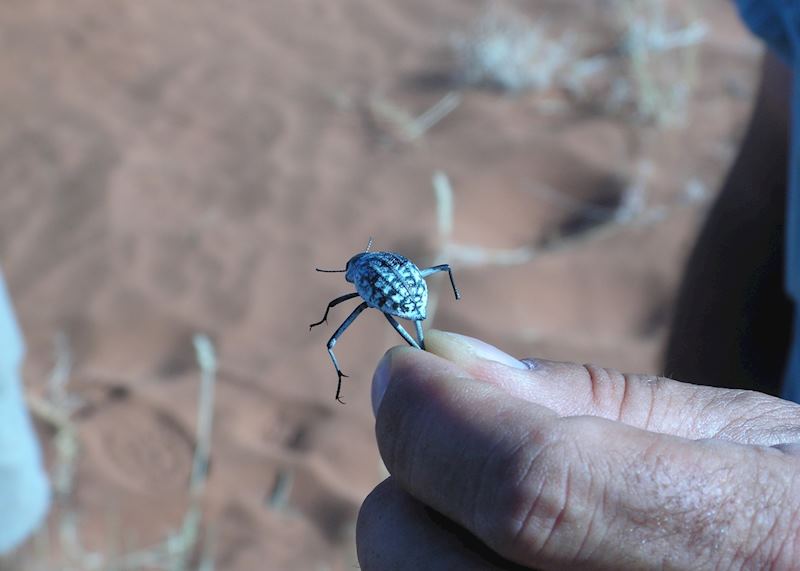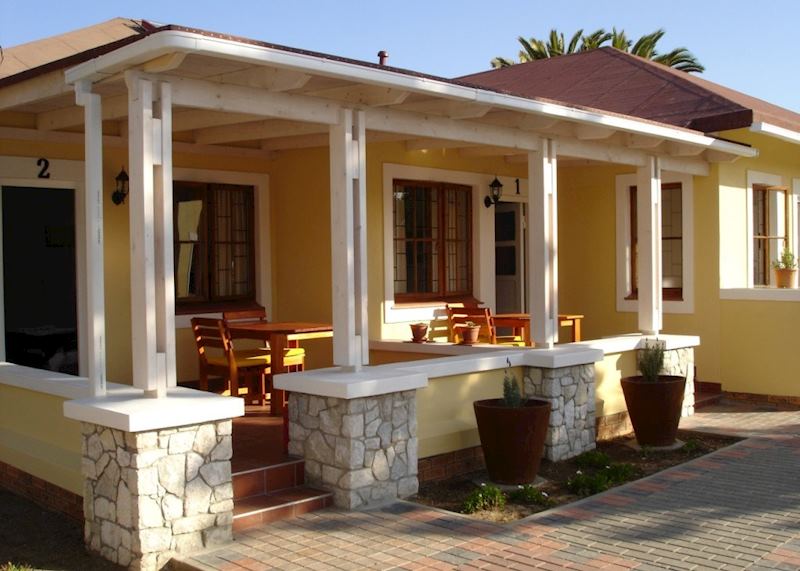 Sandboarding
This is a gentle activity that doesn't require any experience, so it's great for younger children aged seven and up. You're taken out in the morning (before the sand gets too hot) to a star-shaped sand dune. The slopes have varying degrees of steepness and are matched against the boarder's ability.
Beginners start sandboarding lying down on their front, but more experienced boarders can try standing up, which requires more balance. Once you've tackled the gentler slopes, you can work your way up to the steeper runs.
The guides are happy to share a board with younger children who don't feel confident on their own.
Family friendly accommodation in Swakopmund
I'd recommend Cornerstone Guesthouse's self-catering apartments. Breakfast is included in your stay, but each apartment has a kitchen. They also come equipped with a washing machine and tumble dryer, plus a balcony with ocean views.
Tracking leopard at the AfriCat Foundation

If your children are 12 or over, I'd highly recommend a visit to The AfriCat Foundation. Located on the 223 sq km (86 sq mile) Okonjima Nature Reserve in Namibia's Central Highlands, the foundation rehabilitates and conserves leopard, brown hyena and pangolins. It also has a research arm, educating the public and local communities about the importance of wildlife conservation.
As a visitor, you can go out with a guide on a leopard-tracking game drive. You'll use radio technology to locate the animals, which are fitted with unobtrusive radio collars before being returned to the wild. The equipment starts to beep whenever a leopard is nearby, at which point the excitement really builds and it becomes a game of 'who can spot the leopard first?'
Once you've found one, you can spend time observing them in their natural habitat — I could've sat and watched them all day.
It's interesting to look around the foundation's education area, which has interactive displays about its work and the animals you'll see. You can also visit the veterinary surgery where the animals are treated — I even saw a jar of leopard teeth recently extracted by a dentist.
Family friendly accommodation in Okonjima Nature Reserve
There are several options for places to stay on the reserve, but for families I recommend Okonjima Plains Camp. It has two room types — both have two double beds and look out across the plains, but the View rooms are more spacious and have a larger veranda. They're also set further apart for extra privacy. There's a swimming pool on site, as well as a restaurant.
Watching Damaraland's desert-adapted elephant

Damaraland, toward the north of Namibia, is one of the country's least populated areas. I'm always struck by its wild, rugged landscape, scattered with orange rocks that have been eroded into strange shapes by the wind.
Best of all, permanent herds of desert-adapted elephant roam the region. For more experienced safari-goers, seeing this ever-so-slightly different elephant provides something new.
They look very similar to other African elephant, but with slightly smaller bodies and longer legs to help them navigate sand dunes. They've also learned to adapt their diet to suit their arid surroundings, coping for several days without water and eating the moisture-holding plants found around dry riverbeds.
You can spend a morning tracking the elephant with a guide in a private or shared 4x4. One of the most unusual things about seeing these elephant is that they're often lying down in the heat.
Last time I was there, I watched a juvenile elephant who had laid down on flat land rather than the soft, curved edges of a river bed. He was really struggling to get back up. With his legs flopping in the air and a larger elephant pushing him from behind, it was a comical scene to behold. When he finally found his feet, he trumpeted loudly and flapped his ears.
Family friendly accommodation in Damaraland
Doro Nawas Camp is one of my top choices for families in Damaraland. It's located in the Doro Nawas Conservancy, close to Twyfelfontein, where the red rocks are engraved with ancient petroglyphs.
It has a family room for four people, a swimming pool and lots of guided activities focused around seeing the local wildlife, which includes springbok, oryx, bat-eared foxes and desert-adapted elephant.
Less obvious highlights for families
Star gazing in the Namib Desert

The darkness and clarity of the Namib Desert's night sky makes an evening of stargazing really special. I found that, even when looking up for just 20 minutes, I was often able to see a shooting star or the satellite stations trailing across the sky.
There are a number of lodges that, while costing a little more, have in-house astronomers and high-powered telescopes to help you see and learn about the twinkling constellations above you.
Sossusvlei Desert Lodge, in the north of NamibRand Nature Reserve, has its own observatory. It also has rooms with skylights over the beds so you can fall asleep under the stars.
I also like Kulala Desert Lodge, on the edge of Namib Naukluft National Park. On a clear night, staff can set up a bed, complete with mosquito net, on your private roof terrace. Lying in bed under a canopy of stars, you really feel the silence and stillness of the desert.
Stay on the remote Skeleton Coast

The Skeleton Coast, in Namibia's wild north, isn't the easiest or cheapest place to visit. Having said that, I think it makes an extremely rewarding stay for older families planning a special trip.
Its name relates to the whale and dolphin bones and old shipwrecks that lie stranded in sand — a result of the coast's strong currents, fog and shifting sands. Their presence, sometimes 100 m (328 ft) or more inland, creates an eerie atmosphere unlike anywhere else I've visited in Namibia.
The wildlife here is on a different scale. Desert-adapted lion and elephant, giraffe, jackal and brown hyena all roam the deserted dunes, gravel plains and dry river valleys.
Staying at Hoanib Skeleton Coast Camp adds a touch of luxury to your family adventure. Accessible via a 45-minute light aircraft flight from Damaraland, it has interconnecting rooms to accommodate families.
Game drives and nature walks are on offer, but one of the best experiences is visiting the Hoanib Research Centre. Here, researchers are studying desert-adapted lion. They'll tell you about their work and the local wildlife, and you may even be able to help with some of their experiments.
Eating with your family in Namibia

The food in Namibia is similar to most Western countries, so well-suited to families. In some areas there's a strong Afrikaans influence, so you'll find dishes originating from Dutch and German cuisine. There's a strong emphasis on barbecued meat, including free-range game like eland, kudu and oryx. Vegetarians are also well catered for, with menus including dishes such as peppers stuffed with cheese and herbs. The traditional African staple 'pap' (a porridge-like mixture made from ground maize flour) is good to try, cooked with spinach and meat.
Practicalities
Namibia is growing in popularity, and family accommodation is still quite limited, so booking well in advance is essential.
Parts of Namibia have a high risk of malaria at certain times of year, and there's a low risk year round, so it's important to consult your doctor before travel and receive any vaccinations required for your trip.
Namibia lends itself to self-driving. There may be drives of four to six hours, but hire cars are large, roads are well maintained and there'll be plenty of stops en route.
Start planning your family trip to Namibia

Start thinking about your experience. These itineraries are simply suggestions for how you could enjoy some of the same experiences as our specialists. They're just for inspiration, because your trip will be created around your particular tastes.
View All Tours in Namibia