Luxury hotels and resorts can be relaxing ways to get away from it all and visit a new country.
But for many, these accommodations lack a certain sense of adventure. What better way to experience a country than by actually setting up camp in the Great Outdoors?
Luckily, there's a compromise for travelers who want a little of both — glamping.
This type of traveling marries the traditional idea of camping with luxury amenities, so you can be fully immersed in your experience without giving up the comforts of home.
Sound like your style of vacation? Check out these exotic glamping destinations that are anything but a little tent in the woods.
1. Sal Salis, Cape Range National Park, Australia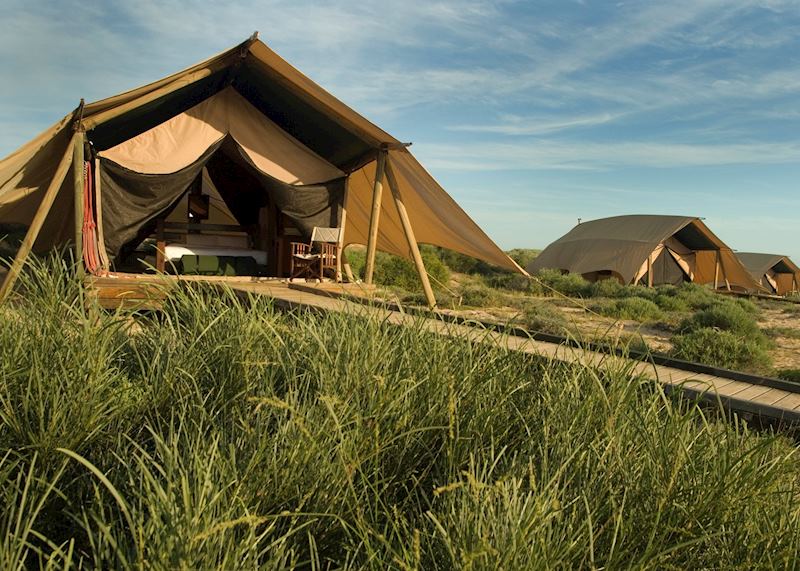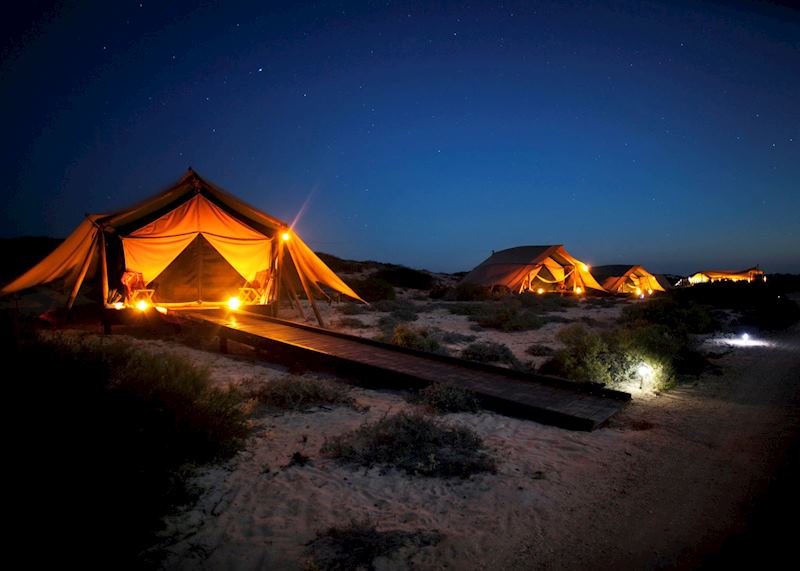 Nestled in the white sand dunes of Western Australia's Cape Range National Park, Sal Salis Ningaloo Reef is a remote beach-side safari camp experience.
Sixteen spacious wilderness tents are just feet from the water's edge and one of the world's greatest coastal coral reefs. The tents offer comfortable beds and an en suite bathroom.
The main camp building is set above the sand and offers wonderful views of the reef. Enjoy a contemporary Australian dinner prepared by an on-site chef and wake up in the morning to breakfast on the beach. Want to really experience Australia? Check out this itinerary that combines city life with some of the best outdoor experiences the country has to offer.
2. Norman Carr Safaris, South Luangwa, Zambia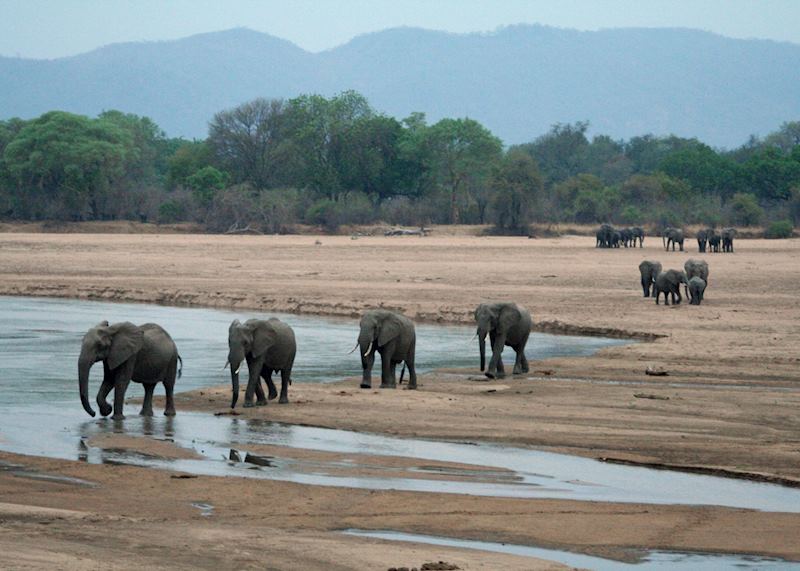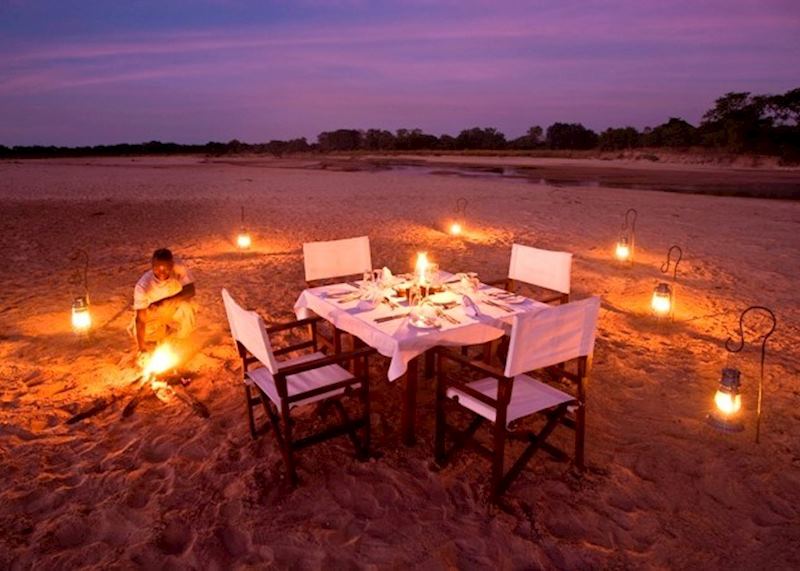 Spend the night camping in a dried-out river bed in South Luangwa National Park, warmed by a ring of campfires.
Norman Carr Safaris' "Return to the Wild" sleepout is a wonderful night under the stars and a definite highlight of any safari trip.
You might be out in the bush, but you still get to sleep on a comfortable mattress with nothing other than a mosquito net above you and the night sky as your ceiling.
The guide and scout will prepare a wonderful Zambian barbecue and you can stargaze for hours while listening to the distant harmonies of the African wildlife.
Check out this Zambia itinerary. It provides seven days of African safaris, during which you might just see the Big Five (lion, leopard, rhinoceros elephant, and Cape buffalo).
3. Patagonia Camp, Torres del Paine, Chile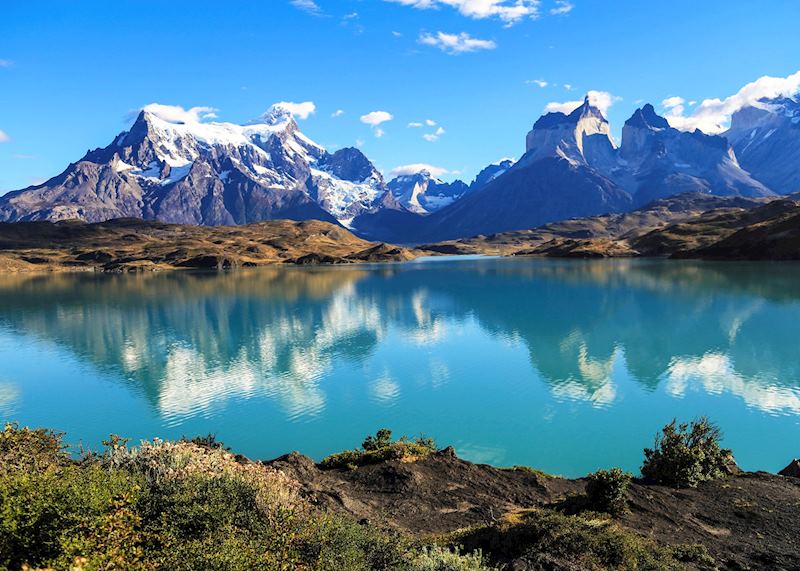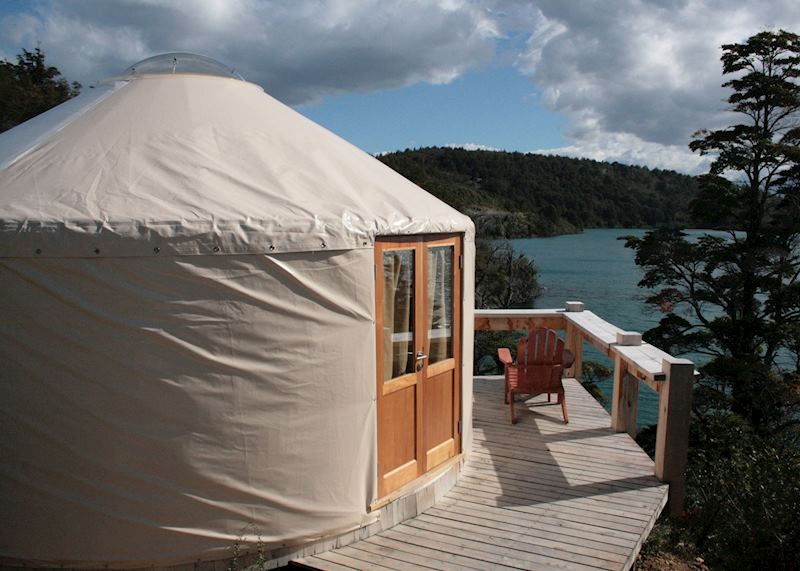 If you were to pick one location in the world for a glamping spot, Chilean Patagonia would surely be it.
Sitting just outside the stunning Torres del Paine National Park, the surroundings of Patagonia Camp are really the only reason you need to visit. Its famous "towers" poke out from behind wooded hills, looming over the lake on which the camp is set.
However, if that isn't incentive enough, the friendly welcome, numerous activities and comfortable yurts only add to the experience. And the wind whistling around the canvas at night means you can't forget that you're right in the heart of Patagonia.
Make it part of a bigger trip to Chile. This nine-day itinerary includes glacier cruises, hiking mountains in Torres del Paine National Park and exploring Santiago.
4. Amanwana, Moyo Island, Indonesia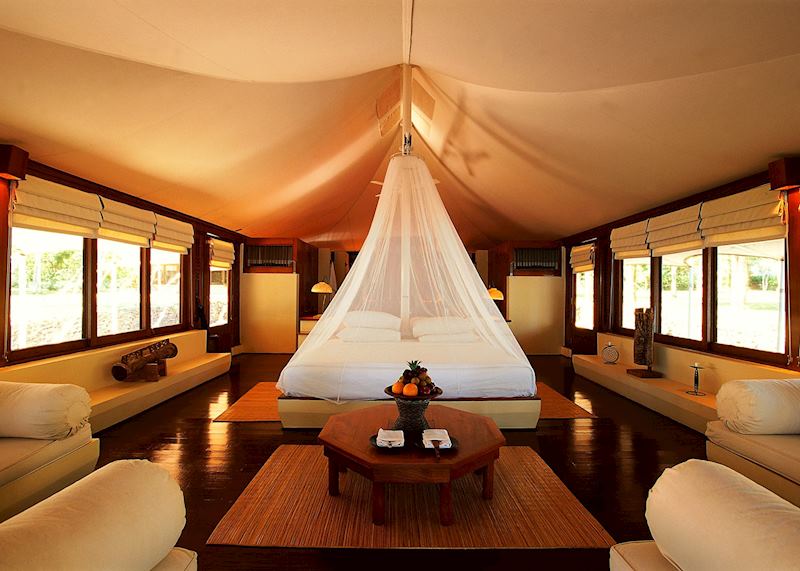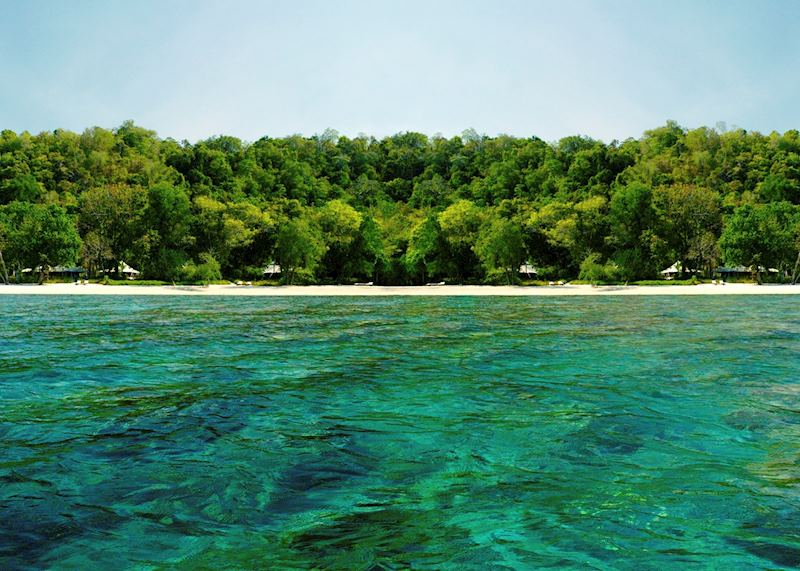 This remote escape, far detached from the busy tourist trail, lies in a dark-sky area home to deserted beaches and lush forest.
The luxurious tented accommodation of Amanwana is reminiscent of an African safari reserve.
A day here can be filled with everything from embarking on one of many walking trails to taking a dip in the jungle pool, or snorkeling the crystal-clear waters off the shores of Moyo Island.
As evening draws in, turn your attention to the sky, luminous with millions of visibly clear stars, before retiring to your tent and listening to the sounds of the forest.
This 16-day itinerary is a perfect way to experience the exquisite beaches and culture in Indonesia.
5. Gold Sand Camp, Erg Chebbi, Morocco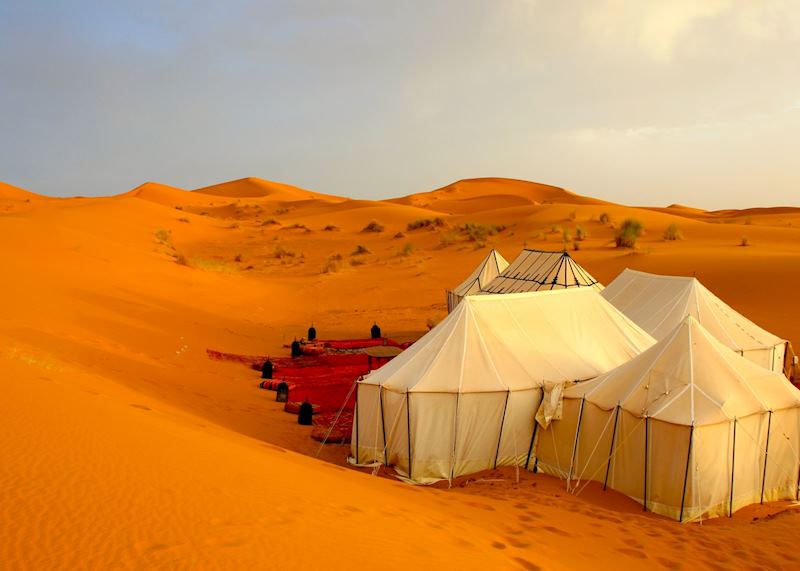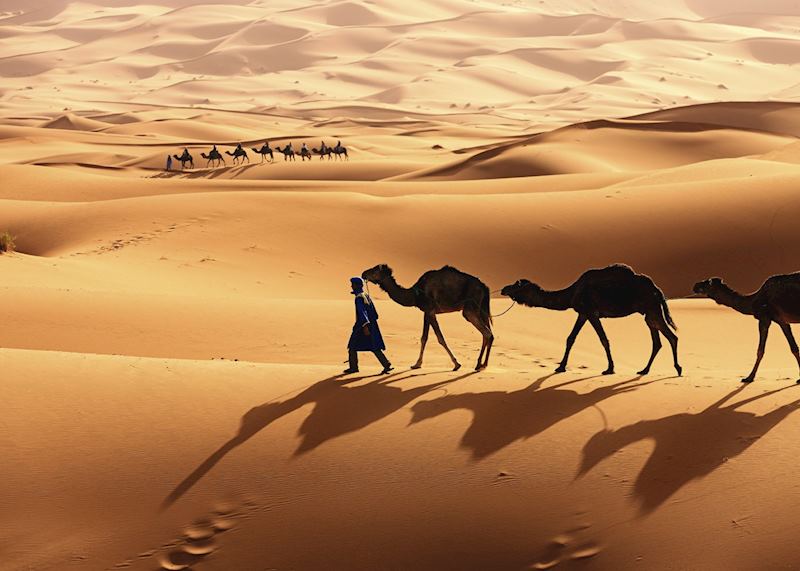 The Erg Chebbi dune range is a magical place, and staying in tented accommodations is the most traditional way to see the Sahara.
The journey into the desert starts with a 4x4 ride, followed by a leisurely camel ride through the dunes. Once there, the Sahara Desert Camp tents have private en suite bathrooms and comfy beds set on locally made rugs.
You will be serenaded by traditional Gnawa musicians during a chef-cooked dinner, served under a brilliantly starlit night sky. Be sure to wake up at dawn to hike to the top of a nearby dune to watch the sun rise over the sands before breakfast.
This 8-day Morocco itinerary is one of the best ways to experience the Sahara.
Plan Your Trip
Sound like your kind of adventure? Here's how to start designing your next trip.
Further Reading