There are many paths to wellness. In Japan you can relax in geothermic waters, or be slathered in savon beldi in an opulent Moroccan hammam. And you don't have to step near a spa — in Tasmania, you can hike while taking in some of the world's cleanest air, or follow the instruction of an experienced yogi on the banks of India's River Ganges. We've picked some of the best rejuvenating, invigorating or relaxing experiences from across the world.
Vinotherapy in the Rioja, Spain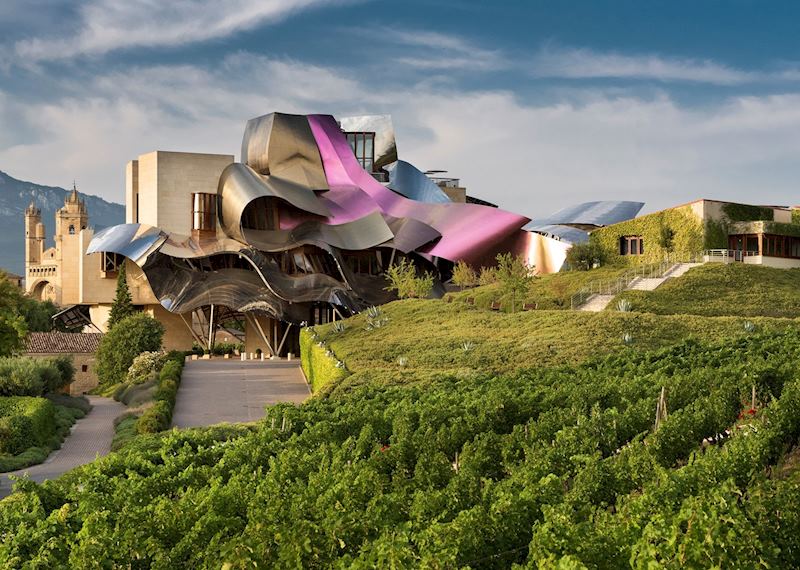 Amid the Rioja's traditional terracotta roofs, rust-red soil and seemingly endless vineyards, the ultra-modern lines of the Hotel Marqués de Riscal can be a sudden shock to the system. The building, designed by celebrity architect Frank Gehry, is full of asymmetrical angles that contrast sharply with the gargantuan titanium ribbons piled loosely on top of the façade. Tinted dusky purple or polished to a mirror shine, they make for a sinuous superstructure that reflects the landscape in its shimmering surface.
The hotel is also home to SPA Vinothérapie Caudalie, where you can choose from an innovative menu of spa treatments that incorporate wine-themed elements. Enjoy a wrap that uses a combination of wine yeast with warm honey to moisturize your skin or indulge in a massage using the pomace left over from the grape-crushing process at the adjacent winery.
But, to fully immerse yourself in the oenophile lifestyle, we suggest one of the spa's relaxing baths, where the water is enriched with grape-based oils, pomace, or red wine extracts.
Having indulged your body at the spa and fed your soul on the views of the sun-drenched landscape, you can treat your mouth to a meal at the hotel's Michelin-starred restaurant. Head chef Juan Bautista Peñas offers reinvented versions of classic Riojan and Basque dishes like Riojan potatoes and sardines with bread and cheese.
Where to next?
You can see the Rioja as part of a trip that also includes Madrid and San Sebastián, the culinary capital of Basque Country.
The world's cleanest air and wilderness walks: Tasmania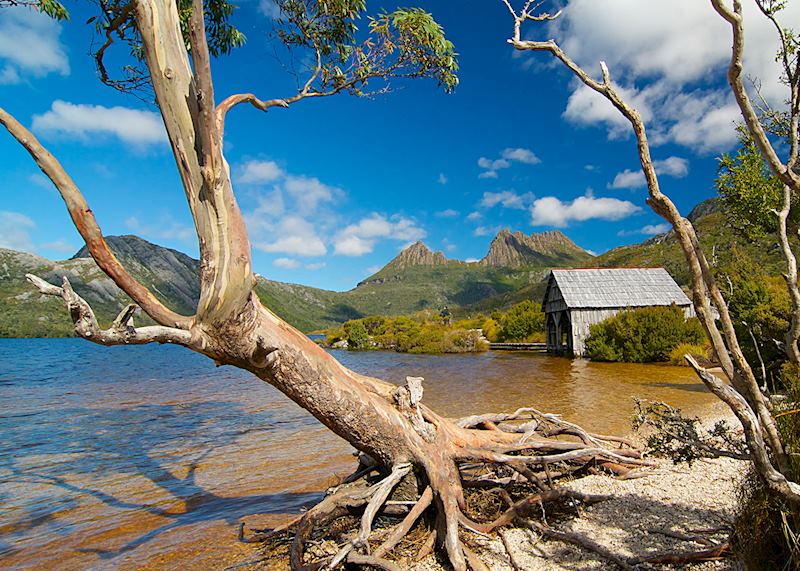 It might seem fanciful, but you first notice Tasmania's air when you step off the plane. Much of Australian air is dry and slightly dusty, blown in from the vast Outback desert of the Red Centre. But, Tasmania simply smells fresher. There's a grassiness, a palpable greenness in the air, even a hint of petrichor. No wonder it's hailed as the world's cleanest.
The greenness hits you as you begin to explore this island state. The unspoiled west of Tasmania is cloaked in a thickset forest of huon pines, with the Franklin and Gordon rivers rushing through.
North of that, you'll find the alpine landscape of Cradle Mountain-Lake St Clair National Park. Its crowning glory is the cluster of toothy dolerite columns on Cradle Mountain itself. If you're looking to escape to the backwoods and enjoy a few hours of good hiking (and to breathe in that air at its purest), this national park is ideal.
You can summit Cradle Mountain in a day, but a calmer and more doable alternative is the circuit around Dove Lake, the body of water at the base of the mountain. The loop takes in an enchanted-seeming gum forest, where mosses encase trunks in fuzzy coats and the air feels heavy with moisture. At dusk, look out for wombats and echidnas snuffling about.
Where to next?
Staying in Tasmania, you might like to try some private bush tours. You'll find more on these, plus suggestions for other experiences to include in your trip, in our highlights guide to Tasmania.
Take the waters like the ancient Etruscans did in Tuscany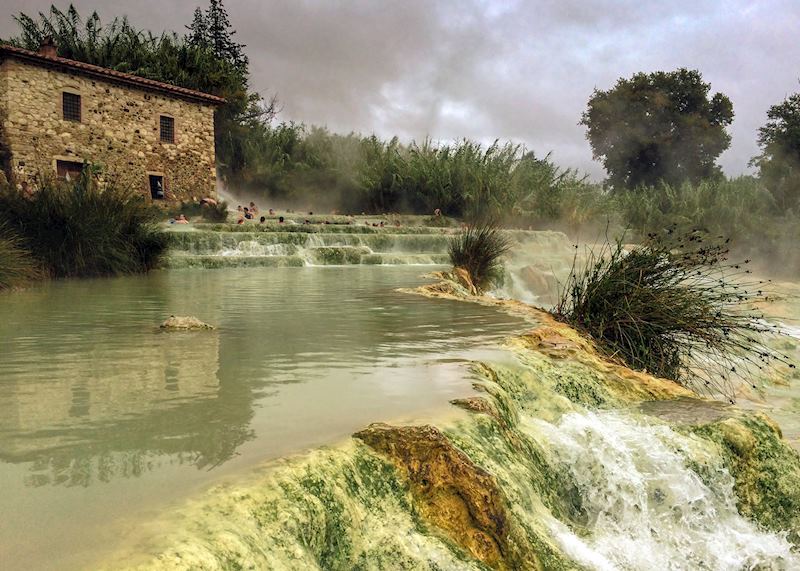 At the thermal pools of Saturnia, sulfur-scented steam rises off the milky-blue waters that bubble up from the porous limestone. It spills over the sides of the natural basins in small torrents, creating a bubbly, swirling waterscape.
Locals have been coming here for thousands of years — since the Etruscans ruled the area — to soak in these hot springs, which are thought to have healing abilities. Even today, the minerals that give it that same slightly sharp smell are alleged to make your skin youthful, smooth and soft.
Regardless of their supposed therapeutic properties, the pools are a restful place to soak since geothermal heat keeps the waters at a constant blood-warm temperature of 37 C (98.6 F).
We can arrange for you to visit the pools as part of a guided tour of the area. Start in the old town of Pitigliano, with a visit to the small town's Etruscan ruins as well as a 16th-century synagogue. Your driver can then take you half an hour west to the pools, where you can soak in the waters as the ancients did.
Where to next?
A visit to Tuscany can be just one stop on a grand tour of classic Italy, or you can concentrate on exploring the area more in depth by following a route that also includes Florence and the Cinque Terre.
Get squeaky clean in Marrakesh, Morocco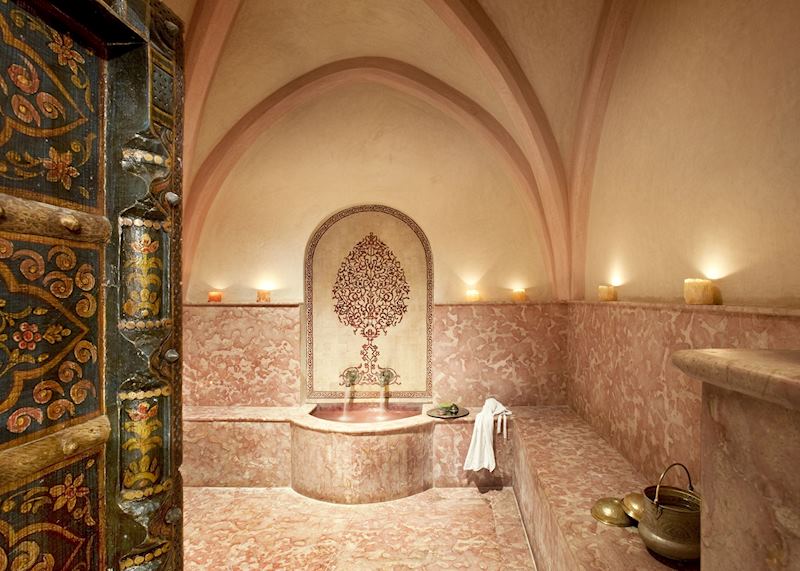 A hammam is a routine part of Moroccan life, a weekly ritual to catch up with friends and family — as well as a good scrub and steam. You'll find simple hammams in every village, town and city, but as the process can be quite confusing to the newcomer, we suggest that you opt for the luxury, attended experience.
On the outskirts of the medina, La Sultana is an opulent hotel which feels like a series of interlinked riads. Orange trees scent the courtyards and bronzed Moorish chandeliers hang from the ceilings. You'll enter its hammam through a set of hefty, carved wooden doors which open into rose-scented rooms.
You'll be met by an attendant who'll guide you through the experience, which begins in a hot, dry room to sweat away the impurities. If you find it too hot, your attendant is on hand to splash cooling water on you (they may or may not offer prior warning).
Next is the bathing room, where you'll be invited to lay on a heated marble bench and slathered in savon beldi (a natural black olive-oil soap). Your attendant will then don a pair of exfoliating gloves and scrub you clean — this is then followed by rinsing with warm water (if you do opt for an unattended hammam experience, it is important to be careful when rinsing as the water here can get very hot).
After emerging squeaky clean, it's time to relax. You could opt for a massage, a cleansing mud wrap or a rehydration treatment with pure, nutty-scented argan oil. Then there's plenty of time for a fresh-mint tea.
Where next?
A hammam is an ideal way to relax tired muscles after over a week of exploring Marrakesh, the High Atlas and Essaouira.
Planting trees at Bisate Lodge, Rwanda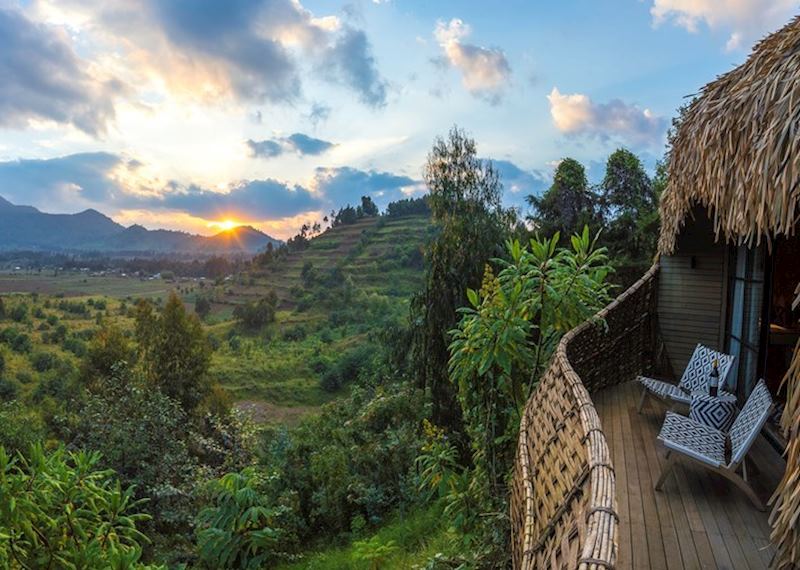 Rwanda's Volcanoes National Park is best-known for one thing: mountain gorillas. Just spending an hour in their presence is enough to put your mind at peace — your entire consciousness is focused on observing their movements and interactions with one another, listening to the sounds of the forest, their snapping and crunching of leaves and branches.
Your time here doesn't have to end with the gorillas, though. Stay at the eco-friendly yet luxurious Bisate Lodge, set in an eroded volcanic cone just outside the park, and you can help to reforest a piece of land where habitat had previously been lost.
You set out with the lodge's agronomist, Jean-Moise, who shows you around the tree nursery and talks about the area's natural ecosystem. Then, you head to the planting site, where more than 20,000 indigenous trees now grow thanks to Bisate's staff and guests. The vegetation mimics that of Volcanoes National Park, with bamboo planted at the lower levels and hagenia and dombea trees added higher up.
Jean-Moise will demonstrate the best way to plant your sapling, which you then place into the earth, safe in the knowledge that you're helping to create important habitat for wildlife including golden monkeys, endemic birds, side-striped jackal and, of course, gorillas.
Where next?
Experience gorilla tracking, the Great Migration and seeing the Big Five all in one trip by following up with a safari in Tanzania's Serengeti.
Early morning Yoga in Varanasi, India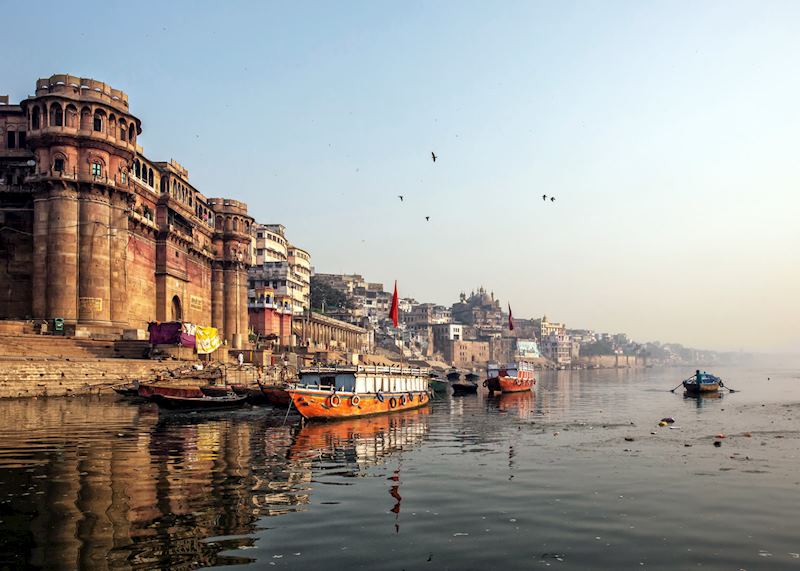 Yes, yoga's a common trope of wellness retreats and resorts worldwide. But, there's nothing quite like going back to its roots, which have been traced back to around the 3rd century BC, in northern India.
The term can be roughly translated from its Sanskrit roots (the language of ancient Hindu texts) as the 'joining together' of mind and body. In Varanasi, yoga teachers Madhu and Jai aim to help you do just that, by re-joining yoga with its spiritual origins.
One of yoga's common practices is surya nakaskar, a sun salutation to prepare you for the new day. Before sunrise, meet your yogi and take a boat ride along the Ganges to a secluded ghat (a river-side platform with steps leading to the water). By the water's edge, roll out your mat and be led into pranayama (controlled breathing).
As the sun rises, you'll be taught a series of asanas (postures) to limber up for the coming day and celebrate the rising sun. After your yoga session, which lasts around an hour (and will be tailored to your ability), you'll walk to a nearby Surya temple.
In the carved stone surrounds of the temple, your yogi will take you through sunrise puja, an ancient Hindu ritual worshiping Surya, the sun god. After fruit has been offered and incense lit, you'll boat back into central Varanasi, now lit by the early morning sun.
Where next?
Varanasi combines well with a trip across north India, taking in Khajuraho's erotic temple carvings and a less graphic ode to love, the Taj Mahal.
Soak in an onsen in Japan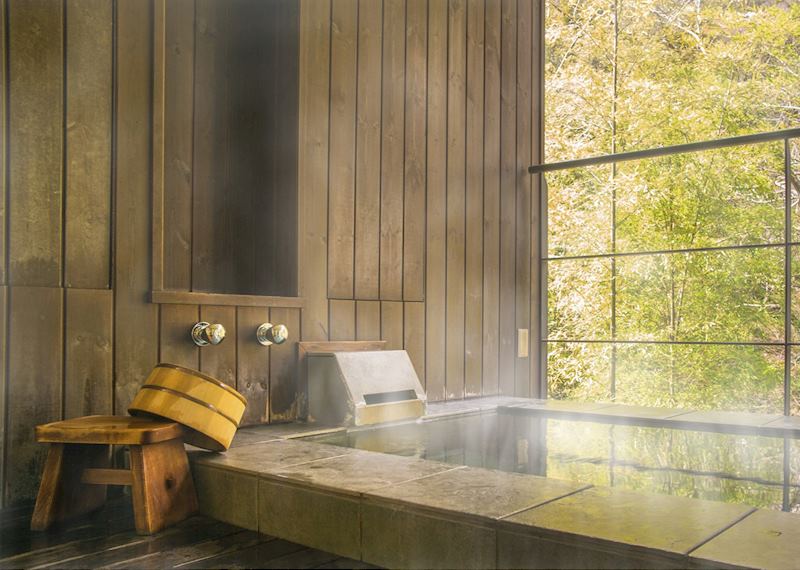 When a busy person wants to relax in Japan, they often head for a ryokan (a traditional inn). Switching your workaday clothes for traditional slippers and a cotton kimono known as a yukata, you spend your visit indulging in multi-course kaiseki meals and luxuriating in an onsen — a steaming bath fed by mineral-rich hot springs.
Geothermically heated water seeps from the rocks, laden with dissolved minerals that are thought to have health benefits. Traditionally, the baths are located outdoors and many boast excellent views over mountains or the ocean.
Etiquette at onsen is strict, if simple: shower and rinse off thoroughly before getting in, never let your towel touch the water, cover up any visible tattoos, and always bathe naked. If this last item puts you off, we've sought out the most traditional ryokans that offer a private onsen option.
We like Wasure-no-sato Gajoen, a rustic-but-indulgent inn on the edge of Kirishima National Park. Stay in a room with a private onsen hand-hewn by the owner from single slabs of granite. You can also reserve the larger, public onsen for private use during certain hours.
If you visit, be sure to ask for directions to Inukai-no-taki, a narrow waterfall hidden deep inside the conifer forest. The tumbling slice of silvery water spilling down the stone lip into the round pool below looks like a scene from a sumi-e painting come to life.
Where to next?
Explore more of Japan's natural landscapes and traditional culture on a self-drive trip through Kyushu that includes stops at the samurai residences of Chiran and the Mount Aso caldera of Aso-Kuju National Park.