Visit Sao Luís & Lençóis Maranhenses National Park, Brazil
Visit Sao Luís & Lençóis Maranhenses National Park, Brazil
São Luís' historic center is rather how the historic center of Salvador looked before the government investment that has made it as shiny as it is today.
Architecture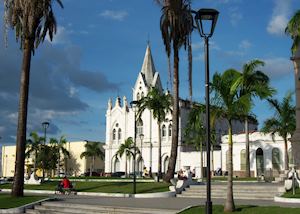 The city is the only one in Brazil to be founded by the French whose influence is apparent in some of its older buildings. Many of them are crumbling; keeping them maintained in a city with such high humidity, salty air rushing in from the sea and a long rainy season, is a difficult and expensive task, especially when walls need repainting every six months.
Some properties however, bought with foreign money or rescued by UNESCO, are shining examples of the beautiful architecture of the period, lovingly restored and lining the center's cobbled streets with pride. One of their most striking features is the array of stunning ceramic tiles which coat many of the walls you will pass.
Around the City
The center has a lively feel (it is Brazil's reggae capital) with small markets, restaurants, museums and artisan shops around each corner. The city is built on 50km island, separated from the mainland by a series of channels which are very visible during the plane journey in. It also has a lively beach scene with long stretches of sand, popular with Brazilian tourists.
Lençóis Maranhenses National Park
Lençóis Maranhenses National Park is located in the state of Maranhão and is famous for its incredible 40 meter sand dunes, stretching 50km inland from the coast, and 70km along it. From above the dunes look like bed sheets, hence the name 'lençóis'.
Best Time to Visit
Rains fall between January and June, filling the spaces between the dunes with pools and lakes of crystal clear fresh water which in the sunshine later in the year, shine a magnificent turquoise, contrasting beautifully against the white, desert like sands. The pools are at their best between July and September when they also become home to a surprising amount of fish whose eggs have been carried from the sea by visiting birds.
The main reason to visit the national park is to visit its famous dunes however a longer stay also allows time exploring its mangrove swamps and beaches.
Speak to someone
who's been there

Start planning your tailor-made trip to Sao Luís & Lençóis Maranhenses National Park by contacting one of our Brazil specialists
Map of Sao Luís & Lençóis Maranhenses National Park
Places & hotels on the map
Places near Sao Luís & Lençóis Maranhenses National Park
Photos of Sao Luís & Lençóis Maranhenses National Park
Ideas for experiencing Sao Luís & Lençóis Maranhenses National Park
Our specialists seek out authentic ways to get to know the places that could feature in your trip. These activities reflect some of the experiences they've most enjoyed while visiting Sao Luís & Lençóis Maranhenses National Park, and which use the best local guides.
Visit some of the following lakes: Lagoa Esperança, Lagoa Bonita and Lagoa Azul where you will have the opportunity to swim in the turquoise waters and relax on the white sands.