Black, grizzly and the elusive spirit bear: all are found among Canada's forests and mountains, and along the country's wild western coastline. While there's every chance of spotting one at the side of a road, our specialists reveal ways in which you can encounter them in a far more intimate and natural setting.
Where are the best places to see bears in Canada?
You can find bears across Canada, from the forests of Québec and New Brunswick to southern Manitoba and Alberta's Rocky Mountains. But British Columbia is by far the best place to see them. You may be lucky enough to spot one at the side of the road, but for a far more intimate experience, head to the west coast.
Zodiac trips around Vancouver Island give you a chance to see black bears foraging along the shoreline. Alternatively, staying for a number of days at one of the bear lodges hidden within the Great Bear Rainforest lets you head out each day to see grizzly, black or even spirit bears up-close in their natural environment.
Bear lodges in British Columbia's Great Bear Rainforest
Spirit Bear Lodge, where Rebecca stayed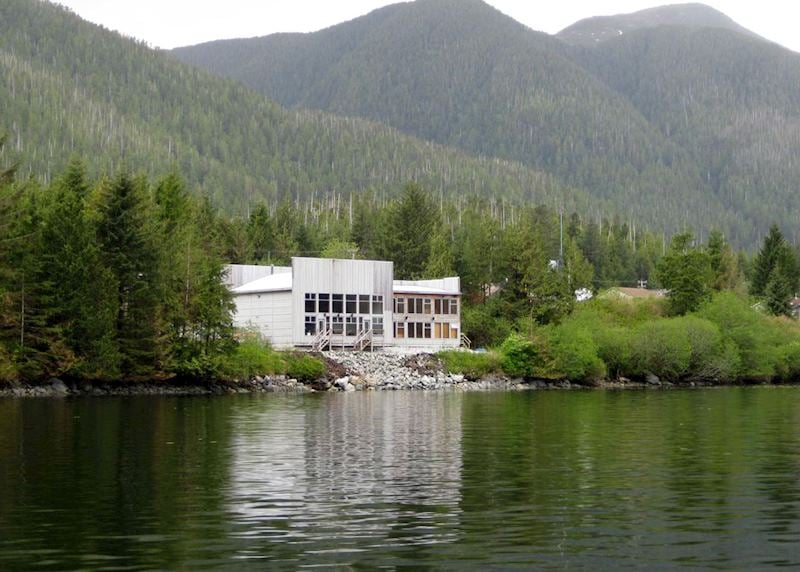 I knew Spirit Bear Lodge was going to be remote, but it was only after journeying farther and farther into the wilderness of the Great Bear Rainforest that I really appreciated its solitude. Situated on Swindle Island in the heart of the rainforest, the lodge lies on the edge of the small Kitasoo/Xai'xais First Nations community of Klemtu.
The journey to the lodge involves an hour's Pacific Coastal flight from Vancouver to Port Hardy on Vancouver Island's northeast coast, followed by a further 35-minute scenic flight over the Queen Charlotte Strait to Bella Bella on Campbell Island. Here, you're met by lodge staff and taken on an hour and a half water taxi ride through a maze of fjords to Klemtu, pulling up at the lodge's private jetty. The wildlife viewing begins there as you look out for bald eagles, porpoises and seals.
The lodge's layout pays homage to traditional First Nations longhouses, with one long communal room furnished with large cedar dining tables, local Tsimshian art and full-length windows leading to a decking area overlooking the water. Stood here, you might see sea lions or even white-sided dolphins pass by.
The 12 rooms are spread across two wings and look out over the water and surrounding rainforest. Meals were of a higher standard than I'd expected for somewhere so remote, with locally caught salmon put to good use.
The lodge itself is owned and run by First Nations people, who weave their culture throughout your stay. When I arrived I was taken to the community's Big House, where ceremonies are held, to hear stories that had been passed down the generations. Each evening, the lodge hosts talks or documentaries on First Nations culture.
A typical day at Spirit Bear Lodge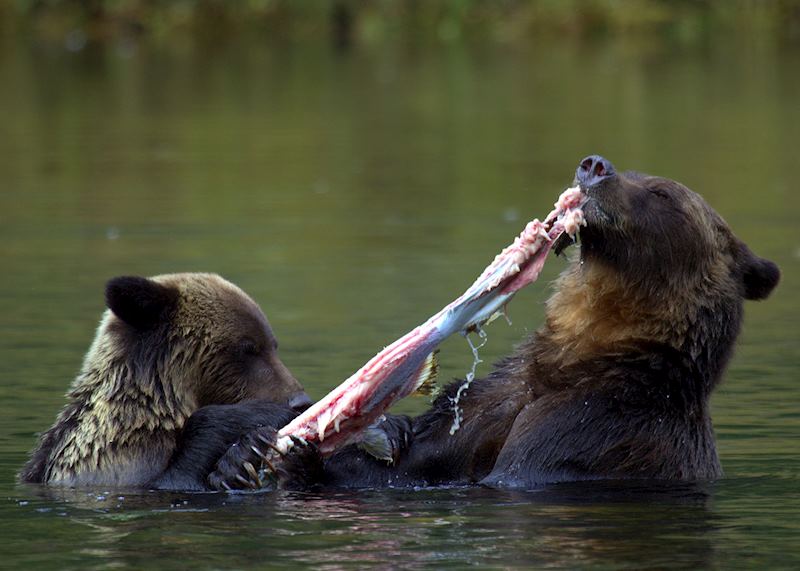 Bear watching here is a whole-day experience (it's worth noting that there are no toilets away from the lodge, so be prepared to find a quiet spot in the wild). Every day is different: on some, your guide might have a specific bear-viewing site in mind, on others you can choose from a few options. Otherwise, it's a case of heading out and seeing what you encounter.
The day begins with an early breakfast before you set out in one of the lodge's motorboats at around 8am. Group sizes are always small, led by a First Nations guide who often knows bears individually and can tell you a little about their personality.
The boat journey can take a couple of hours, but it's atmospheric as you make your way through glacier-cut fjords and past deep-sided cliffs scattered with pines. At various points, I glimpsed humpbacks feeding in the distance, a pod of orcas and harbor seals lolling about on the shoreline.
Once you arrive at the chosen site, you're taken out in smaller Zodiacs to get closer to the shoreline without disturbing the wildlife. We scoured the coastline for a while in search of our first bear and eventually came across a male grizzly feeding up on sedge grass. Our guide, Jack, disembarked and held the Zodiac still as we sat and watched the bear for a couple of hours.
The whole experience was peaceful, and I had complete trust in Jack, even when the bear began moving closer to us. He told us the bear seemed so comfortable he was likely to be a dominant male who'd been born here.
There was one moment when the bear suddenly decided to lumber down to the water, stopped, and shook himself right in front of us. He then walked straight past us, lay down on the sand and fell asleep, completely unfazed by our presence.
You generally get back to the lodge at around 5:30pm, leaving you plenty of time to rest and get ready for dinner at 7pm, and pre- and post-dinner drinks on the decking.
Great Bear Lodge, where Emily stayed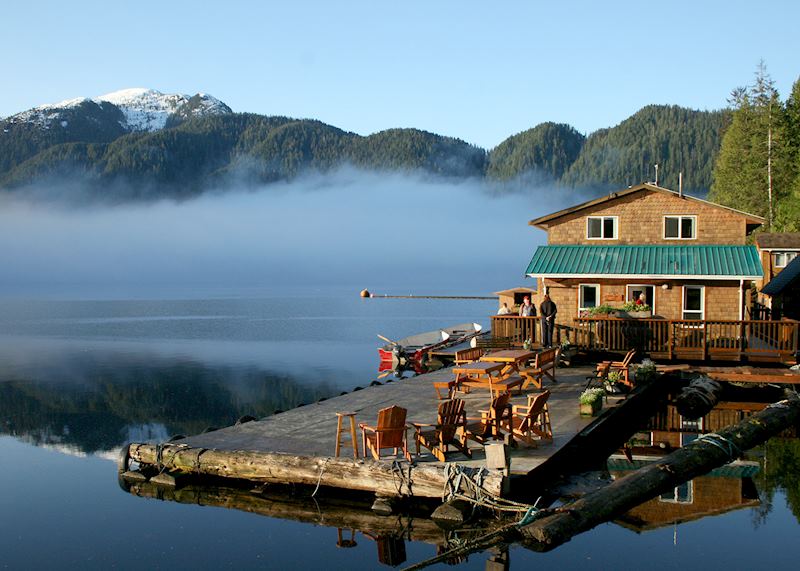 Despite being easier to get to than Spirit Bear Lodge, Great Bear Lodge feels, if anything, even more out of the way. Situated a half-hour seaplane flight north of Port Hardy, there's nothing but rainforest and ocean for miles around.
After soaring over the Queen Charlotte Strait and its scattering of forested islands, we landed right outside the lodge — a two-story wooden house floating out on the still water, set on a long stretch of decking.
The owners, Tom and Marg, believe in warm welcomes and will show you to your room — there are just eight. While simple (electricity usage is limited, with the lodge almost entirely powered by solar and wind energy), rooms are comfortable with a rustic, log-cabin feel, and have a small en suite with shower and toilet. Many look out over the water.
On my first evening I was treated to a dinner of fresh maple-glazed salmon roasted on a cedar plank with salad and yams, followed by chocolate lava cake. At breakfast you can expect eggs, fresh fruit and granola, while lunch is often a hearty soup with bread and salad. Complimentary drinks are on offer throughout your stay, and home-baked cookies are put out each day (help yourselves).
Regular natural history presentations are held in the communal lounge — all guides here are university-educated in subjects like ecology and biology, and experts in their field. I learned so much about the area's wildlife and ecosystem, from identifying bird calls to discovering why bears rub themselves against trees (the main reason is to mark their territory).
A typical day at Great Bear Lodge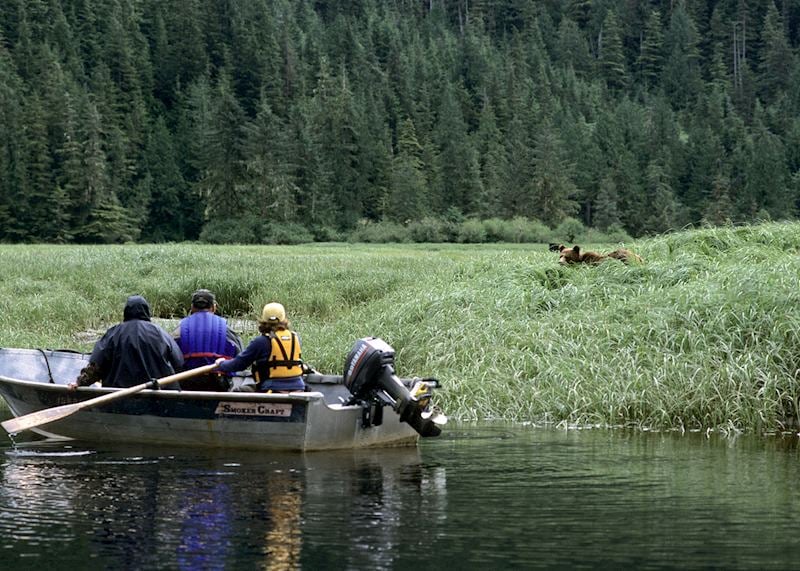 The focus here is purely on seeing bears and other wildlife. Cameras are set up at various locations around the forest to try to capture footage of the bears and keep track of them, so guides can take you out to see those they've located.
After an early breakfast, you join your guide (possibly on your own, or with a few others depending on guest numbers) for a three-hour trip to see bears.
The experience varies with the time of year. From May to early August you're taken out by boat, but during the salmon run you make for strategically placed viewing platforms. Here, you can set up your camera or sit with a pair of binoculars and watch as the usually solitary bears come together to fish.
As I visited in July, the bears were filling up on sedge grass. They were skinnier than I'd imagined, but my guide reassured us that within a couple of months their bellies would be full of salmon.
We sat and watched a four-year-old sub-adult grizzly for a couple of hours as he climbed around on logs by the water and sat around grazing. This was exciting enough for me, having never seen a bear this close before. But then, without warning, he decided to climb into the water and swim right next to our boat. It was the best moment of my trip.
After lunch at the lodge, you head out on what the guides call a 'mystery tour'. This could involve another boat trip to see bears, walking up to some viewing platforms, or following a bear trail to watch the tree-rubbing spectacle. Your guide can also explain techniques for tracking the bears.
You then go back for dinner before having the opportunity to join an evening bear-watching session or listen to a talk. Tom often joins you for a meal or a drink — I was enthralled by the tales he had to tell from his 20 years of living here.
The whole day is quite intensive, though you do have short breaks in-between the bear watching and you can opt out of some sessions to remain at the lodge.
On your final morning, you're taken on a boat ride heading in the opposite direction toward the open ocean, passing waterfalls and looking out for other wildlife such as humpbacks, bald eagles, harbor seals and porpoises.
Other bear-watching experiences in Canada
By Emily
Seeing Bears by Zodiac in Clayoquot Sound, Vancouver Island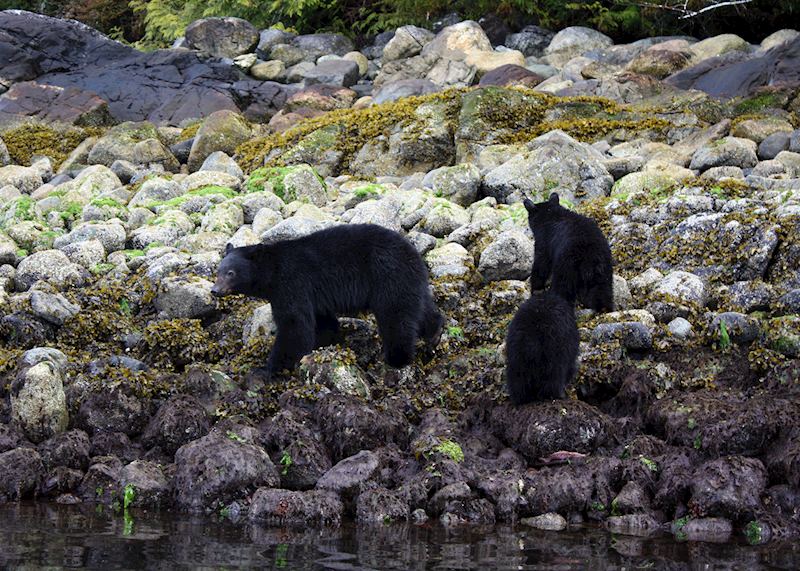 The sheltered waters of Clayoquot Sound — a UNESCO Biosphere Reserve — wash against the fir-covered rocks and wild sandy beaches of Vancouver Island's west coast and its peppering of uninhabited islands. Low tide reveals the shoreline scattered with morsels left behind by the water, and opportunistic black bears take a stroll along the beach to take advantage of this open buffet.
Between April and October, you can join a two-and-a-half-hour bear-watching tour from Tofino aboard a 7 m (24 ft) Zodiac. These low-impact vessels can navigate into small bays and glide close to the shore without disturbing the bears as they turn over rocks and stones in their search for crabs, clams and barnacles.
Your guide will know the area inside out, and might even be able to identify individual bears. He or she can also tell you more about the life cycle, habits and diet of the bears, as well as helping you to spot other wildlife such as seals, eagles, porpoises, herons and orcas.
There's also the option to join an extended whale- and bear-watching Zodiac tour, spending six hours out on the water in search of black bears and gray and humpback whales.
Campbell River and Bute Inlet boat trip, northern Vancouver Island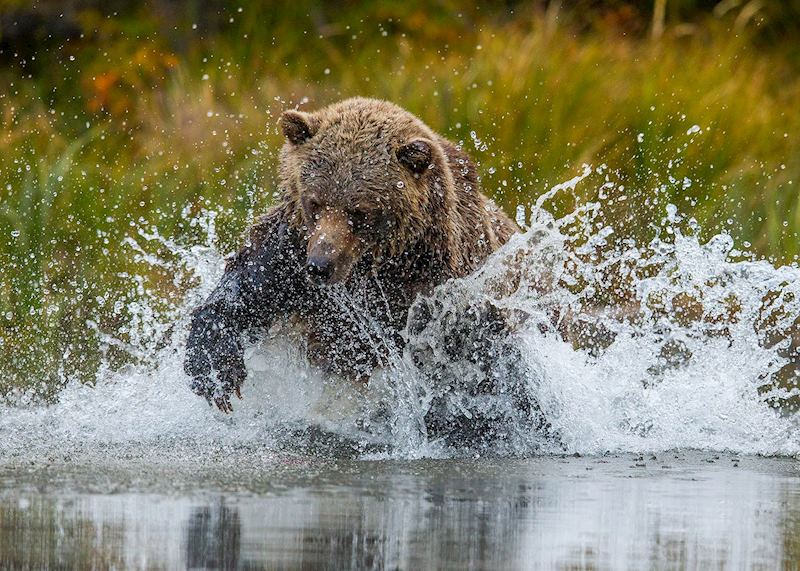 Just off Vancouver Island's northeast coast lies a network of forested islands that have broken off from mainland British Columbia. Fjords flow between these shards of land and cut into the mainland, forming peaceful inlets that are a haven for wildlife. Bute Inlet is one of the largest, fostering around 40 resident grizzly bears. From late-August to late-October you can watch them grapple for salmon along the river.
High-speedboats and Zodiacs leave the town of Campbell River for a full day of exploring the inlet and its bears. You might see dolphins, orcas or humpbacks as you weave between islands and make your way along the inlet to the Orford River. Here, you're met by Homalco First Nations guides, who'll escort you to viewing platforms overlooking popular salmon-run spots.
As you watch the bears perfect their fishing techniques, your guides reveal more about them and their habitat. They can also answer any questions you have on First Nations culture in this area.
When is the best time to see bears in Canada?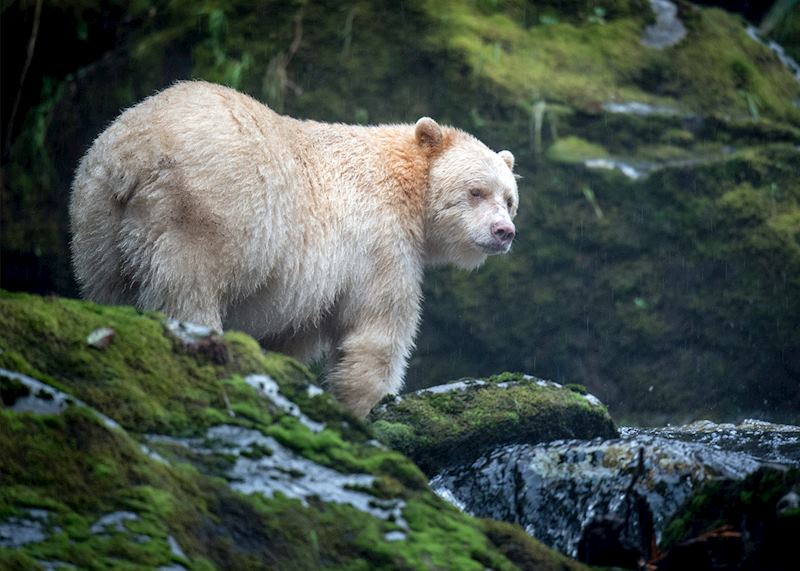 The best sightings occur between May and October, as bears hibernate during the winter months. They emerge in spring to mate and feed on berries, flowers and sedge grass. They might also catch the occasional fish, but it's during the salmon run (late August to October) that the real feast begins.
You can watch the drama unfold as bears stab, scoop, and grab their meal from the rivers, slapping and splashing the water in their frenzy. It's unsurprisingly a popular time of year to visit so you'll need to book early.
What types of bear are found in Canada?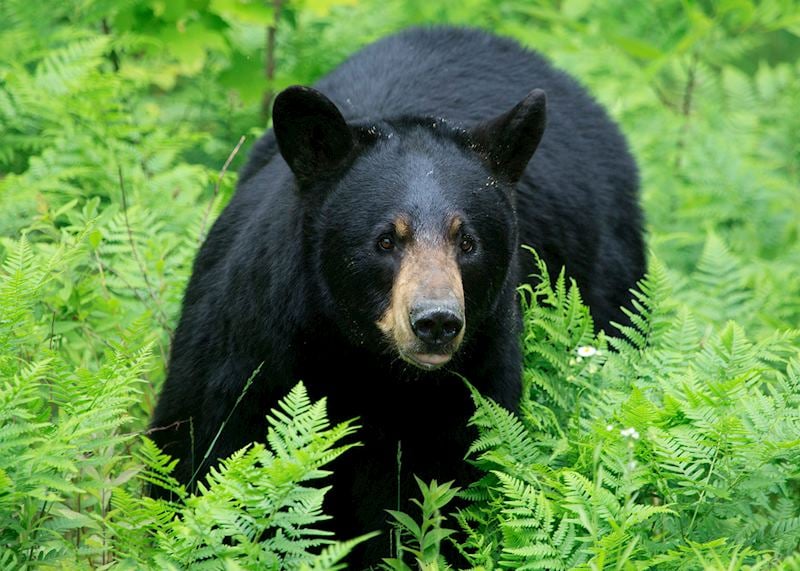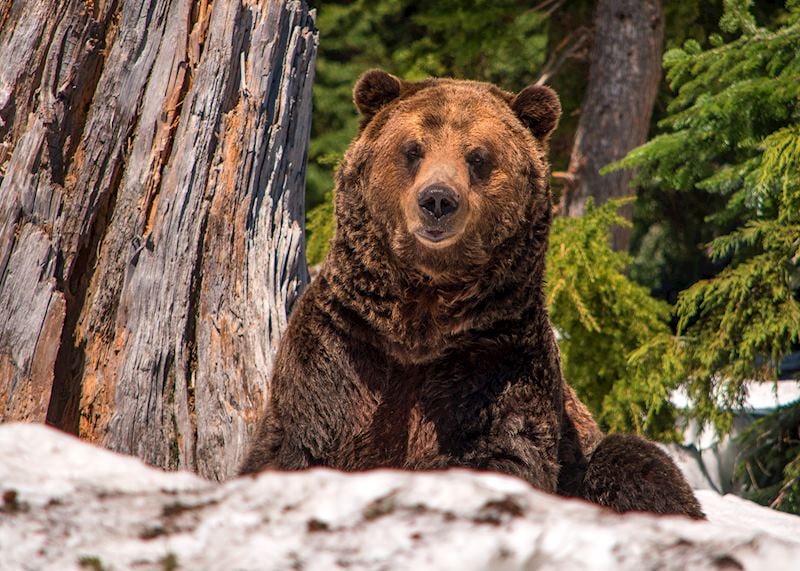 Black bears
The most commonly spotted of Canada's bears, they're found throughout most of Canada.
They prefer the solitude of the forest, but can sometimes be lured into towns in search of an easy meal.
Excellent climbers — you might see a sow ushering her cubs up the nearest pine tree out of harm's way.
Grizzly bears
Fiercely territorial and often hard to find, and one of North America's largest predators.
Their thick coat of fur can vary in shade from blonde to dark brown, and they've a distinctive hump on their shoulders.
They can live into their mid-twenties and follow quite solitary lives except during salmon-run season, when groups gather along riverbanks to catch their fill.
Kermode 'spirit' bears
These white-coated bears are the rarest of all North American bear species.
They're actually black bears with a double-recessive gene that gives them their lighter shade; it's possible to see a female spirit bear guiding her much darker black bear cubs.
Revered by First Nations people, they're only found in British Columbia's Great Bear Rainforest.
Start planning your trip to Canada

Start thinking about your experience. These itineraries are simply suggestions for how you could enjoy some of the same experiences as our specialists. They're just for inspiration, because your trip will be created around your particular tastes.
View All Tours in Canada