Stretching across the heart of Canada, Saskatchewan is a province of rippling prairies where time appears to have been on pause for a few millennia. But, beyond the bison, you'll also find cities renowned for their hospitality, rich traditions that still thrive, and the country's darkest night skies.
Here, we share five travel experiences in the 'Land of the Living Skies', all of which you can include on a self-drive trip through Saskatchewan, from embracing a cowboy lifestyle on a working cattle ranch to exploring the legendary tunnels beneath Moose Jaw's city streets.
Spot wildlife & constellations in Grasslands National Park
Golden grass sways and whispers in the breeze, bison graze on ancestral lands and the vast clear blue sky meets the horizon — it's a vision that's remained unchanged for millennia. Grasslands National Park protects one of the last intact grasslands on the North American prairie. A visit here is a step back in time.
You can take in this ancient landscape from the two scenic highways that lead through the park's east and west sections. Pause as you go to take photographs and explore trails on foot in search of wildlife. Since 71 plains bison were reintroduced here in 2006, the herd's grown to over 300, and you can see them in the park's West Block. Also look out for playful black-tailed prairie dogs, speedy pronghorn, short-horned lizards, prairie rattlesnakes, and swift foxes.
At night, look up to discover why the park is Canada's darkest Dark Sky Preserve — we recommend taking a star chart or downloading a star-gazing app to help identify the stars, planets, and constellations twinkling above you.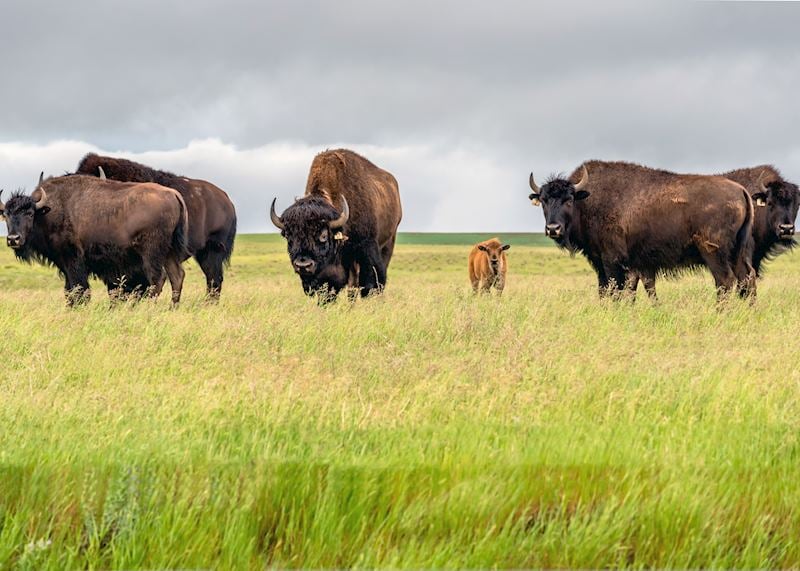 Tour Moose Jaw's underground tunnels
Beneath Moose Jaw's city streets lies a network of tunnels dug in the early 1900s. On a guided tour, you'll hear fascinating stories, including how the tunnels cemented Moose Jaw's nickname as 'Little Chicago'.
The tunnels were originally a refuge for Chinese immigrants who were experiencing persecution above ground. During America's Prohibition in the 1920s, they were a hub for rum-running, housing illegal alcohol that was then smuggled over the border. An array of infamous characters, including Al Capone, roamed the underground network, away from the watchful eyes of law enforcement.
All this history, whether fact or folklore, is brought to life on your tour through interactive exhibits and anecdotes shared by your enthusiastic guide.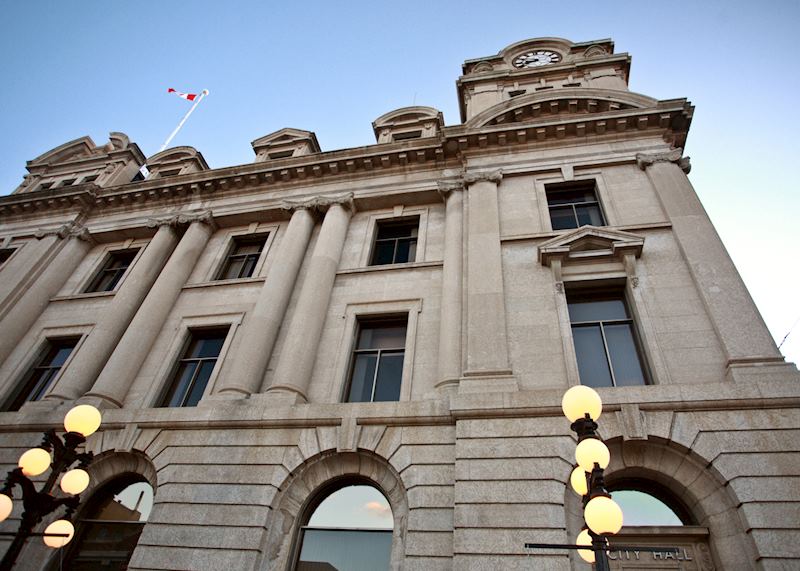 Live the ranch life
Set on the shores of Lake Diefenbaker and surrounded by wind-whipped prairieland, La Reata Ranch gives you a chance to experience life on a working cattle ranch. The owner, George, will show you the ropes (literally) as you learn to wrangle and care for the herd.
You can also explore the area's gentle hills on horseback, canoe on the sparkling water, try fishing, or go hiking in search of wildlife like deer, foxes, and golden eagles. There's also time to relax, whether you're stretched out on the sandy lakeshore or toasting marshmallows around the campfire beneath an endlessly starry sky.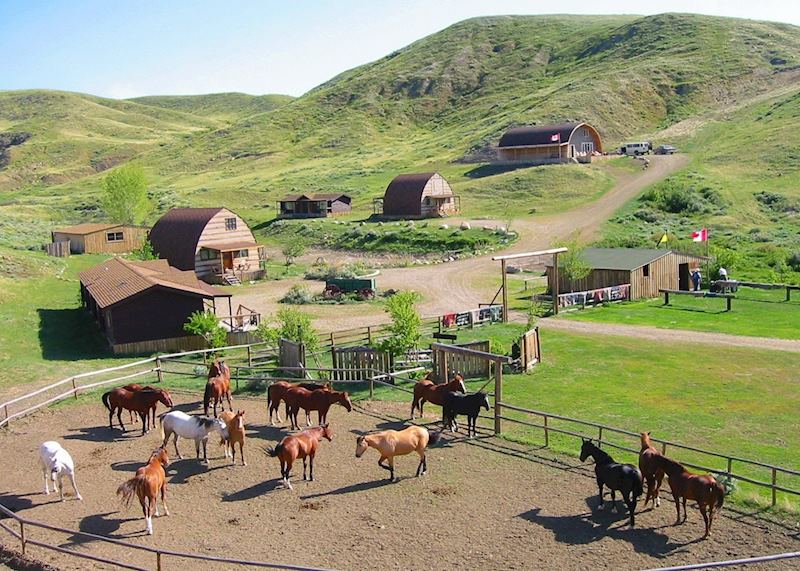 Visit the Royal Canadian Mounted Police
Since 1873, the Royal Canadian Mounted Police (originally the North-West Mounted Police) have enforced law and order across Canada. As their headquarters is in Regina, you could include a visit to the RCMP Heritage Centre during your stay in the provincial capital. Here, exhibits will tell you about the history, traditions, and modern operations of the Mounties, including their role in combating the lawlessness of the west's whisky trade during the US's Prohibition years.
More than 1,000 cadets complete their basic training here, and, on certain evenings during July and August, you can see them parade in their trademark scarlet uniform as part of the Sunset Retreat Ceremony. As you watch, you'll hear the skirling of bagpipes and the rhythmic tattoo of boots moving in well-trained synchrony.
Soak up the culture in Saskatoon
Saskatchewan's largest city, Saskatoon is dubbed the 'Paris of the Prairies' or the 'City of Bridges' thanks to its collection of seven bridges spanning the South Saskatchewan River. You can join a relaxing river boat trip and enjoy the view from the water. There's plenty to see on dry land, too, from a thriving farmers market to breweries, distilleries, and a delicious culinary scene.
A melting pot of cultures, the city's also home to a number of art galleries and museums. You could visit the Remai Modern art museum — home to the world's largest collection of Picasso linocuts, or head to the Western Development Museum, whose exhibits tell the story of the province's social and economic development and include a re-creation of a 1920s Western town.
On the city's northern fringe is Wanuskewin, a traditional gathering place of the Northern Plains Indigenous peoples for more than 6,000 years. Here, you'll encounter bison, which were recently relocated to the area after being hunted to near-extinction in the 1800s, and you can see newly excavated petroglyphs that date back 1,000 years.