By India specialist John
Getting to grips with Indian cuisine is a bit like learning a new language. It's complex, sometimes overwhelming, and involves multi-faceted regional dialects plus a lot of new vocabulary. But, the more you try, the better your overall experience.
Looking for the very best food tour across India? There's no such thing ― there's an edible adventure to be had wherever you go, from Rajasthan's Golden Triangle to the tip of palm-fringed Kerala.
Below I've picked six experiences from hole-in-the-wall eateries to fancy dinners with a view. It's this variety that blows me away, and it's why you can visit India again and again — just for the food.
Street food tours in India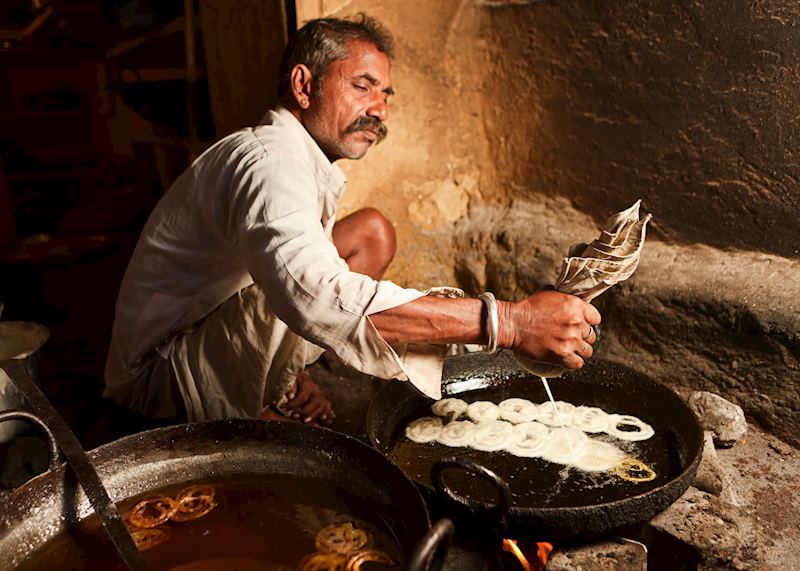 The best piece of information I can share is to take a street-food tour as soon as you arrive. With the guidance of a local resident, you'll be shown which signature dishes to look out for, how to eat them and what delicate Western stomachs should avoid.
Guides are always eager to show you a full range of tastes so you can begin to pick out what you prefer. If you're vegetarian or vegan ― well, a large proportion of India is too, so there's plenty to try.
On my first afternoon in Delhi I found myself trawling Old Delhi's labyrinthine streets, eating dish after dish. It's belly-busting, so don't be tempted to eat beforehand. You can watch as jalebi (sweets made from fine flour) are deep-fried in a swirl of oil right in front of you, and parathas (thin circles of bread) cook on open-air hot plates.
Aloo chaat (crisp fried potatoes) are popular with Old Delhi residents, and are often served with a range of homemade mango and lime chutneys. If you don't handle spicy food well, you'll be pleased to hear that dishes are usually prepared mild, and additional condiments offered to those wanting a hotter hit.
Armed with these initial experiences, you can then dip into the street food available throughout the rest of your trip ― hopefully with the confidence to order from that hole-in-the-wall eatery or kulfi-wallah (ice-cream seller) on the street corner.
Where: While I took a street-food tour in Delhi, similar experiences can be arranged if you're arriving into another large city, including Mumbai and Calcutta.
A multi-dish thali banquet ― cutlery optional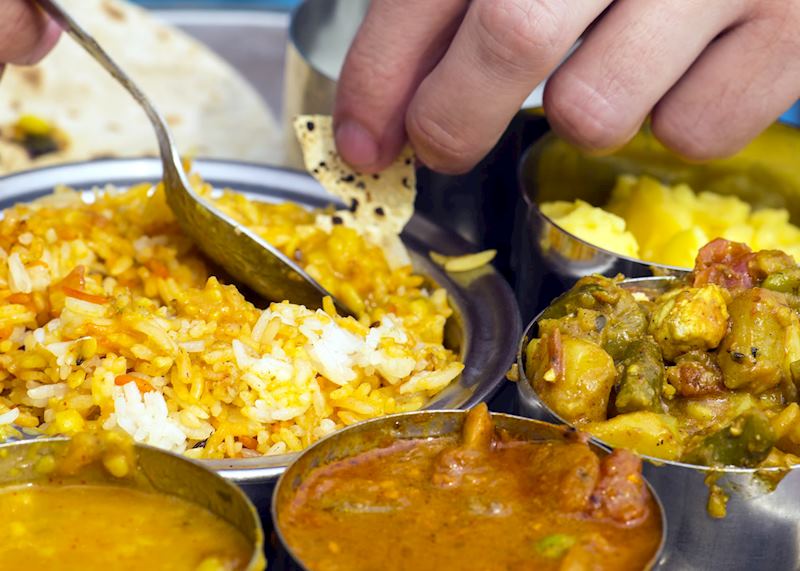 Another way of trying a range of dishes is by ordering a thali. This traditional meal is a rainbow of curries, dal, yogurt and pickles served in small bowls, along with rice and bread. It's all crammed onto one large plate. The type of bread varies between regions, but is usually a flat, round, freshly cooked roti.
Whether you're in a fancy restaurant or a homestay, you'll notice most people eat thali with their hands (it's customary to eat with just the right hand), using the bread to scoop up the juicier bits. I like to tackle the meal this way, but it's usual to see people using cutlery too.
You'll usually pick a meat, vegetable or fish option, but the exact dishes are usually a surprise — though waiters are always happy to give you more detail. I particularly like garlic and mustard seed pickle, a particularly pungent condiment that's often sweetened with jaggery (cane sugar).
Where: From Gujarat to Assam, you'll find this style of eating across India, each with their own regionalisms. Some variations don't use individual bowls ― instead, each dish is simply spooned onto one huge plate or banana leaf.
If you're exploring Rajasthan and visiting Jodhpur, book a table at Indique, the rooftop restaurant at Pal Haveli. The most memorable thali I've ever eaten was while sat on their candlelit outdoor terrace, the illuminated walls of Mehrangarh Fort looming above.
Dinner on a backwater houseboat in Kerala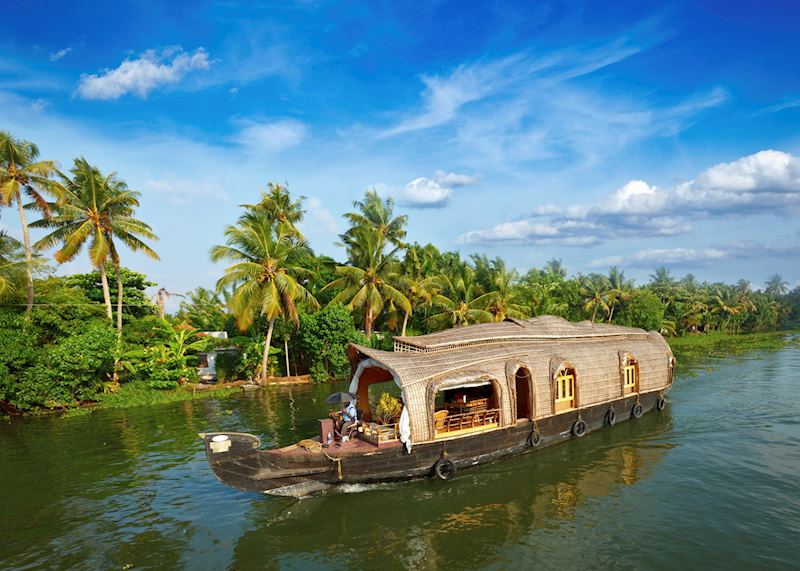 A core tenant of Indian cuisine is the use of fresh ingredients. If it's not in season, or local to the area, you won't find it. This is one of the reasons why dishes vary across the country, from the heavy, tamarind-rich curries in the north, to lighter coconut-based dishes in the south.
I'd argue that you can't get fresher than dinner on a Keralan backwater houseboat, where the main ingredient (usually a pomfret fish) has been caught off the back of the boat a few moments earlier. The rest of the ingredients will have been purchased from small waterside sellers while the boat was docked.
Your freshly grilled fish will be traditionally served on a banana leaf, and surrounded by pickles, rice and chapatis (a soft, whole-flour flatbread). This is often preceded with onion pakora (crispy deep-fried onions in batter) and banana fry, which is actually plantain fried in a rice-flour batter.
Where: Houseboats ply the rivers, canals and lagoons of Kerala, passing coconut plantations and luscious waterside gardens. You can opt to stay on one for the day. But, for the full experience, I suggest an overnight trip, with the added benefit of breakfast in the early morning light cooked by your personal on-board chef.
Dosa: a lighter breakfast alternative from South India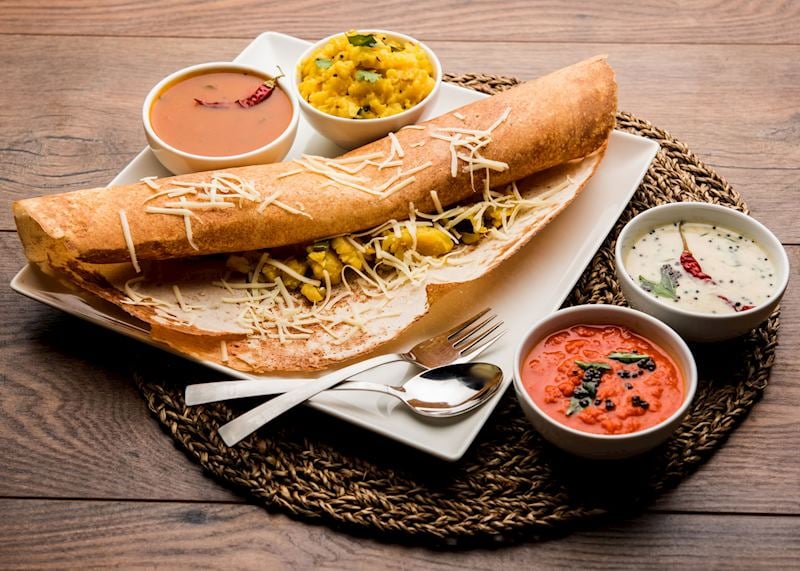 Curries, pickles, dal and rice for breakfast can be quite a shock to many palates, but a gentle introduction to an Indian-style breakfast is the dosa. These simple, crispy pancakes are made from fermented chickpea flour and a bit of bicarbonate of soda and water. They're often so large they hang over the sides of the plate.
You can eat them as they are, with a bit of yogurt, or add a filling, the most popular of which is potato masala. These soft, roughly mashed potatoes are gently spiced with cumin, mustard seeds and turmeric, a dish that's not too overpowering to start the day with, I've found. If you're after something more intense, there's always a spicy mango or lime pickle nearby.
Where: Dosas are a South Indian dish, found on the menu in most hotels and homestays, although some of the best are cooked up on the streets. Take a street-food tour of Mysore, in Karnataka state, where the Mysore masala dosa has become quite an institution. You can sit and eat in Devaraja Market square, watching the fruit and vegetable vendors flaunt their goods.
Traditional Indian home-cooking lessons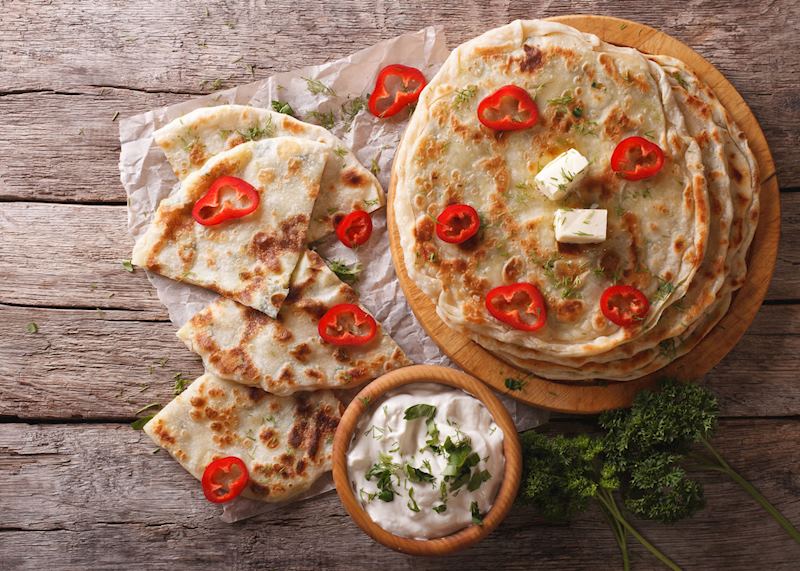 Traditional Indian home cooking often includes long lists of ingredients and uses techniques uncommon outside the region. For me, North Indian bread is the best bread in the world, but I've never managed it at home until I was taken into the kitchens of Deogarh Mahal, a small fort-turned-hotel between Jaipur and Udaipur.
I was soon folding dough to make parathas, a flaky flatbread that, on paper, seems slightly complicated. But, once you've watched someone demonstrate, it's (relatively) simple. You'll usually walk away with a few recipes in hand ― and, in my case, some tips on strawberry and plum jam making.
Where: We can arrange cooking lessons across the country. You could visit a private home in Jodhpur for a home-cooking demonstration, before sitting down to eat with the family.
Or, at Dewalokam Homestay in Kerala, you can join the chef in the kitchen for a more hands-on lesson. Here, by popular demand, they've created a cookbook for you to take away. On arrival, my driver was rubbing his hands with glee: he was so excited about the food served here.
A hot drink to go: chai from a chaiwallah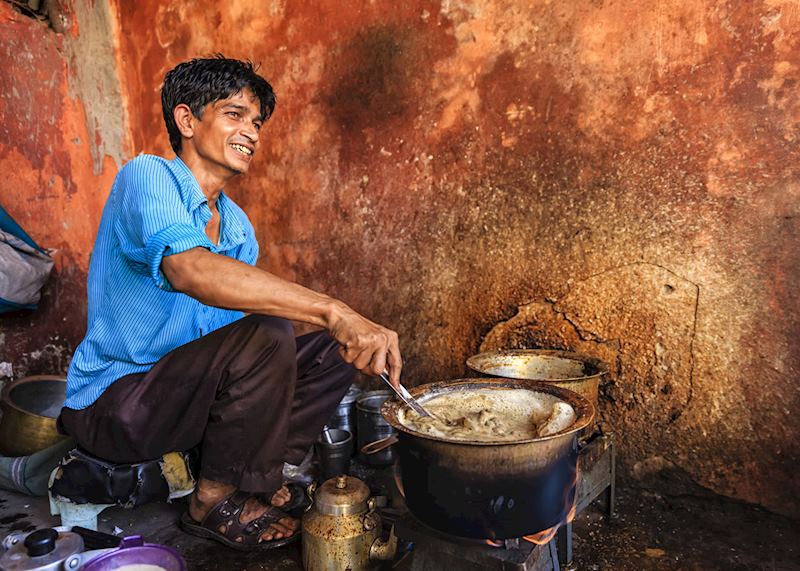 If you see a huddle of people standing on the corner of a street, it's likely they're surrounding a popular chaiwallah. Tea sellers have been a staple of Indian life for hundreds (if not a few thousand) years. The sweet, spicy mixture sold today became popular in the early 19th century after the British East India Company began industrial-scale tea production across the country.
Black tea is brewed in a huge metal vat along with a carefully perfected combination of spices, milk and lots of sugar. Each chaiwallah has their own combination of spices. Cinnamon, star anise, cardamom and fennel are popular, but sometimes there's a strong perfume of cloves or the heat of black pepper.
Once you've ordered a cup, it's quite a show. The hot liquid is transferred into a metal teapot and poured into a tiny cup from quite a height — the idea is to give the concoction a thorough mix as it lands in your cup. You'll be served with a small glass or clay cup of chai. The clay cups will be returned to the local potter at the end of the day to be recycled.
Where: You'd be hard pressed to find a town or village without a chaiwallah. If you'd like some guidance, any guide or driver will be (more than) happy to take you to one.
Read more about trip ideas to India

Start thinking about your experience. These itineraries are simply suggestions for how you could enjoy some of the same experiences as our specialists. They're just for inspiration, because your trip will be created around your particular tastes.
View All Tours in India