By Audley Myanmar specialist Will
The Ayeyarwady and Chindwin Rivers run through the heart of Myanmar and have long played an important role in trade with bordering countries. Conveniently linking a number of important cities and towns including Yangon, Mandalay and the temples of Bagan, a cruise in Myanmar allows you to slow the pace, and visit fascinating historical sites as well as small communities that would be inaccessible by road.

Short cruises from Mandalay to Bagan
This journey along the Ayeyarwady River starts at the former capital, Mandalay, and ends at the temples of Bagan. At the four ancient cities surrounding Mandalay, great teak monasteries rise up from lush vegetation. You can also view the world's longest teak bridge — U-Bein Bridge.
There's plenty of opportunity to explore on land with your guide. You'll visit some of the smaller villages, such as Mingun, along the way, that you couldn't reach by road. Mingun is home to both the world's largest unfinished brick pagoda and its largest uncracked bell. You'll also witness local villagers practicing traditional crafts and farming methods.
Stops at local villages are organized in small groups, and the communities visited vary to ensure the local people aren't overwhelmed by an influx of visitors.
Three night cruises take you from Mandalay to Bagan, while a reverse journey will take four nights, and all your food and touring is included.

Boat options from Mandalay to Bagan
Traditional river cruises aboard one of the RV Paukan and RV Pandaw boats provide a comfortable way to navigate Myanmar's waterways. Cabins have en suite bathrooms and air-conditioning. Entertainment on-board comes in the form of educational talks covering the boat itself, river navigation and local life.
For something a little more opulent, I'd recommend either the Sanctuary Ananda or the Belmond Road to Mandalay.
The Sanctuary Ananda has been built in the style of a traditional Burmese river cruise houseboat, housing a gym, Jacuzzi and pool. All rooms have a private balcony — the only boat on this route that does — and are en suite. On board you can enjoy local and Western cuisine prepared by international chefs and glitzy cocktail parties.
Such is the popularity of the Sanctuary that this cruise books up very quickly, and I'd advise booking at least nine months in advance.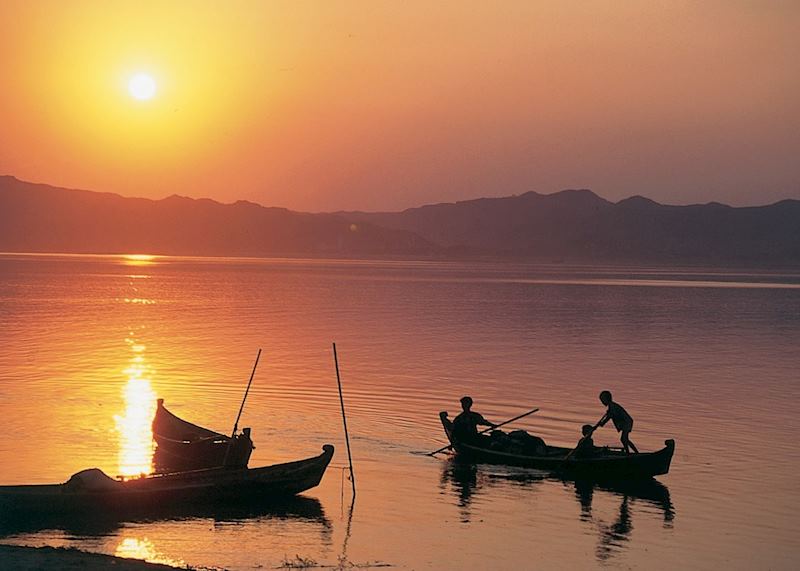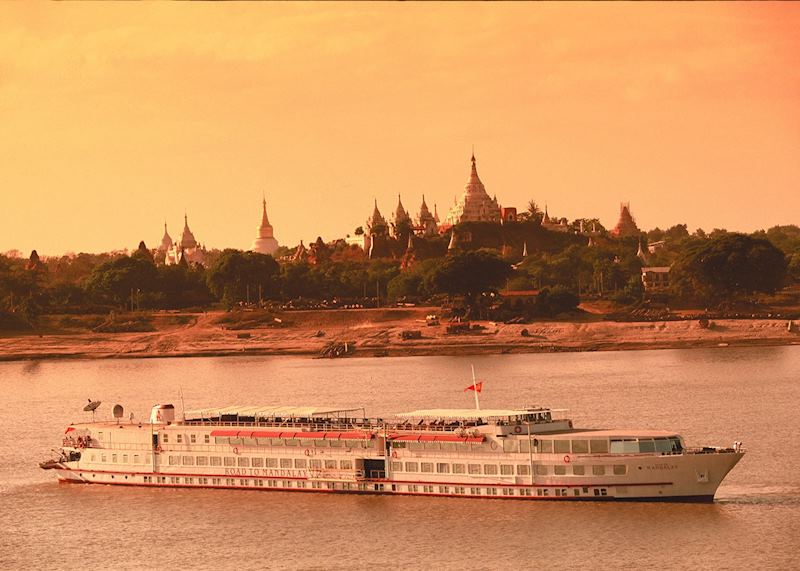 The Belmond Road to Mandalay is a larger, European-style river cruiser which consistently receives fantastic feedback from our clients. The sun deck is a great vantage point from which to enjoy impressive sunsets with a cocktail in hand, and a pool gives you the opportunity to escape the heat.
The boat also has an on-board doctor who provides free consultations and medication to local villages. Guests can learn more about the help given and how important it is by attending one of the doctor's lectures while on board.

Ten night cruise from Yangon to Bagan
To spend a little longer on the water, you've the option of cruising from Yangon to either Bagan or Mandalay on a ten night boat trip.
The charming colonial city of Yangon, as well as Mandalay and the temples of Bagan are included in most journeys to Myanmar, but navigating between them by boat means you can also explore a number of places en route that are inaccessible by road, such as Yandabo pottery village, where you can watch traditional clay pots being made.

Upper Ayeyarwady cruises
North of Mandalay, the remote reaches of the upper Ayeyarwady are surrounded by towering mountains and cuts through spectacular gorges. Only boats can access this isolated heart of Myanmar.
Katha is a lively port on the banks of the Ayeyarwady that provides a nostalgic view of the country, and it was the setting for George Orwell's Burmese Days. A number of the historical buildings and colonial relics mentioned in Orwell's book are still standing, and you can spend a pleasant afternoon trying to find them.
There are a number of cruise options for this part of the Ayeyarwady varying in duration from seven to ten nights.

Myeik (Mergui) sea cruising
Some 800 islands make up the Myeik Archipelago in the south of Myanmar. Neglected by the Burmese Government, most of Myeik is uninhabited. This is an area of outstanding natural beauty that is only really frequented by Moken sea gypsies.
Four-cabin yachts are available to charter around the islands for three, five and six night cruises, during which you'll enjoy barbecues on the beach, trips through the mangroves as well as the opportunity to snorkel and dive in these warm waters.
Start planning your river cruise in Myanmar

Start thinking about your experience. These itineraries are simply suggestions for how you could enjoy some of the same experiences as our specialists. They're just for inspiration, because your trip will be created around your particular tastes.
View All Tours in Myanmar