Visit Everest Base Camp, Nepal
Nestled into the south side of Everest, the Nepalese base camp is set so close to the mountain that you can't see its peak. Arriving into a camp that's only accessible by challenging multi-day treks is as rewarding as you can imagine. Stepping into the camp you're confronted by the Khumbu Icefall, a daunting steep rise of jagged ice that's the first obstacle for climbers aiming for the summit. With no signs announcing your arrival, or even the inkling of a gift shop, there's a clear message here: only the adventurous make it this far.
Arriving at Everest Base Camp, Nepal, I felt like I'd reached the end of the world. It was worth every challenging step of the trek to get there. Somewhere very special.
Nepal specialist
Nick
Things to do at Everest Base Camp, Nepal
Trek to base camp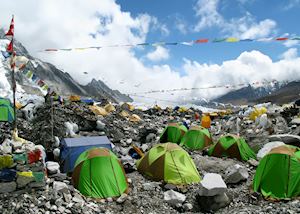 This base camp's chief appeal lies in its remote location: only those prepared for arduous trekking at high altitude are rewarded with a visit. With no roads through the higher Himalaya, a short flight from Kathmandu to Lukla, the nearest airport, is needed before beginning the 18-day trek leading to base camp.
The route of the trek leads through stark valleys, over rope bridges and past ever-shifting glaciers. While the scenery is at the forefront of the journey, you come into contact with local communities as you pass through small Sherpa villages. Vibrant Mani stones (carved with sacred Buddhist mantras) also scatter the trail, laid there by traveling pilgrims or monks.
Accommodation along the route is a choice between staying in a comfortable lodge with hot water and private rooms or a basic, but more traditional, teahouse where you can share stories with fellow wayfarers around a cow-dung stove.
Climb Kala Patthar
Holder of the curious accolade as home to the world's highest webcam, Kala Patthar is a minor peak on a jagged ridge above base camp. A couple of hours' walk from base camp, along a gravel switchback trail, passing the base camp's helipad, leads you to the summit.
At the top, you're greeted with a panoramic view of the world's highest peaks. Looking toward the Khumbu Icefall from this vantage, you can sometimes pick out teams of climbers and their guides in climbing season, appearing almost impossibly small as they negotiate a way through to the foot of Everest.
Best time to visit Everest Base Camp, Nepal
October and November are good months to travel, as the usually clear skies afford spectacular views and the temperatures are comfortable for trekking. The weather in December to March can be unpleasantly cold, but you might benefit from quieter trekking routes. From March to early June you can see climbers staying at the camp, leaving before the monsoon rains arrive in late June.
Festivals, events and seasonal reasons to visit
Visit in April or May to see a vivid sea of tents, the climbers' camp as they prepare for their ascent to Everest's summit — the climbers are off-limits, as they quarantine themselves before the climb to avoid catching any illnesses.
Speak to someone
who's been there

Start planning your tailor-made trip to Everest Base Camp by contacting one of our Nepal specialists
Places & hotels on the map
Places near Everest Base Camp
Photos of Everest Base Camp