Search for 'world's best walks', and the Inca Trail usually crops up in your search results. While it's a rewarding (and challenging) hike, it's also congested and in constant high demand. Even its name is misleading: in fact, it's only one of several Inca trails spanning out from Machu Picchu and forming a vast imperial network.
Here, our specialists suggest four other hikes that compete with — and sometimes even eclipse — the classic Inca Trail. One takes you to Machu Picchu via a more circuitous (but just as scenic) route; the others transport you into areas of Peru seemingly untouched by Western visitors.
Peru walking tour ideas: day hikes
Huchuy Qosqo, Sacred Valley
Walked by Fiona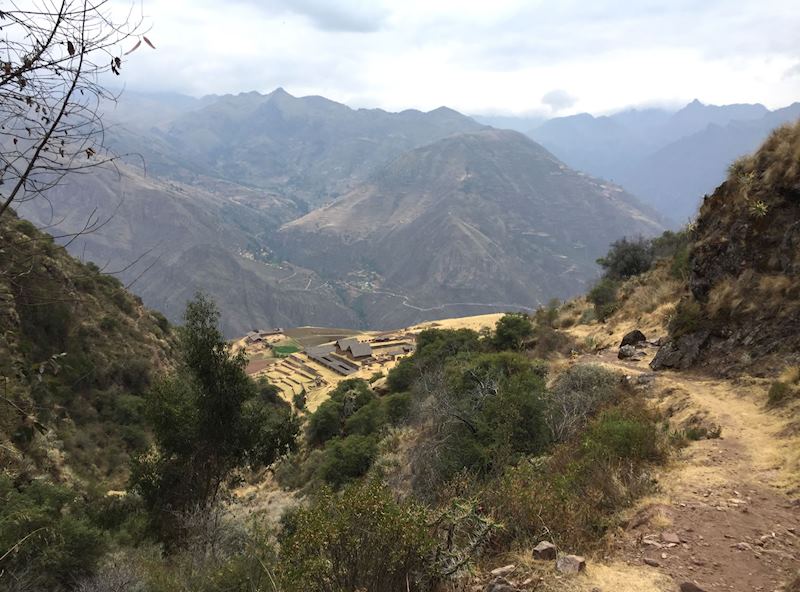 This seven-hour hike in the heart of the Sacred Valley offers entirely different scenery from the cloudforests of the Inca Trail. From the tiny village of Tauca, a 45-minute drive from Cuzco, you ascend steadily through stark ichu grassland, skirting a huge cirque with a meltwater-fed blackish tarn at its base.
The landscape can seem bleak and foreboding at first, but a closer inspection of the terrain reveals a few secrets, such as a scattering of tiny powder-blue, aster-like blooms. 'You should see this place in the wet season,' said my guide (I first did this walk in September). 'The entire mountainside is carpeted in these flowers.'
After an hour or so of walking, the track suddenly opens out as you reach Tauca Pass at 4,470 m (14,665 ft) above sea level. You look directly onto the Vilcabamba Mountains, and on a clear day you can sometimes see glaciers wrapped around their summits. To your right, as you face the Vilcabamba Range, the land falls away in what look like gentle velveteen folds, punctuated by two more tarns in which the water is so clear, the very lakebeds are visible.
At the top of the pass, you'll also find a handful of apachetas (columns of stacked rocks). Add a stone to one of the towers, and, according to the local indigenous people, one of the nearby apus (sacred mountains) might look kindly upon your journey.
You then begin the long descent. Going downhill, in fact, forms the majority of this walk, which can sometimes be tough on the knees (good walking poles are invaluable). You'll make your way down a canyon where falcons can sometimes be seen gliding overhead. After another hour or so, you reach a series of Inca terracing and an irrigation channel. They look as though they've only just been discovered and disrobed of their vegetation.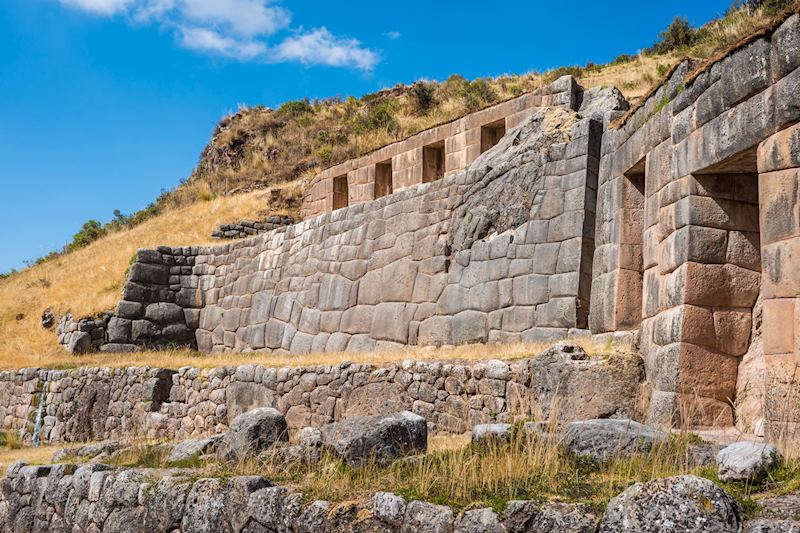 From here, you descend to a plateau that sits just above the ruins of Huchuy Qosqo (Little Cuzco), a settlement built in maroon adobe mudbricks. The views from here are even better than up at the pass: it's like you're standing right among the Andes — often blueish and moody looking — rather than observing them from afar. Tiny villages crouch in narrow saddles amid toothy outcrops and jagged crowns, and a line of truncated spurs shows you exactly how high the ice came when it carved out this area of the Sacred Valley.
After a picnic (with or without a local dog gazing at you imploringly for a share of your lunch), you can go and have a good poke about in the ruins. One dwelling has a particularly chunky lintel and stones arranged with the igloo-esque exactitude usually reserved for the Incas' religious buildings, suggesting that some VIP lived there.
There's also a great long kallanka (long hall or guesthouse) — another Inca trail links up with this site, and you can spot it petering off over the brow of a hill to the west. It leads to Tambomachay, a water temple just outside Cuzco.
From Huchuy Qosqo, it's a steep downhill trudge along a series of switchbacks, which you'd manage comfortably if you're used to hill walking.
Gocta Waterfalls, northern Peru
Walked by Chloe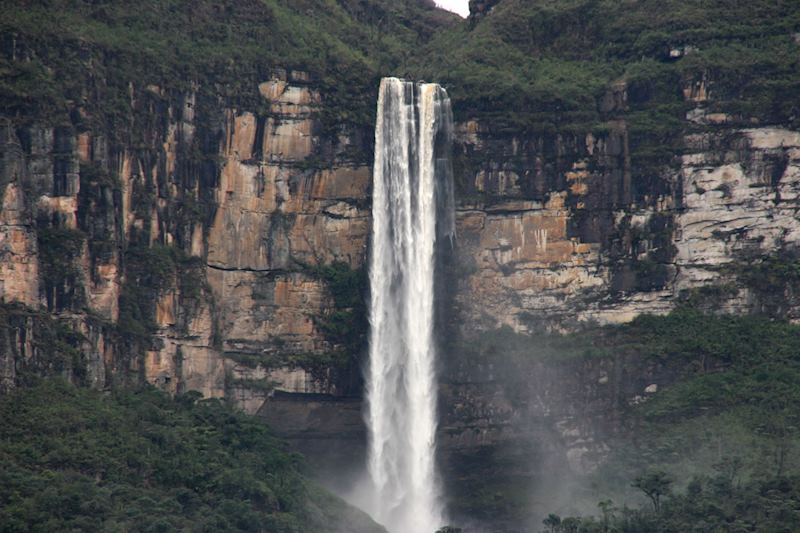 The two-tiered Gocta Waterfalls in the foothills of the eastern Andes look like something out of Conan Doyle's The Lost World. A white plume of water streams down a jungle-clad rock face at the end of a natural basin. Sometimes you get a piercingly clear view, and sometimes the falls simply wink coquettishly at you from behind strands of cloud.
Standing in the grassy gardens of the Gocta Andes Lodge — one of the best places to stay if you want to admire these falls — the cataracts feel teasingly close. It's like you could almost reach out and cool your hand in the spray.
In reality, they're a 12 km (7.5 mile) round trip (on foot) from the hamlet of Cocachimba. The route is straightforward, one of the reasons why I think it would reward both experienced and rookie hikers alike. The only downside? The return journey is mostly uphill.
Paved or gravel path in some areas, rougher dirt track in others, the route takes an up-and-down, snaking course through a few outlying agricultural plots before entering into full-blown subtropical forest.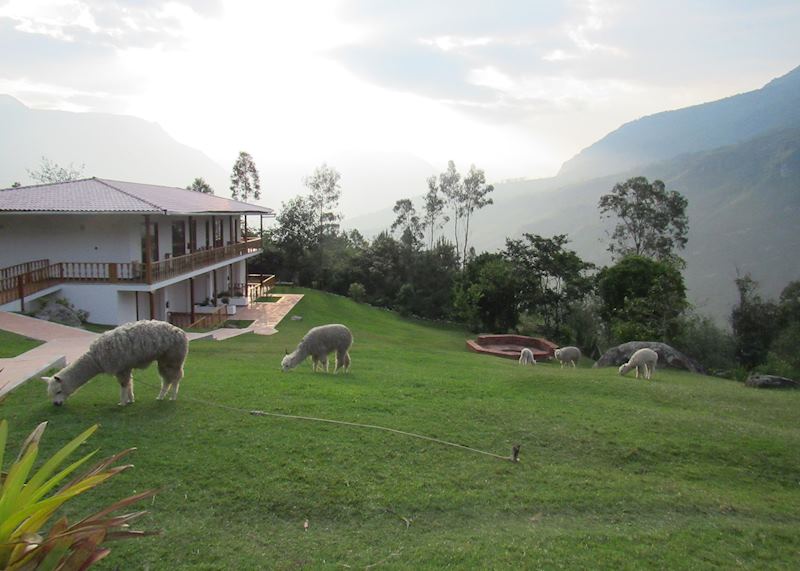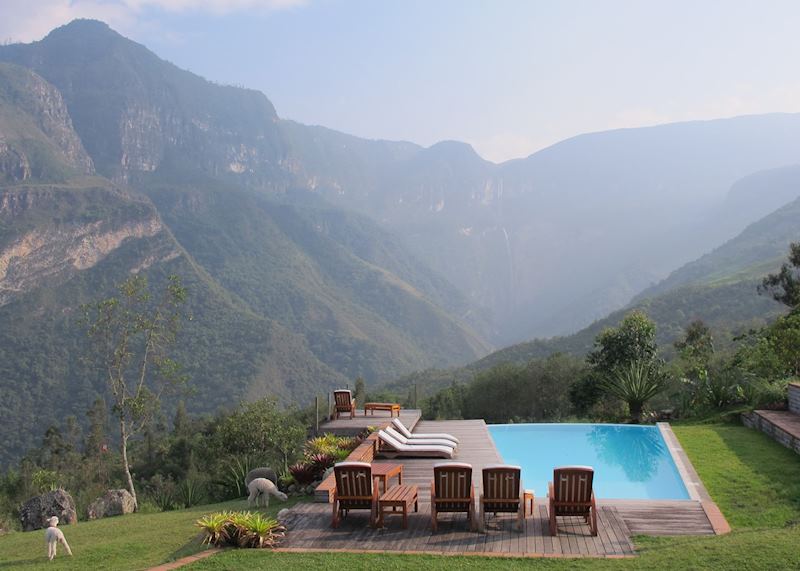 For large parts of the route you're shaded by elephantine jungle foliage. Lianas, matapalos (strangler figs) and tree ferns form at times a green tunnel over your head. In other sections, you're treading a fairly narrow, stony path that hugs the hillsides, sometimes with steep drop-offs. You'll also pad over rope bridges crossing boulder-strewn gullies.
Look out for butterflies congregating in shimmering electric blue and orange shoals as they gather to suck salt from the rocks. On a smaller scale, dung beetles might roll their loads across your path.
The forests around Gocta are also great for birdwatching. The star attractions are hummingbirds, including the aggressive purple-throated woodstar and the (much, much rarer) spatuletail hummingbird.
When I hiked here, I practically walked into a cock-of-the-rock, Peru's (rarely seen) national bird, which makes a distinctive grating noise. The startled male flew off, but I still got a good, clear sighting of him preening himself on a branch, his bright scarlet head plumage standing out against the mossy trunks.
As you approach journey's end, the plunge pool belonging to the lower tier of the falls, you'll find yourself spattered with a fine film of spray. From here, the water appears to spill downward in slow motion, its cloudy white puffs thinning to mist as they drift into the plunge basin. Even if you crane your neck, it's impossible to take in the full height of the torrent — at 771 m (2,529 ft), Gocta is the fifth highest waterfall in the world.
Ask your guide to regale you with the legend of the mermaid who lived in the falls, luring unwary visitors to a watery prison. 'For a long time, local people wouldn't go to the falls at all,' my guide, Julio, told me. It's perhaps no wonder, then, that they took so long to come to the attention of the outside world. Only in 2005/6 did German Stefan Ziemendorf encourage the Peruvian government to map them.
Multi-day hikes
Salkantay
Walked by Anna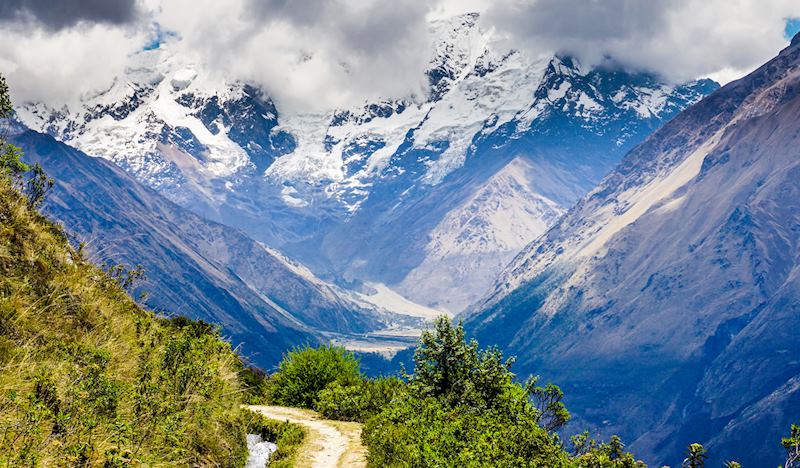 The route that's sometimes nicknamed 'Machu Picchu by the back door' takes you through a cornucopia of scenery and ecological zones before you arrive at Aguas Calientes, the service town for the ruins (you visit the site itself on the final day of the trek).
The journey first takes in cerulean highland lakes, barren mountain passes and snowfields. Then you move onto cloudforest brimming with the epiphytes, lithophytes and orchids more commonly associated with the Inca Trail. You also descend through banana, avocado and coffee plantations, passing the makeshift smallholdings of local villagers.
You ascend even higher than you would on the Inca Trail, crossing Salkantay Pass at 4,600 m (15,200 ft) above sea level, but — unlike the Inca Trail — there's no need to camp. You stay in custom-built, comfortable lodges over the seven-day trek. Now I'm no diehard sybarite, but I think the lodges truly enhance the experience. I did a bit of impromptu stargazing from a lodge's outdoor hot tub one night, and relished having a hot water bottle tucked into my sheets at the end of a long day's tramping.
The trek begins with a couple of days of shorter walks to bring you up to altitude. Day three sees you crossing mountain saddles and passing in the shadow of Salkantay's immense glaciated face. The meltwater from the glaciers was believed by the indigenous people to be the fluids of the mountain's own body.
By the fourth day, you're descending. The gush of the Urubamba River becomes slowly audible as your surroundings turn greener and more fertile-looking.
The final leg sees you arrive at Llactapata, a ruin from which you can look directly across at Machu Picchu suspended on its saddle, a side-angle few visitors ever see.
Llactapata also conceals its own secrets: ask your guide to show you a stone corridor down which a sunbeam travels on the June solstice. There's a theory that a gold disk was placed at the end of this corridor, which reflected the rays back onto a strategic point across the valley — the Temple of the Sun at Machu Picchu.
Ausangate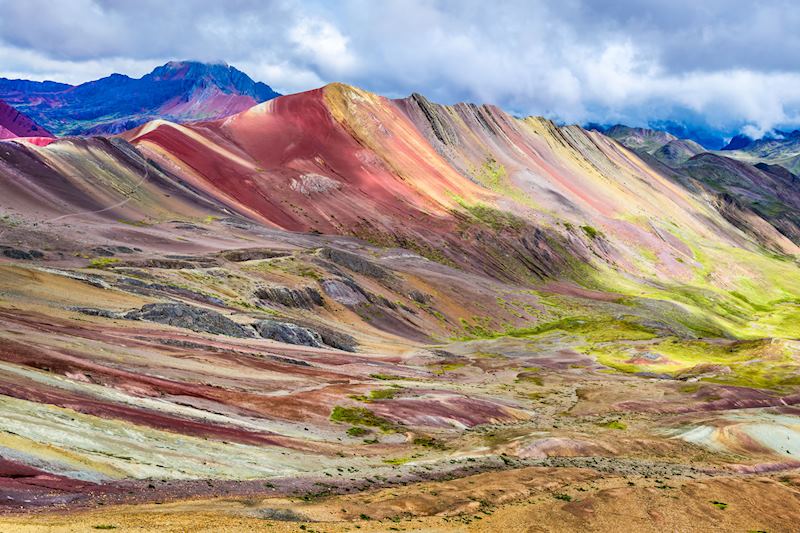 If you're serious about avoiding the crowds on the Inca Trail, and you have some solid experience in hiking, consider the Ausangate circuit. This five-day loop walk takes you to a mountain range south of Cuzco. It's a circumnavigation of the sacred apu Ausangate, which locals believe to be brother to Salkantay (according to local mythology, theirs was a scrappy relationship). On a clear day, Ausangate's peak is even visible from central Cuzco.
The Ausangate circuit entails truly some of the remotest hiking I've ever done, and it all takes place in high-drama, high-altitude scenery. Think numerous mountain passes, menthol-blue lakes, hot springs, icefalls, and glaciers.
Viscachas occasionally scamper across the path, and pumas are known to inhabit the environs, too. (I wasn't fortunate enough to see one, but one member of my group did while stargazing one night.)
I walked as part of a small group of five, although the trek can also be done on an entirely private basis with varying durations. Over the course of the trail, I only passed about five or so independent hikers, who seemed hardy mountaineering types. This isn't a trail for fair-weather, have-a-go walkers: you'll need to get used to the altitude (the trail hits heights of 5,165 m [16,945 ft] in several places). You also need to be happy walking for up to seven hours a day.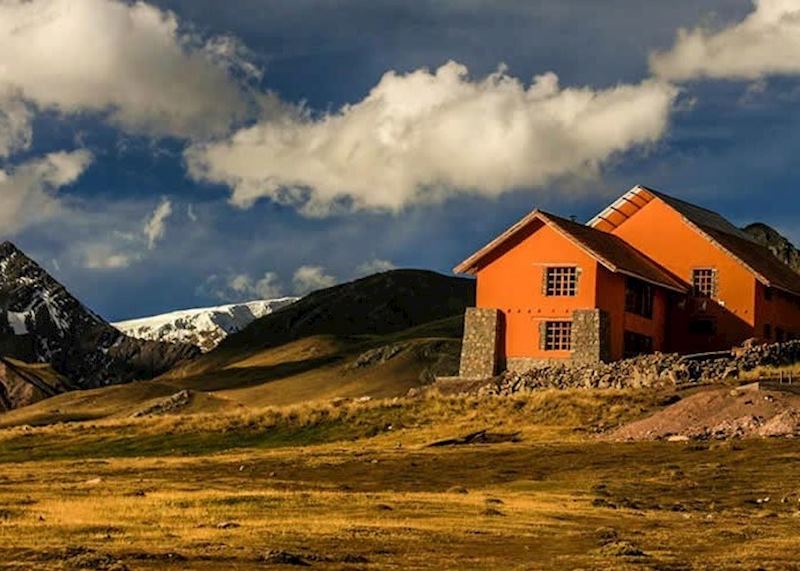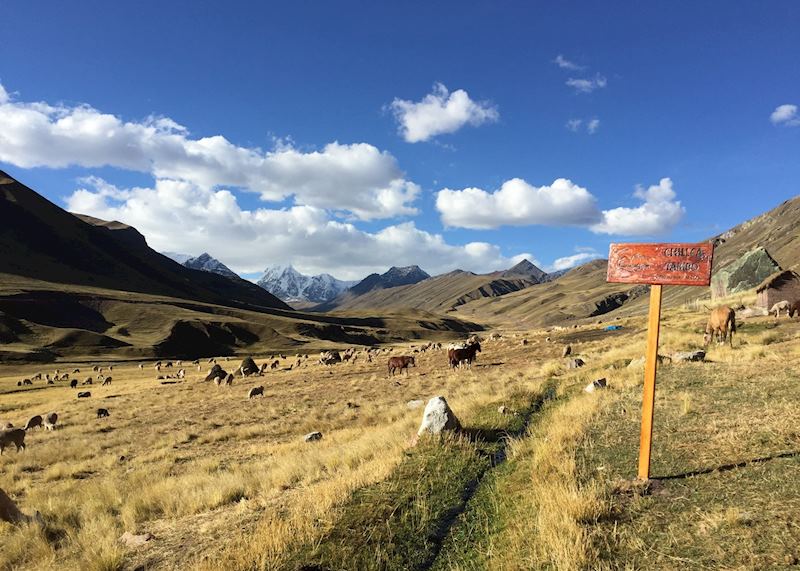 But the pay-offs are enormous: you're witnessing untouched, remote parts of Peruvian sierra and walking on barely trodden paths usually reserved to local llama herders. Ausangate draws them like a magnet, as this apu is believed to be a shepherd-god.
The other boon is the chance to stay in lodges rather than camp in the cold mountain air. Operated by Andean Lodges in a bid to provide employment for the local community, they're simple buildings, relying on solar-powered hot water and lit only by candles in the evenings. But there are some lovely touches, such as soft alpaca slippers. You can also walk with a daypack: llamas carry your luggage and overnight bags, while a horse carries water supplies.
My highlight came on day four of the trek. We woke at 3:30am to climb to a nearby peak and, after a bit of grumbling about the early start, we found ourselves overlooking Rainbow Mountain. Thanks to the combined forces of sedimentation, a cocktail of minerals and plate tectonics causing uplift, the entire mountainside is striped in candy-like tones of rust-red, pistachio, lemon and cream. It looks like a tilted layer cake.
You'll see people leaving offerings at its base — the mountains in the Ausangate loop are widely revered in the area — and staying nearby in a lodge meant that we'd had our fill of the view long before the day-trippers from Cuzco arrived.
Best time to go walking in Peru
The most popular time to visit Peru is between May and September, but as these are also the driest months, they offer the best weather for hiking.
Practicalities of walking and trekking in Peru
Some of these hikes can be arranged for private trekking and some are on a group-basis only: please speak to your specialist for the exact details for each hike.
It's possible to tack these hikes onto wider trips, but bear in mind that for all of them (excluding Gocta), you'll need to make sure you spend several days' at altitude prior to starting the walks.
Read more about trips to Peru

Start thinking about your experience. These itineraries are simply suggestions for how you could enjoy some of the same experiences as our specialists. They're just for inspiration, because your trip will be created around your particular tastes.
View All Tours in Peru