By Peru specialist Fiona
Peru was always on my list of places to go — and when I first visited, I didn't leave for 12 years. A small testament, perhaps, to just how much I love this country.
After all, it's home not only to natural wonders such as the Amazon and the Andes, the world's second-highest mountain range, but it also has a rich historical and archeological heritage in the Moche, Inca and Chimu people. Peru's also ideal for first-time visitors to South America: there are certain tried-and-tested routes, but still plenty of ways to get off the beaten track.
What to do in Peru: my selected highlights
Explore the Inca heartlands: Machu Picchu and the Sacred Valley
Visit Machu Picchu

Peru has become synonymous with Machu Picchu. Believed to have been the summer palace of the Inca ruler Pachacuti (according to one theory), this stone citadel sits on an Andean plateau 2,430 m (7,972 ft) above sea level. It seems almost suspended amid snow-covered peaks, and you gaze down precipitous drops into misty cloudforest and jungle. Arranged in terraces over the plateau are the granite skeletons of lodgings, temples, tombs, fortifications and other structures. They're so minutely constructed it's famously impossible to slip a credit card between the stones.
At certain times of day, such as 11am, Machu Picchu is mobbed with visitors. But even then you can find a spot to sit where you'll feel you have the place to yourself. A Peruvian friend who has been guiding at Machu Picchu for 30 years took me there for my birthday and, even after my umpteenth visit, he was still able to show me little nooks and crannies that I never knew existed.
Trek to Machu Picchu on the Inca Trail

The traditional four-day Inca Trail takes you past otherwise inaccessible ruins of Inca fortresses, temples and tambos (checkpoints), following the Inca-laid stone path used by messengers and envois. I think this trek is as much an appreciation of the jungle fauna — you'll hopefully spot hummingbird after hummingbird — as it is of the Inca sites, though. As you climb higher, you hike through dense cloudforest before leaving the trees behind to scale a series of barren, moody-looking mountain passes.
The anticipation around the camp is rife on the final day of the trek, knowing that Machu Picchu lies only an hour and a half away. You grab breakfast and then stand to queue at the entry gates to the final section of the trail until they open at 5am.
Your first view of Machu Picchu from the trail is at the Intipunku (Sun Gate). It's an unbridled bird's-eye view of the entire site and the mountains around and behind, but more often than not it's obscured by cloud. Don't despair though — just be prepared to linger until the sun burns through. As the cloud lifts, you begin to see the ruins emerging little by little, giving you teasing glimpses and then disappearing again.
Try the Salkantay Trek

This multi-day hike makes for a great alternative to the Inca Trail. A 60 km (37 mile) trail, it passes through different altitudes, as you climb past Salkantay Mountain ('Savage Mountain' in Quechua — but don't let that put you off) before descending 2,000 m (6,561 ft) into rainforest and the gentler terrain of banana and avocado plantations.
On the penultimate day, after walking up to Llactapata Pass — look out for the wild begonias, orchids and other exotic flowers growing at the sides of the path — you'll get an enticing rear-side view of Machu Picchu. You'll then take the train to Aguas Calientes — a town that acts as a sort of basecamp to the ruins — before visiting Machu Picchu the next day.
Despite the push to Salkantay Pass, this trek isn't as steep as the Inca Trail. You also have the option of staying in comfortable lodges rather than camping.
Explore other Sacred Valley ruins

Close to Cuzco, historic capital of the Incas, the area known as the Sacred Valley is cupped by bronze Andean foothills, bisected by the powerful Urubamba River and scattered with colonial outposts, market towns, remote weaving villages and several Inca sites.
Out of all the lesser-visited Inca ruins in the Sacred Valley, I particularly like Tipón, which lies southeast of Cuzco. A temple to water, it's a sprawling, grassy site made up of multi-level terraces, fountains and channels, all irrigated with water from a secret spring whose source is unknown. Visit on a Sunday, when Peruvian citizens have free access to their national monuments, and you'll be joined by families picnicking and playing football in and around the stones. Similarly, I like visiting Saksaywaman, a walled citadel made up of 40-ton boulders that overlooks Cuzco, in August — this is the region's windiest month, and the site becomes overrun with children flying kites.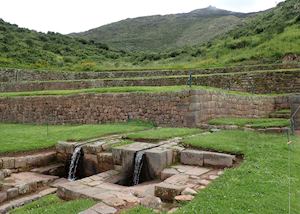 To see terracing on a more extreme scale, go to Písac. Here, the mammoth walls rise all the way up from the valley floor to the crest of a hill crowned with a ruined temple and fortress. Further into the valley, Moray has terraces arranged in concentric circles to create platforms for growing crops — corn, potatoes, beans and quinoa — at different temperatures (there's a 6-degree difference from bottom to top.)
Finally, Huchuy Qosqo ('Little Cuzco') isn't easy to get to, but it exemplifies the Incas' stonemasonry prowess perhaps better than any other site. Fortress-like, it squats like a lookout point above the Sacred Valley, hidden from view. You can reach it on a two-day trek, camping overnight in the shadow of its multi-tiered walls.
Get to know Cuzco

The former Inca capital of Cuzco is much more than simply a base for exploring the Sacred Valley. This high-altitude city of terracotta rooftops is a boom town with a cosmopolitan feel. Layered in history (literally — its conquistador-era buildings sit on Inca foundations), it's a place of museums (both storied and eccentric), cobbled backstreets lined with cafes and galleries, and restaurants serving cutting-edge novo andino (a fusion of international and traditional Peruvian cuisine). Around the Plaza de Armas, the airy main square, shops sell high-quality silverware, alpaca knitwear and a rainbow of textiles.
The Inca Museum (Museo Inka), housed in an elegant mansion just off the plaza, has an excellent timeline detailing all of Peru's ancient civilizations as well as ceramics, artwork, and a couple of crouching Inca mummies. Much smaller — the whole collection fits in just two rooms — and quirkier still is the Natural History Museum, where you'll find taxidermy and items such as a bottled two-headed baby llama.
The city cathedral on Plaza de Armas is a gaudy, Gothic-Renaissance affair, but don't miss Zapata's Last Supper, which shows Jesus dining on guinea pig. Look out, too, for the jaguar heads on the façade — another Inca-inspired addition.
Inside is the statue of Christ of the Earthquakes, believed to protect the earthquake-prone city from tremors. A dark-skinned crucified Christ, he's draped in fine fabrics and is paraded around the streets at festivals such as Corpus Christi, along with 13 other statues of religious deities. The statue parade is, in fact, a blending of Inca beliefs with Catholicism, harking back to when the Inca would display their mummified dead in the main square. Legend has it that one of the statues contains part of an Inca mummy.
Visit the Amazon Rainforest

A trip to Peru's southern Amazon region is easy to combine with visiting the Sacred Valley: its gateway, Puerto Maldonado, is only a half-hour flight from Cuzco. During the day, guides lead you on wildlife-spotting walks where you might see tapirs, giant river otters and huge blue morpho butterflies. In Tambopata National Reserve you can see masses of scarlet macaws gathering at a 'claylick' (clay cliffs the birds slurp on to detoxify their bodies from their diet of poisonous seeds).
However, if your budget allows, my preference would be for the northern Amazon, up towards Iquitos. I love this area for the fearlessness of its wildlife, which is down to most of it being a protected reserve.
Cruise the northern Amazon

Iquitos, a frontier-like port town that's a two hour flight from Lima, is the access point for cruises on the northern Amazon. You'll be driven about an hour south of the city to meet your vessel before setting sail at dusk.
Cruises typically last three to four days, and, depending on your vessel, you'll take part in daily activities that include guided jungle walks, river swimming, cookery classes, kayaking and boat trips.
Think of the Amazon as the main highway, so don't be surprised if you spend a lot of your time on the quieter tributaries where wildlife is more active. Some tributaries are still, wide stretches of river; others are muddy-green backwaters covered in vegetation such as waterlilies, where tree roots creep right to the edge of the bank. As you travel, you'll see vignettes of local life — small motorboats put-putting along carrying children to school, and craft crammed with bananas and fish to be sold at ports.
Some cruises have more of a cultural focus, allowing you to meet local communities. On one occasion, my guide took us to his wife's grandfather's house, and he showed us how they made palm thatching. Wildlife-wise, you have a good chance of seeing both two- and three-toed sloths, many types of monkeys, great herons and — the most exciting of all in my book — Amazon river dolphins. A dusky pink shade, I always think there's something enigmatic about them and I love getting in the water with them, maintaining a respectful distance but swimming alongside them.
Travel the Moche Route in Northern Peru

For anyone returning to Peru, or looking to experience one of the country's unheralded areas, I'd recommend driving the Pacific Highway in the northeast. Begin in Chiclayo, a one and a half hour flight from Lima, and travel southeast as the road runs alongside fields of sugar plantations to reach Huaca Rajada in Sipán, a site consisting of two pyramids so weathered, they look like naturally formed hills. Inside them is the burial chamber of a Moche leader, the Lord of Sipán. This Mochican warrior priest, still wearing the gold regalia he was buried in, stands alongside Tutankhamun in terms of archeological finds.
What you're witnessing at the site is actually an exact replica of the original tomb and its contents. You'll see how he was buried surrounded by three wives or concubines, warriors, and a sentry whose feet had been amputated. I then recommend visiting the museum in nearby Lambayeque, which was purpose-built to house all the treasures found in the tomb. The array of objects — including a huge crescent headdress and a solid gold curved Moche knife called a tumi — is dazzling. It speaks of the god-like status of the tomb's chief occupant.
Further south, towards Trujillo, you come across a small museum in the middle of desert, attended by a single armed guard. This site — El Brujo (The Witch) — contains a mud pyramid decorated with bas-relief murals. Inside is one of the most interesting and disquieting of Peru's ancient mummies: a tattooed lady, buried when she was eight months pregnant. Madame de Cao, as she's known, is thought to have been a priestess or another Moche ruler.
Continuing down to the coast, you come to ruins that I feel rival Machu Picchu: the city of Chan Chan, made entirely from adobe mudbricks. Built by the Chimu, predecessors of the Inca, it's a vast 36 sq km (14 sq mile) walled maze of a settlement consisting of walls within walls encasing ceremonial areas, dwellings and burial mounds (huacas). Many are carved with designs, and restoration work shows how their edifices were once brightly painted.
Start planning your trip to Peru

Start thinking about your experience. These itineraries are simply suggestions for how you could enjoy some of the same experiences as our specialists. They're just for inspiration, because your trip will be created around your particular tastes.