Harry, Latin America Specialist
Harry has been quite the adventurous spirit since graduating college. Latin America had always intrigued him and being fond of the outdoors, he wanted to hike bigger mountains and see different places. This led him to grab a backpack and fly to Costa Rica on a one-way ticket with friends. From Costa Rica down to Peru, he experienced everything from rafting Class V rapids in Colombia, machete chopping his way through dense jungles in southern Costa Rica, island hopping from Panama to Colombia, exploring the Colca Canyon in Peru, bungee jumping in Ecuador and completing the classic Inca Trail as part of a five month journey.
He was fortunate to get a job with Audley upon return to the US. Since then he's been able to revisit Peru, Costa Rica, Ecuador, the Galapagos Islands and Colombia. On top of this he went on a research trip to Cuba, learning about the history of a difficult country to understand. Most recently, he's been able to explore Antarctica, which was one of the best experiences he's ever had. Being able to share these experiences and send others on amazing trips feels more like fun than work. Since visiting the polar regions, Harry has his eyes set on hitting all seven continents by his 30th birthday.
Speak to Harry

Start planning your tailor-made trip with Harry by calling 1-844-250-3427

It was truly a memorable experience, I can't say enough about Audley Travel and the trip they planned for us.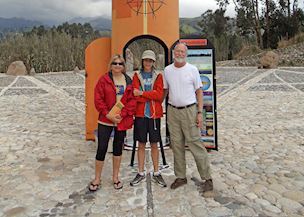 Cami, Terry and Daniel traveled to Ecuador and The Galapagos Islands for 8 days in April 2016, organized by Harry S
We loved this trip! Snorkeling on the Galapagos Islands was perhaps our favorite part as we saw so many penguins and sea turtles swimming with us. It was truly a memorable experience. All of the hotels & tours Harry booked for us were spectacular and all of the guides were extremely knowledgeable. Harry even switched a tour last minute so we could visit a lesser known site we heard about and I couldn't have been happier being able to do that while still seeing the Otavalo Market and getting to take home three pieces of artwork. I can't say enough about Audley Travel and the trip they planned for us.
Galapagos Islands
The Galapagos Islands are truly the islands of the creature, not the man. The amazing wildlife (Frigids, Marine Iguanas, Giant Land Tortoises, Fur Seals, Sea Lions, and various Booby species) barely flinch as you get near them and do not see people as a threat. You can see giant land tortoises (some over 700 pounds) that can get as old as 200 years! The area also boasts backdrops of centuries old volcanic rock, beautiful white, red and black sand beaches, and oceans so clear you can see the fish swimming from the top of Bartolome Island.
The snorkeling and diving is world-class, the history of these islands is fantastical, and the fact that the guides go as far as making you shake off the sand before you leave the islands makes the Galapagos Islands an ecological paradise that will never lose its charm. Going on a cruise is the best way to do it, as you can navigate multiple islands in a little amount of time, while gaining a whole lot of information you otherwise wouldn't have known. The islands are a place where all ages can enjoy, and no matter your age you won't be lacking in things to do. Growing up on the beach, I cannot help but favor the coastline, and the Galapagos Islands could be the most beautiful place I have ever been.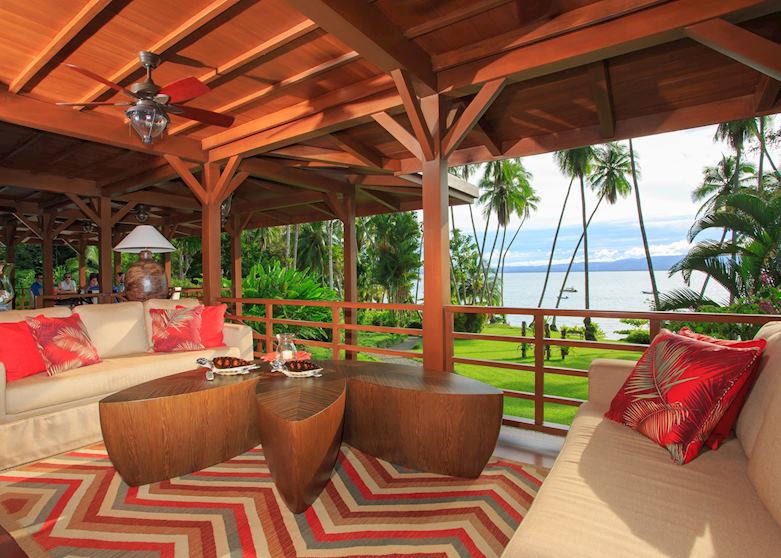 Costa Rica
Although not the easiest place to get to in Costa Rica, I absolutely fell in love with Playa Cativo in the Osa Peninsula. The Osa Peninsula, with Corcovado (and Piedras Blancas) National Park, is one of the most biologically diverse places on this planet, with loads of monkeys and tropical birds. Playa Cativo is a seven room Eco lodge that opened its doors very recently. With no front desk, the place caters to you like it's your own lake house. The lodge has all wood furnishings, an open window concept to catch a good breeze as you overlook the water, and a pool to cool off after a humid day. The part that stands out is the sustainability they are creating with their farm. Currently, 45% of the food they use in their delicious restaurant has been grown on the property, and they are aiming towards 100% in the near future. That eco stamp, along with collecting energy through solar panels and water plants, makes Playa Cativo a special property. They have an amazing Farm-to-Table tour, allowing you to hike over to their farm and pick some food to eat for dinner later. Also, any fish you catch with the local fisherman, you can help cook with the ever-friendly kitchen staff. The whole place has no restrictions, allowing you to stroll freely as if it was your own home, and that's what I truly enjoy about this peaceful getaway in southern Costa Rica. Playa Cativo offers an escape from the bustling crowds, and a type of service that is solely focused on you.
I'll never forget when…
Nothing can excite you more than your first up close sloth interaction. The first few times I encountered a sloth, they would do little more than sit in the tree with their eyes closed. After all, sloths are said to sleep up to 20 hours a day, and some may only move about 300 meters in a whole month. One day, however, we spotted a three-toed sloth at the bottom of a tree near Tortuguero National Park. We walked through the crowd snapping pictures, and that was when the sloth turned it's head very slowly, smiled at me, and began to make his way up the tree. It was such a strange creature -- moving like molasses up the massive tree, and I couldn't help but grin and bask in the wonderful wildlife experience.