Jeff, Latin America specialist
After short trips to Europe and Central America as a kid, Jeff's interest in international travel really hit its stride as a student at Semester at Sea, visiting nine countries in Latin America over the course of a summer. After graduating, he ventured out on what was supposed to be a three-month trip to Europe, but ultimately wound up covering more than thirty countries on five continents over the course of nearly two years. Since then, he's made several shorter trips back to South America, living for months in Santiago and Buenos Aires; tromping across the Atacama Desert, the Bolivian altiplano, and the Patagonian Andes; and visiting Antarctica.
Since joining Audley, Jeff revisited Chile and Argentina to explore the wine regions of Mendoza, Colchagua and Cafayate and the vibrant estancia culture of the Argentinean pampas, as well as a rare chance to see Patagonia in the height of winter.
Speak to Jeff

Start planning your trip to South America with Jeff by calling 1-855-733-6610

Argentina
Although it's less well-known than its much more heavily-visited Chilean counterpart (Torres del Paine), Argentina's El Chalten deserves its reputation as one of the best destinations for hiking in the world. The town of El Chalten serves as a sleepy base for a variety of excellent hiking trails through the Patagonian forests, winding around several huge glaciers and the bizarre rock pinnacles of the Fitzroy massif. Nearby El Calafate offers the opportunity to visit and even trek across parts of the Perito Moreno glacier, famous for its frequent calving (ice shelves have been known to drop from its advancing front as often as every 10 minutes when conditions are right).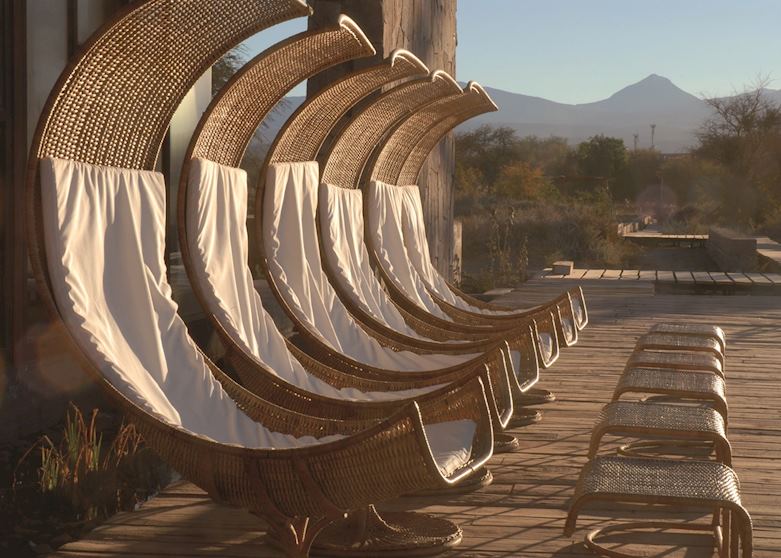 Chile
Although there is no shortage of excellent hotels in San Pedro, the Tierra Atacama really stood out for me as a fantastic home base here in one of the world's most beautiful deserts. Venture out by day to explore the rock formations, salt flats and geysers with their excellent guides, then return to the Tierra to savor the unparalleled view of the Licancabur volcano and the Andean cordillera from the huge bay windows in your private suite or next to the pool.
I'll never forget when…
Visiting Torres del Paine at the height of winter, when conditions higher in the massif cool enough to push massive numbers of wildlife down into the lower reaches of the range, coinciding with a period of extremely low numbers of visitors in the park. Watching the first rays of sunlight hit the Torres massif behind hordes of grazing guanacos while Andean eagles cruise lazily above is an experience I'll never forget.