Mary, South America Specialist
After graduating, I booked a one-way ticket to Ecuador. My first solo backpacking trip led me through Ecuador, Peru, Chile and Argentina as I worked in hostels, took Spanish classes and planned upcoming hikes. Along the way, I fell in love with the landscapes, the passion for fútbol, and the histories and cultures that were so different to mine.
South America played a pivotal role in shaping my love for travel as well as boosting my confidence in terms of embracing the uncomfortable or the unknown. It was the trip that prompted me to teach English in Spain and live and work in Australia as well.
With Audley, I've had the opportunity to travel back to Argentina and Peru, and venture to Uruguay for the first time. Now, back in Audley's Boston office, I get to spend each day sharing my love for the region and planning trips that highlight its many wonders.
Speak to Mary

Start planning your trip to South America with Mary
Q&A with Mary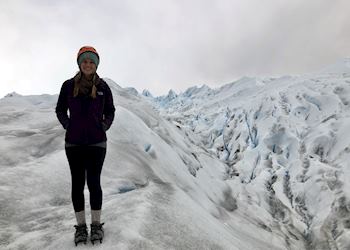 What's your most vivid travel moment?
Upon completing a trek across the Perito Moreno glacier in Patagonia's Parque Nacional Los Glaciares, we headed back across the lake on our boat. As we pulled further away from the glacier, its magnitude and its vastness grew increasingly more dramatic. Everyone on the boat fell silent as they marvelled at the scene. It was one of the only places in the world where I've encountered a group of people too enamoured by the beauty of their surroundings to even speak. Combined, the utter silence and the dramatic views showcased Patagonia's magic in a way I'll never forget.
Which book, film or artwork captures South America the most?
Charles Mann's book 1491: New Revelations of the Americas Before Columbus is a non-fiction account that traces the histories and the cultures of indigenous peoples across the South American continent. Mann also introduces original theories about the impact of Western immigration. Given that the book draws upon complex research and scientific accounts, it can be a daunting read, but it's well worth it for the strong foundational knowledge of the region that it imparts. The insights and understanding you gain by reading it mean you'll be able to delve deeper into regional history, archaeological sites and historical locations everywhere you go.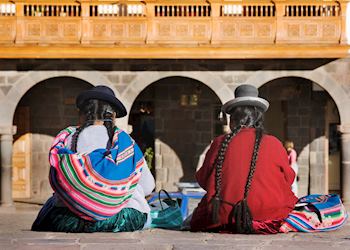 Your best piece of travel advice?
Before you travel to a new destination, read a book about it. Whether you prefer non-fiction, memoirs or novels, literary accounts can provide unique first-hand insight into a destination. To experience a café, or a mountain or a monument that a character in a book has connections to can make any location come to life. I've come to find that I always feel I have a deeper understanding of a place if I can imagine what life was like for people living their day-to-day lives there.