Rebecca, Latin America Specialist
A holiday to Brazil in 2005 ignited Rebecca's interest in all things Brazilian - art, music, food and culture. It also re-ignited her interest in all things Latin American, having studied Spanish at school. Rebecca was working in the city at this point, but when an opportunity to escape the UK arose in October 2005, it didn't take long for her to get back out there for a year of adventure in Central and South America. Since returning home and joining Audley, she has returned to Ecuador and the Galapagos Islands, Peru, Brazil and Venezuela to experience many of the excursions and hotels we use.
Speak to someone
who's been there
Start planning your tailor-made trip by calling one of our destination specialists at 617-223-4900
Peru
I would have to say one of my favorite places in Peru is the Sacred Valley.
It slowly reveals its nooks and crannies as you climb over the Andes from Cuzco... striking hills, wide flowing river, ripe maize crops rippling green below, and a stunning sunset every night.
Not that it stops there... the night sky is a flood of brilliant stars, made all the more fascinating to me because it is a Southern Hemisphere sky with no light pollution.
The end of the wet season (April/May) is a great time to go as the valley is awash with greens, purples and yellows from the wildflowers and crops.
It is a wonderful area to spend some time walking, riding, cycling or absorbing Andean life.
The people there are hardworking and friendly and you can live in several centuries at once as you switch from varied Inca ruins, modern day rural living and the chic alpaca clothing now available - an ideal way to give back to the community!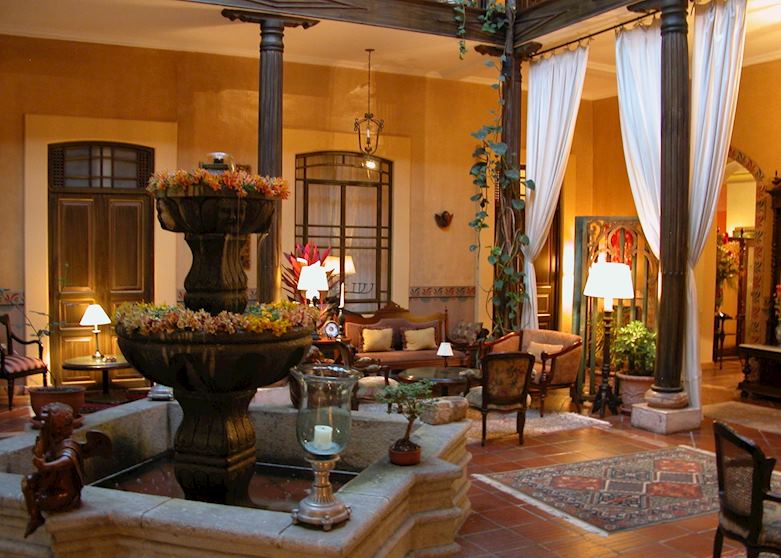 Ecuador
This hotel was an oasis of peace and loveliness after a hard day on the road. I had the good fortune of joining a lively group, which included Audley clients (unusually we have a three day group trip on offer in Ecuador), travelling from Quito down the Avenue of Volcanoes to Cuenca.
We had a busy day, starting early with the Devil's Nose train ride, a visit to a small community project where we tasted local pastries 'comida típica' and then on to Ingapirca, once the dwelling of Atahualpa, the last king of the Incas.
We arrived at our final dwelling in the early evening, content but tired. I was shown to my room, a Junior Suite on the inner courtyard by one of the friendly staff.
This turn-of-the-century mansion had been home to a former President's son, before conversion to a boutique hotel of only 14 bedrooms, a reading room, living room, restaurant and bar. Each room is individually styled and the whole place exudes an air of refined charm; ''cozy sophistication'' may be the best way to describe it.
After a wonderful gourmet dinner I returned to my room to find the bed turned down, the lighting a soft glow and, on using the little step to climb into the wonderful four poster, I discovered the piece de resistance - a hot water bottle perfectly placed for my feet, hidden under the bottom sheet! Never before had I felt like such a princess.
I'll never forget when…
Despite its name, Pousada Picinguaba is a magical destination for many reasons.

Firstly you are driven there along a winding coastal road, from where you get start to get glimpses of white sand beaches and stands of ''Mata Atlantica'' in Picinguaba National Park, one of the last remaining areas of primary rainforest South of Rio. As you arrive, sleepy from the drive, your bag is whisked away and you can follow gently up the path from the village, adjusting to the balmy heat.

The whole place is such an incredible experience - old fishermen mending their nets beside their weather-worn lean to, lithe youngsters playing football on the sand, colorful boats and smart schooners at anchor in the little bay, the odd local propping up Picinbar, the art gallery and tiny church... and you will likely be one of only a few foreigners there. Everything is relaxed and welcoming.

After I had lunched by the pool and done my hotel inspection, the pousada ''bodyguard'', a wonderful black dog, showed me the way to my kayak for a gentle paddle to a mile long beach of pristine white sand, where I sunbathed and slept for a couple of hours of precious solitude.