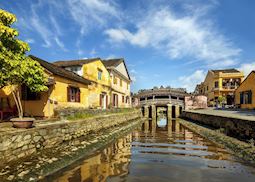 UNESCO-protected Hoi An is, in my opinion, the cultural epicenter of Vietnam.
The town's architecture is well-preserved and has strong remnants of French, Japanese and Chinese influences. There is an abundance of activities here, including cooking classes and cycling in the countryside. But my favorite thing to do is simply walk around the ancient town and absorb the authentic atmosphere. The river, in particular, is lined with independently-owned restaurants and bars.
The best time to visit is in the evening after dark when the streets are lined with beautiful lanterns that create an unrivalled experience.