By Turkey specialist Ninwa
Straddling two continents, Istanbul has been a sprawling, cosmopolitan city and vital commercial hub since the days it was called Byzantium. Ruled by the Greeks, Romans, Venetians and then Ottomans, the city blends the ancient, historical and modern as effortlessly as it does different cultures and religions.
You'll find monumental houses of worship, including the Hagia Sophia and Blue Mosque, as well as a contemporary fashion scene that sets the tone for most of the Middle East and North Africa. You can also while away your days wandering through the maze-like streets and sipping Turkish coffee, watching the world bustle by.
Sultanahmet: The Old City of Istanbul
Located on the entrance to the Bosphorus Strait, Sultanahmet is the historic hub of Istanbul and crammed full of monumental sites like Hagia Sophia, the Blue Mosque and Topkapi Palace. Because they're all grouped on the central Sultanahmet Square, many visitors tear through the big three in one day, but I think that's a disservice to both the city and yourself. There's only so much beauty you can absorb in one day before you're stunned into numbness.
Instead, I prefer to space them out over three or even five days, while also seeing the city's less-iconic sights. A driver and guide can help you navigate the heavy traffic here and throughout the city, as well as provide context.
Hagia Sophia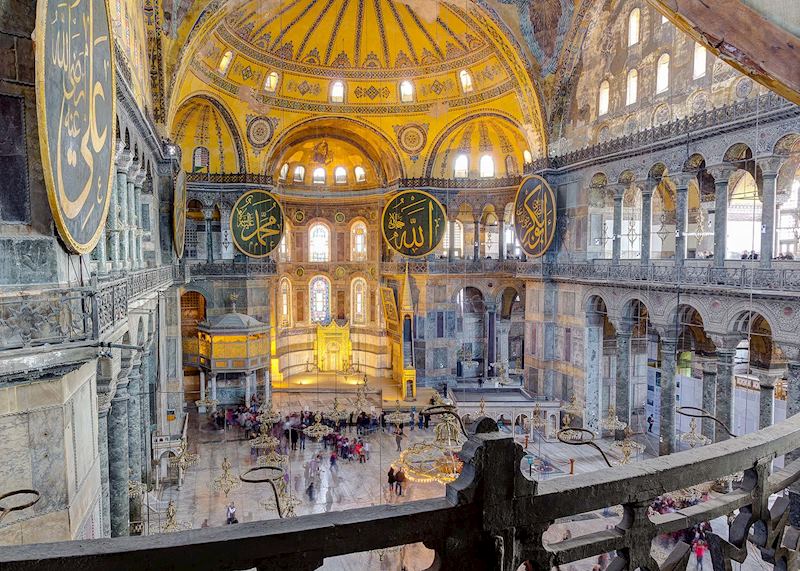 Built in the 6th century by Emperor Justinian, the Hagia Sophia was once the nexus of the latter-day Roman Empire and its central dome represents a radical departure from the classical rectangular Roman basilica. The new style represented a new take on Christianity — this was the first ever Greek Orthodox Patriarchal cathedral. It was converted into a mosque by Mehmet the Conqueror in 1453 and then into a museum in the early part of the 20th century — a microcosm of the country's own history.
It's a dazzling feat of engineering, an improbably massive dome suspended on seemingly slender supports. The rising walls are pierced by windows, filling the airy interior with light. But the abstract genius of its engineering was hard for me to appreciate the first time I stood inside and saw the soaring complexity and grandeur of the space.
The walls are clad in richly veined marble and decorated with glittering gold mosaics of swirling acanthus leaves and six-winged angels. The stone patterns on the floor and the constant echo of sounds through the domes gives the whole building a sense of movement and liveliness that seems wholly incongruous with its mountainous size.
The Blue Mosque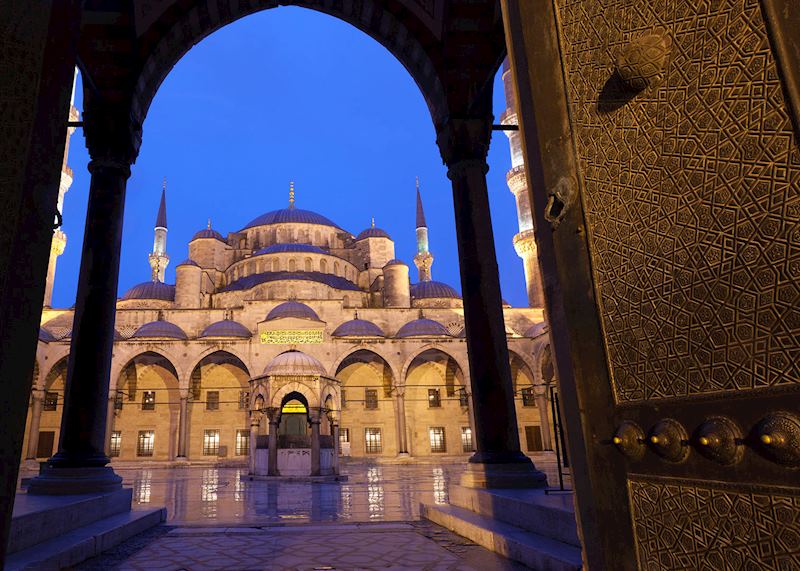 With its huge central dome and six slender, soaring minarets, the majesty of the Blue Mosque rivals that of the Hagia Sophia. I suggest that you don't approach from Sultanahmet Square, but instead through the massive courtyard in order to best appreciate the elegant proportions of the building.
This isn't a museum, but a thriving place of worship that buzzes with the faithful who come to pray, so time your visit to work around the call to prayer, which happens five times a day. Non-Muslims enter via a side door, where you take off your shoes. Women will need to cover their hair and wear clothing that covers their arms and legs — there are scarves available to borrow if you haven't brought one.
Stepping inside is like walking under the vault of Heaven. There's an enormous central dome and smaller side domes supported by four elephantine columns, and walls decorated with more than 21,000 İznik tiles. The tiles' floral and geometric motifs are dominated by cobalt blue, which give the mosque its nickname, but there are also swirls of green, red and yellow amid the dense designs.
Topkapi Palace and Istanbul Archaeology Museums

Nearby, Topkapi Palace stands on a hill overlooking the Bosphorus and the Golden Horn — Sultan Mehmed II chose the commanding position for its strategic and symbolic importance when he began construction in 1465. This was the opulent heart of the Ottoman Empire for four centuries, where the wealthiest sultans lived at the empire's peak. It's long been the setting for fervid (often ill-informed) fantasies, from the odalisques of the Romantic painters to today's endless Turkish historical TV dramas.
The reality is more beguiling than any story, however. The palace complex is sprawling (and often busy), so plan to spend at least half a day here, gaping at the grandiose architecture, lingering over the Chinese porcelain collection in the kitchens and admiring the richly embroidered robes at the Palace Clothing Exhibition. One of the most intriguing stops is the harem, which offers a glimpse into the intensely private world of the sultan's wives and concubines.
Most visitors to Topkapi overlook the Istanbul Archaeology Museums, located on the palace grounds, but I think they're entirely worth your time. Three different buildings are tightly packed with treasures from around the world, a collection that includes tiles from the Ishtar Gate of Babylon, gold necklaces unearthed in Troy and the bas-relief sarcophagus of Alexander the Great. There's also a display that lays out a comprehensive history of the city.
The Grand Bazaar and Spice Market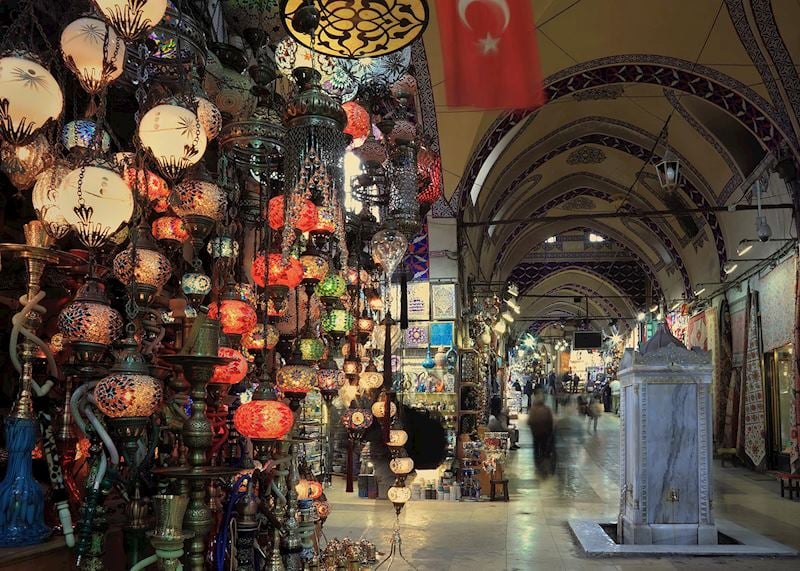 Established in 1461, the Grand Bazaar is as legendary as the palace, a gigantic covered shopping area that includes 4,000 vendors and 66 labyrinthine streets and alleys. Some denigrate it as 'too modern' but I think it remains true to its original incarnation — a pulsating market that caters to buyers from three continents. Even if you don't plan to buy anything, just wandering through is an experience worth having.
Old men sit at tiny tables sipping Turkish coffee, runners dash between shops with trays of coffee and tea, buyers bargain fiercely in a dozen different languages and sellers importune passersby. You'll find shops selling golden bracelets, silver coin necklaces and souvenir knick-knacks, as well as leather goods, carpets, candies, cheap clothing, lanterns, traditional slippers and designer shoes. This is the best place to buy an inlaid board to play tavla, a local variant on backgammon.
The less-updated Spice Market is just a ten-minute walk away. It's much smaller and less visited, but I admit that I prefer its quiet atmosphere to the endless bling of its better-known counterpart. Here, small shops display baskets of aromatic spices, bowls of dried herbs and endless trays of dried fruits, nuts and sweets. The scent is intoxicating or overpowering, depending on your personal perspective, but I can't imagine it's much different than what it would have been when the market was first established in the 1600s.
The Spice Market is also known for a panoply of perfumes, especially oud oil, a sweet, woodsy scent that's a status symbol across the region.
Beyoglu, Galata Tower and Taksim Square: modern shopping and a medieval tower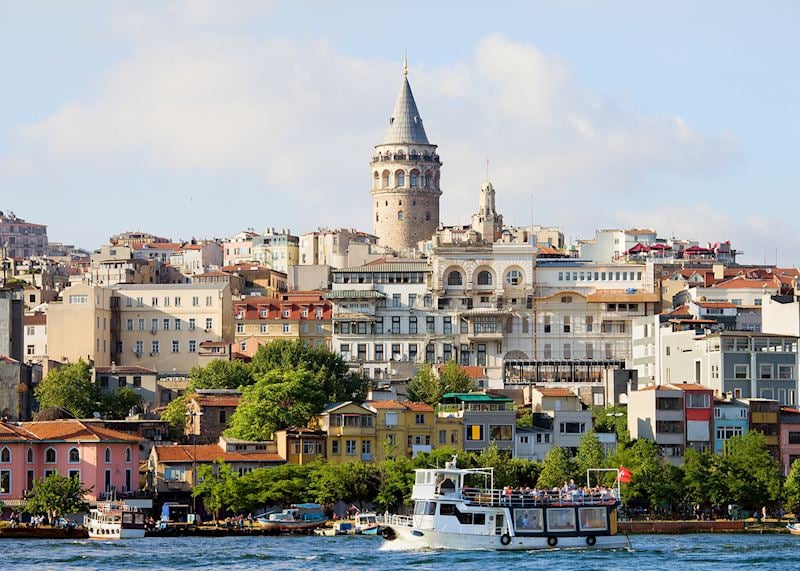 Set on a steep hill just north of the Golden Horn, the stone Galata Tower dominates the city skyline. Built in 1348 by the Genoese who lived here then, its upper balcony provides excellent views of the Old City, albeit for a price. The upper reaches also have a restaurant and nightclub that you can reach via elevator.
Nearby, Istiklal Avenue is the city's modern shopping district, a wide boulevard in a city known for its narrow alleyways. The hectic street is lined with 19th-century buildings that are home to a mishmash of international chain stores, bookshops and chic boutiques featuring the works of Turkish designers, as well as synagogues, churches and mosques. An old-fashioned tram runs down rails in the middle of the street.
You'll know you've reached the end of Istiklal Avenue when you arrive at Taksim Square, a vast plaza that's ringed with cafés, restaurants, high-rise hotels and other urban necessities. At its heart stands a monument to Atatürk, surrounded by small beds of grass.
This is also the best place to buy balik ekmek, Istanbul's signature street food — though, strictly speaking, these fish sandwiches aren't sold on the street but from bobbing boats moored to the shore. Crusty bread rolls are split and filled with fresh fish that's been grilled right on the boat and topped with a handful of lettuce and sliced onions and then sprinkled with lemon juice. It's hot, fast, filling and remarkably satisfying.
Ortaköy: waterfront cafés and a locals-only bazaar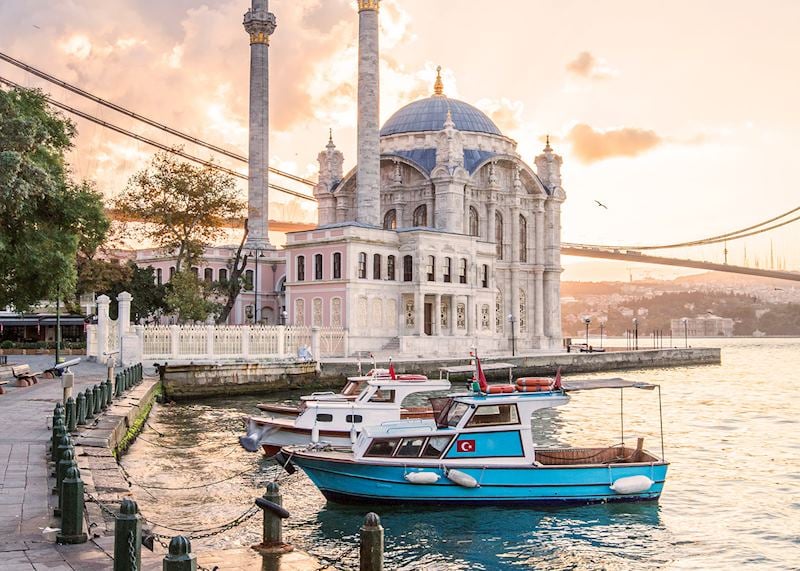 Sitting at the base of the Bosphorus Bridge, Ortaköy is a far cry from the crowded, touristed streets of Sultanahmet. Well-heeled Istanbulites live, work and play in this quiet residential area that stretches along the waterfront, filled with cafés and coffee shops.
This is also home to a different sort of market than you'll find at the Grand Bazaar. It's less frantic and aggressive than the Bazaar, geared toward locals rather than visitors. You'll find tables piled high with hats, shoes dangling from racks, displays of handicrafts, and stalls selling baked potatoes (called kumpir).
Walk through the market far enough and you'll come to a waterfront promenade along the Bosphorus. The bank is lined with waterfront restaurants and cafés. You'll find locals sitting at tiny tables out front, sharing gossip over a cup of strong Turkish coffee, smoking shisha (syrupy, fruit-scented tobacco), and playing endless games of tavla or cards.
Karaköy: where to stay in Istanbul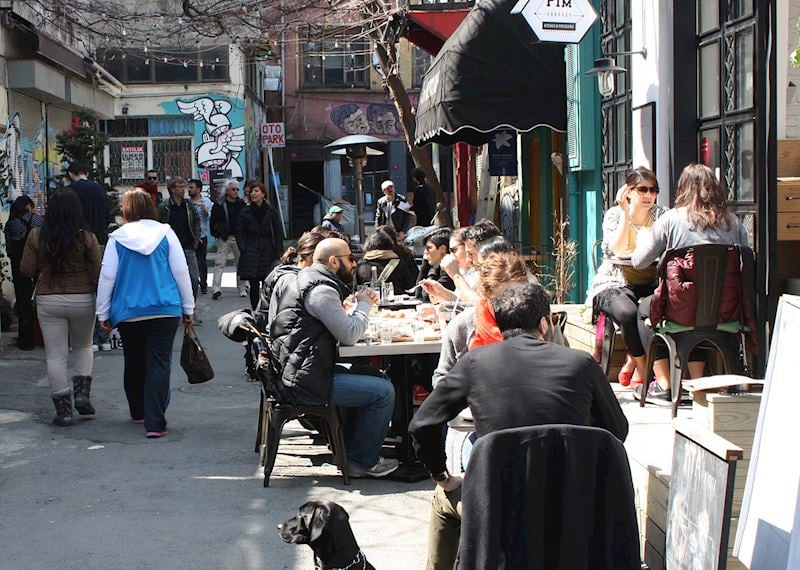 While there are many high-end hotels in both Sultanahmet and along the Bosphorus, I prefer to stay further away from the fuss and frenzy in Karaköy. Another residential area, this one located across the Golden Horn from the Old City, it's known for its flourishing restaurant scene, lively nightlife and lovely coffee shops.
If you want to try Turkish coffee, this is where I suggest you do it. If you've never had the dense, dark drink before, there's really no way I can prepare you for just how strong it is. (You can also order Western-style coffee, but you will be judged.)
Proper Turkish coffee is served in small, squat cups and topped with a thick, dark brown foam. You'll notice some locals will turn their cup upside down on its saucer after they've finished their drinks. It's thought that you can have your fortune read in the patterns of the dried grounds that run down the sides. It's an old tradition that's carried on by grandmothers around the city.
One of the best hotels in the area, in my opinion, is The Bank Hotel Istanbul. The thoroughly modern and stylish interior gracefully compliments the beautifully restored 19th-century Ottoman exterior, an elegant limestone façade that wouldn't look out of place in Paris or London. Its perch on a hill means that it can offer some excellent views of the Old City and it's convenient for exploring Sultanahmet.
Read more about trips to Turkey

Start thinking about your experience. These itineraries are simply suggestions for how you could enjoy some of the same experiences as our specialists. They're just for inspiration, because your trip will be created around your particular tastes.
View All Tours in Turkey