By Alaska specialist Emma
Getting behind the wheel to explore Alaska's open, almost car-less roads — many dwarfed by surrounding mountains — you soon understand why it's seen as one of the world's last wildernesses. Here, you can drive for an hour or longer and feel as though you have more chance of seeing a moose than another vehicle. You can stroll the streets of old mining towns that lie half-abandoned in the mountains. And, in some of the world's largest and wildest national parks, you can hike past glaciers to view hidden lakes and waterfalls.
Driving is the easiest and most practical way to explore Alaska. But, the state contains areas so remote that you'll also find yourself accessing places by air and by boat.
The route
I recommend following a circular route across the region, taking in some of the remotest places on the continent — you'll need around three weeks to do this journey justice. It's also possible to combine Alaska with a self-drive trip to Canada's Yukon province.
Anchorage to Denali National Park (386 km/240 miles, five hours)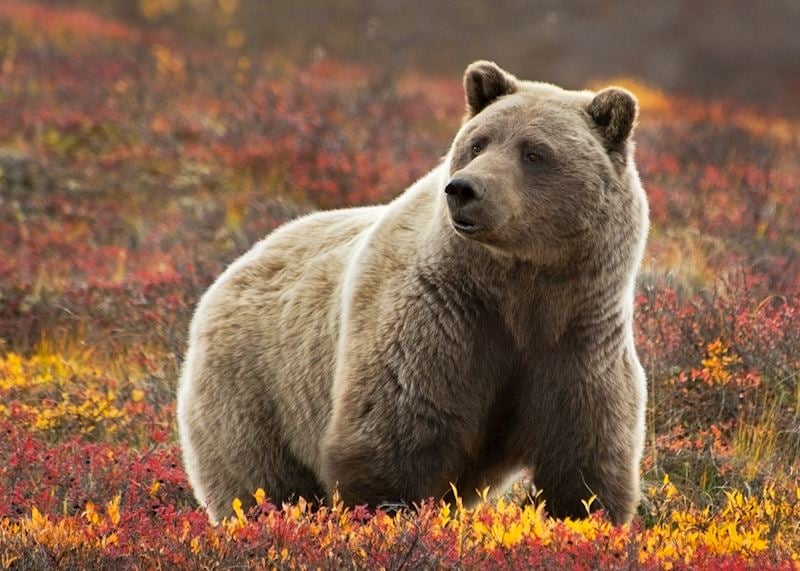 The route begins (and ends) in Anchorage, the state's largest city. From here, head north along the tree-lined Parks Highway to Denali National Park, home to North America's highest mountain, Mount Denali.
You spend most of your time here absorbing the natural world, from the moose, caribou, Dall sheep and grizzlies that roam the park, to its glaciers, boreal forest, sub-Arctic tundra and colossal mountains.
Alternatively, view the park from the air. I joined a bush-plane flight over the huge cluster of snowy peaks. The flight is a good way to take in the park's sheer scale — it's hard to imagine the mountains ever ending.
'That down there is Denali' — my pilot-guide, Brian, pointed at the largest mountain I'd ever seen. We flew low enough for me to make out the tiny figures of people climbing to its summit — a three-week expedition.
Denali National Park to Fairbanks (125 km/200 miles, three hours)

You then continue north to Fairbanks, passing smaller mountains coated in forest. The city dates back to Alaska's 19th-century gold rush and still retains a frontier atmosphere with its wooden-fronted buildings. It's also known as the gateway to Alaska's Arctic: from here, you can take light-aircraft flights to settlements beyond the Arctic Circle.
Fairbanks to McCarthy, Wrangell St Elias National Park (503-km/313-mile, six-hour drive, followed by one-hour light-aircraft flight)
This stretch of road south demonstrates what Alaska is all about. Mountains dominate the horizon, subtly getting bigger as you wind closer. Moose emerge from forest to graze at the side of the road and there's rarely another car in sight. Around three hours in, you'll arrive in Tok, from where you could extend your trip into the Yukon. Or, continue for another two hours or so until you reach Chitina.
You don't stay here, though; instead, take a one-hour light-aircraft flight into Wrangell St Elias National Park. I'm not a fan of small planes, but even I was blown away by this journey. Dark-gray mountains spread below us as far as the eye could see. Then, the landscape opened up a bit more and Root Glacier covered the park like a quilt.
Our pilot, Josh, veered the plane left to give us close-up views of an old copper-mine shed that stood abandoned on a mountainside above the glacier. Camouflaged against the rock, the structure seemed tiny against its mountainous surroundings.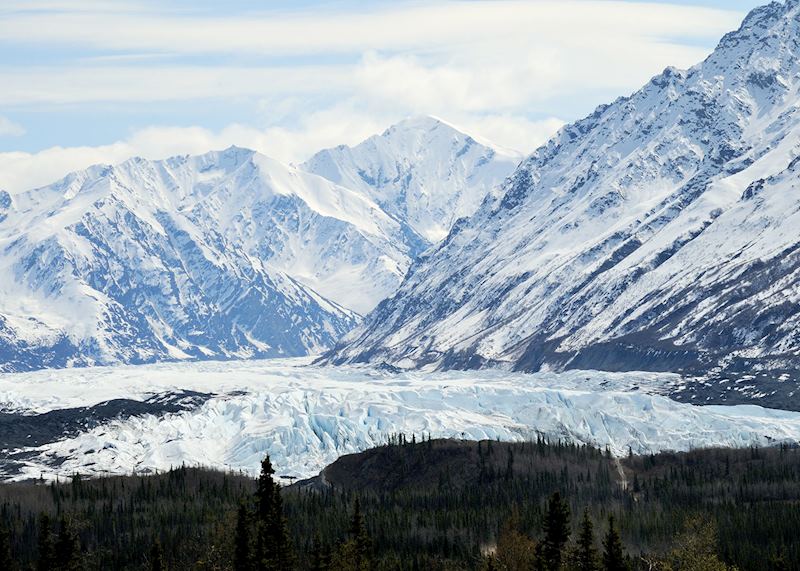 You land in the small mining town of McCarthy. Parts of McCarthy feel like a ghost town thanks to its dilapidated wooden buildings, though some have been restored to their late-19th-century prime. You can tour some of the buildings with a guide to learn more about the town's mining heritage and the workers who braved the bitterly cold winters here to carve out a living.
I stayed in Kennicott Glacier Lodge, built to resemble the old mining building that once stood in its place before it was destroyed in a fire. Rooms are filled with photographs, log books and other items from the 1800s, and your room looks out over the charcoal-gray hills that surround the town.
The next day, I joined a small-group hike to Root Glacier. You begin with a walk through McCarthy and the long-disused mining camp at Kennicott, passing old wooden buildings that have half fallen down and a disused railway line leading to nowhere.
Then, a forested track takes you to the foot of the glacier, passing waterfalls as you go. On reaching the glacier, you put on crampons before spending several hours simply exploring its icy terrain.
We came across waterfalls plunging into deep moulins (large holes in the glacier's surface), and stopped for hot chocolate by a glacial lake. My guide, Robin, was incredibly knowledgeable about the glacier and the surrounding area — its history, flora and fauna, and geology — and was happy to answer questions along the way.
McCarthy to Valdez (one-hour light-aircraft flight followed by a 193-km/120-mile, two-hour drive)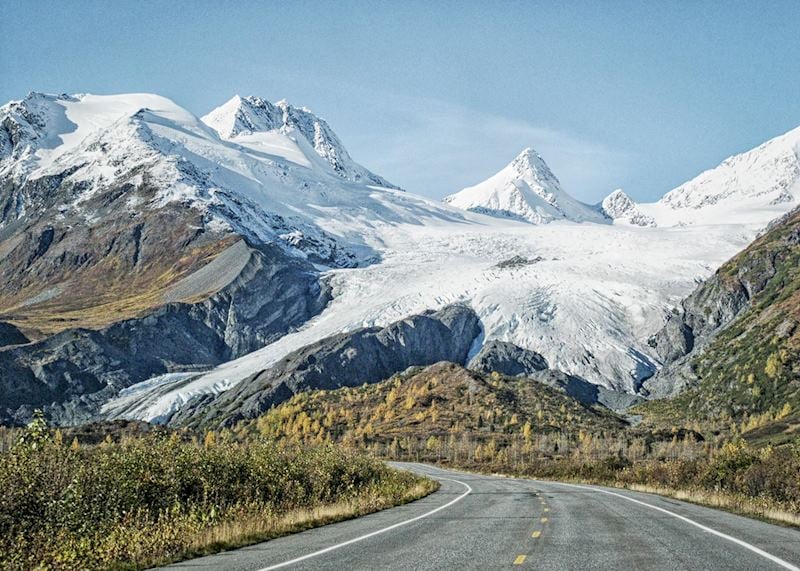 After spending a couple of days in McCarthy, fly back to Chitina before driving to the small coastal town of Valdez, which sits on the edge of Prince William Sound. About 24 km (15 miles) from Valdez, the road climbs high above the treeline and your surroundings are blanketed in snow. This is the Thompson Pass, the snowiest place in Alaska.
For the next 20 minutes, you wind back down the mountains, through canyons whose walls are pelted by waterfalls. Then, alpine mountains rise ahead of you — these shelter Valdez on three sides and form a backdrop to your stay.
While there, you could visit Old Valdez — the town's former site before it was destroyed in a 1964 earthquake. You can learn more about the event in the Valdez Museum. I also recommend kayaking out on the sound during your stay, or joining a cruise through nearby fjords to see glaciers and marine life.
I took a short drive outside the town to Solomon Gulch, where a salmon hatchery attracts bears, otters and bald eagles. Parking up, I soon spotted a couple of otters and watched them twirling around in the water.
Valdez to Seward (six-hour ferry followed by a 143-km/89-mile, two-hour drive)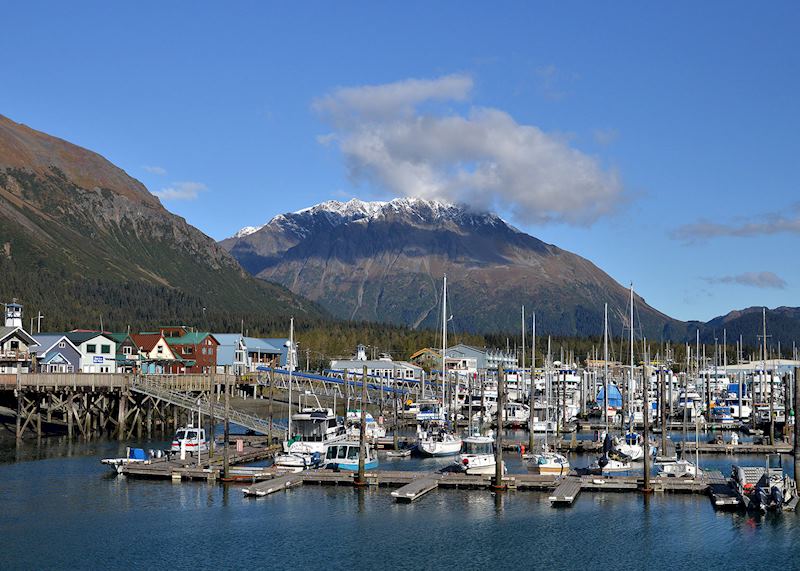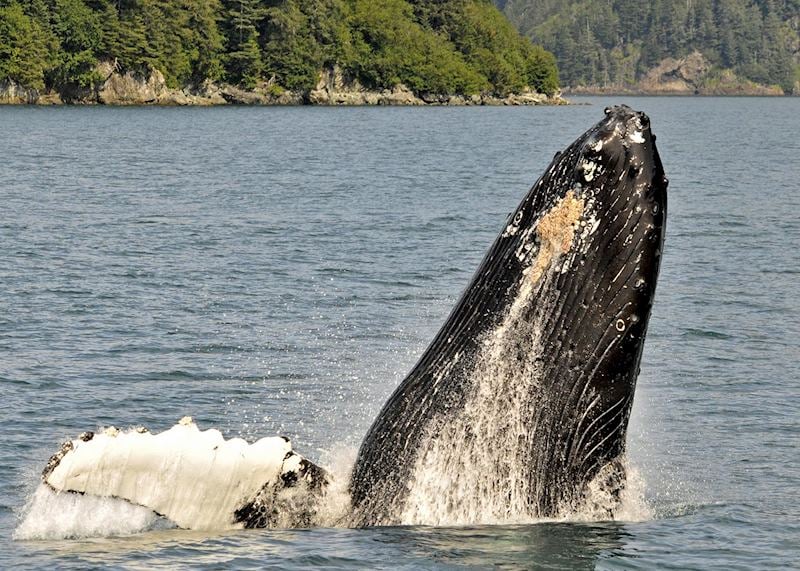 It might require an early start and take the best part of a day, but the ferry journey from Valdez to Whittier, on the Kenai Peninsula, is so scenic that you'll barely put your camera down. As you cross Prince William Sound's peaceful aquamarine waters, you'll pass huge mountains that slope gently down to the shore, their image perfectly reflected in the water. Tiny forested islands appear from nowhere, and you might be granted a glimpse of an orca, humpback or porpoise.
The ferry lands at Whittier, where you can continue your drive to Seward. Not long into the journey, you'll pass through the Anton Anderson Memorial Tunnel. The longest highway tunnel on the continent, it burrows for 4 km (2.5 miles) through the interior of a mountain. Traffic is one way, with cars on the Whittier side able to leave on the hour.
The rest of the drive becomes increasingly impressive; as the road wound past mountains, lakes and firs, it reminded me of the Canadian Rockies.
Arriving into Seward, I was struck by its position right beside the waters of Resurrection Bay and surrounded by mountains cloaked in green. I went for a wander along the waterfront and came across the town's annual fishing competition, the Seward Halibut Tournament, in full swing. Fishermen and women were hanging up their weighty catches on hooks along the boardwalk, hoping that they'd caught the heaviest of the year.
During your time here, you could join a wildlife cruise around Kenai Fjords National Park for a chance to see humpbacks, orcas, seals and sea otters. Or, lace up your boots and hike to Exit Glacier. It's a fairly strenuous 90-minute hike to the toe of the glacier. As you approach it, you'll see signs from years gone by marking how far the glacier has retreated — a powerful demonstration of climate change.
Then, wearing crampons, a harness and a helmet, your guide leads you around the glacier, exploring crevasses and navigating over the blue-tinged ice.
Seward to Homer (270 km/168 miles, four hours)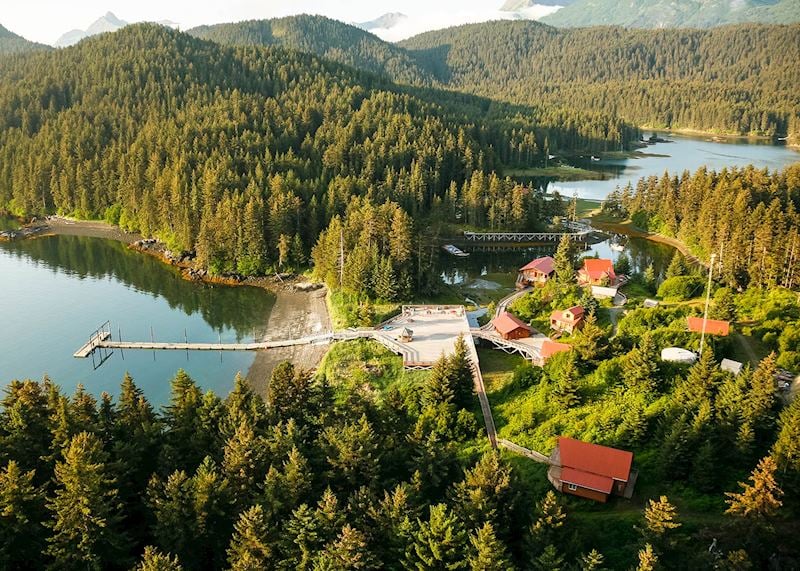 This drive takes you north first, through forest and lake scenery, before you head west alongside the Kenai River. Its turquoise waters are filled with salmon, attracting grizzlies and fishermen alike. You could stop off in Cooper Landing for a gentle rafting trip along the river. The road then passes through the Kenai National Wildlife Refuge, where you'll have even more chance of seeing bears, as well as moose and Dall sheep.
The highway then heads south along the coastline, giving you views over Cook Inlet, the Chigmit Mountains and the Iliamna volcano over the water. The town of Ninilchik makes an interesting stop thanks to its Russian heritage — I recommend visiting its small Orthodox Church, a white-and-green wooden structure built in the shape of a crucifix and topped with distinctive onion-shaped finials.
Homer itself sits on the shores of Kachemak Bay and is known for its fishing, particularly halibut. There's also a number of shops, galleries and seafood restaurants in the town, and from its airstrip you can fly over to Katmai National Park to see bears with the help of expert guides.
Rather than staying in Homer, you could take a 20-minute water taxi across the bay to Tutka Bay Wilderness Lodge. It has just six rooms facing the water, mountains and forest. On its waterfront decking you can join morning yoga classes, or sit round the campfire in the evening.
I took to the water in a kayak for a gentle paddle around the peninsula's shoreline, listening to the sound of the water and birdsong. Guided walks also give you a chance to see wildlife such as sea otters and bald eagles.
Homer to Anchorage (362 km/225 miles, four-and-a-half hours)

The final leg of your trip takes you back north along the Sterling Highway, following the coastline before heading inland past small mountains and hills. Just after leaving the Kenai Peninsula, you could make a stop at the Alaska Wildlife Conservation Center for the chance to see moose, caribou, buffalo and eagles.
You're then sandwiched between mountains and the waters of Cook Inlet as the road hugs the coastline of Turnagain Arm, known for its exceptionally high tides. Before you reach Anchorage, I suggest stopping off at Beluga Point to look for beluga whales offshore.
Read more about trips to Alaska

Start thinking about your experience. These itineraries are simply suggestions for how you could enjoy some of the same experiences as our specialists. They're just for inspiration, because your trip will be created around your particular tastes.
View All Tours in Alaska