By Alaska specialist Sam
Rugged, vast and wild, Alaska is a place where the wildlife holds the stakes and humans are a second thought. It's often compared with Canada, but in fact Alaska is far less populated and its striking landscapes aren't so well-trodden by tourists — it's easy to forget that you're in America.
For me, it's experiences like flying over glaciers, forests and mountains on a bush plane in search of grizzly bears and spending quiet moments watching rarely seen animals in their natural habitat that sets Alaska apart. Discovering the quirky culture as you listen to stories told by the local people makes for a truly humbling trip.
I'd recommend staying in Alaska for a minimum of two weeks, but ideally two and a half to three weeks will give you enough time to explore the state's main highlights.
Things to do in Alaska: my selected highlights
View grizzly bears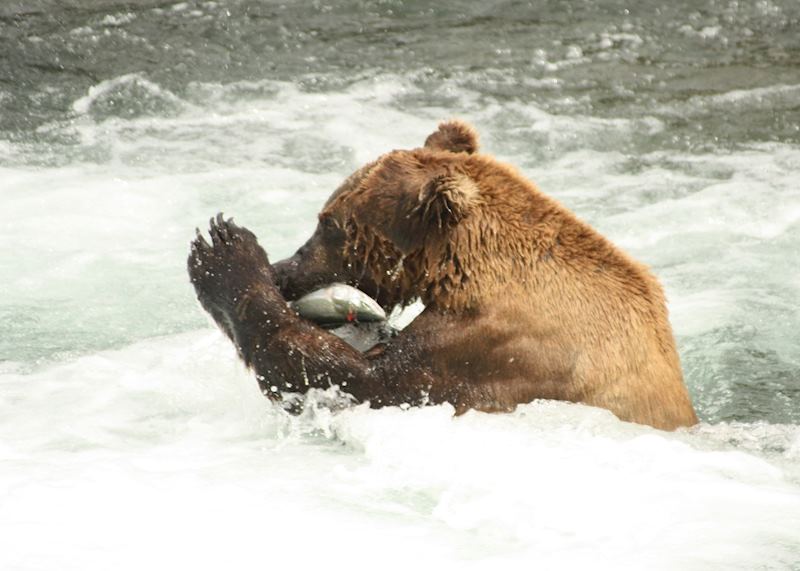 There are more than 35,000 grizzly bears and 50,000 black bears roaming the Alaskan wilderness, including some of the largest grizzlies in the world, so you're in the best place to encounter them really close-up.
For me, it's the intimate nature of the bear viewings that makes the experience so special. At close proximity, you can make out the details of the bears' paws and see the glint in their eyes.
There are several places where you're able to see bears, including Denali National Park, Admiralty Island and Kodiak Island.
Fly out to spot bears on the coast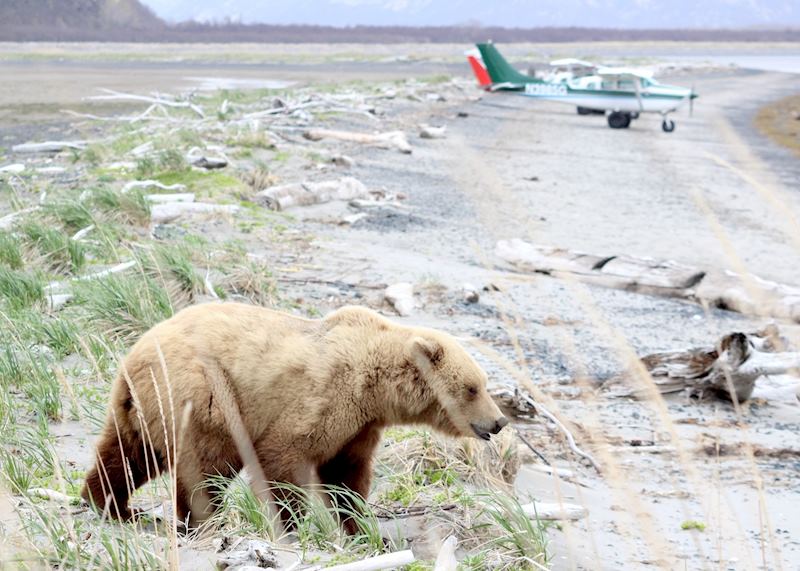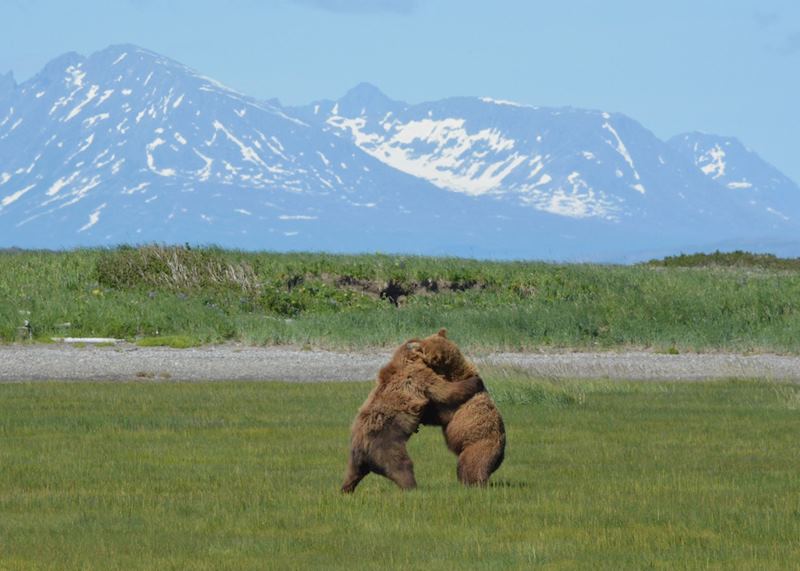 One of the best options is taking a trip out to Katmai National Park via a scenic bush plane flight from a place called Homer on the Kenai Peninsula. This 1 hour 15 minute journey passes over active volcanoes covered in snow and steaming below you, hanging glaciers and icefields, tree-covered mountain valleys and the beaches of Katmai National Park. During the flight, your guide will point out any signs of wildlife. Once there's a good enough sighting of the bears along the coast, the plane will land there and then.
After a safety briefing, and once the guides have confirmed that the bear's behavior isn't showing signs of threat, you begin to approach the animal. One guide accompanies every four or five people in the group, each highly trained and working to strict regulations to ensure your safety and the bear's.
As you get closer (while your instincts tell you to run), you're struck not only by the animal in front of you but your entire surroundings — the remote wilderness and the knowledge that it's just your group and the bears for miles around. It's a very rare situation to be in.
A particular memory that has stuck with me is when we watched a female grizzly bear digging for clams and eating them, a seagull following her to finish off the leftovers. She didn't look at us at all, just 20 m (65 ft) away. Suddenly, about a mile down the beach, a male appeared. She instantly caught his scent, flung her head around and stared at him until he backed off. She'd been aware of us the whole time but had continued going about her business, showing the mutual understanding and respect there can be between bears and humans.
Drive into Valdez along the Richardson Highway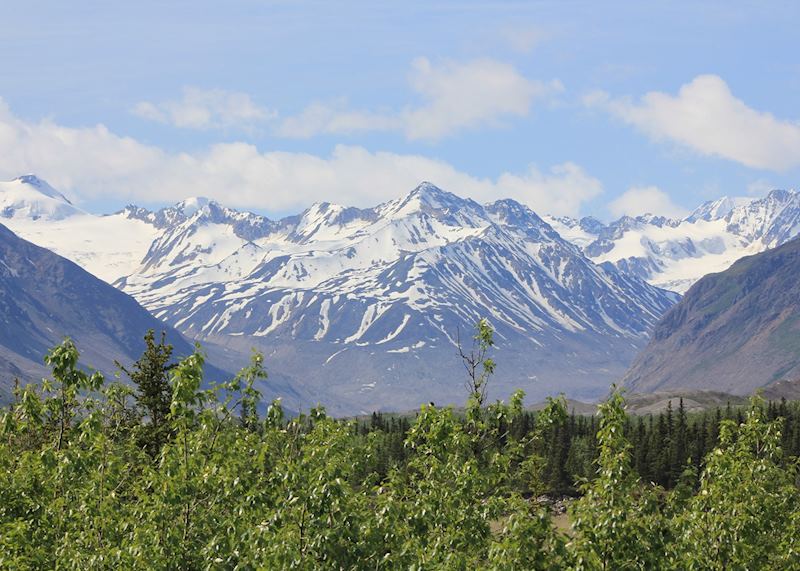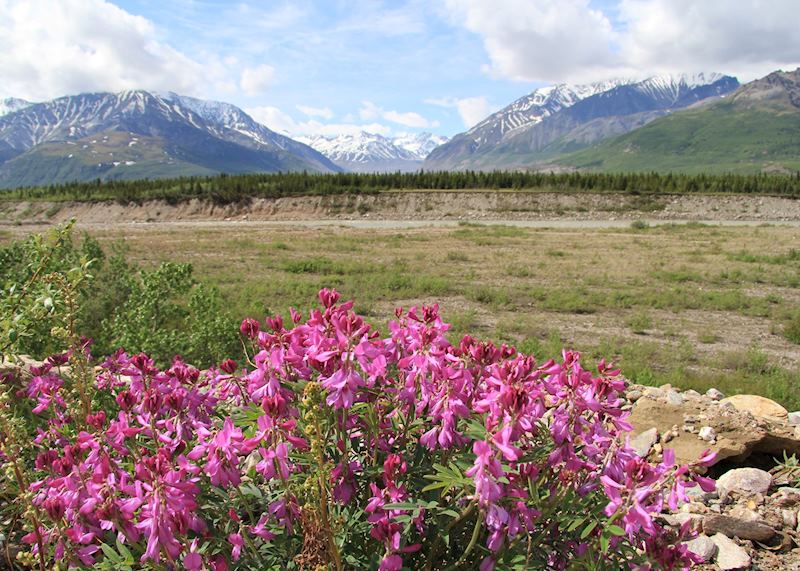 Driving south toward coastal Valdez from Fairbanks or the Yukon, or west from Anchorage showcases the breadth of the state's natural scenery.
About 24 km (15 miles) from Valdez, the road suddenly begins to climb until you're above the tree line and the landscape is transformed by snow. This all happens in less than ten minutes and comes as a complete surprise, making you wonder what you'll see next.
The next 20 minutes see the road descend all the way down to sea level, weaving its way into deep, earthy-toned canyons with waterfalls, which seemed to disappear behind the road, and huge rocks. It's a different world to the barren, icy landscape from where you've just come.
As you start to enter Valdez, trees and alpine mountains capped with snow loom up. These shelter Valdez Harbor, giving it the feel of sitting on a peaceful lake rather than the ocean.
The transformative nature of the drive, from ice and glaciers to canyons, lush foliage and then the water and mountains, was certainly a highlight of my time in Alaska. Driving is very much part of the Alaskan adventure. The quiet, well-tarmacked roads are wide enough for you to pull over easily for photographs, although it's tempting to stop after every corner at each new view.
Take a ferry from Skagway to Juneau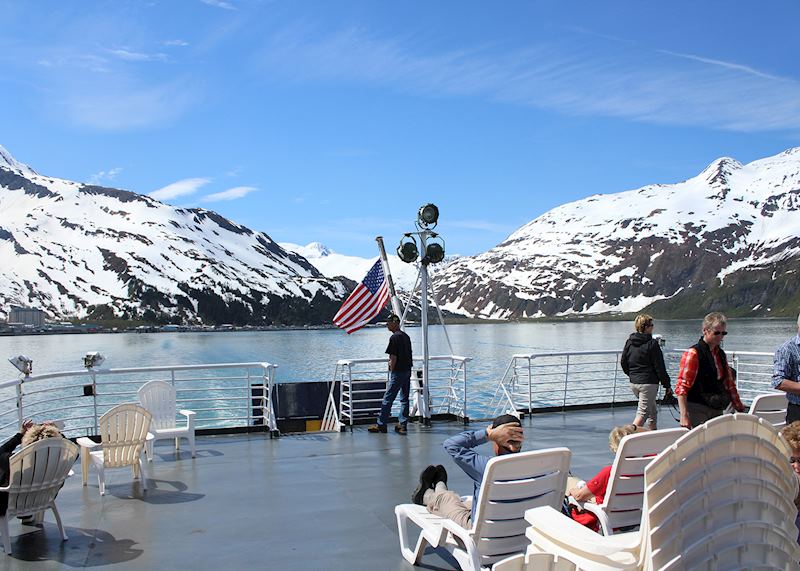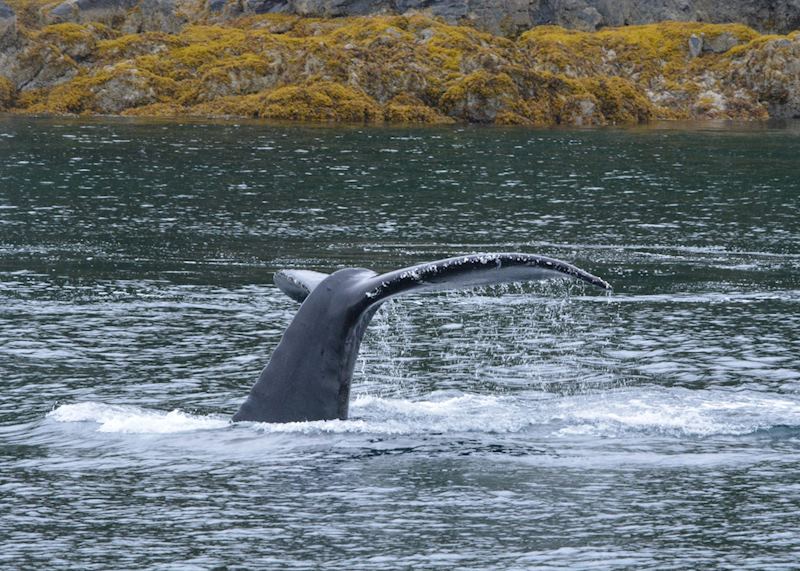 Another of Alaska's most scenic journeys is the ferry crossing from historic Skagway to Juneau, the state's capital, in the Alaskan Panhandle.
Communities in the coastal areas of Alaska rely heavily on the Marine Highway System for getting around and transporting goods. This particular journey stands out because you're just surrounded by scenery the whole way, passing deep fjords, sheer cliffs, waterfalls, snow-capped mountains and outlying islands dotted with lighthouses and tiny rural communities.
Setting off from Skagway, you're surrounded by mountains on three sides. I'd recommend taking on one of the older, slower ferries — it just allows you more time to appreciate your surroundings. The journey takes around seven hours on the older ferries (three hours on faster boats). On deck, you've the chance to spot wildlife such as humpback whales in May and June, orcas, porpoises, seals, sea lions, otters and even bald eagles.
I also witnessed one of the best sunsets I've ever seen on this route. Three different mountain ranges aligned in front of one another, as the light hit at different angles. Behind, the sky changed to orange, red, purple and then blue.
Running on a scheduled ferry service, the journey links two places that I think are certainly worth visiting during your trip. Skagway is the landing point for discovering Alaska's gold rush history, as well as for boarding a train on the White Pass and Yukon Railroad. At Juneau, you can take a float plane to Admiralty Island, one of Alaska's best bear viewing spots, or embark on a number of scenic hikes.
Explore culture and history in Sitka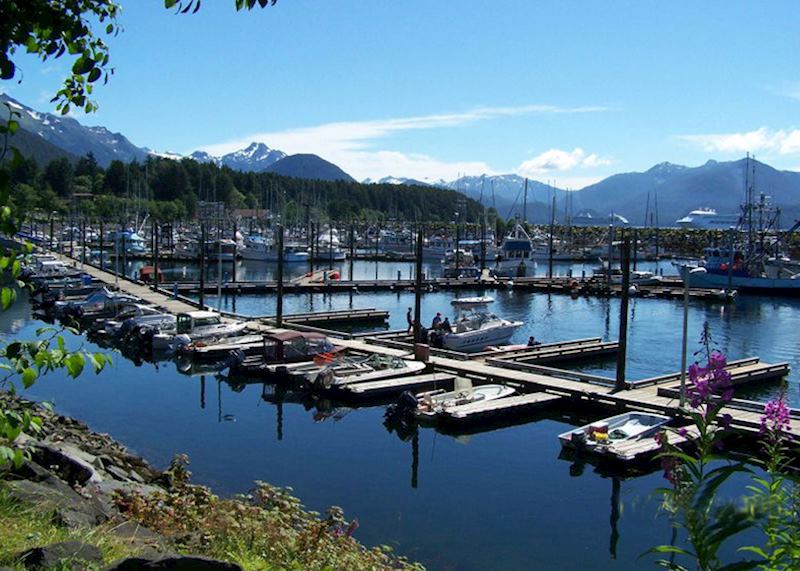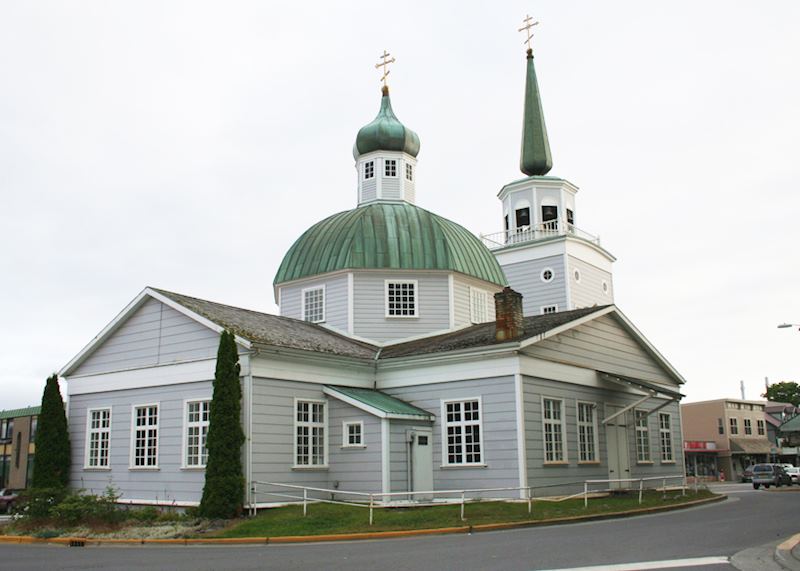 The small, historical town of Sitka lies on the southeastern tip of Alaska on Baranof Island. Formerly known as New Archangel, the town has a strong Russian colonial influence, and was designated as the capital of Russian America in 1808.
Visit a Russian cathedral
I'd recommend visiting St Michael's Russian Orthodox Cathedral, the oldest church in Alaska until the original mid-19th century building burned down in a fire. Some parts were retrieved, but the cathedral is mostly rebuilt in-keeping with the original design, including the bulbous tower topped with a cross.
It looks fairly low-key from the outside, set beside a road with its wooden cladding painted white. But, it's incredibly beautiful inside, filled with intricate paintings and murals. A number come from the original building, including Our Lady of Sitka and Christ Pantocrator, both painted by Vladimir Borovikovsky. Religious carvings and items retrieved from the fire are also on show. Upon entering you may see the priest, who's more than happy to show visitors around.
Walk the totem pole trail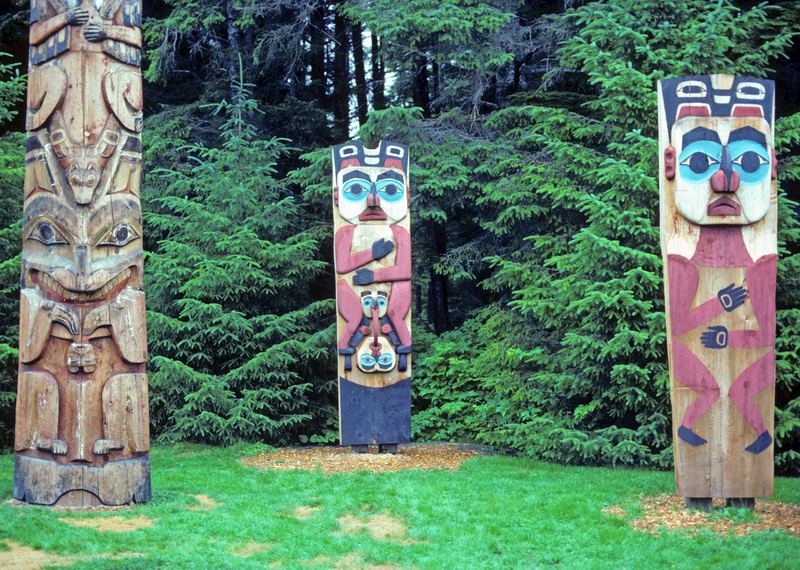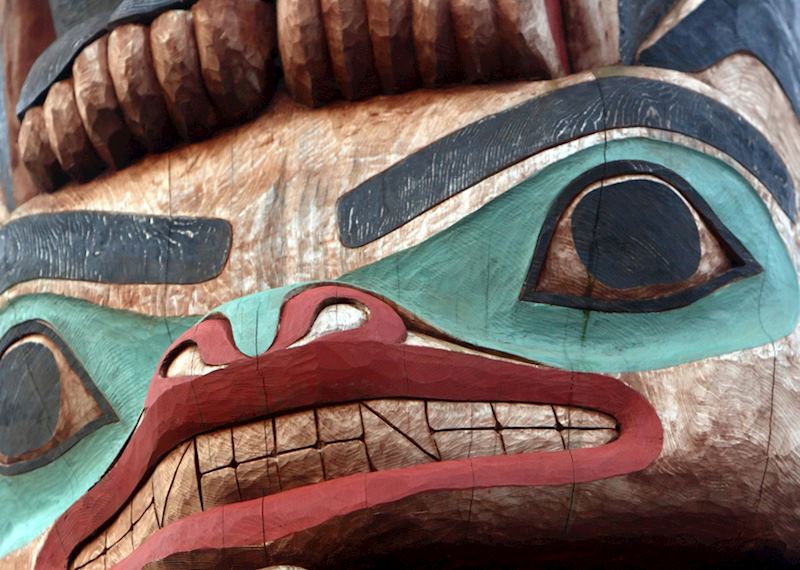 Also worth visiting is the Sitka National Historical Park, where you can stroll among cedar trees, big firs and citrus spruce trees. The smell of cedar fills the air and gaps in the foliage reveal views over the waters of Sitka Sound.
A collection of Native American wooden totem poles lines the pathways, creating a half hour trail. These are replicas of 15 poles collected from southeast Alaskan communities in 1904 by the then Governor of Alaska John Green Brady, who took them to exhibitions in Louisiana and Portland to promote tourism. He then returned them to Sitka, creating a totem pole park, although the original poles are now too fragile to be displayed.
Some of the totem poles reach over 9 m (30 ft) and all have their own design and story, featuring carvings of animals, human figures and faces. One that particularly delighted me was the example of a 'ridicule pole', used to shame a man who owed a debt to someone in the community.
The park's visitor center has lots of information about the park's flora and fauna, Sitka's history, and the stories behind the totem poles. Guided walks and audio tours of the totem poles are also on offer.
Ride the White Pass & Yukon Route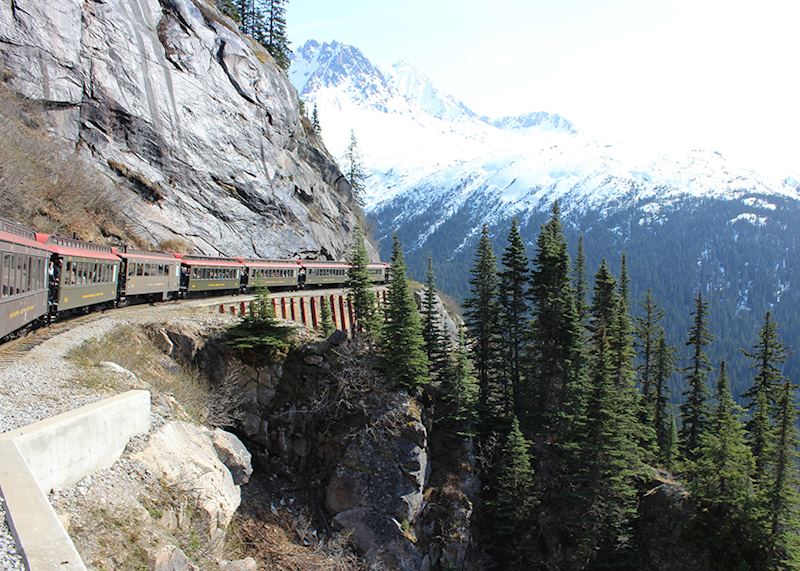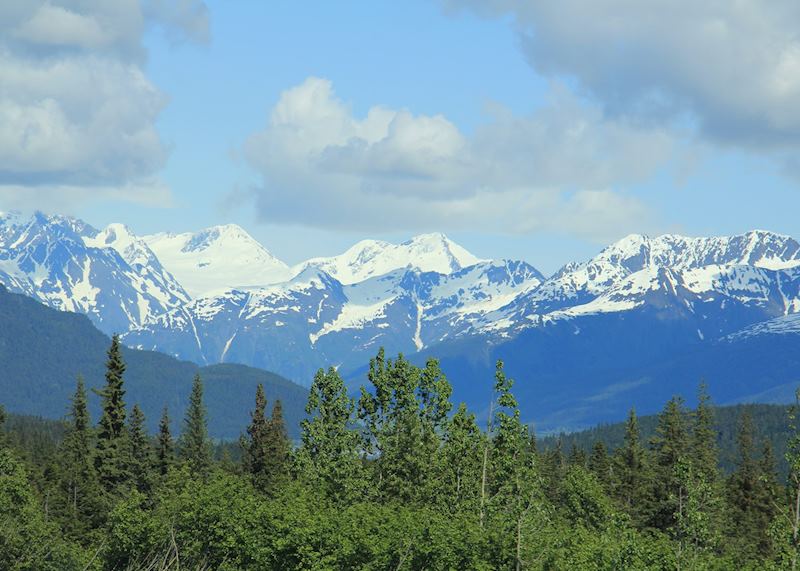 The White Pass and Yukon Route is an historic railway that runs between Whitehorse and Skagway, crossing the Canadian border and passing over the Yukon. Built during the Klondike Gold Rush in 1898, you can now take one-way or round-trip rail journeys through spectacular mountain scenery.
My less obvious highlights of Alaska
The people
I've always found the Alaskan people themselves a highlight of any visit. Alaskans are a hardy breed who may seem distant at first, but are actually very warm and hospitable. With a remote environment for a home and day-to-day life that's more extreme than ours, they naturally have lots of stories to tell (and quirky personalities to match).
I remember sitting in a local bar in Homer and listening to locals sharing their experiences. There's usually an eclectic mix of people: in my case, a film crew shooting a wildlife documentary were sharing the bar with local guides and a group of fishermen.
By the time we'd all had a drink and felt comfortable talking to each other there were some amazing stories being told. The camera crew, for example, shared their experiences of spending weeks camping out in the wild while trying to capture footage of wolves, encountering grizzly bears in the process. It's stories like this that really stay with you once your adventure has ended.
Hiking in daylight... at night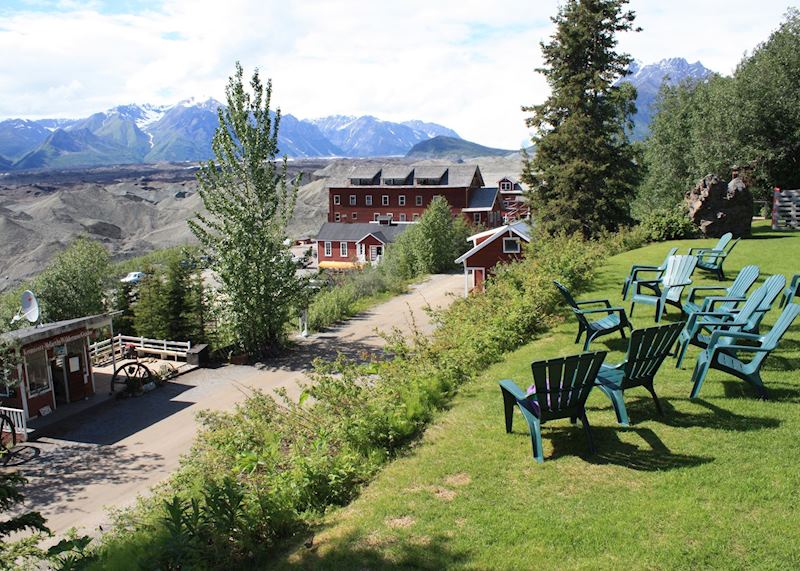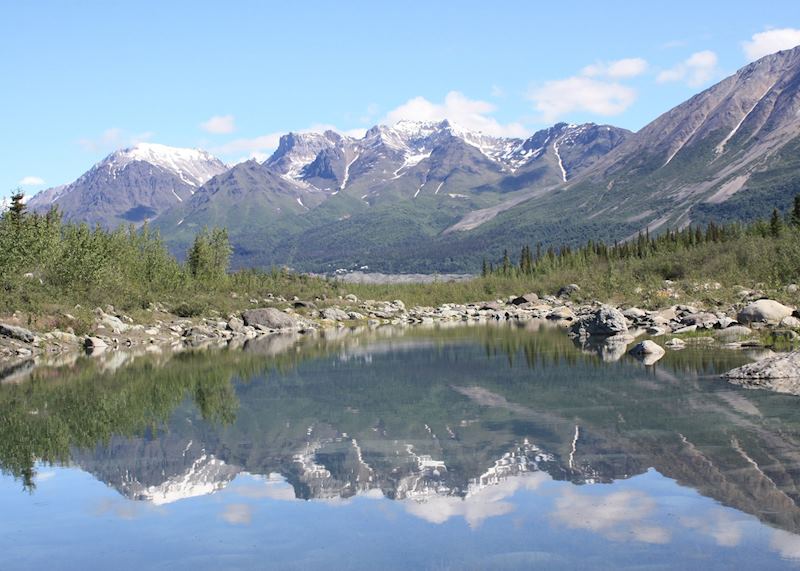 From May to the end of July, much of Alaska experiences long daylight hours. The most northerly areas don't see the sunset for months at a time, and many other areas only experience twilight conditions rather than full darkness. You'll often see people out and about, going for walks or jogs at midnight, and it means you can really make the most of your time.
One night I stayed at Kennicott Glacier Lodge which looks out over a glacier, mountains and an abandoned copper mine in the middle of Wrangell-St Elias National Park in the southeast of Alaska.
After dinner and some story sharing, a group of us guests thought we'd go for a walk. It was 10pm, but still light, so we went for a two-hour walk up to the glacier and back. There's something novel about being able to go out and do things you'd usually only be able to do in the day, when you'd normally be settling down for the night.
Combining travel by car and by boat in Alaska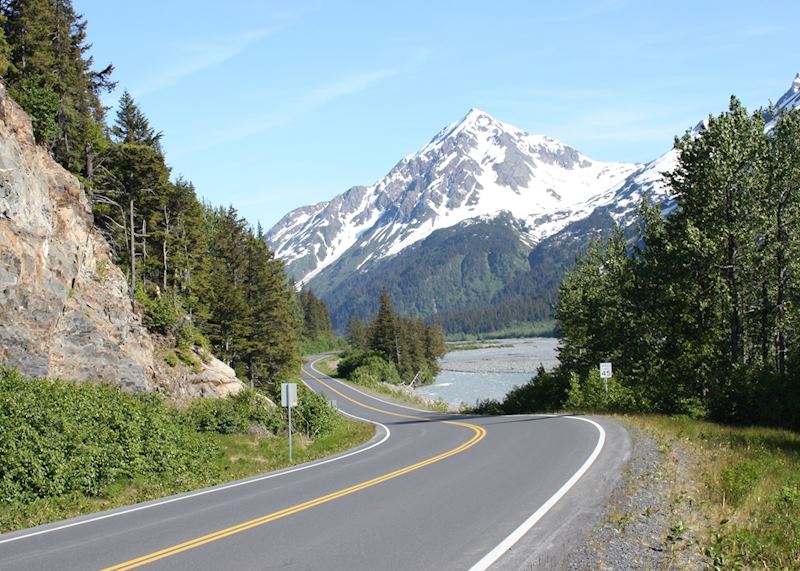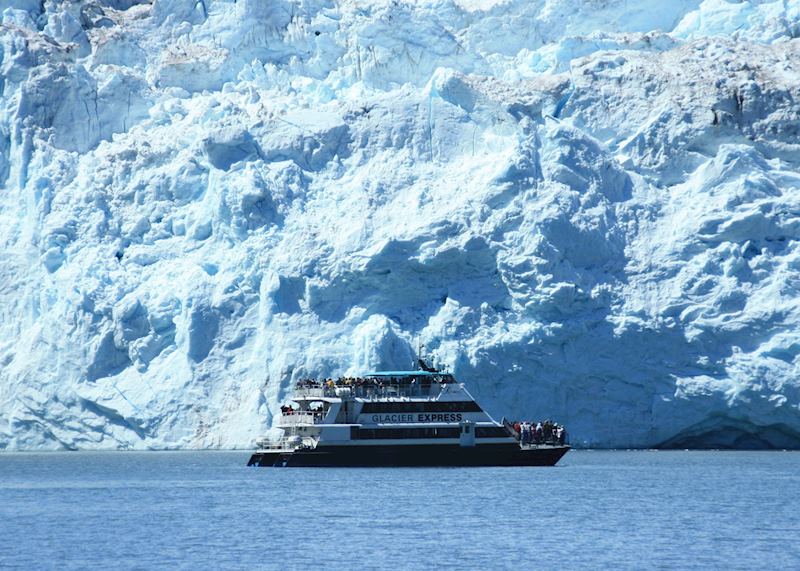 Self-driving is an excellent way to explore Alaska's inland areas, as the roads are quiet and well maintained. You can combine one or two weeks of self-driving with a week-long expedition cruise to explore both inland and the coastline.
I'd suggest exploring inland first before heading to the coast as that way the finale of your trip will be seeing glaciers and, hopefully, whales.
The accommodation isn't the most luxurious, consisting mainly of simple but comfortable lodges. However, a trip to Alaska is all about the location and having the privilege of staying somewhere so wild and remote.
Start planning your trip to Alaska

Start thinking about your experience. These itineraries are simply suggestions for how you could enjoy some of the same experiences as our specialists. They're just for inspiration, because your trip will be created around your particular tastes.
View All Tours in Alaska