Blue-white glaciers calve icebergs into dark waters. Shaggy bears dig up clams from pebbled beaches. Great gray whales leap upwards from the cold waves. A cruise in Alaska offers a ringside seat to some of North America's most dramatic moments.
There are other advantages, too. You can relax as you enjoy the scenery, without having to worry about navigating Alaska's few roads or packing and unpacking every few nights. However, it can be hard to know what sort of cruise to choose. Here, two Alaska specialists discuss their preferred choices.
Ice gardens, glaciers and bushwhacking: An expedition cruise through the Inside Passage
By Emily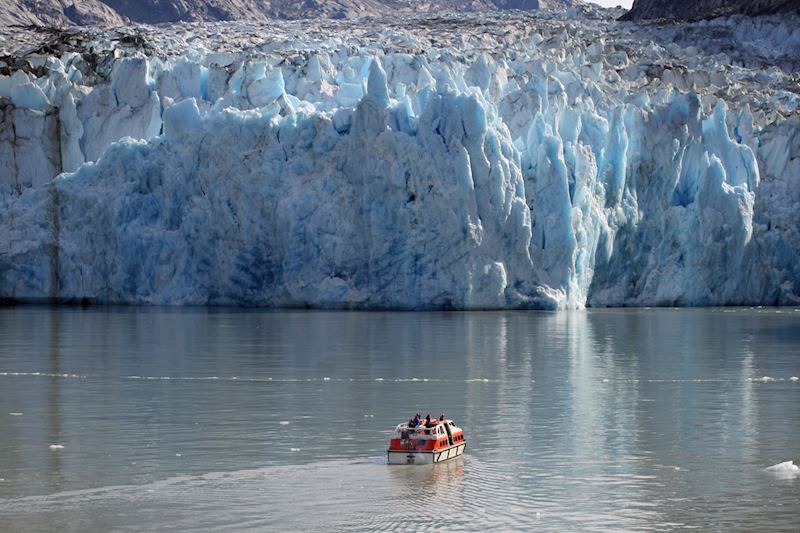 A bank of mist hovering over the water was aglow with a rainbow of reflected sun, as if the Northern Lights were streaming up out of the very ocean. My guide gestured my group forward and we paddled toward it but, in the manner of rainbows, it retreated, so we paused in our kayaks and sat gazing in wonder at this luminous intersection of sun and sky, sea and air.
This was on the third day of an expedition cruise through Alaska's Inside Passage that I took last May. These are different to traditional cruises because the focus is on the off-boat activities and the itinerary is more flexible, allowing the captain to chase after pods of whales or linger by if there was exciting wildlife. We didn't dock at big, crowded cities, either; instead, we spent the week slipping in and out of the narrow straits where bigger boats couldn't go.
I was aboard the Legacy with just 64 other hardy souls under the guidance of Captain Tom, a burly Alaska veteran. With such a small number of passengers, we formed a close-knit group, facilitated by a poster on the main deck listing our names under our photos (it makes it easier to remember who it was that told you about that fascinating book).
The main focus of a cruise is the profusion of off-boat activities. Several are offered on any given day, ranging from challenging kayak trips and long, steep hikes to shorter, slow walks suitable for young children. Those were often led by Mary, the ship's resident botanist. An older woman with gray hair and small glasses, she could name all the different plants we saw.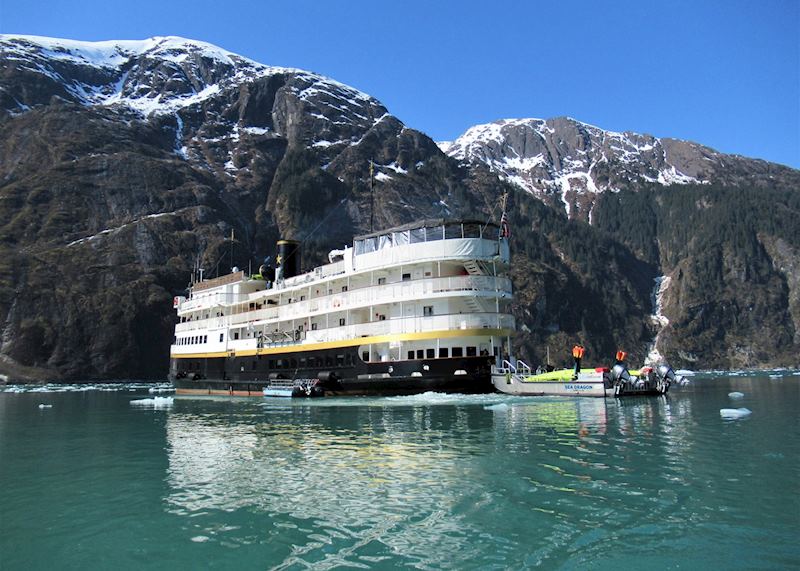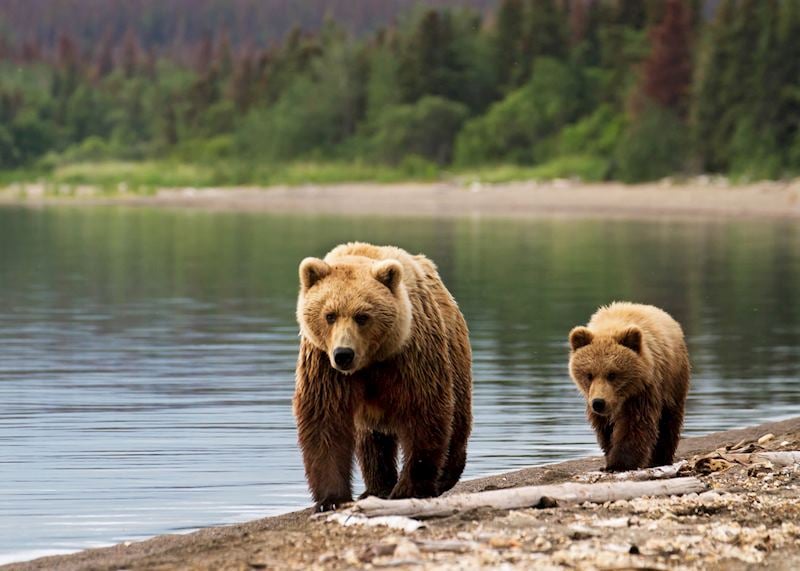 One day, I opted for what's known as a bushwhacking hike, where, instead of following trails, we trekked through the pristine temperate rainforest following our guide, Mike, a tall man with long brown hair and an Alaska-size beard. Walking between the high green trees, I could hear the soft shush of distant waves, the trilling of birds and the rustling of small creatures darting through the undergrowth.
There was always an underlying thread of frisson wondering what other animals might be watching — hungry bears and their cubs were just emerging from hibernation — but I didn't worry. Mike had a can of bear repellent, a radio and an obvious long-term relationship with the countryside, moving with familiar ease through the wild landscape.
On another day, I joined a group in a small skiff to see Dawes Glacier. Passing nimble mountain goats clinging to the side of a cliff, we wove through the floating icebergs, the ship quiet on the dark water, to get closer to the main glacier. Sitting a safe distance away, we watched icebergs calving. The sound was like a roar as the heavy mass tore away from the main body, slumping down into the water. The resulting ripples raced through the bergs, making our skiff bob suddenly.
Perhaps my most memorable experience (aside from the eerie rainbow) was a visit to an ice garden — a beach littered with huge shards of blue and white ice, stranded there by the receding tide. Wandering along the boulder-strewn beach, I could feel the cold rolling off the icy slabs in nearly visible waves. I laid my hand right on the melt-slick surface, touching ice that was formed hundreds or even thousands of years ago.
Because the focus is on the off-ship activities, the amenities are simpler than you'd find on other ships. The cabins are clean and comfortable with decor that boasts a Victorian flair, but they aren't palatial or particularly sumptuous. There's just one restaurant, which offers a generous buffet for breakfast and two options for lunch and dinner. You also have the ability to order something else if you don't like the menu.
Because much of the food is locally sourced, I resolved to eat as much seafood as possible while on the ship — an easy resolution to keep. I was walked through how to take apart the arm-length king crab legs; the effort was more than worth it when I tasted the sweet, succulent meat, which barely needed the drawn butter. There were side dishes, but they fade in my memory compared to those enormous red legs.
Five restaurants, four ports and endless lobster: A classic cruise
By Emma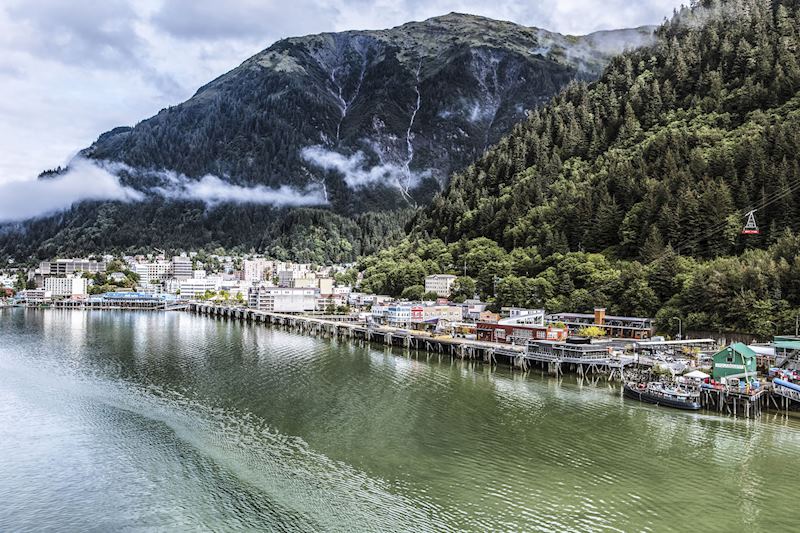 Every day, when I returned to my suite in the afternoon, there was a cup of steaming hot green tea waiting for me.
I hadn't asked for the tea, but my personal butler, James, had noted that I liked an afternoon cuppa and without a word, it became a daily ritual of my week aboard the Silver Shadow last spring. My cruise started and ended in Vancouver, calling in Juneau, Sitka, Ketchikan and Victoria, BC along the way. It was my first cruise and I admit to being unsure about the experience, initially.
It didn't take long for James and my daily tea break to convince me, however. After a two-week self-drive tour of Alaska's inland areas, I reveled in the relaxed pace, exceptional food and attentive service of the staff (with just 382 passengers on board, there were almost as many crew members as guests).
Many of the pleasures of on-board life are found in the ship's restaurants, and the Silver Shadow has four: the elegantly appointed main dining room, an Italian trattoria called La Terrazza, the pool-side Grill, and Le Dame, a Relais & Châteaux restaurant that offers a six-course wine-paired dinner.
Breakfast and lunch are both served in the main dining room and La Terrazza, with ample options to satisfy any palate. Meals at La Dame cost extra, so I ate most of my dinners at the main dining room, which spotlighted locally caught seafood. I recommend steamed Pacific lobster dipped in golden drawn butter, as well as the grilled salmon. I was also pleased by the wide selection of green vegetables, which can be hard to come by in Alaska early in the growing season.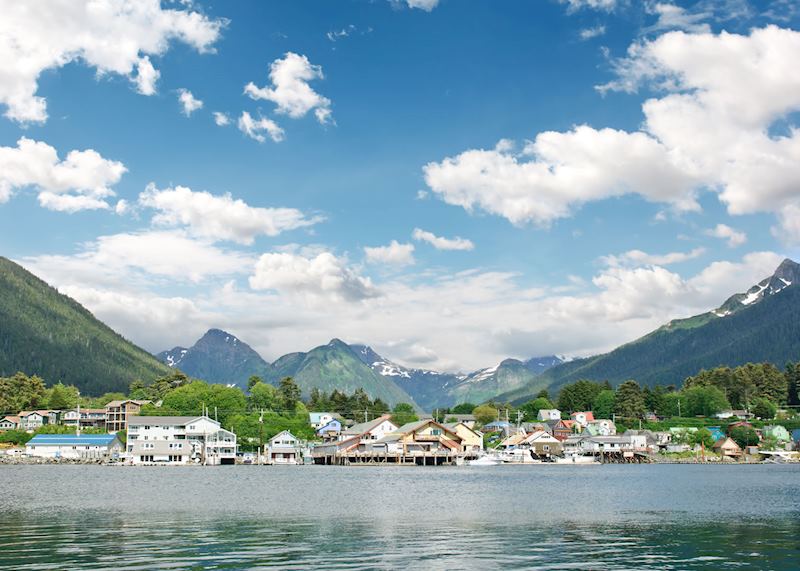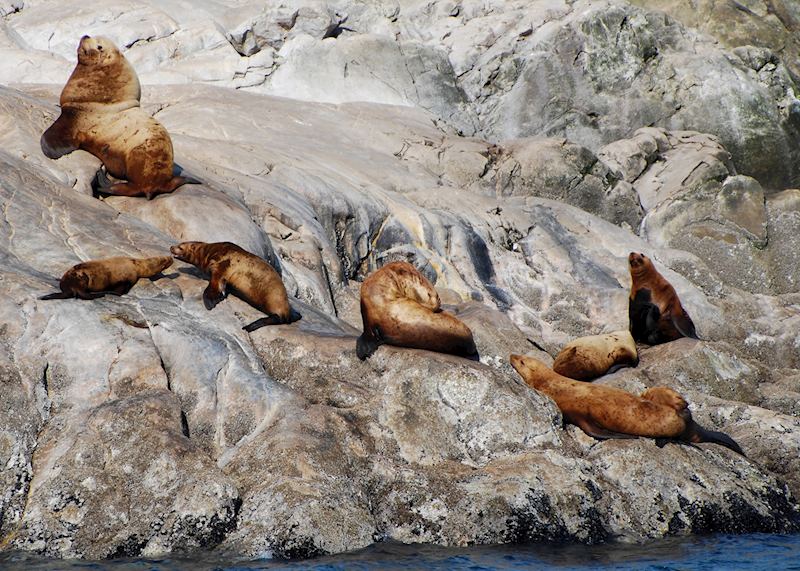 La Terrazza's menu also features local seafood with an Italian twist, as well as fresh pasta, made daily. You can enjoy your meal inside, under a massive stained-glass skylight and enjoy the sea view out the floor-to-ceiling windows. Or, on good-weather days, you can opt for a table out on the deck, shaded by a white awning.
The Grill was often the most popular eatery, especially at lunch. Meals here had a do-it-yourself component — after choosing your meat, you cook it on a sizzling-hot lava stone to your own specifications before adding whatever sauce you choose. I only ate there once, but my beef fillet was tender and so well marbled that the buttery béarnaise sauce seemed like overkill.
Beside restaurants, there's a long list of activities to keep you occupied. I made friends with other guests and we spent many afternoons in the pools, playing lawn games on the deck or taking classes at the well-equipped gym. In the evenings, we retreated to the bars — there's a small one that offers live acoustic performances as well as a livelier option with dancing and a DJ.
Local experts offer lectures and answer questions about Alaskan ecology and Native culture. You can read the schedule for the lectures and any other on-board activities in the Chronicle, a daily broadsheet that's left in each passenger's room. It also contains information about that day's port of call and guided activities.
The ports where we docked were popular stops with other cruise ships as well, which meant that they were fairly crowded — a drawback to this sort of cruise. We usually had just a half-day in town, which sometimes felt rushed. You can choose between the ship-run outings, which were done in groups, or private tours that we can book for you.
Choosing excursions is very personal and depends entirely on your own tastes and interests. There's plenty to pick from, including wildlife hikes, whale watching, cultural tours and flightseeing visits on small planes. The most popular ones tend to be wildlife excursions, so I suggest booking those as early as possible before you board.
In Sitka, I opted to visit the Alaska Raptor Center, where injured birds of prey are rehabilitated. You can see bald eagles circling overhead during the whole trip, but nothing prepares you for the sheer size and majesty of these huge animals up close. You can also hike on trails through the well-preserved forest and admire the towering pines.
After the activities, I'd come back to my room for my steaming cup of tea. The rooms were generously sized, with a quiet, cohesive decor that provided a neutral backdrop for the real draw — the water views outside the large windows. One afternoon, as I sat sipping my hot tea, a pod of Dall's porpoises pulled alongside the ship. For an hour, I got an up-close view of their elegant black-and-white markings and sleek heads as they plunged and played in the cold waves.
Trip idea for cruising in Alaska

Start thinking about your experience. These itineraries are simply suggestions for how you could enjoy some of the same experiences as our specialists. They're just for inspiration, because your trip will be created around your particular tastes.
View All Tours in Alaska