By USA specialist David
If I had to choose one area of the USA to take my family, California would win hands-down. I can imagine my children's delight at seeing the hundreds of basking sea lions yawning in the sun on San Francisco's Pier 39, hear their cries as a whale appears just a splash away from our boat, and feel their enthusiasm as they cheer on the teams at a live baseball game. With time to let off steam on the west coast's golden beaches and the chance to explore the great outdoors in some of the United States' finest national parks, the Golden State is a playground for children and adults alike.
Recommended experiences for families in California
San Francisco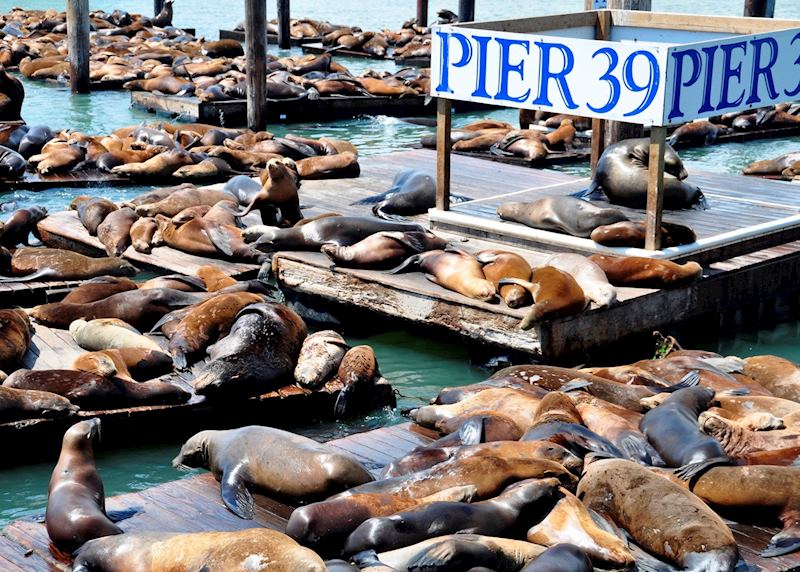 The compact city of San Francisco is a great place for families to explore. It has a mix of cultures, from the Mexican-influenced Mission District to Little Italy and Chinatown, which is almost like a miniature city within a city. Passing through the Dragon Gate, you're met with vibrant red, green and gold decorations and shops selling bizarre ornaments and authentic Chinese food.
The Golden Gate Bridge is best explored by bicycle. You can join a group bike tour or rent bicycles independently, using mounted child seats for younger kids. Reaching Sausalito on the other side of the Golden Gate Strait, you'll have fantastic across-the-water views of the city skyline.
While young children may not fully appreciate a tour around Alcatraz, they're likely to enjoy the 15-minute boat ride out to the tiny island that confines the former prison. Alternatively, boat tours take you around the island's coastline, with narrators providing information about the prison's history and its inmates.
Fisherman's Wharf has a variety of seafood restaurants, and a living, barking attraction residing on Pier 39. Here, you can observe hundreds of wild sea lions basking on wooden platforms and swimming in the bay. It's funny to see them lying one on top of the other and communicating in barks. You can learn all about them at the pier's Sea Lion Center, which has interactive displays and a real sea lion skeleton.
Family-friendly hotels in San Francisco
The Omni San Francisco Hotel is in the city's downtown area. It's a ten-minute walk from Union Square's shops and restaurants, while Fisherman's Wharf is just a short cable car journey away.
Rooms are spacious, accommodating up to four guests, and children receive a rucksack containing activities and games on arrival.
Yosemite National Park

The scale and beauty of Yosemite National Park definitely makes venturing away from the coast for a few days worthwhile. It can easily be visited from San Francisco, being just a three- to four-hour drive away.
Guided walks are a good way to learn more about the park's wildlife, history and geology. Many of the guides have been hand-picked for their knack with children and will answer their questions, tell stories and re-plan the route if they tire.
Monterey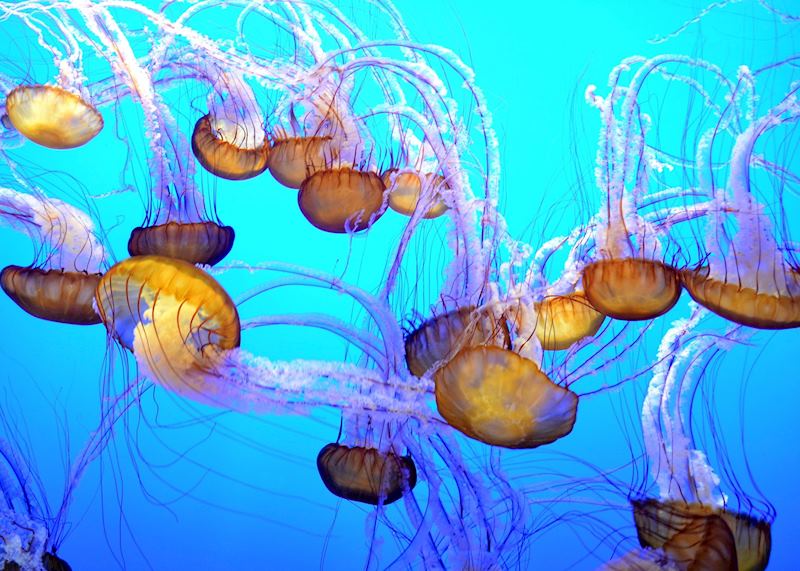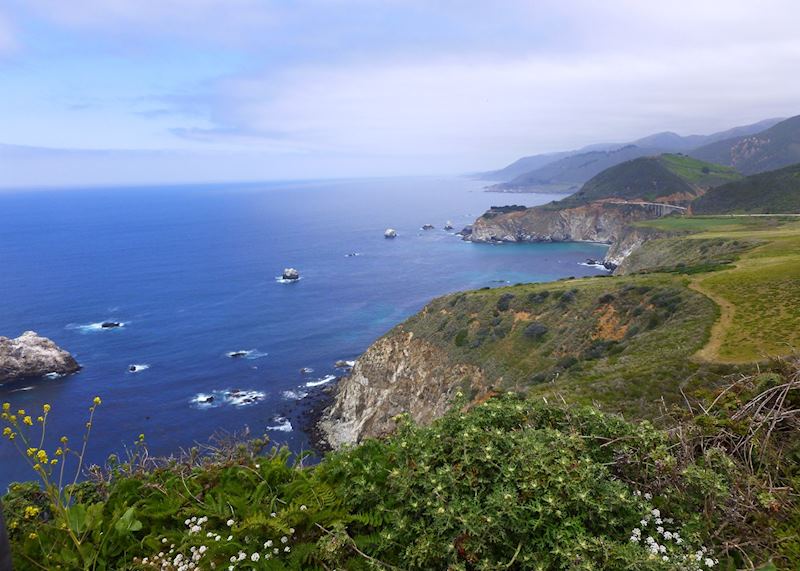 A down-to-earth seaside town two hours south of San Francisco, Monterey makes an excellent stop-off point for families. It's a popular spot for whale watching trips around Monterey Bay.
During the first half of the year, you can see migrating humpback and gray whales, along with occasional orcas. The second half brings blue and sperm whales, as well as humpbacks until November. Dolphins, porpoises, otters and sea lions are always potential sightings.
Chris' Whale Watching Tours take you out on boats small enough to get closer to the whales than the larger vessels used by other operators. The large crew provide a highly personal experience, and will happily answer questions, tell you facts about the wildlife and point out good photograph opportunities.
Another fantastic family attraction is the Monterey Bay Aquarium. Set right on the oceanfront, it places great emphasis on marine conservation, conducting research to help wildlife living offshore. Exhibits include sea otters, African penguins, harbor seals and a variety of sharks, rays and fish.
Family-friendly hotels in Monterey
Hotel Abrego is just a five-minute walk from the waterfront and downtown's shops and restaurants. Many of the rooms have two double beds to suit families, and there's a heated outdoor pool.
Pismo Beach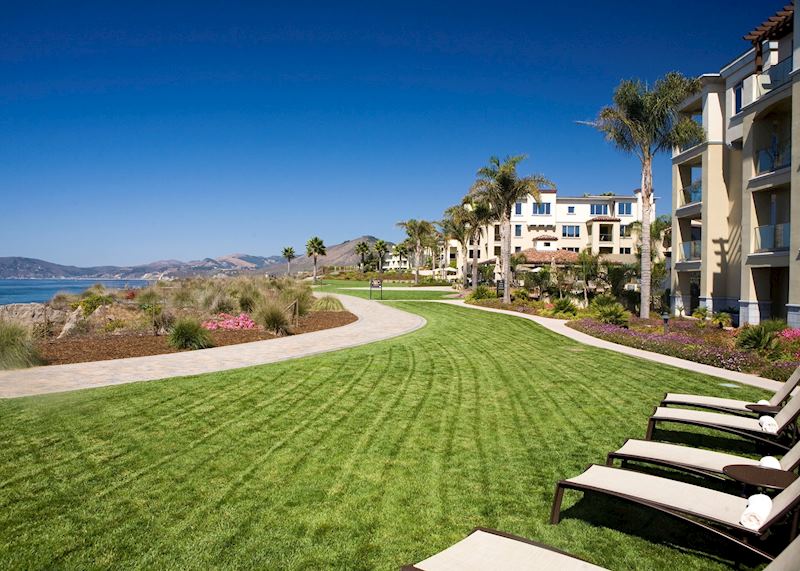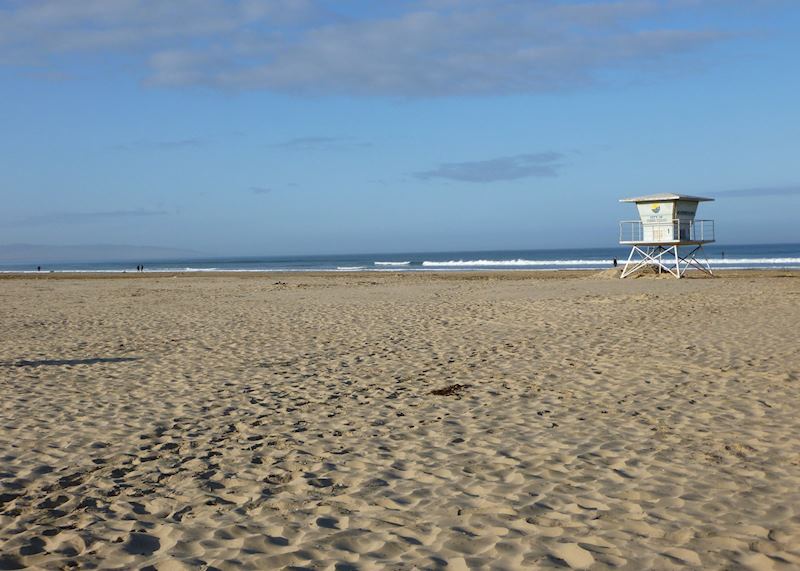 The mid-section of the Pacific Coast Highway winds down the west coast from Monterey to Los Angeles. The dramatic rocky scenery around Big Sur drops into sandy beaches as you reach Morro Bay and Pismo Beach, making it a good place for families to unwind between the big cities.
Pismo has miles of unspoilt sand, backed by dunes, and a laid-back southern Californian ambience. Swimming, sea kayaking, surfing and boogie boarding can all be done from the beach. On dry land, if your children are older, you can rent a buggy for an exhilarating ride through the dunes.
A 15-minute drive away is the town of San Luis Obispo, which is surrounded by hills covered in vineyards. You can go wine tasting in the wineries around the town, with soft drinks provided for the children.
Occupying a hillside between the town and the coast, the San Luis Obispo Botanical Garden nurtures specimens of many Mediterranean-climate plants that grow in the area. Its Children's Garden is a fun place for children to learn about plants, how they help wildlife and where food comes from.
Family-friendly hotels in Pismo Beach
Set on a cliff overlooking the ocean, Dolphin Bay Resort & Spa has one and two-bedroom suites facing the heated pool or the coast. The nearest beach is just a few minutes' walk away. Each of the suites has a kitchen and laundry facilities.
Los Angeles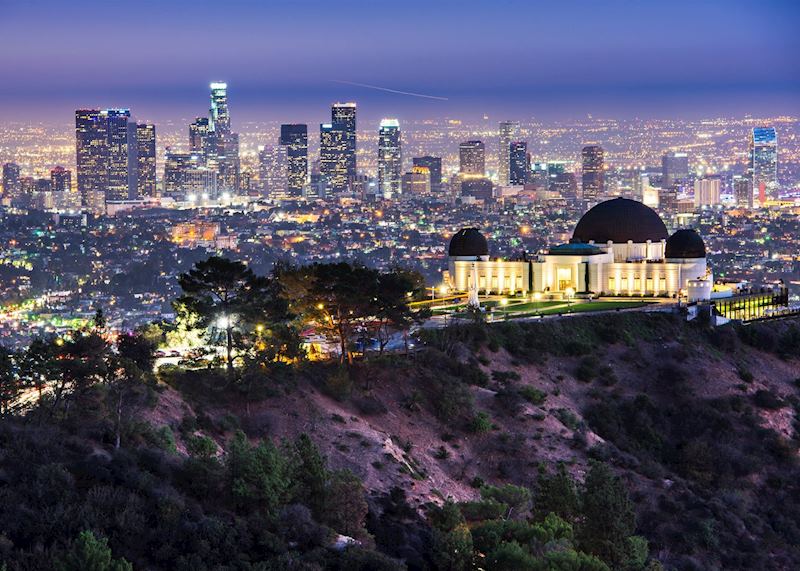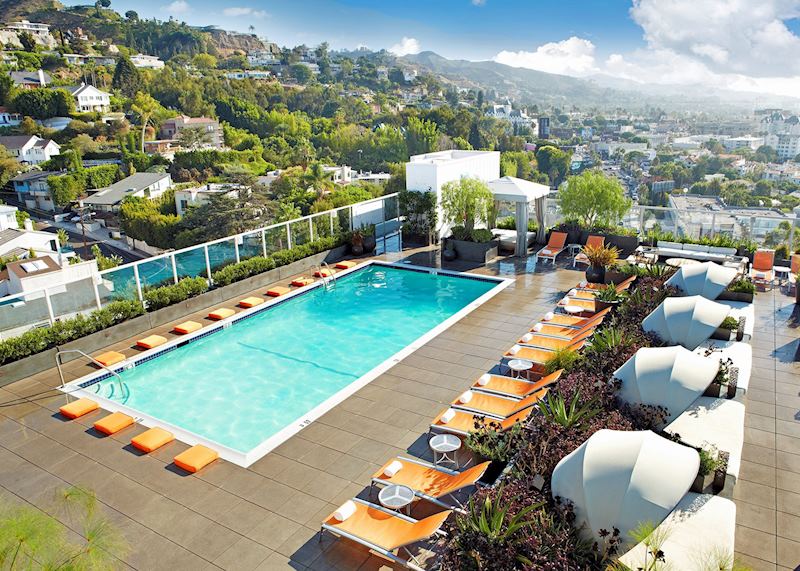 Los Angeles and its sun-kissed coastline is a playground for families of any age. I like how you can stay in several different places in and around the city and have completely different experiences.
I recommend touring the city's working film and TV studios, such as Universal and Warner Brothers. They have lots of hands-on activities and exhibits for children of all ages, from learning about how special effects bring films to life and starring in short film clips, to taking a 3D ride with Minions and exploring Hogwarts.
I found being on set a real thrill, recognizing the Central Perk sofa from Friends and props used in films from my childhood, such as ET and Jaws.
In Hollywood, you can stroll along the Hollywood Walk of Fame seeing how many celebrities' names you recognize, meet people dressed as film characters posing on the street and capture that iconic photograph of the Hollywood sign.
Out on the coast, Santa Monica and Venice Beach provide relief from the city's busy streets. Here you can relax on the sand or try surfing, paddleboarding, bodyboarding and beach volleyball.
The boardwalk stretching along much of LA's coastline is a great place to go rollerblading, skateboarding and cycling as a family, complete with views over the sparkling ocean.
Family friendly hotels in Los Angeles
The Andaz West Hollywood is well located for visiting Universal and Warner Brothers Studios, while Santa Monica is within easy reach via the metro. Its rooftop pool area has views over Sunset Boulevard and the downtown area, while the restaurant serves delicious seasonal dishes.
San Diego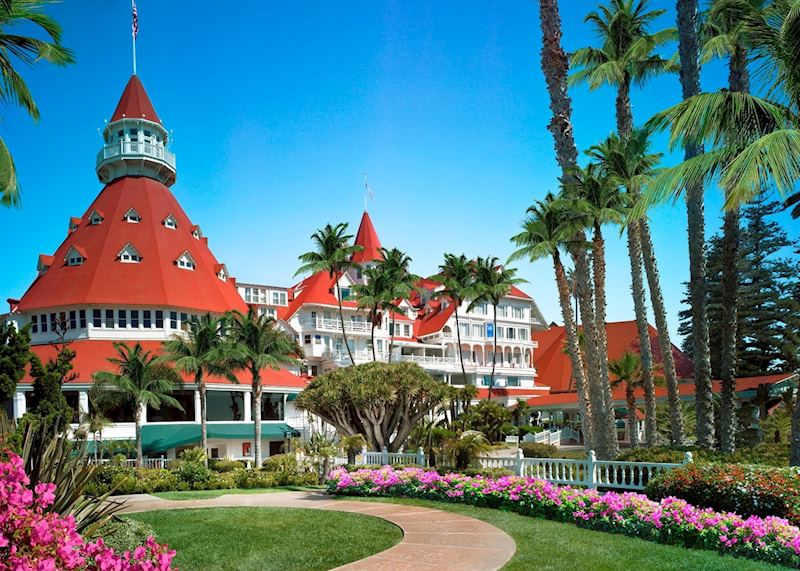 Drive three hours south of LA and you get to San Diego, where the pace of life is much slower. The sheltered waters of Mission Bay are ideal for kayaking and paddleboarding, while the laid-back Pacific Beach area is a great place to rent bikes and cycle along the waterfront or relax on the white sands.
Family-friendly hotels in San Diego
Loews Coronado Bay Resort is across the street from Silver Strand Beach. Its three pools include one for children and one for families, there are tennis courts and a games library, and you can hire bicycles and water sports equipment.
Less obvious highlights for families in California
Northern California
The area north of San Francisco remains relatively unexplored despite its scattering of national parks and quaint coastal towns.
Lassen Volcanic National Park

Situated in the northeast, this geothermal area bubbles with mud pits, steaming geysers and hot springs. You'll also find all four of the planet's volcano types here (shield, composite, cinder cone, and plug dome), including Lassen Peak — the largest plug dome volcano in the world, rising 600 m (2,000 ft) above its surroundings.
Trails and boardwalks make it easy and safe to explore the park, and visitor information points explain the natural features you'll see during your visit.
Lake Tahoe

This vast lake, straddling the California and Nevada border, is a versatile destination for families. In winter (November to February) it's a popular ski destination as the surrounding Sierra Nevada mountains are covered in snow. Between May and September, the lake offers water sports, hiking, cycling and beach relaxation.
I was in awe of the scenery here: Lake Tahoe is vivid blue and alpine forest blankets the mountains. The beaches are narrow but sandy: a good alternative for families who don't have time to visit the coast.
Water activities include kayaking, paddleboarding and boating. Numerous walking, cycling and mountain biking trails circle the lake. There are also towns, such as Tahoe City on the western shore, where you'll find accommodation, shopping and restaurants.
Redwood National Park

Many of the coastal redwoods in Redwood National Park and the adjoining state parks have been standing for over 2,000 years and rise over 100 m (328 ft). Walking and mountain biking trails weave between the redwood's wide, spongy trunks and past open prairies. If you're short on time, you can take a scenic drive through parts of the forest and along the nearby coastline.
Strolling through the shadowy forest as I gazed up at some of the world's tallest trees was a peaceful and humbling experience. You're likely to spot Roosevelt elk wandering through the trees. Bobcats, beavers, red squirrels and river otters have also been recorded here, while out on the coast, harbor seals and sea lions bask on rocky outcrops.
Mendocino

Mendocino feels completely different to your stereotypical California. Its white clapboard houses, picket fences and maritime atmosphere are more reminiscent of New England.
Perched on a hilly peninsula overlooking the Pacific, you and your family can enjoy scenic coastal walks and bicycle rides, go sea kayaking to explore caves or take a ride on the steam-powered Skunk Train, which winds its way through local redwood forests.
In nearby Russian Gulch State Park, you can follow a 4 km (2.5 mile) loop trail through redwoods and ferns to see an 11 m (36 ft) waterfall, or watch as waves surge into the Devil's Punch Bowl — a collapsed sea cave that now acts as a blow hole.
Practicalities for a family trip to California
Plan which direction you'd prefer to travel in. If you're driving along the coast, I suggest journeying from north to south as you're on the right side of the road to appreciate the views and can pull over easily to take photographs without crossing the road. However, if you drive from south to north, the scenery becomes increasingly more impressive the further up the coast you drive.
Start planning your family trip to California

Start thinking about your experience. These itineraries are simply suggestions for how you could enjoy some of the same experiences as our specialists. They're just for inspiration, because your trip will be created around your particular tastes.
View All Tours in California