Americans like to eat, and one of the best ways to explore their country is through its regional foods. We asked our specialists for the best ways to discover local dishes and they offered suggestions from coast to coast. Indulge in crawfish étouffée at a jazz brunch buffet in New Orleans, a traditional lobster roll on Cape Cod, mooncakes in San Francisco's Chinatown, and barbecue in Austin, Texas. Or, go beyond the Strip to discover a burgeoning restaurant scene in Las Vegas.
Étouffée and jazz brunch, New Orleans, Louisiana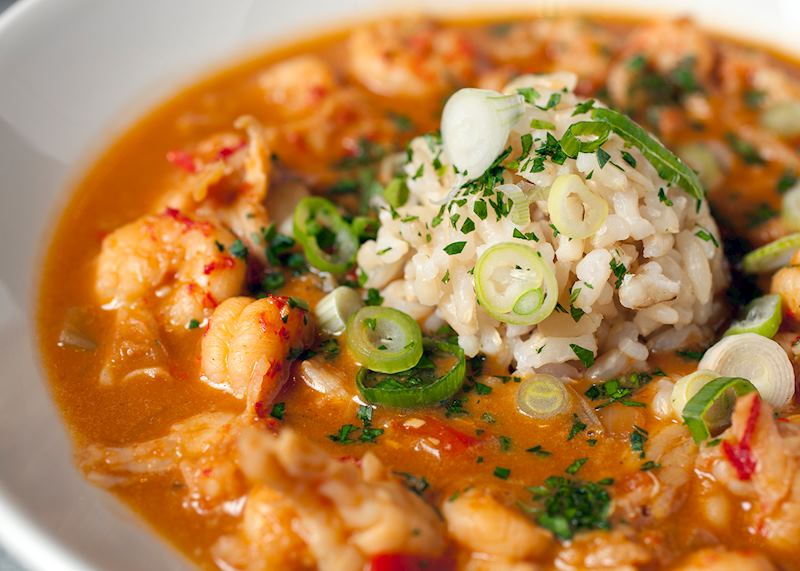 By Carla
More than almost any other city in the States, New Orleans is defined by its food. However, the menus were frankly baffling to me when I first moved to Louisiana. This is the home of the delicious-but-mysterious-sounding étouffée, jambalaya, beignets, muffaletta, gumbo, and po' boys.
The reality, though, is that many of the city's best-known dishes started as very basic recipes made from the local ingredients. Local chefs and home cooks may have elevated them to a fine art, but they're mostly simple stews and sandwiches that are simple to make. For a good introduction to the local cuisine, I recommend a visit to the New Orleans School of Cooking, located in the heart of the French Quarter.
Learn how to clean a crawfish, cook a brick roux, and what a Cajun cook means when they say 'holy trinity' (onion, celery, and red bell pepper). Whether you watch a demonstration or take a hands-on class, it's a good introduction to the mysteries of Cajun and Creole cooking.
If, however, you prefer to limit your culinary explorations to mealtimes, I highly recommend the jazz brunch at the Court of Two Sisters. Every weekend, this rambling house-turned-restaurant offers a sumptuous, expansive buffet to diners seated in the tree-shaded brick courtyard.
This is a taste of classic New Orleans elegance, where waistcoat-clad waiters weave between cloth-covered tables, serving mimosas, mint juleps and brandy milk punch. Ask for a table by the fountain and listen to the house jazz trio play as you indulge in seemingly endless plates of shrimp and grits, catfish roulade, crawfish Louise, or eggs cooked to order.
Foie gras crackers and a speakeasy, Las Vegas, Nevada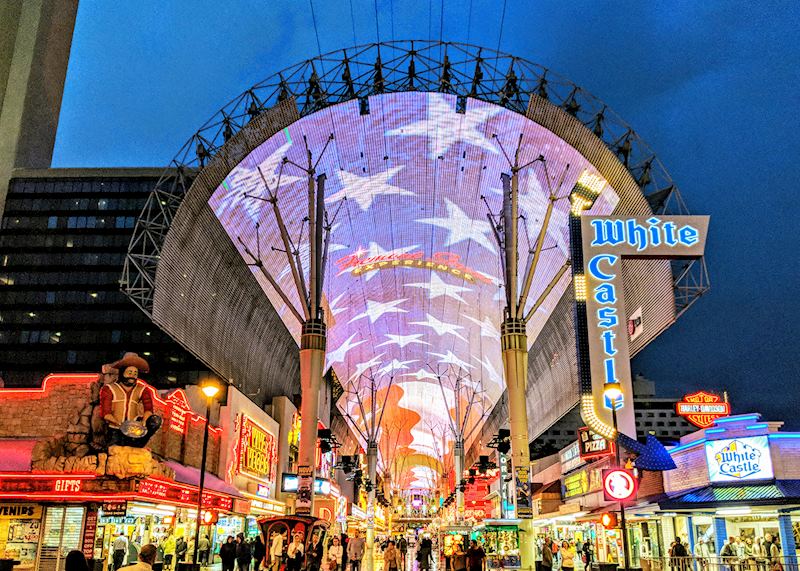 By Dani
Vegas is best known for its glitzy casinos and sequin-spangled shows. But, if you know where to look, just past the clanging slot machines and neon glare of the Strip you can also find a thriving food scene that overflows with inventive, innovative cuisine.
On a recent visit, I joined a group tour to discover the culinary pleasures of Fremont Street. We met our tour guide, Donald, at Carson's Kitchen for crackers made of foie gras and lathed with fragrant truffle butter. Nibbling the decadent treat — the first of many — I congratulated myself on having a very light lunch.
Like a lot of Las Vegas residents, Donald moved here from elsewhere, but he talks about the city's restaurant scene like a life-long native. Strolling through a rare rainstorm, we meandered from one restaurant to another, grazing on small tasting platters of the newest inventions Vegas chefs had to offer.
I have particularly fond memories of the bites served at Therapy, where we were seated at the chef's table and enjoyed a modern take on the classic soul food dish, chicken and waffles. A piece of buttermilk-battered fried chicken was sandwiched between shocking pink red velvet waffles, slathered thickly with bright-tasting remoulade slaw and christened with a glistening drizzle of vanilla maple syrup. I enjoyed the unusual combination of salty and sweet, crispy and tender, crunchy and juicy.
The evening finished in quintessential Vegas style — the group walked through an anonymous jazz club to an invitation-only speakeasy-style backroom bar, where I sipped an apple sour cocktail.
Mooncakes and fortune cookies, San Francisco, California
By Monty
San Francisco's Dragon Gate marks the entrance to the country's oldest and largest Chinatown, an enclave that seems wholly removed from the rest of the city. Strings of red lanterns bob over the streets, old women rattle mahjong tiles and neon signs flash Chinese characters as often as English.
However, just strolling down the main streets or even through Portsmouth Square doesn't really reveal much of the real heart of the area. Instead, I suggest a guided walking tour through the back alleys, tea shops and dim sum restaurants.
Tom, a San Franciscan native and knowledgeable guide, met my group at the pagoda-roofed gate Grant Avenue and Bush Street one sunny day this spring. We began with a brief history of the area while we waited for the shops to open. Then, after stopping at an antique shop, we proceeded to the oldest Chinese bakery in California.
Marked by a peeling neon sign and Technicolor mural on the wall outside, Eastern Bakery is known for its Chinese baked goods, especially its lotus mooncakes. A lot of work goes into creating these rich little treats, but they play a vital role in the Mid-Autumn Festival and Eastern Bakery is one of the only places in the States to buy them freshly made.
From there, we visited a Chinese tea shop, a Buddhist temple and a dim sum restaurant where I sampled rice dumplings with a sweet pork filling. We also wandered through the open-air markets where you can buy dried exotic fruits and seafood so fresh that it scuttles away from the seller's cleaver.
But the highlight of the tour, at least for me, was the Golden Gate Cookie Factory. This crowded vanilla-and-sugar-scented shop is much smaller than the grand label 'factory' suggests, but it still produces more than 20,000 cookies every day, folded by hand.
Here, I watched the speedy workers deftly slip a fortune inside and crease the still-hot cookies into the familiar shape. There are many different sorts of cookies on offer, including sprinkles, chocolate and an adults-only option, filled with risqué fortunes. I even bought a handful of bespoke cookies containing my own message inside.
A New England lobster roll, Provincetown, Massachusetts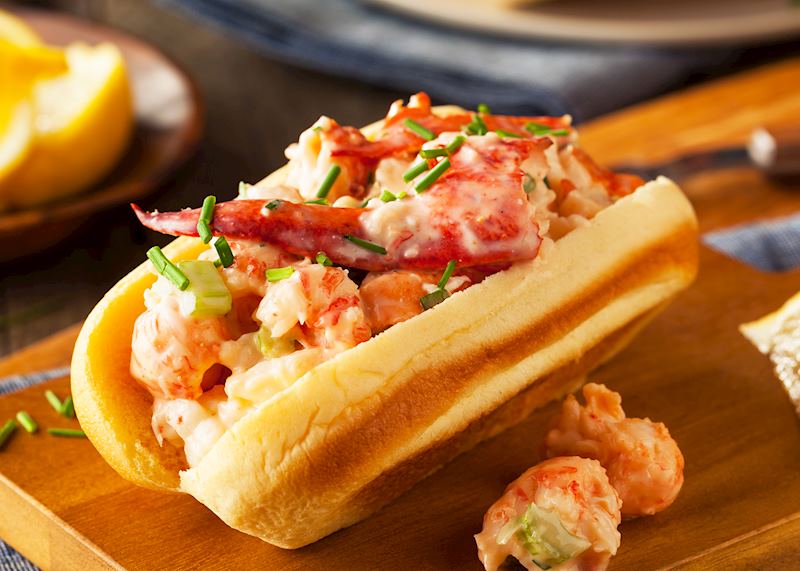 By Ellie
I recently took a sunset tour of the dunes at the tip of Cape Cod, near Provincetown. Driving along a narrow ribbon of soft sand through the faded green beach scrub, I found it easy to understand why artists have been coming here for more than a century. Surrounded on all sides by the blue-gray waters of the Atlantic, the dunes here smell briny and wild, and when I was there, the lowering sun drew long, stretched shadows across the undulating landscape.
Jouncing along the road in a 4x4, my guide explained just how delicate these dunes are and how easily harmed, which is why access is very limited. About 75 percent of the area is protected by the government, as are many of the region's wild residents, including the piping plover, a small gray-and-white shorebird that hops along the sand in funny little skips. He also talked about the area's history, the fishermen, lobstermen and shipwrecks that define much of the region's character.
At the end of the tour, we pulled up on the beach and sat down to a traditional New England lobster roll. Sitting next to a crackling driftwood fire, I ate with a new appreciation of the hard work and natural history that went into the making of my dinner: a pile of tender lobster meat, barely dressed with mayonnaise, piled high on a soft brioche style bun. As I enjoyed my meal, the sun sank slowly into the sea, painting the sky in garish reds and oranges before fading to a deep purple twilight.
Barbecue brisket, Austin, Texas
By Alex
In America, the word 'barbecue' doesn't only mean a gathering of people cooking outside on a grill. Here, it's a dish — meat that's been smoked, low and slow, until it's fall-apart tender — but it's also more than that. Barbecue here is a cooking method, a competitive sport, a passion, a lifestyle. For some, it's almost a religion.
In Austin, Texas, the main house of worship is Franklin's Barbecue, a low, unassuming teal building with a flat roof. Despite its anonymity, it's easy to find. Just look for the long row of people that stretches down the street and around the corner. People arrive as early as 5am on weekends, toting folding chairs and bottles of water, for their own little taste of heaven.
Stopping in Austin on a recent drive through Texas, I arrived at 9am or so on a weekday and thus only had to wait for about three hours. Standing in the hot spring morning, I wondered if I was wasting my time. The chatty white-haired couple behind me, Austin locals, seemed convinced and the smell wafting on the breeze was reassuring — a mouth-watering perfume of oak-scented smoke and spice and meat. But still, could some smoked brisket really be worth the wait?
At the window, you buy meat by the half pound and I loaded up my bright blue tray with a little of everything: the brisket that Franklin's is best known for, but also ribs, sausage, pulled pork and turkey, plus a side of beans, a few slices of white bread and tangy coleslaw to cut the richness. It was a lot, but I didn't imagine I'd eat it all — I just wanted to try a little of everything to see what all the buzz was about.
Seated with my new friends (a multi-hour wait encourages bonding), I forked up a mouthful of brisket and all my doubts were erased. As with all spiritual experiences, it's hard to describe. Meaty, smoky, tender, succulent, rich… they all fail to capture the wonder of Franklin's barbecue. But I know that next time I pass through town, I'll be back in line with everyone else.
Read more about trips to the US

Start thinking about your experience. These itineraries are simply suggestions for how you could enjoy some of the same experiences as our specialists. They're just for inspiration, because your trip will be created around your particular tastes.
View All Tours in The US