By Audley US specialist Dave
Driving across the Overseas Highway, with the calm blue waters of the Florida coast lapping below, it becomes abundantly clear why getting behind the wheel in the Sunshine State is a good idea.
Linking Florida's mainland to the Keys by a series of bridges, this road stretches for 113 miles and ends at America's southernmost point on the island of Key West. You can complete the drive in one day with very little effort, but spend a little longer and you'll have time to truly appreciate the splendor of the region.
From remote Civil War prisons and the former homes of Tennessee Williams and Ernest Hemingway, to thriving marine life that's easy to spot below the reef-protected shallow seas, there's plenty to explore.

Starting the self-drive in Miami
The Overseas Highway is a drive many travelers have heard of and one that I had the pleasure of undertaking on my last trip to the States. The starting point was Miami, a city recognized for its laid-back lifestyle, vibrant nightlife and colorful Art Deco buildings.
I stayed on Miami Beach, a thin strip of land that runs parallel to the mainland along Florida's Atlantic coast. Here, most of the hotels back onto, or are just a block away from, clean golden sands which stretch for around nine miles.
Miami has a glamorous reputation, and while South Beach at the southern end of Miami Beach is a haunt for young people, the rest of the city is actually quite quiet. You can spend your time ambling around the sleek architecture in the Art Deco district, or head to Miami's downtown area to explore Bayside marina and Little Havana.
Little Havana is a colorful suburb of the city, heavily influenced by the large Cuban population which resides here. I took a walking food tour around the area and sampled a number of local dishes including picadillo-stuffed empanada and guava pastelito (pastry), washed down with cortadito, the Cuban version of espresso.
I would recommend spending three nights in Miami before picking up your hire car and beginning your drive through the Keys.

Miami to Islamorada in the Florida Keys
This particular fly-drive covers relatively short distances (it takes just over an hour and a half to reach Islamorada from Miami) and as such it's worth taking the day to explore as you make your way down to the island. You can stop en route at various places of interest, the first of which is Florida City.
Florida City is a 40-minute drive from Miami and provides easy access to the eastern section of the Everglades National Park. This is an area of mangrove trees and leafy swamps home to a plethora of wildlife, including alligators and flamingos.
While it's not possible to take an airboat tour from this section of the Everglades, you can stop off at the visitors' center and walk into the park along wooden boardwalks, which will give you a good feel for the area. There are fewer mosquitoes in the eastern section of the park, too, making it particularly good for families.
You'll also pass through Key Largo on your way to Islamorada. The first and largest island in the Keys Archipelago, Largo is an area of large chain hotels and Kiss Me Quick shops popular with coach tours, which I'd suggest bypassing fairly quickly.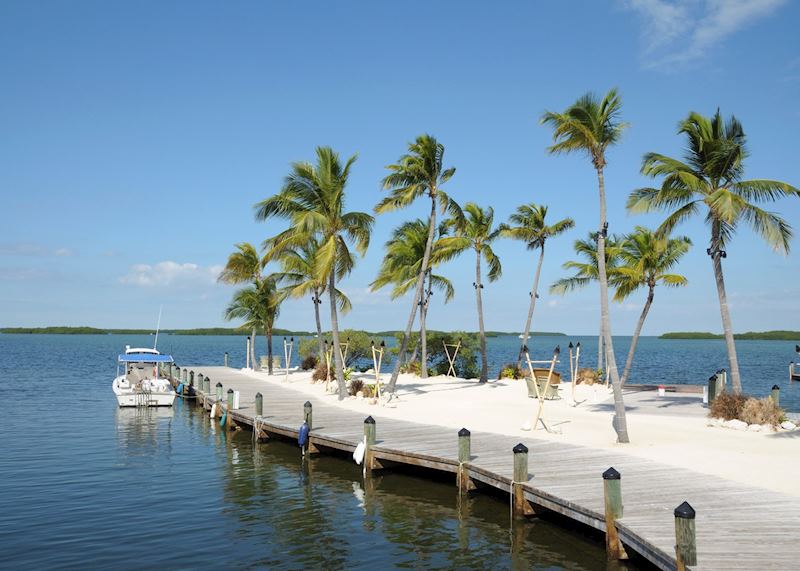 Islamorada itself is one of the more compact islands along the Overseas Highway. The quaint shops, art galleries and boutique accommodations of this small community stand hidden behind lush vegetation. I'd recommend spending two nights here to explore.
Things to do include taking a boat trip to Lignumvitae Key Botanical State Park. The park is situated on a small island which was bought by wealthy Miami chemist, William J. Matheson, in 1919. Matheson built a caretaker's home on the island complete with a windmill for electricity and a cistern for rainwater.
Other activities include visiting Indian Key Historic State Park, where you can gain an insight into the history and culture of the Keys, and kayaking around Robbie's Marina, where you're often joined by a school of tarpon, a large species of fish.
Around half an hour outside Islamorada is the John Pennekamp Coral Reef State Park. The first underwater state park in the US, John Pennekamp protects intricate coral reef formations and technicolor marine life such as Caribbean spiny lobsters, arrow crabs, parrotfish and snappers, which you can spot as you snorkel through the clear waters.

Driving from Islamorada to Key West
Take in the serene seascapes as you continue your drive toward Key West. The water around the Keys is particularly shallow and calm thanks to a natural reef around eight miles offshore that acts as a natural barrier, making it easy to spot remote islands in the distance.
The pinnacle of the Overseas Highway is Seven Mile Bridge, which extends from the mid-Keys to Key West. The bridge rises up in a steep incline here to let larger cruise boats pass through, from where you can admire your surroundings from an even higher position.
Key West is the second largest island in the archipelago, but is still relatively small at just four miles by one mile. It holds a US naval base as well as serving as a busy cruise terminal.

What to do in Key West
Duval Street runs through the heart of Key West, and each end holds a very different appeal. The northern part of Duval Street is known for its parties and revelry, while the southern end is quieter, more refined and where you'll find some fantastic places to stay.
The Florida Keys aren't renowned for their beaches, which tend to be quite gritty, so many of the hotels ship in sand from Miami to create man-made beaches for their guests. Lined with palm trees and featuring private jetties that reach out into the turquoise water, these hotels provide a tranquil if fabricated setting in which to relax.
You can easily spend four nights on Key West at the end of your road trip along the Overseas Highway. At the southern end of Duval Street you can see the Southernmost Point Buoy, with the words '90 miles to Cuba' painted on it, while a hop on, hop off trolley tour around the island takes you to the former residences of Tennessee Williams, Ernest Hemingway and singer-songwriter Jimmy Buffett. Williams maintained he did his best writing on the island and I could easily picture him sitting in a rocking chair on the porch of his charming, whitewashed home, contemplating his work.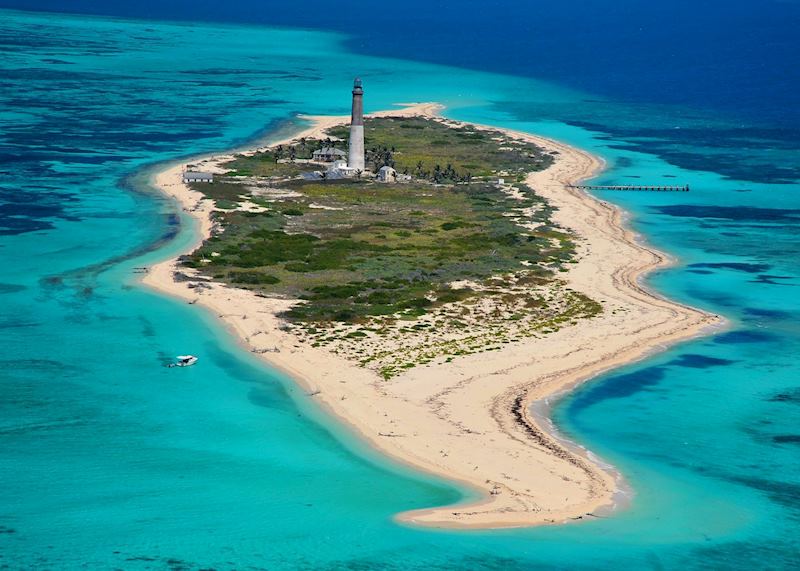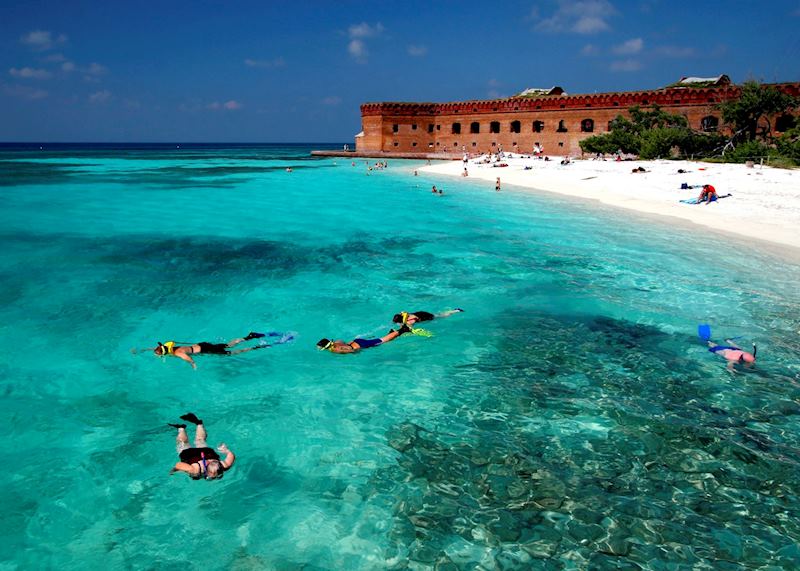 In the evenings you can join in the sunset celebrations at Mallory Square. Half an hour before dusk revelers gather among the jugglers and tightrope walkers to watch this natural spectacle, before carrying on the celebrations into the night.
I'd suggest taking a day to explore Dry Tortugas National Park, too. This is one of the least-visited parks in the US because it sits 70 miles off the coast, but its history and beauty make it worth exploring.
A collection of seven islands joined together by sandbanks, Dry Tortugas preserves Fort Jefferson, a former Civil War prison and the largest brick building in the Northern Hemisphere. You'll be given a guided tour of Fort Jefferson as part of your visit, with the freedom to explore the rest of the park at your own leisure.
Relax on the blinding white sands that fringe Dry Tortugas, or head into the water to swim with the teeming marine life, such as dolphins and sea turtles. All snorkeling equipment is provided as part of your visit, as is a picnic lunch.
The park can only be reached by seaplane, which takes around 50 minutes, or by boat which takes two hours. While the plane is quicker, the boat is equipped with showers so you can freshen up and change if you plan to spend a lot of time in the water. For me, the flight to Dry Tortugas was a highlight as it gave me a true perspective of the remoteness of the park.

Extending your vacation in Florida
If you want to continue your tour of Florida after Key West there are a number of options available to you.
After dropping off your hire car, you can take the ferry to Naples on the west coast. Naples' white sand beaches are a quieter alternative to those on the east coast and the city also has a very affluent harbor that's pleasant to wander around. From here you can spend more time exploring the Everglades National Park, either by airboat or kayak.
It's easy to spend four days in Naples, before driving back to Miami on the east coast for your flight home.
Plan your self-drive holiday in Florida

Start thinking about your experience. These itineraries are simply suggestions for how you could enjoy some of the same experiences as our specialists. They're just for inspiration, because your trip will be created around your particular tastes.
View All Tours in The US