Unguja Lodge is an intimate and peaceful retreat away from Zanzibar's busier beaches. Owner-run by Ralph and Elies, it offers a very personal service with friendly staff and a relaxed atmosphere. Accommodation is in characterful thatched villas that offer privacy and space to relax during the heat of the day, while the lodge's five star PADI dive centre allows you to explore the vibrant marine life found beneath the waves. The lodge is well integrated into the Kizimkazi community and guests can sit and watch the local fishermen go about their daily business.
Speak to someone who's been there
Start planning your tailor-made trip by calling one of our Zanzibar Archipelago specialists on 01993 838 535
Rooms
There are three different styles of villa at the lodge, but each consists of spacious bedrooms with double or twin beds, mosquito nets and ceiling fans, as well as a sitting room, spacious shower room, separate toilet and a second floor with a double Zanzibari bed where you can rest and relax. Sea View Villas offer stunning direct sea views and private terraces directly overlooking the Menai Bay (it's worth noting that one of these rooms is set back 40 metres from the cliff edge); Baobab Villas are oriented towards the garden and the big baobab trees, although they still have sea views from the upper floor, featuring a private plunge pool and air conditioning in the bedroom; while Sea View Family Villas can accommodate up to six people, featuring a shared lounge, double bedroom an en suite bathroom downstairs, and two smaller en suite twin bedrooms (which can be converted into doubles).
Location
Unguja Lodge on Zanzibar's southern coast is fairly secluded, situated on a cliff looking out to sea. The sea comes right up to the drop off at certain times of the day, making for spectacular views as the sun sets. When the tide recedes you can walk from your room down to the soft white sand below.
Food & Drink
Ralph and Elies put a real focus on the food served at Unguja. They eat in the restaurant most nights themselves, which is understandable as the chef is fantastic, combining traditional Zanzibari methods with ideas from other cultures. Breakfast and lunch are served in a buffet style and supper is a set menu. We can heartily recommend the lobster! The lodge also has a well-stocked bar, providing you with refreshing drinks as you enjoy the sunset.
Families
The family villas can accommodate up to six people in the three bedrooms, so is great for larger families. There's also no minimum age for children.
Facilities and Activities
Unguja has a library, an outdoor swimming pool and a PADI certified dive centre offering diving and snorkeling trips, including night dives. The location of Unguja was chosen specifically so that guests would have accessibility to good diving spots, many of which were discovered by this lodge and are rarely visited by other divers. As well as diving and snorkeling, you can enjoy surfing, dolphin watching, island visits and guided village tours. The lodge also offers a laundry service, and Wi-Fi can be accessed around the restaurant area.
Environmental and Social Responsibility
The lodge strives to have minimal impact on the local environment and made sure that the scrub land on which it was built continued to grow around the buildings rather than having it all cleared. This has meant that wildlife still uses this habitat, and you may be able to spot animals such as blacktail monkeys, red colobus monkeys and a variety of birdlife and butterflies.
Our opinion

Unguja is a relaxing, laid-back place to base yourself for a few days on the Zanzibari coast. The food is excellent and is one of the main reasons to stay, along with the excellent diving opportunities.
Places & hotels on the map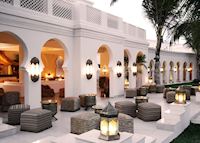 Baraza offers great facilities and the place looks wonderful when it's lit up at night. We found the food here to be particularly good, the staff very friendly and we warmly recommend it.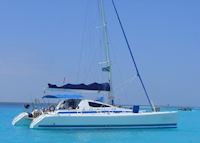 Big Cat is a 50ft sailing catamaran that plies the waters of the Indian Ocean, sailing from her home port in Zanzibar as far as Pemba in the north, to the Mafia islands in the south.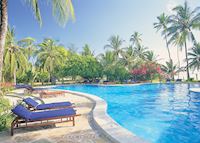 A stay at Breezes Beach Club & Spa makes for a true Zanzibari experience. Set on soft white sands, it offers guests the chance to completely unwind whilst still providing a good range of activities for those who need a break from the beach.
Set on a beach of shimmering white sand amongst swaying palm trees, this is a small, simple but charming hotel managed by the owners and therefore run with real passion. The hotel has been decorated throughout using handpicked furnishings, so each room is individually appointed.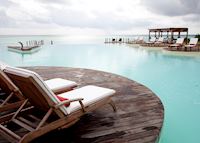 The emphasis here is on luxury and high levels of service. The property has been beautifully designed with all modern comforts without losing a traditional African feel.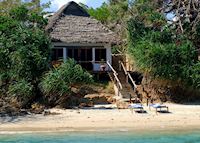 Fumba Beach Lodge is situated on a remote peninsula south of Zanzibar's Stone Town. It is set in a beautiful area that has been designated a Conservation Area.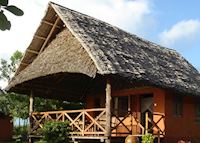 Kichanga is a simple lodge situated in an enviable position amongst tropical gardens above a white sandy cove backed by palm trees.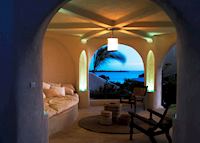 Overlooking the sparkling sea, sprinkled with traditional dhow boats, the focus at Kilindi Zanzibar is on great service, exclusivity, fantastic fine dining and rooms that are so lovely you won't want to leave them.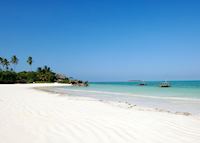 Matemwe is a small friendly hotel, built on a low coral cliff overlooking the ocean. The beach has dazzling snow white sand and is very picturesque with its small fishing village.
Pongwe is a peaceful, simple hotel. While perhaps not the best place for party animals, it is ideal for those who enjoy their food and want a relaxed beach experience.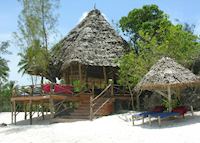 Pretty and peaceful, this beachside lodge on Zanzibar's northeast coast provides simple but relaxing accommodation in spacious cottages. With friendly hosts and tasty Zanzibari food, it makes a rewarding end to a safari, but can also be a welcome escape in its own right.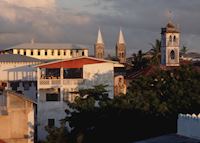 Much of Stone Town was built in the 19th Century and remains unchanged to this day. There is no room for cars in these streets, so they're perfect for exploring on foot.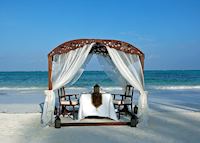 The Palms is exquisite. It is small, stylish and the staff are excellent. It is perfect for those looking for an exclusive, romantic getaway. We warmly recommend it.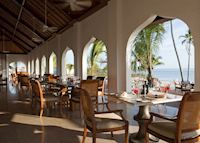 The Residence Zanzibar is a beautiful property situated on the southwest coast of Zanzibar near Kizimkazi village. The villas are spread out across the property, each with its own private pool and sunbathing decking area for complete relaxation.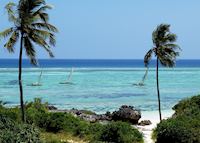 The beaches in Zanzibar are some of the best beaches in the world, interspersed with picturesque fishing villages, where the people live a simple way of life, virtually unchanged in centuries.