Thai Airways International was founded in 1960 as the national carrier of the Kingdom of Thailand.
It operates domestic, regional and intercontinental flights radiating from its home base in Bangkok to key destinations around the world and within Thailand.
The airline has received many Skytrax awards, including 'The Best Airline in the World' in 2006.
Travel classes & legroom
Thai Airways understand that a flight is much more than getting you to your destination, it's the start of your holiday.
THAI's A380 Royal First Class
This "Top Tier" prestige class provides just 12 compartment-style seats, offering greater privacy in a separate cabin, combined with the highest degree of personal service.
Seats have an 83" pitch, 26.5" width and 180° fully-flat bed configuration. The 23" AVOD interactive touch screen entertainment and information system offers almost unlimited channels, plus there is full connectivity for Wi-Fi, mobile and SMS communications devices, with an in-seat PC Power outlet.
Other exclusive facilities include spacious lavatory/dressing room, and Royal First Lounge on-board that serves as a multi-purpose area.
Benefits of Royal First Class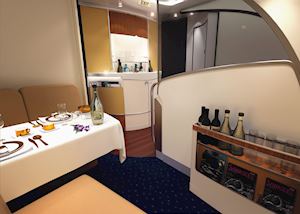 Flat beds
Personal entertainment screen
Your choice of when to eat
Welcome glass of Dom Perignon or Bollinger
Pre-order meals
Pyjamas and slippers
Airport lounges
Priority check-in desks
THAI's A380 Royal Silk Class
With a "Best in Class" strategy, designed to provide the maximum in comfort and service for these premium passengers, THAI builds on its reputation for excellence. The separate Royal Silk Class cabin contains 60 shell seats in a staggered layout for greater privacy and direct aisle access. Seats provide a 74" pitch. 20" width and 180° fully-flat recline. The 15" personal AVOD interactive touch screen, Wi-Fi, SMS and mobile communication access, plus in-seat PC powerpoint add to passenger convenience.
Benefits of Royal Silk Class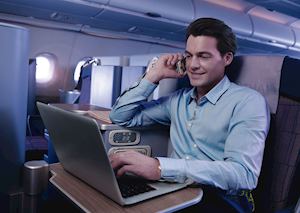 10.4" LCD entertainment screen
Choice of main dish
Priority check-in desks
Airport lounges
THAI's A380 Economy class
THAI has a long-established reputation for the high quality of its Economy Class in-flight service, for which it has won many international awards over the past four decades. In the A380, THAI passengers can experience an even more comprehensive range of benefits to make their journeys "Smooth as silk".
Benefits of Economy Class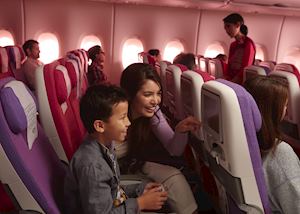 Personal entertainment screens on selected flights
Complimentary bar and refreshments
Choice of main course
Entertainment
The In-flight entertainment system on board THAI's A380-800 offers passengers a total of 100 movies, 150 television programmes, 500 CD albums, and 60 games. In-flight Wi-Fi connectivity enables passengers to use mobile phones, tablets or laptops for a fee, so that they may remain connected when travelling on board flights.
Food & Drink
Moreover, THAI has installed additional galley equipment, such as microwave, espresso machine, and galley air chiller. Passengers can enjoy a vast array of meal and beverage selection on board THAI's Airbus A380-800.