Designs on New Zealand
New Zealand has its fair share of creative architecture and visitors can now choose from an array of different options: from colonial and art deco, to contemporary and unique modern designs.
Kapitea Ridge.
New Zealand is a haven for creative architecture. From the landscapes which inspire ambitious design projects to lovingly restored colonial heritage buildings, many of New Zealand's greatest creations reflect the people and their country.
Throughout New Zealand you can discover places where it seems as though time stands still – remnants of Victorian towns and grand old homes can be found hidden away amongst the modern architecture of the nation's larger cities.
The glamour and architectural freedom of the 1930s is evident in towns such as Napier and Hastings, and further south the influence of the gold rush era can be witnessed in pioneer cottages and high society residences.
Many of these inspiring properties have either been designed as, or converted to, luxurious accommodation options, allowing visitors to get even more out of their explorations.
New Zealand specialist, Lou Payton, gives her thoughts on New Zealand's architecture
In my various travels around New Zealand I have come to realise that buildings right across the country tell the story of immigrants – both from Polynesia and Europe – coming to a strange land and having to change the way they had previously built due to the availability of new conditions and materials.
Polynesian influence
The humble huts of the Polynesians soon evolved into a particular building type, the meeting house, generally highly carved and playing an important role in community life. A unique and beautiful example of this can be found within the Waitangi Treaty Grounds. The Treaty House itself is one of New Zealand's oldest and most visited historic homes and saw the signing of the Treaty between the Maori and the British Crown in 1840. The meeting house in the grounds is ornately carved and is representative of all Iwi (regional tribes) in New Zealand.
By the early Victorian period, the first European architects began to practise and, even then, buildings started to look different from those in Britain or even nearby Australia. Some of this was due to the country's small population and lack of resources and private wealth which would have otherwise supported the building of larger, finer buildings.
The rise of Art Deco
Devastation by an earthquake in 1931 meant that Napier (in the Hawkes Bay region) needed almost completely rebuilding, an opportunity for new ideas. The new buildings reflected the architectural styles of the times - Stripped Classical, Spanish Mission and Art Deco. Local architect Louis Hay, an admirer of the great Frank Lloyd Wright, had his chance to shine and, as a result, Napier's city centre has the feeling of a time capsule with an extraordinary line of 1930s architecture - a must-see for all visitors.
In the 1960s Christchurch became the place to find fine modern architecture. However, a notable example of turn-of-the-century work is the Old Government Building (now part of the Heritage Hotel) that has been lovingly restored to provide a blend of old world charm and contemporary comfort.
Contemporary architecture
Since then, an unprecedented number of lodges, homestays, boutique homes and bed and breakfast accommodation have sprung up in every conceivable part of the country. The single thing they all have in common is their unique architecture and style. A couple of my favourites are Kapitea Ridge, between Greymouth and Hokitika, where the curved architecture of the lodge is a feature of each room and designed to mimic the amazing coastal vistas. Another is the Tree Houses at Hapuku Lodge in Kaikoura. Perched high above the ground the Tree Houses are meant to be a contemporary complement to the natural environment. Their exteriors are clad in native woods and copper shingles while large windows bring the tree canopy right into the bedroom.
What you should not expect to find in New Zealand are great architectural monuments or structures comparable in size to the older buildings in Europe. But there are many buildings of architectural significance which tell the story of a society developing and changing and, more importantly, a place which the rest of the world has slowly begun to recognise as the inspiring and diverse country which we know and love as New Zealand.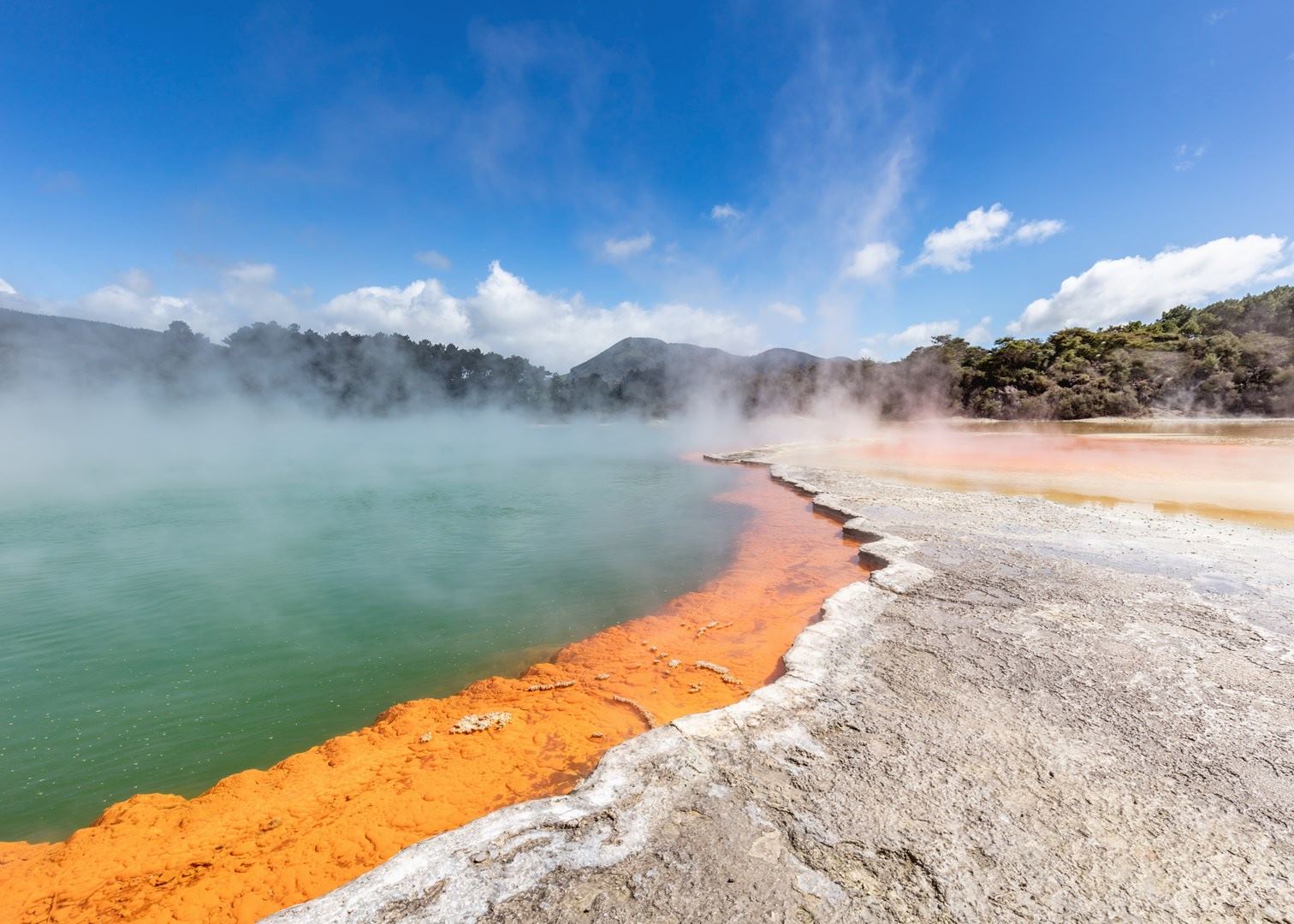 New Zealand
Celebrated for its rich culture and style of life, New Zealand offers a myriad of inimitable opportunities for the discerning traveller. Nowhere else will you find such an intoxicating mix of food, wine, accommodation, wildlife and adventure.
View our New Zealand holidays