New Zealand's rugged beauty and varied landscapes make it a spectacular destination to visit at any time of year. The summer months of December to March bring long, bright and sunny days, ideal for visiting some of the country's lovely beaches or enjoying some of the many outdoor activities available, such as hiking and mountain biking. June through to September are likely to bring snow to the South Island as well as some of the North Island's more mountainous areas, attracting skiers from far and wide. The spring and autumn months herald milder weather and fewer visitors while still being very pleasant times to visit, and a fair sprinkling of rain can be expected throughout the year.
Speak to someone who's been there
Start planning your tailor-made trip by calling one of our New Zealand specialists on 01993 838 820
Month-by-month guide to travelling in New Zealand
Visiting New Zealand in January - February
The warm sunny days of summer make this an ideal time to visit, particularly for snorkelling or outdoor pursuits, but it can be harder to find accommodation. School holidays run into the first two weeks of January, while tourists arrive in large numbers to make the most of the warm climate until the end of February. It's also a great time to spot dolphins and fur seals off the cost of the South Island.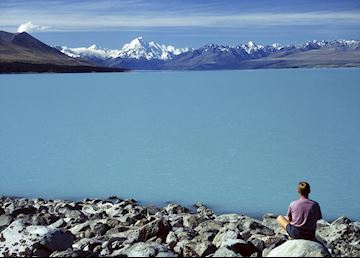 ---
Events & Festivals
Marlborough Food and Wine Festival (February): This is New Zealand's longest running wine festival, right in the heart of the world-famous wine producing region. Read more »
Rugby Sevens in Wellington (January to February): Rugby Sevens lights up Wellington as thousands flock to watch the country's favourite sporting event. Read more »
Wellington Fringe Festival (February to March): Wellington Fringe Festival brings masses of entertainment in the form of music, comedy and theatre to venues across the city. Read more »
---
---
New Zealand Climate Guide
Place
Jan
Feb
Mar
Apr
May
Jun
Jul
Aug
Sep
Oct
Nov
Dec
90 Mile Beach & Cape Reinga

24°C

62mm

25°C

68mm

23°C

74mm

21°C

96mm

19°C

93mm

17°C

124mm

16°C

121mm

16°C

116mm

17°C

94mm

19°C

73mm

20°C

72mm

22°C

65mm

Christchurch

22°C

43mm

22°C

39mm

20°C

53mm

17°C

56mm

14°C

64mm

11°C

52mm

11°C

68mm

12°C

57mm

14°C

36mm

17°C

44mm

19°C

45mm

21°C

44mm

Punakaiki

20°C

217mm

20°C

155mm

19°C

200mm

17°C

233mm

14°C

254mm

12°C

237mm

11°C

230mm

12°C

220mm

14°C

259mm

15°C

257mm

17°C

256mm

18°C

232mm

Queenstown

22°C

75mm

22°C

51mm

19°C

84mm

15°C

66mm

11°C

78mm

8°C

71mm

7°C

56mm

9°C

59mm

13°C

74mm

15°C

86mm

18°C

62mm

20°C

72mm

Rotorua

23°C

107mm

23°C

113mm

21°C

131mm

18°C

111mm

15°C

119mm

13°C

144mm

12°C

137mm

13°C

160mm

15°C

136mm

17°C

124mm

19°C

116mm

21°C

136mm

Taranaki & New Plymouth

22°C

122mm

22°C

105mm

21°C

125mm

19°C

136mm

16°C

159mm

14°C

167mm

13°C

177mm

14°C

156mm

15°C

136mm

16°C

139mm

18°C

134mm

20°C

130mm

Wellington

20°C

81mm

21°C

63mm

19°C

97mm

17°C

105mm

14°C

127mm

12°C

139mm

11°C

146mm

11°C

136mm

13°C

105mm

15°C

104mm

17°C

96mm

19°C

93mm
Trip ideas and travel guides to exploring New Zealand