Reefs are underwater cities, their vibrant corals creating a complex and multilayered landscape that hosts innumerable creatures.
And just as each city in the world is unique, each reef has its own personality, from the technicolour marine megalopolis of the Great Barrier Reef to the shadowy depths of the Great Blue Hole in Belize.
Unfortunately, global warming and ocean acidification are harming the world's reefs, draining them of their eye-popping hues and even wiping out whole sections. But there are still plenty of healthy, thriving reefs to visit, if you know where to look.
Great Barrier Reef, Australia
Striped clownfish dart among swirling fingers of sea anemones while silvery fish reel in huge glittering whorls. Corals fan out in shockingly pink fractal branches or grow in coruscated hummocks, delicate enough to be damaged by a careless bump but, all together, vast enough to be seen from space.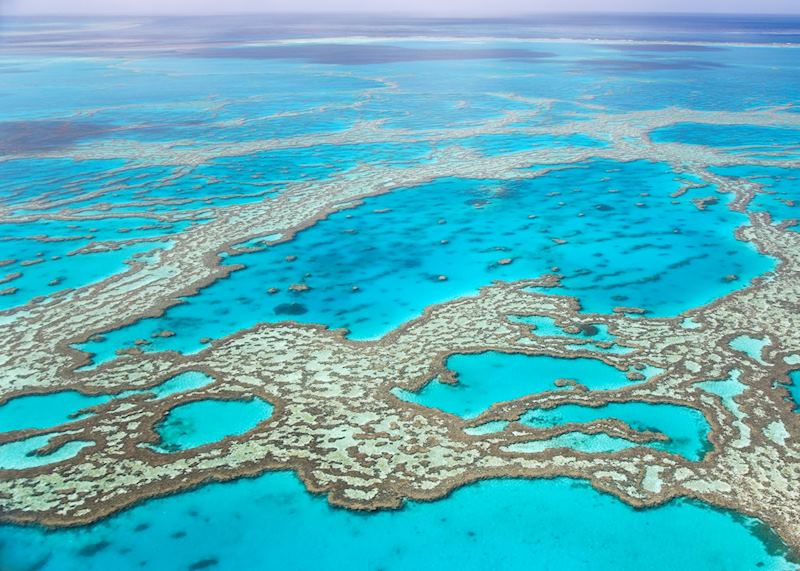 Stretching 2,900 km (1,800 miles) from Papua New Guinea to just shy of Brisbane, this is the world's largest collection of marine life. The ecosystem knits together a mind-boggling array of corals, fish, sponges, mollusks, rays, starfish, dolphins, whales, sharks and birds, to name just a few of its inhabitants. This tightly interwoven biome was named a UNESCO World Heritage Site in 1981, and remains one of the most vital marine sanctuaries in the world.
Sadly, this magnificent reef has been damaged due to bleaching events and infestations of the deadly crown of thorns sea star. But there are still lots of healthy options for both snorkelling and diving.
Probably the healthiest reefs in Australia are near Lady Elliot Island, a bit north of K'gari (formerly Fraser Island). There, you can find mottled wobbegong sharks, swim alongside spotted eagle rays and hear haunting snatches of whale song. It's a special place for both diving and snorkelling, with some nearby spots that you can reach from the beach, as well as some farther out which you need a boat to access.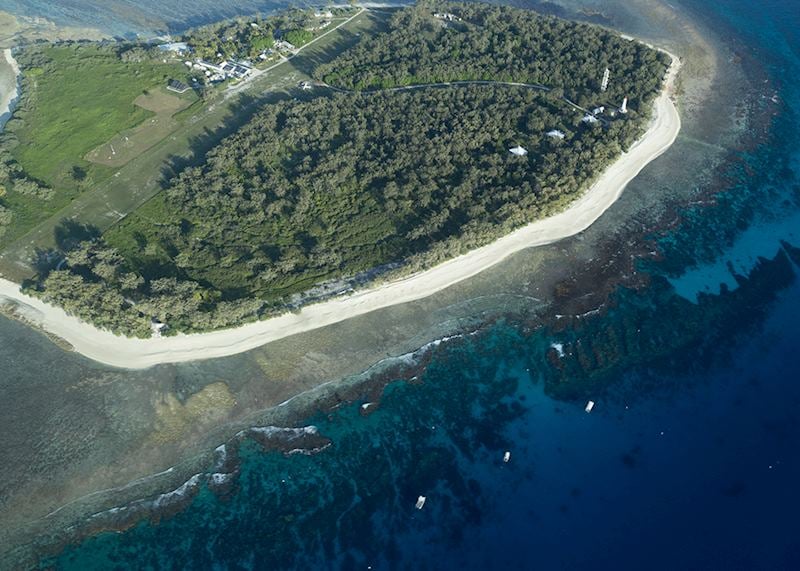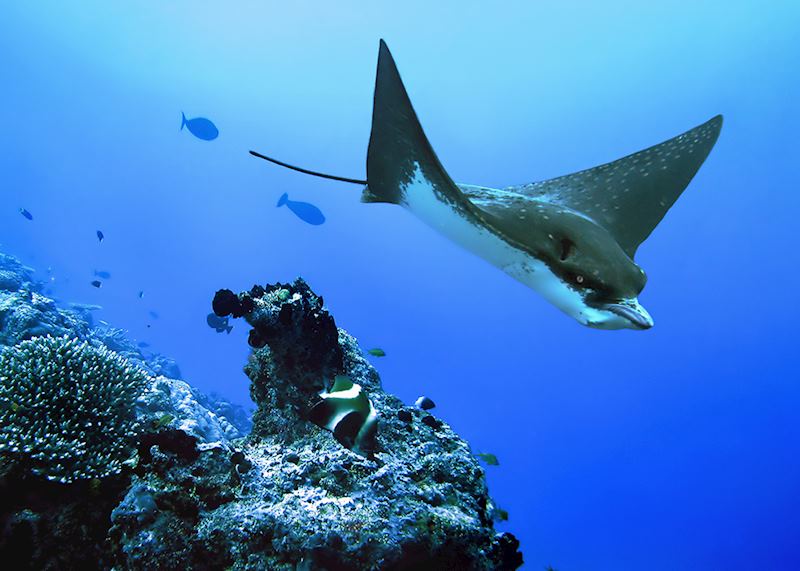 During the Australian summer months (December to February), the island is home to immense nesting colonies of raucous seabirds, most of which have a very lackadaisical attitude toward any human presence. This can be a good thing or a bad one, depending on how you feel about close encounters of the feathered kind.
If you'd like your trip dedicated entirely to diving, I suggest a multi-day live-aboard cruise around Osprey Reef. This submerged coral atoll is perched on a seamount and the reef is fed by the cool, nutrient-rich waters that well up from the deep ocean. Isolated Osprey Reef hosts many rare or unique species, including a dwarf nautilus. Curious and gentle minke whales also frequent the reef.
Located southeast of Brisbane, Lord Howe Island isn't technically part of the Great Barrier Reef but the diving here is worth the trip. It's the southernmost coral reef in the world and includes both tropical and subtropical coral as well as some endemic species. The island carefully restricts visitors to help preserve the reef's health, so it's necessary to book well in advance.
Somosomo Strait, Fiji
The Somosomo Straight, between Taveuni and Vanua Levu islands, is almost single-handedly responsible for the fact that Fiji is known as the soft coral capital of the world. A constant flow of currents feeds the lush carpet of soft-bodied corals here, stirring their delicate, almost feathery tendrils into hypnotic ripples.
There are a number of sites in the straits that have earned reputations as excellent dive sites. Rainbow Reef is a study in scarlet, fuchsia, orange and umber. The Zoo is known for its preponderance of large animals, including rays, barracudas and sharks. Pot Luck boasts large schools of sweetlips, barracudas, and vividly stippled parrotfish.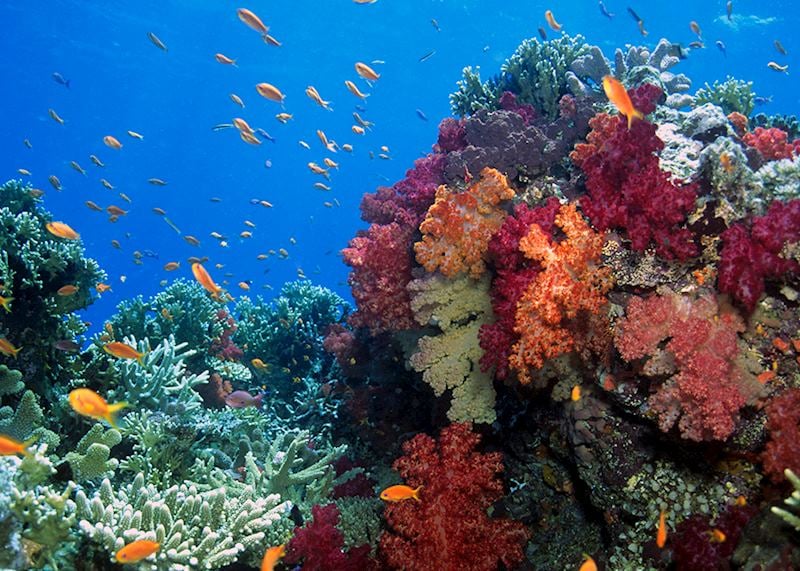 The Great White Wall can be a breathtaking site, a towering vertical wall entirely carpeted in dendronepthya, their undulating blue-white polyps blooming in the tide.
To the west, the Namina Marine Reserve boasts a wealth of biodiversity, with hundreds of species of corals and marine plants. It's also a migratory crossroad for cetaceans, including bottlenose dolphins, minke whales, pilot whales and sperm whales, as well as many endangered turtle species.
The best time to dive in Fiji is during the dry season, between May and October.
Baros and North Male Atoll, Maldives
The real draw of diving in the Maldives is the sheer amount of marine life that lives around the coral — it's much greater than you'll find anywhere else. The wild preponderance of sessile life — including hard and soft corals, gorgonian fans and bright sponges — supports a riot of bright tropical fish and invertebrates. You'll also find manta and eagle rays, Napoleon wrasse, reef and whitetip sharks, and huge schools of barracuda and batfish.
Though the wealth of marine life has never diminished, bleaching has had a noticeable impact on the coral in the Maldives, especially on the house reefs just offshore. However, you can still find bright, healthy corals.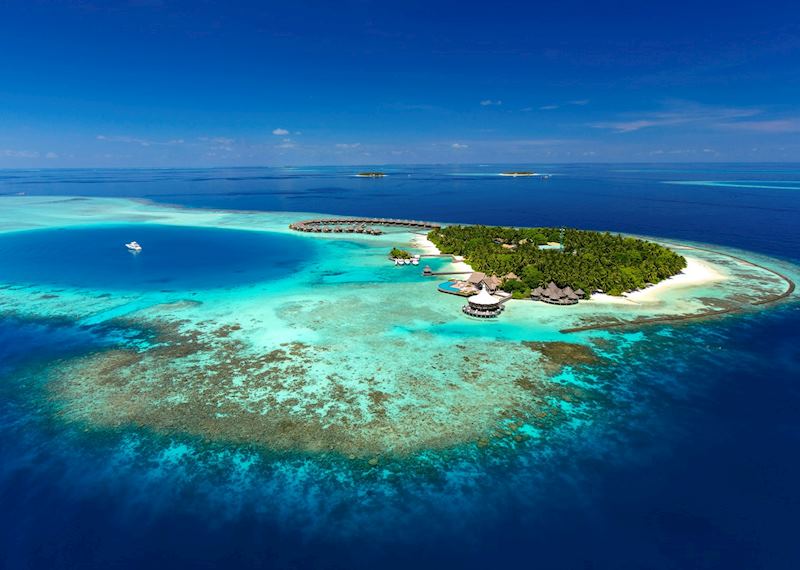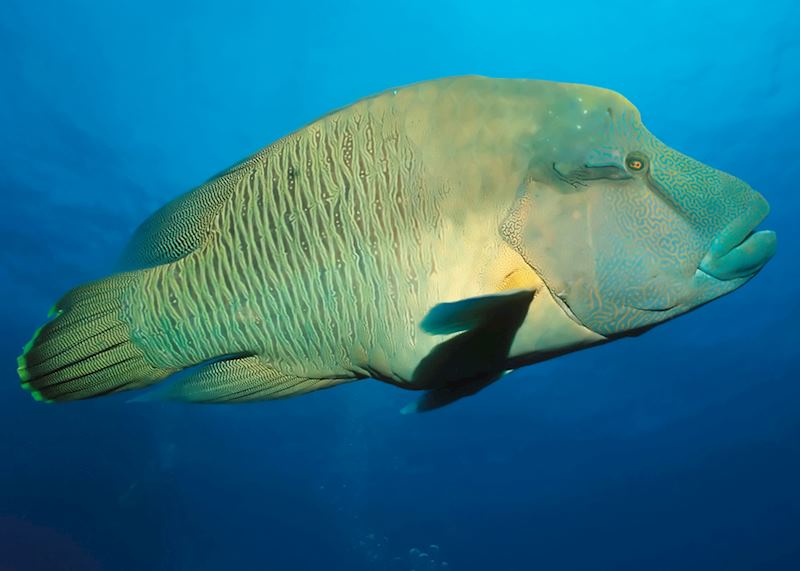 Baros has shouldered the responsibility of maintaining its house reef with a restoration and conservation project. It offers good snorkelling and diving straight off the beach, suitable for beginners but with plenty to tempt experienced divers too. There are also boat trips to more distant spots, including the Black Coral Reef, where the inky branches of the coral set off the shocking shades of the fish.
Nearby, North Male Atoll also has a healthy reef, but the stronger currents make it less suitable for novice divers.
Belize Barrier Reef, Belize
Stretching 300 km (185 miles) along the coast of Belize, the Belize Barrier Reef is the second largest in the world and the colossal ecosystem abounds with life. Scientists estimate that only ten percent of the reef has been explored, and new species are discovered every day.
The best-known feature is the Great Blue Hole, a massive underwater sinkhole that plunges down 124 m (407 ft) into a cavern filled with knobbly stalagmites. It's also an area that attracts a number of shark species, including nurse sharks, hammerheads and blacktips. Divers come from around the world to plunge into the dark blue waters and explore the deep cave.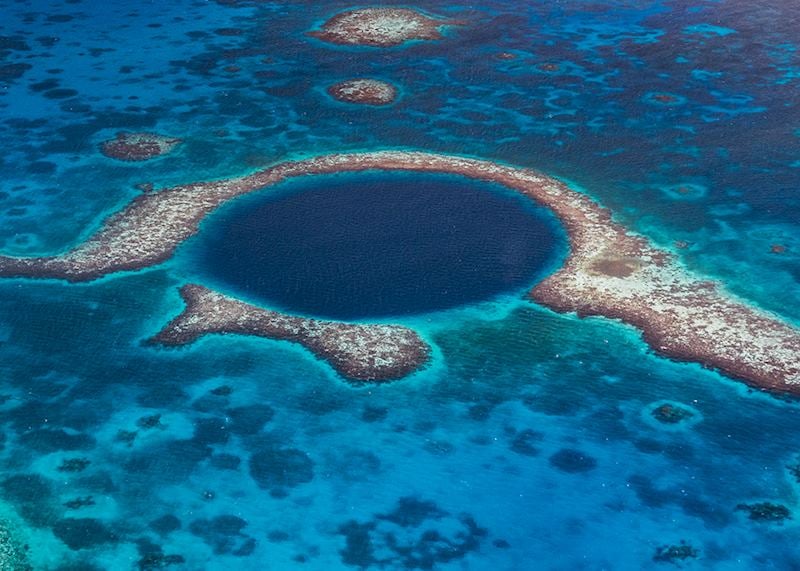 The country is best known for its snorkelling and the glass-clear water provides excellent viewing opportunities. Two of the best spots are Hol Chan and Mexico Rocks. The latter has a friendly green turtle, only the size of a dinner plate, who likes to nip at divers as they swim by. Locals have named him Crush.
Turneffe Atoll is a destination for serious divers, especially those who want to spend several days diving while living on a ship. More than 400 mangrove islets are interspersed with lagoons, and the nutrient-rich shallows sustain a huge array of marine life. You'll likely spot jacks and goliath groupers, as well as moray eels, barracudas, manatees, and bottlenose or spotted dolphins.
The best time for diving in Belize is between April and June.
Utila and Roatán, Honduras
Southwest of Turneffe Atoll, Utila is at the southern reaches of the Great Maya Reef, a larger system that includes the Belize Barrier Reef. The smallest of the major Bay Islands, Utila has dozens of excellent dive sites with thriving corals and plentiful pelagic fish. But the big attraction here is usually the endangered whale sharks.
Gargantuan but elusive, the slow-moving filter feeders prefer warm, calm seas and their migratory patterns usually bring them past Utila in March and April as well as September and October. Those traditional peak times are less predictable than they used to be, however, due to the vagaries of climate change.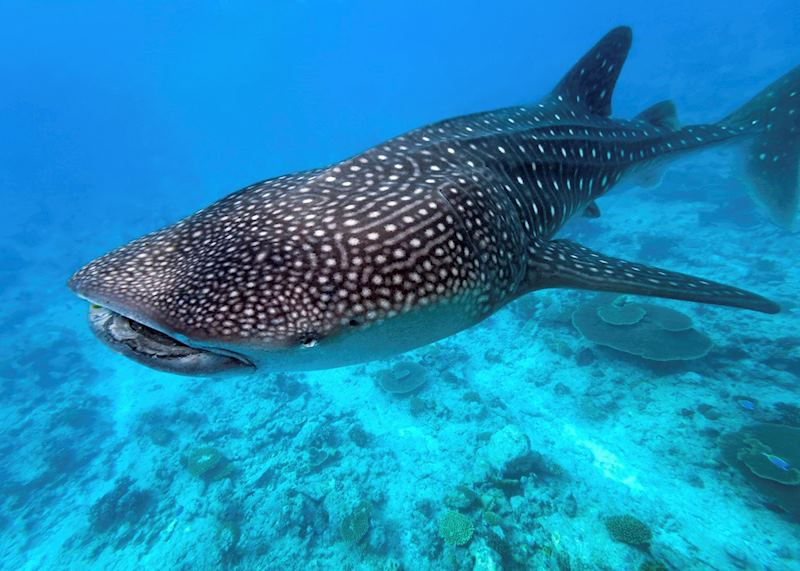 Gentle whale sharks aren't the only creatures you're likely to spot. Dolphins, pelagic fish, octopuses and hundreds of species of coral all thrive here, especially on the Black Hills seamount.
Near Utila, Roatán also has many good spots for reef diving, including Dolphin Den. The twisty maze of passages wends through the reef, your way illuminated by sunlight that spears through crevices in the coral. You'll see snaky eels and darting silversides here alongside various tropical fish.
Andaman reefs, India
Only a handful of the 300 islands on this far-flung archipelago are open to visitors — a restriction is in place to help protect the islands' indigenous tribes. This careful conservation, combined with the isolated nature of the islands, means that the Andaman Islands remain largely undiscovered for most divers and snorkellers.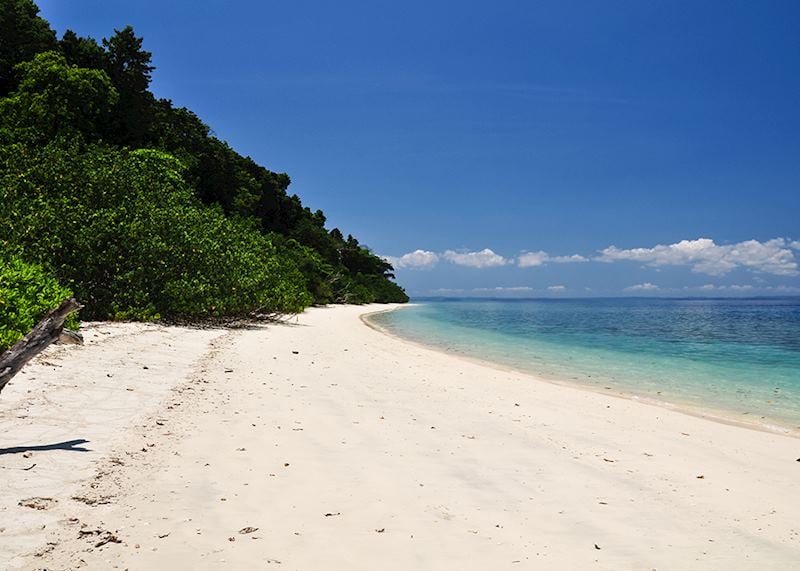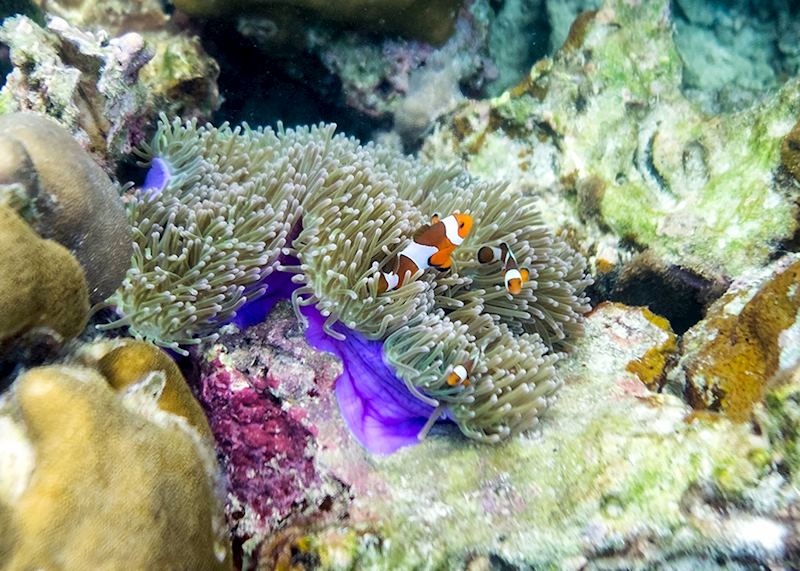 The biodiversity here is remarkable. In addition to the usual hundreds of species of fish and corals, you'll find tuna, stingrays and dugongs (sea cows), as well as the occasional saltwater crocodile. This is also an important breeding ground for various turtle species, some of them critically endangered. You'll find leatherbacks, hawksbills, green and Pacific ridley sea turtles.
The Mahatma Gandhi Marine National Park helps preserve and protect these reefs. Experienced divers can find black coral and sharks in the deep waters off Cinque Island. Newer divers may have better luck in the shallow waters around Havelock Island.
The best time for diving in the Andaman Sea is between December and April.
Bunaken National Marine Park, Indonesia
At the heart of the Coral Triangle, Bunaken National Marine Park boasts one of the planet's richest troves of biodiversity, including hundreds of varieties of coral. Oceanic currents sweep a steady supply of nutrients through the reserve, creating an almost flamboyant wealth of life, from tiny shrimp to wide-winged eagle rays.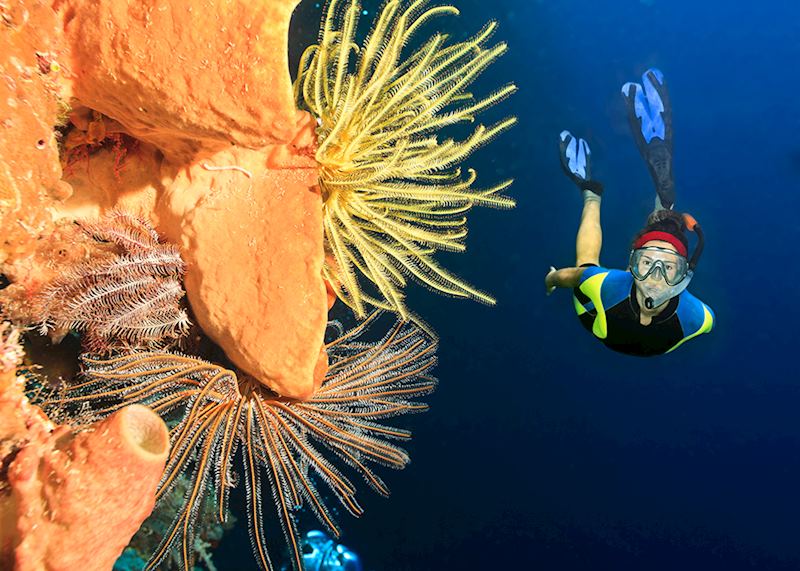 The area is best known for its warm, clear waters and impressive wall reefs, particularly around Lekuan Beach. The sheer vertical cliffs are filled with tremendous coral structures, including black corals, plunging down deeper than most divers are willing to go. Flocks of parrotfish swim by and you'll find lionfish, blue fin trevallies and scorpionfish, as well as the occasional wrasse. Green turtles are particularly common here.
You might also find larger animals, including hawksbill turtles, dolphins and sea snakes.
The best time to dive in Bunaken is between April and October.
Start planning your trip to a coral reef

Start thinking about your experience. These itineraries are simply suggestions for how you could enjoy some of the same experiences as our specialists. They're just for inspiration, because your trip will be created around your particular tastes.