The morning call of a rhinoceros billed hornbill, that moment of excitement when you spot your first wild orangutan, standing at the foot of some of the world's tallest trees: Borneo offers some of the world's best wild experiences. We're keen to keep it that way, and our Borneo specialists have seen first-hand how travelling to the island helps to preserve the forest and its wildlife, and have detailed a practical guide on the ways that you can help below.
Borneo is divided between Malaysia, Indonesia and Brunei — all of which manage the island's delicate ecosystems in very different ways. In this guide we're focusing predominantly on the Malaysian states of Sabah and Sarawak, which sees the most visitors.
For more information, or to plan a trip, call our responsible travel advice line on 01993 838 909.
Seeing orangutans in Borneo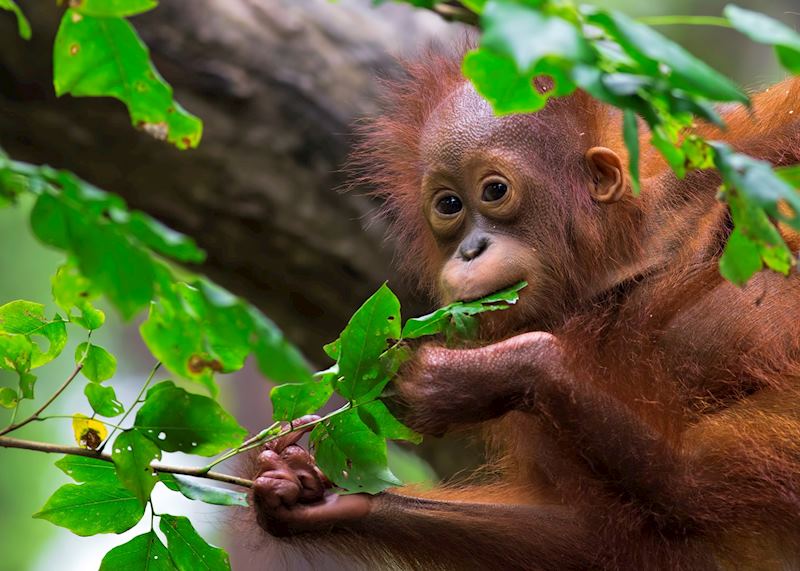 The main draw to Borneo for many — the orangutan — is critically endangered. This is due to deforestation for the most part, but also a result of people taking babies as pets on the black market.
Orangutans share 97% of our DNA and, because we're so genetically similar, they are extremely susceptible to human diseases — close contact with an orangutan could kill it, so we don't condone any experiences that involve holding them. You can read more about our company-wide animal welfare policy here.
Alongside this, the rangers at the Sepilok Orangutan Rehabilitation Centre and Semenggoh Nature Reserve (a lesser-visited sanctuary near Kuching) are working hard to rehabilitate the orangutans back into the wild. This means that human contact must be limited as, the more contact they have, the less likely that their rehabilitation will be successful.
The best way that you can support orangutans is to visit them, whether in a sanctuary or in the wild. Your entry fee and funds to the nearby lodges you stay in will help to preserve their forest home and the species as a whole. Audley specialist Sophie shares her recommendations in our guide to orangutan spotting in Borneo.
If you would like to extend your support further, you can adopt an orangutan at Sepilok which further supports their conservation programmes. Here at Audley, we sponsor Archie and Beryl in their progression toward rehabilitation.
Treading lightly while in Borneo

Reducing your impact on the environment is another way that you can help to preserve Borneo's fragile ecosystems. No trip including air travel can be considered truly sustainable and, due to the topography of the island, any trip to Borneo includes at least one domestic flight. We therefore work hard to make sure that, on the ground, we are doing as much as possible to reduce our environmental footprint.
In the cities of Kuching and Kota Kinabalu there are a myriad of low-impact walking and cycling tours. A highlight is taking a guided walking tour of Kuching, learning about the contrast of cultures and its colonial history, while trying lots of delicious street food along the way — the Sarawak laksa (a fragrant noodle soup) is particularly good.
In the rainforest environment, many of the lodges we use are doing excellent work to reduce their footprint. Sukau Rainforest Lodge on the Kinabatangan River, as an example, works closely with BEST Society to work toward the UN development goals. This includes providing employment opportunities within the community and reducing single-use plastic as much as possible.
Reversing forest destruction in Borneo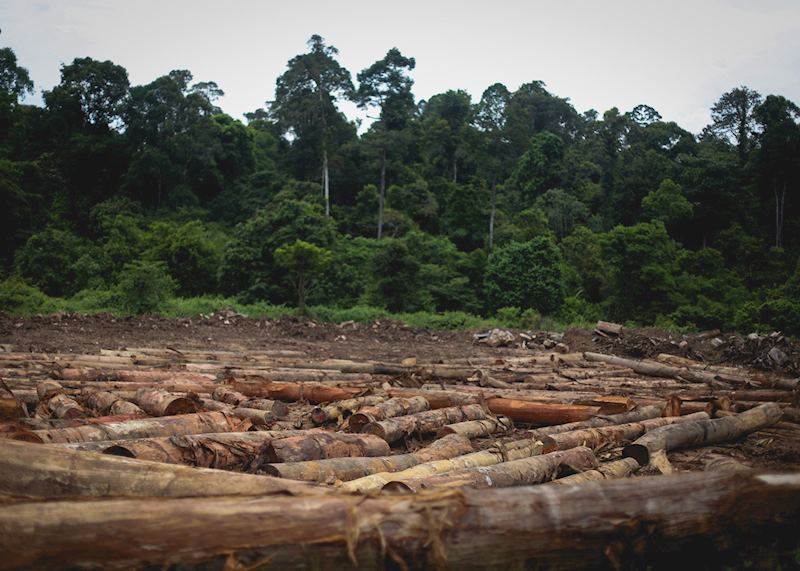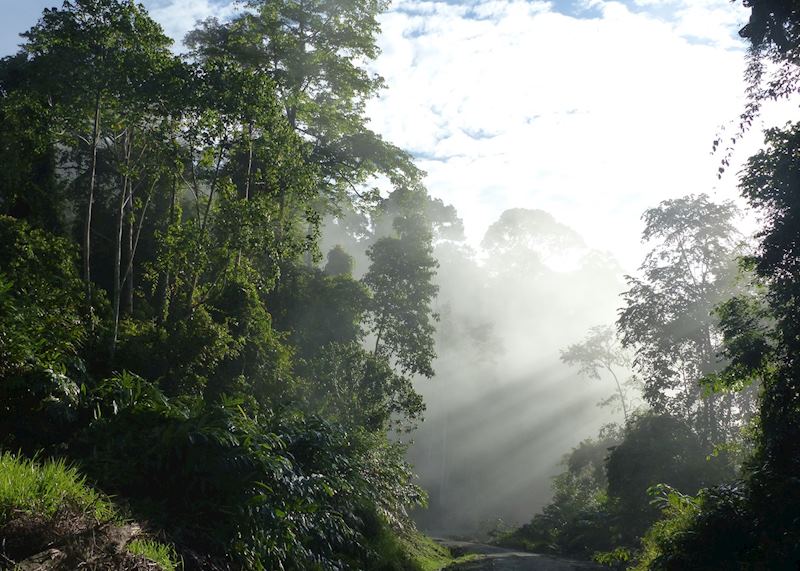 Deramakot Forest Reserve is an example of an organisation learning from its mistakes. Originally it was logged destructively, but has now become a sustainable logging reserve. There are now numerous signs explaining the mistakes they have made and how they are preventing the same from happening again.
Visitors can stay in basic cabins run by the wives of the rangers — supplementing their income — and explore the wildlife in the area (it's becoming popular with leopards). The logged forest is particularly good for birdlife and you'll see very few fellow visitors.
Preserving Borneo's heritage

Borneo is not solely about wildlife and rainforest — it's also home to many indigenous tribes, particularly in the eastern state of Sarawak. Mixed with modern Chinese, Indian and Malay culture, there's a lot of different people and cultures to meet. One of the best ways of doing so is a homestay experience with one of the indigenous tribes.
We offer the option to stay either in a traditional Iban longhouse, or a remote Bidayuh village in the middle of Bengoh Lake. Both are run directly by the community to supplement their income, which is traditionally agricultural.
We deliberately choose homestays away from civilisation to provide an immersive, authentic experience. Funds generated from your visit go directly back to the locals, improving their quality of life and helping them to preserve their traditional heritage.
Palm oil in Borneo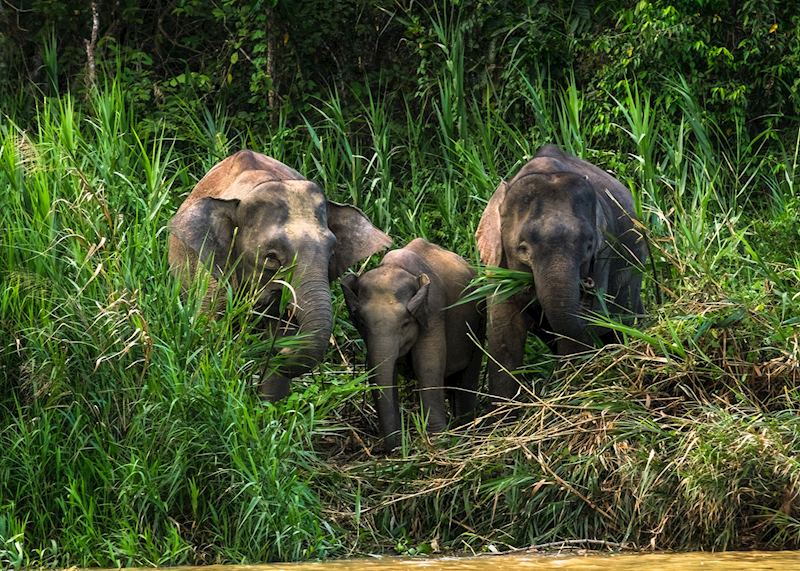 Palm oil is a controversial topic and is the primary reason for much of the deforestation in Borneo. Palm oil is a cheap, quick-growing crop in high demand worldwide — and due to a favourable climate, Malaysia and Indonesia are the world's two biggest suppliers.
Plantations are cleared through slash and burn, reducing the quality of the soil meaning that more land needs to be cleared for further crops. Malaysia has banned slash and burn practices and is much better at policing this than Indonesia, but deforestation is still happening to create space for this valuable crop.
The issue of palm oil is not black and white. If palm oil were to be banned completely then it's likely that another high-value cash crop will take its place, and the alternative could be more damaging for the environment. Malaysia is also still a developing country and levels of poverty are particularly high in rural agricultural areas, home to the palm oil plantations.
Palm oil and tourism are the two biggest income generators for Malaysia, and in rural areas palm oil is often the biggest employer. Without this, many families would lose their only form of income. Many organisations are therefore supporting the growth of sustainable palm oil, which is grown in areas that have already been logged, meaning that further rainforest won't be deforested.
You can help with this in a couple of ways. Firstly, at home, you can look for the Roundtable on Sustainable Palm Oil (RSPO) logo on any products you buy. The RSPO also has some fantastic resources on its website.
Secondly, by visiting Borneo you are helping to preserve the rainforest. Tabin Wildlife Reserve is a fantastic example of this — an area of protected secondary rainforest the same size as Singapore, it's surrounded by an expanse of palm oil plantations. Home to many of Borneo's endemic species, it's one of the best places in Borneo for birdlife.
By visiting Tabin, you are providing important funds which encourages the Malaysian government to continue protecting it from the encroachment of the surrounding plantations.
Marine conservation in Borneo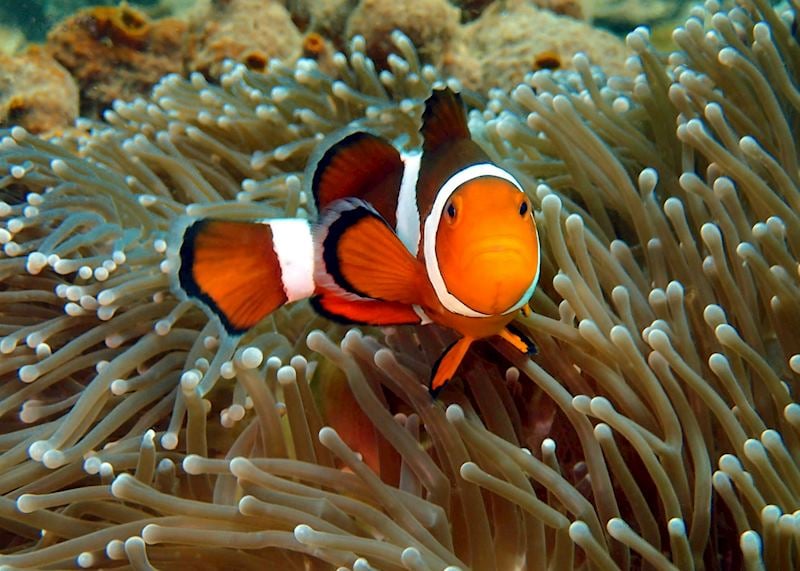 While the first ecosystem you think of in Borneo might be the dense tropical rainforest, the island is also home to a rich marine environment. Snorkel in its waters and you'll see glimmering shoals and fronds of coral.
But, parts of the coral have been damaged through unsustainable fishing practices and plastic waste is carried into the ocean from local water villages, or from the nearby Philippines.
This is particularly relevant around the Tunku Abdul Rahman Marine Park, home to Gaya Island. This is a wonderful place to stay, snorkel, swim and relax at the end of a busy wildlife spotting trip.
Marine conservation on Gaya Island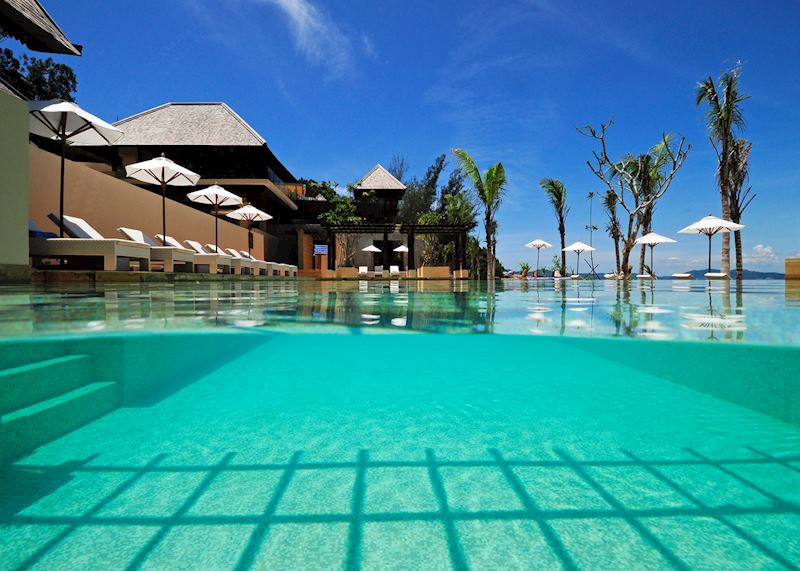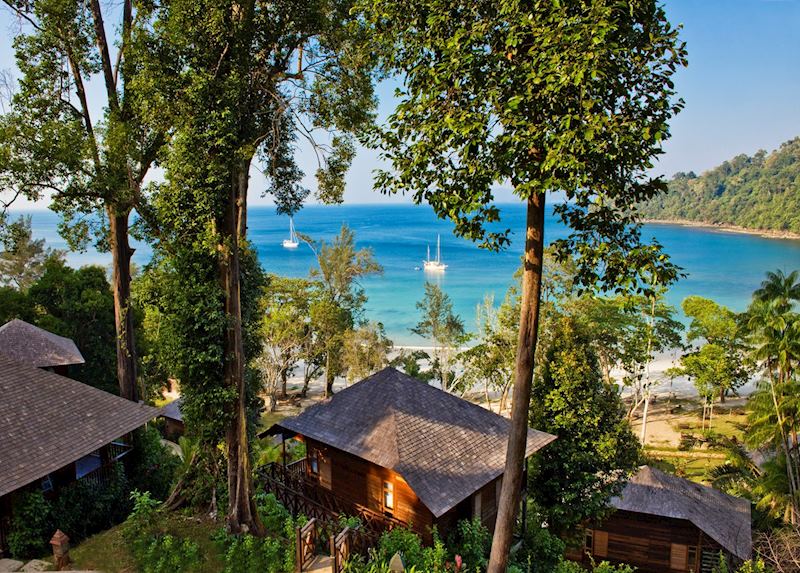 The Gaya Island Resort, facing the busy city of Kota Kinabalu, has an established Marine Conservation Centre at Tavajun Bay, just a short boat ride from the main resort. This is managed by Scott Mayback, a passionate marine biologist who works closely with the Sabahan authorities and the local communities in his conservation efforts.
Here you'll find a turtle rescue project, with specific equipment in place to help endangered sea turtles that have usually been injured by boats or have swallowed bits of plastic waste.
Gaya Island Resort has also worked to reduce single-use plastic in the hotel itself, and Scott and his team are working closely with the villages on the island to show them the importance of recycling and conservation. During your stay you can visit the Marine Conservation Centre and get involved with the coral restoration programmes.
Bunga Raya Resort on the far side of the island, facing out over the South China Sea, also runs a marine project just a short boat ride away at its sister property. The project is run by a team of marine biologists who are running several conservation programmes, including the preservation of the Giant Clam.
During your stay, you can adopt a coral or try your hand at being a marine biologist for the day.
For more information or to plan a trip, call our responsible travel advice line on 01993 838 909 or email us at: rtsea@audleytravel.com
Read more about trips to Borneo

Start thinking about your experience. These itineraries are simply suggestions for how you could enjoy some of the same experiences as our specialists. They're just for inspiration, because your trip will be created around your particular tastes.
View All Tours in Borneo