Judith and David Madeley traveled to Nepal with Audley in October and November 2011. Here they talk about their experience of trekking the nine day Everest Panorama Trek.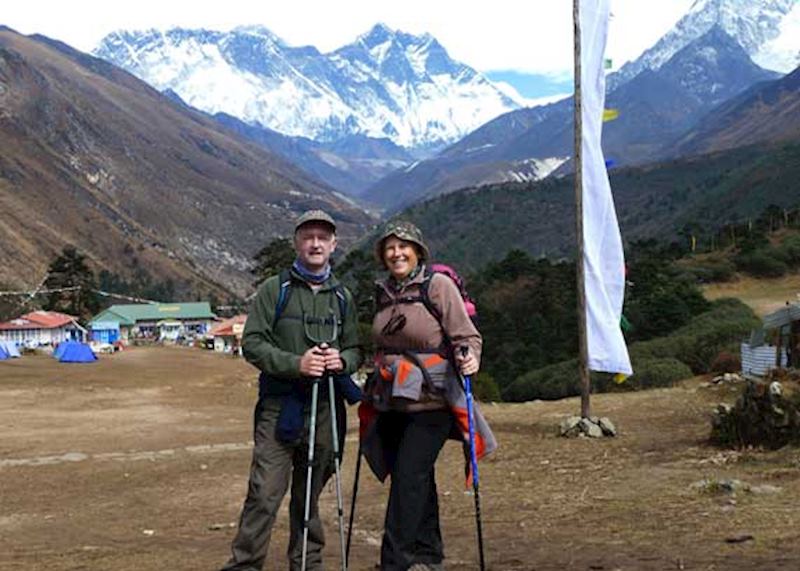 "Slowly, Slowly" exhorted the guide as we trudged up the path to Tengboche, the closest point to Everest on our trek. There was no real need for him to say that, as this slightly overweight 50-year-old from the flat lands of East Anglia was not going to go any faster than slowly!
Our journey had started with a flight from London to Kathmandu via Delhi. We spent a day touring the UNESCO World Heritage Sites in the Kathmandu Valley before braving the chaos of the domestic terminal at Kathmandu's airport for our flight to Lukla to start our nine day Everest Panorama Trek.
At one stage we were overtaken by a porter wearing flip flops carrying what seemed to be a box of Ikea flat pack furniture!
The airport at Lukla had been on television the previous week as the 'World's Most Dangerous Airport', so it was with some trepidation that we flew in but thanks to superb work by the pilot we landed safely, met our guide and porter and were soon off into the Himalaya.
Each day we walked around 5-8 hours and any aching limbs and breathlessness were by far outweighed by the amazing scenery all around us. Numerous stops allowed us to take photographs (and catch our breath) and also avoid the trains of yaks and porters who went up and down the paths ferrying goods to the villages.
At one stage we were overtaken by a porter wearing flip flops carrying what seemed to be a box of Ikea flat pack furniture! The size of the loads even the small children were carrying was impressive — especially given how we struggled at times with just a small day pack.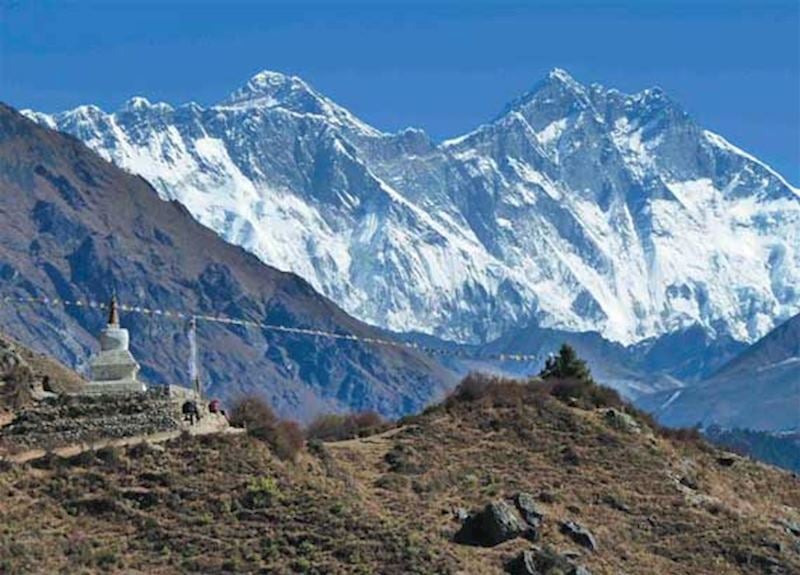 Each afternoon we stopped at a lodge for the evening. We stayed in the more "upmarket" ones with en suite double bedrooms, very welcome hot water bottles and wonderful food (even for a vegetarian). As the days went by the walking seemed easier and we actually started to overtake some people! But we still went "slowly, slowly" just to take in our surroundings and make the most of a trip of a lifetime.
After returning to Kathmandu, we ended the holiday with a few days in Chitwan National Park going on elephant back to look out for the elusive tiger. We saw footprints but no tigers, however there were numerous one — horned rhinoceros and spotted deer and the experience of camping in the jungle was one not to be missed (the tent had the hottest shower we had in the whole of our time in Nepal).
Tailor made vacations in Nepal

To find out more about tailor-made vacations to Nepal with Audley, visit the Nepal section of our website, or speak to a Nepal specialist directly on 1-855-234-2083.

View our Nepal vacations